Looking for this year's hottest guitar gifts? Look no further than the 2021 Holiday Gift Guide!
---
Two Boss pedals based on the legendary Roland SDE-3000 Digital Delay, including a standard model and a special edition model developed with EVH.
BOSS announces the SDE-3000D and SDE-3000 EVH Dual Digital Delay pedals, two advanced effect processors based on the legendary RolandSDE-3000 rackmount digital delay from the 1980s. The SDE-3000D provides two authentic reproductions of the much-loved SDE-3000 in a modern floor-based pedal with independent delay parameters, versatile signal routing, and many other enhanced features. Developed in close collaboration with EVH, the SDE-3000EVH model is designed to go even further, providing curated presets and expanded I/O to authentically recreate the dual SDE-3000 setup at the heart of Eddie Van Halen's massive three-cabinet live stage guitar sound.
SDE - 3000D Dual Delay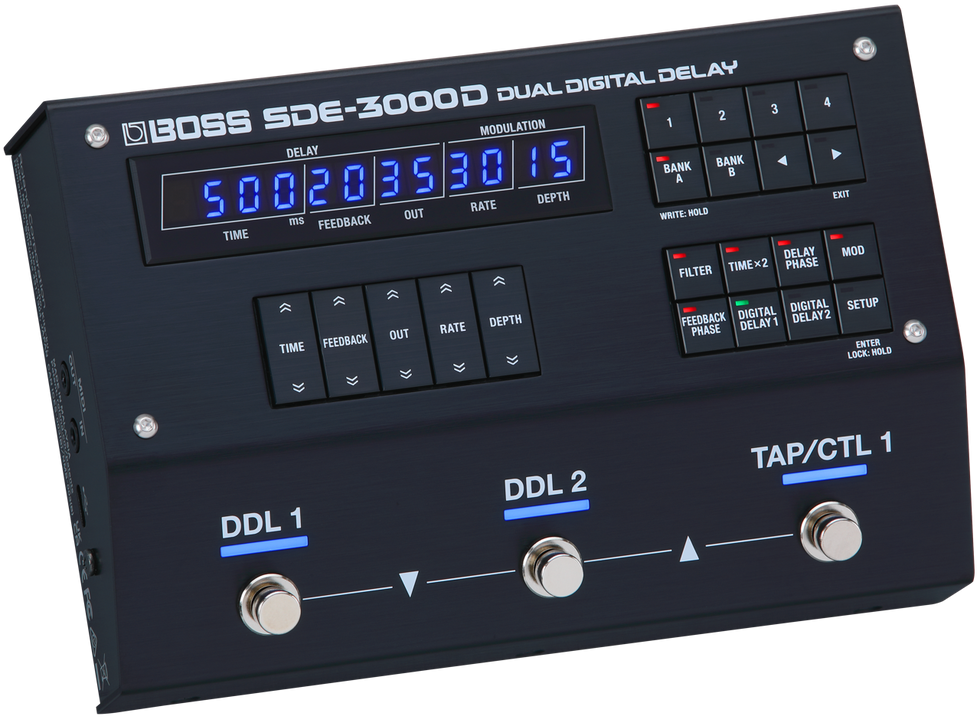 ​Released in 1983 at the dawn of the digital effects era, the Roland SDE-3000 is a hallowed icon among fans of classic gear. Its rich voice became an integral part of music in the 1980s and1990s and remains a source of inspiration for tone seekers and effect builders everywhere. With the SDE-3000D, today's players can now access the authentic delay sounds used to produce one of the most iconic music tracks of all time.
The SDE-3000's beautiful warm sound and inviting musicality were the result of clever and complex internal digital processing coupled with nonlinear behaviors from the supporting analog circuitry. Adjustable delay phase, unique modulation response, and other elements also contributed to the effect's distinctive sound. BOSS engineers deeply analyzed these many factors in creating the SDE-3000D, bringing the complete character of this time-honored classic alive for the modern era.
While the SDE-3000 was mono, the SDE-3000D provides two discrete delays with series or parallel operation, independent settings, and mono or stereo modulation on each. Nearly every parameter from the original is available, accessed via a retro interface derived from the vintage hardware. And with enhanced features such as 100 user memories, flexible I/O, MIDI, and a wealth of onboard and external control options, the SDE-3000D offers much greater versatility than its rackmount inspiration.
SDE - 3000EVH Dual Delay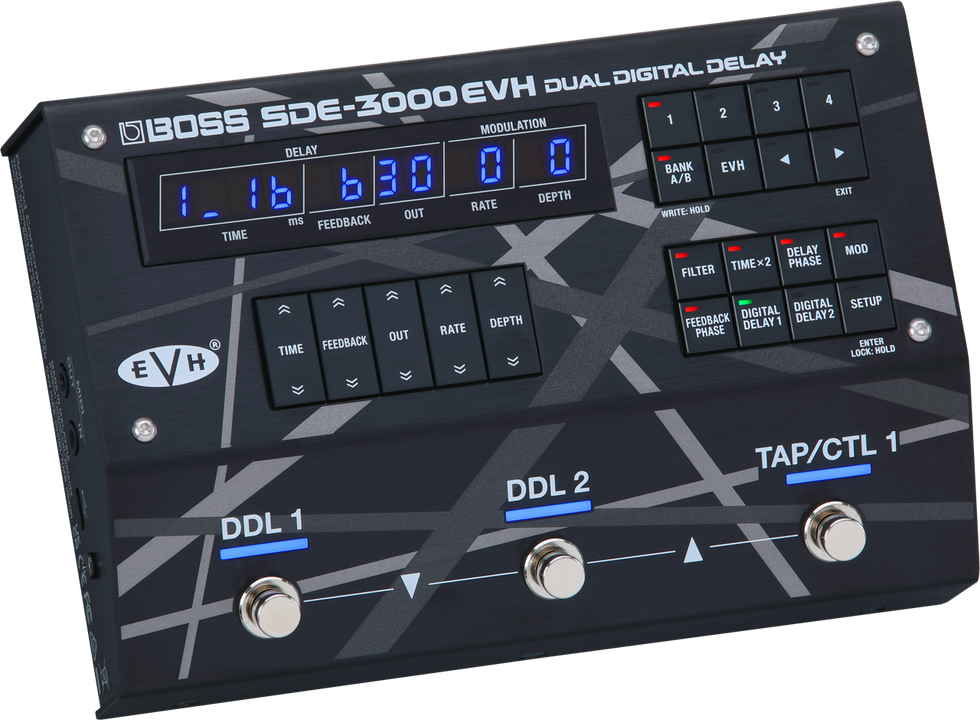 Jointly developed by EVH and Boss, the SDE-3000 EVH delivers an authentic recreation of the stereo delays at the heart of Eddie Van Halen's live three-cabinet wet/dry/wet stage guitar sound. The legendary guitarist pioneered this approach in the early 1990s, using a dry path from a single amplifier in the center cabinet and left and right cabinets amplified with wet-only delay effects for a wide, multi-dimensional soundstage. The Roland SDE-3000 delays were perfect for his needs and remained core components of his stage rig throughout his long career.
A few years ago, EVH and Boss began discussing the idea of bringing the master's distinctive approach with the vintage SDE-3000s to everyone. "Ed always really enjoyed seeing what people did with certain things he created," said Matt Bruck, EVH Managing Director. "We thought it would be cool to enshrine his unique delay approach and let others find their own inspiration with it."
EVH and Boss worked closely in the development of the SDE-3000EVH to ensure it delivers Eddie's personal delay tone with complete authenticity. After a long process of testing and feedback, both companies proudly bring the finished product to guitarists everywhere, filled with exact sonic replicas of his presets and emblazoned with the signature EVH stripes.
Eddie used two SDE-3000 units with unique settings to achieve his live sound. With the dual delays, multiple outputs, and versatile routing modes in the SDE-3000EVH, it's possible for any player to recreate this setup with their own amps. Eight EVH presets include four presets designed for a wet/dry/wet setup plus four presets adapted for a standard stereo amplifier setup."The EVH presets are exactly like the presets in Eddie's rack," Matt Bruck relates. "There's no difference in mix levels, input levels, or delay times—it's one-to-one."
The Boss SDE-3000D and SDE-3000EVH are available in the U.S. now for $499 and $599 respectively.

For more information, please visit boss.info.
Gretsch celebrates its 140th anniversary with an all-new Double Platinum Collection, designed to honor Gretsch's historic past while providing essential features for the modern player.
Since 1883, Gretsch guitars have been the instrument of choice for musical revolutionaries thanks to their rich, full sound, smooth playability, and their bold classic visual style. Gretsch has won endorsements from some of the music industry's most respected artists at the same time, including Chet Atkins, Eddie Cochran, Billy Duffy, George Harrison, Orville Peck, and Brandi Carlile.
G6136T-140 LTD 140th Double Platinum Falcon Hollow Body with String-Thru Bigsby

Featuring a Solid Adirondack Red Spruce top, maple back and sides, ML bracing, all-new FT-67 Filter'Tron humbucking pickups, and a stunning two-tone nitrocellulose lacquer finish.

G6134T-140 LTD 140th Double Platinum Penguin with String-Thru Bigsby

Equipped with FT-67 Filter'Tron™ humbucking pickups that provide unmistakable Gretsch tone, and featuring a Solid Adirondack Red Spruce top paired with a chambered mahogany body and a two-tone nitrocellulose lacquer finish

G6118T-140 LTD 140th Double Platinum Anniversary with String-Thru Bigsby

Featuring a Solid Adirondack Red Spruce top with maple back and sides, ML bracing, 12" radius ebony fingerboard with 22 medium jumbo frets, rolled edges, and pearloid Neo-Classic thumbnail inlays, FT-67 Filter'Tron humbucking pickups, an Adjusto-Matic bridge with pinned ebony base, and a String-Thru Bigsby B6CP tailpiece

G5420T-140 Electromatic 140th Double Platinum Hollow Body with Bigsby

Featuring all-new FT-5E Filter'Tron pickups, a laminated maple body with vintage-inspired perimeters and refined arches, and trestle block bracing.

G5622T-140 Electromatic 140th Double Platinum Center Block with Bigsby

Featuring a double-cutaway maple body with a chambered spruce center block, a 12"-radius laurel fingerboard with 22 medium jumbo frets, and black Top Broad'Tron humbucking pickups

G5230T-140 Electromatic 140th Double Platinum Jet with Bigsby

Featuring a chambered mahogany body with maple top for a strong sonic profile and exceptional acoustic balance, and the all-new FT-5E Filter'Tron humbucking pickups
Presenting the Gretsch 140th Double Platinum Anniversary Collection | Gretsch Guitars
The Anzu is designed to serve as a clean, all-tube, hand-wired circuit that can bring new life to the drive pedals in your rig.
For years we have been asked to make a dual channel amp. After years of requests we are pleased to offer the Anzu. (The Anzu is a mythical animal that can breathe both water and fire.)
The two independent channels are essentially two separate amps in one. Many dual channel amps treat the clean channel as an afterthought. Ours lays the foundation. The clean channel is our Pearl circuit, the second channel is our take on a British style, heavily modded gain circuit.
The Port City Anzu features:
Two independent channels with interactive Treble, Middle, and Bass controls (footswitchable)
Bright Switch for High-end Frequency Tone Shaping on the Clean channel
TAD matched 6L6's
JJ ECC83 x 3 – Preamp tubes
JJ ECC83 x 1 – Phase Inverter
6112 x 1 - Effects Loop
GZ34 Rectifier
USA-made Hammond Transformers
Tube Buffered Effects Loop
External speaker jack
50 Watts Output
4 / 8 / 16 Ohm Impedance Switch
Weight: 39 lbs (50W) –
20″W // 10.5″H // 8.25″D
MSRP : $2850
For more information, please visit portcityamps.com.​
Port City Amps - Anzu Amplifier