1960 Gibson ES-335 And 1959 Model 5F8A Fender Twin
The first offshoot of the popular ES-335 was the ES-355, which was intended to be the pinnacle of Gibson's new thinline electric series.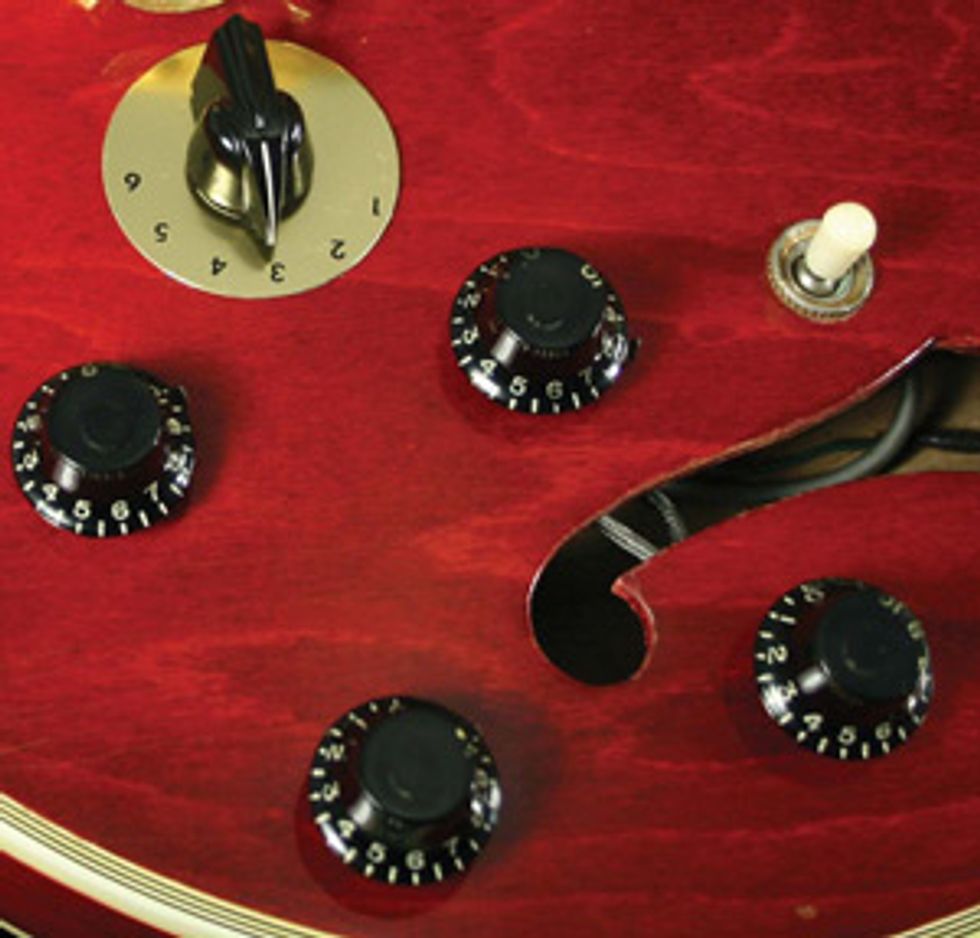 After introducing the Vari-Tone—a 6-way tone-selector switch—and stereo wiring in 1959, Gibson offered them as a regular option on the ES-355.
In the late 1950s, Gibson
designed a guitar meant to
have the look and feel of a traditional
hollowbody archtop while
also offering the sonic advantages
of a solidbody. At the time, this
was a novel idea, and it resulted
in the now-classic ES-335.
Gibson was so confident in the
double-cutaway, semi-solid guitar
that by the summer of 1958 it
had expanded that part of its electric
line. The first offshoot was
the ES-355, which was intended
to be the pinnacle of Gibson's new
thinline electric series. The 355
shared the 335's solid center block
and hollow wings, but had the
fancy cosmetic appointments of a
Les Paul Custom—including binding,
gold hardware, split-diamond
headstock inlays, and an ebony
fretboard.
Due to advances in stereophonic
recording, stereo LPs
had become readily available to
the public and were gaining in
popularity over the mono versions.
Gretsch recognized the
excitement stereo was generating
and introduced a stereo electric
guitar in 1958. By mid 1959,
Gibson retaliated with its own
stereo technology, combined
with a 6-way tone-selector switch
called a Vari-Tone. The Stereo
Vari-Tone became standard on
the new ES-345 (which was
priced between the 335 and the
355) and a regular option on the
ES-355.
LEFT: Like a Les Paul Custom, this ES-355 has split-diamond headstock inlays and an ebony fretboard.

RIGHT: This particular 5F8A Twin's wears its battle scars and splats right on its tweed. Its original Jensen

P12N 12" speakers are one of the casualties of its many
musical skirmishes: It's now outfitted with

Jensen Special Design replacement speakers.
This month's guitar has the
typical features of an early 1960
ES-355 with Stereo and Vari-
Tone. These include a gleaming
Cherry Red finish, Grover
Rotomatic tuners, PAF humbucking
pickups, and a Bigsby Vibrato
tailpiece (which was changed to
a Gibson sideways Vibrola later
that year).
Be sure to check out Gibson
Electrics—The Classic Years by
A.R. Duchossoir for detailed
information on Gibson electric
guitars made through 1965. For
more information on Fender
amps, see Fender Amps: The First
Fifty Years by John Teagle and
John Sprung, and The Soul of
Tone by Tom Wheeler.
---
Dave's Guitar Shop

Dave Rogers'
collection is tended by Laun Braithwaite
and Tim Mullally.

Photos and text by Tim Mullally.
Dave's collection is on display at:

Dave's Guitar Shop

1227 Third Street South

La Crosse, WI 54601