1968 - 69 Paisley Red & Blue Flower Fender Telecasters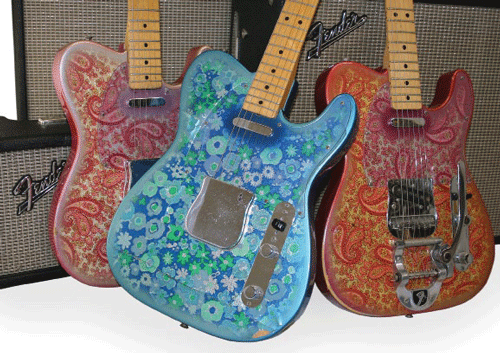 Late-sixties paisley Fenders try to cash in on the hippie movement
The "hippie" youth movement of the 1960s began influencing mainstream society after the "Summer of Love" in 1967. By 1968, many major companies had realized there was big money to be made by appealing to this large group, and Fender—at the time owned by CBS—was no exception.
Fender's original solidbody, the Telecaster, was picked to receive the "Flower Power" treatment with two new finishes: Paisley Red and Blue Flower. These finishes were accomplished by sticking patterned wallpaper to the bodies and spraying clear polyester over the top. The original Fender ad copy for these models was also given a hippie-esque tone: "Paisley Red Pulsates with every beat and swirls in a blinding carousel of color forms and tones."
As groovy as these guitars were, they never caught on with the psychedelic rockers they were intended for. Ironically, the most visible guitarist to use a Paisley Tele was rockabilly/country session great James Burton. The '69 Paisley Tele remained his main stage guitar until his signature model debuted in 1990. Those wanting to hear Burton's Paisley Tele in action can check out Elvis as Recorded at Madison Square Garden and Gram Parson's GP and Grievous Angel albums.
More detailed information on Fender Telecasters can be found in The Fender Telecaster, by A.R. Duchossoir, and Six Decades of the Fender Telecaster, by Tony Bacon. Pictured on these pages are a Paisley Red Tele with Bigsby from 1969, and a Paisley Red Tele and Blue Flower Tele from 1968. All three guitars are pictured leaning against original Fender Bassman and Band Master heads, two Fender cabinets and a Fender reverb tank, all from the same era.
---
Dave's Guitar Shop
Daves Rogers' Collection is tended to by Laun Braithwaite & Tim Mullally Photos and words by Tim Mullally Dave's Collection is on display at:
Dave's Guitar Shop
1227 Third Street South
La Crosse, WI 54601
608-785-7704
davesguitar.com
.