We take a look at four sub-$1000 offerings to help you find the right fit for dipping your feet into the resonator pool.
Almost nothing evokes the sounds of the Mississippi Delta quite like a bottleneck slide dragged across the strings of a resonator guitar. National introduced the resonator to the world in 1927 with their single and tricone guitars. And blues pioneers like Son House and Bukka White used their National resonators prodigiously, churning out Delta gems like "Death Letter Blues" and "Aberdeen Mississippi Blues." The first Nationals were made from brass. Then, in order to accommodate more budget minded musicians, they produced all-steel versions such as the Duolian.
A few short years later Dobro followed with their spider cone resonator guitar, which became many bluegrass musician's go-to box. Dobros differed in sound and construction. The spider cone lent a nasal honk to the sound, and many Dobros used wood back and sides. Today a new National will run you over $2,000 and the Dobros (now produced by Gibson) are well over a $1,000. So where does a musician on a budget go to get that Delta vibe? Thankfully, several companies are putting out resonator guitars that the rest of us can afford. Many of these instruments play and sound great and you don't have to go too far to find a guitar for under a grand that will get your mojo working!
We checked out four guitars all priced close to or under $1000. Each has a wood body and some version of a spider cone. And though the spider cone tends to be more associated with bluegrass musicians and square neck dobro players while the biscuit bridge and tricone resonators of National guitars are associated with blues and Hawaiian players, there is a lot of crossover. And in this review we will focus the playing on blues and slide guitar.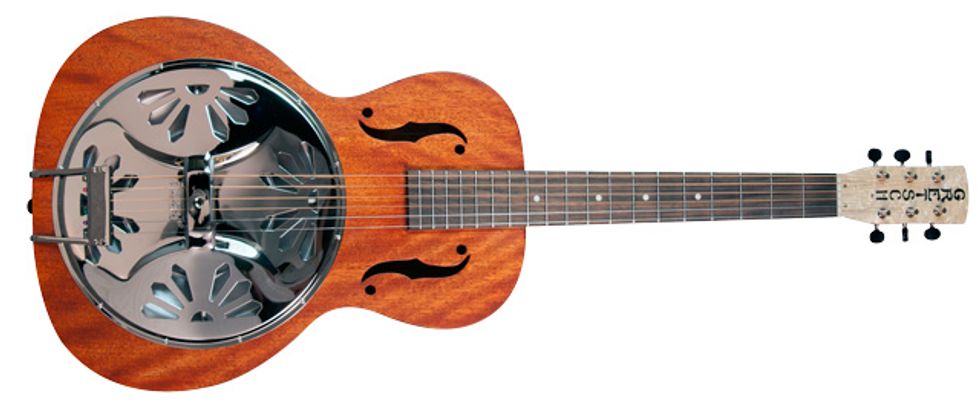 Gretsch G9200 Boxcar Standard
The Gretsch is feather-light and vintage styled from its aged pearloid headstock to the soft V-shape of the neck. The body, back, and sides, are built from laminated Mahogany and feature twin f-holes on the top, while the neck is mahogany with a rosewood fretboard. But the heart of the Gretsch is the resonator, which Gretsch has dubbed the Ampli-sonic and built from 99% pure aluminum that is hand spun in Eastern Europe. Black, open-gear Grover tuners are an attractive addition. And the only construction flaw I could detect was a spot of underspray around one of the f-holes.
The soft V neck is very comfortable and evokes the feel of a vintage Martin. The guitar I received was set up with D'Addario light gauge strings (.012-.053) and had low action, which makes it easy to navigate the fretboard. My one quibble is that for bottleneck playing the action is a little low—easy enough to correct, but far from ideal.
The Box Car produces a cool, nasally honk and has great projection. In open G and open D tuning there's a nice balance between low and treble strings, making it easy to articulate slide lines. But tuning the guitar down for open G and D tunings slackens the strings to the point of making slide playing more difficult and buzzier sounding. Tuning up to open A tuning resolved the issue and put me in closer proximity to Robert Johnson's slide pitch on songs like "Crossroads" and "Come on in My Kitchen"—tunes on which the Gretsch sounded pretty sweet.
Washburn R15RC
The Washburn brand has been a presence in the guitar industry off and on for more than 120 years. Given that the company was originally based in Chicago—a hotbed of blues since the late 1920s—and remains in Illinois to this day, it's appropriate that Washburn designs and manufactures instruments with an eye towards vintage blues vibes.
With its single f-hole and cutaway the Washburn R15RCE has a way of beckoning you to play. It's a lovely resonator, and a shimmering tobacco sunburst adds a hint of sophistication to the down home retro look. The lipstick tube-style pickup fits right in from a styling perspective—sitting right between the chrome-plated spider-cone resonator and the end of the fretboard—and it's controlled via two knurled knobs for volume and tone. Grover-style enclosed tuners help complete the marriage of modern and vintage touches.
The Washburn has a slightly chunky U-shaped neck that helps offset the cramped feeling of the narrow string spacing at the nut. I often found myself unintentionally muting strings as I played, and had the neck been much thinner things would have been more difficult because I have fairly large hands. Like most of the guitars it was setup with light gauge strings and low action. And the frets are neatly dressed and without rough edges or snags.
Playing slide proved both rewarding and frustrating. The setup on the low strings is a bit higher than the treble strings, so much that my slide kept striking the frets on the treble strings for using a less-flat slide angle.
Like most guitars with spider-cone resonators, the Washburn has a noticeably nasal honk, albeit with more accents on the low-mid side of things. This produces a punchy tone that is ripe for bluesy slide excursions. Cruising through classic lines in open A and open E highlighted the clarity of the single string runs, as well as fully barred chords. In standard tuning, the bass was a bit muddy for fingerpicked blues and strumming. Instead the Washburn is more responsive to a lighter touch and lighter attack evens the response. This can be a drawback if you tend to be a spirited picker who likes to pound the strings—and many blues players are. But for a songwriter with a more sensitive style that's looking for a bluesy vibe this could be just the ticket.
The pickup faithfully reproduces the acoustic sound of the instrument, although it doesn't have a lot of volume. You can remedy this by adding a DI box with volume control or simply rely on your amplifier/PA for more punch.
Recording King RR-50-VS
When you think of guitar history the words Montgomery Ward don't necessarily come to mind right off the bat. But in the period between the first and second World Wars, Gibson manufactured guitars for the venerable retail chain that were sold under the Recording King brand. The early Recording Kings were great guitars that sold at a fraction of the cost of the more expensive Gibsons. Given that most average blues musician couldn't afford a Gibson—even if Robert Johnson was pictured with one in that infamous photo—and the fact that the Montgomery Ward catalog was a fixture throughout the South you realize that these instruments probably produced a lot of great blues.
Fast forward to the present and the Recording King name is again adorning guitars with a pre-war vibe—from dreadnoughts to 000s, Gibson-esque L series and resos like the RR-50. This Recording King substitutes screened sound holes for f-holes, which gives it a "buggy-eye" look. And when combined with the spider cone resonator and saddle cover it looks a bit like a robot face staring back at you. The deep tobacco-burst lends a subtle touch of class, as does the crown atop its headstock and the Grover butter bean tuners. In general, the craftsmanship is very solid.
The RR-50 comes set up with slightly higher action than the other guitars, which is better for slide playing but still really comfortable for normal fretting, strumming, and single string runs. The narrow (1 11/16") nut width made it a little bit tight for my hands. And since the neck joins the body at the 12th fret and the heel of the neck block projects out slightly more and makes it a challenge to navigate around the 12th fret.
The RR-50 projects warmth and attitude. It shows a strong and balanced volume between bass and treble strings and the clarity you hear when you strum hard is as pronounced as when you attack it like a fingerpicker. Needless to say, it has the same spider cone honk as the other guitars. But it's less muddy than most resos in the price range, and you get a cool, bossy growl from slide runs on the bass strings, and nice bell-like tones on the treble side. Together, the blend works best in the lower registers of D and G tuning.
The RR-50 is really suited to serious slide action. The feel and response lends themselves to slackened open tunings. But this would be equally at home for a strummer/songwriter who wants a punchy tone. Recording King has done an outstanding job of making this sound like a more expensive instrument.
Wechter RS-6610FC
Abraham Wechter has been making guitars for over thirty years including a stint with renowned luthier Richard Schneider in Detroit, and designer Tim Scheerhorn's designs are legendary. And the Wechter RS-6610FC reflects the sense of style and function that's born of that experience and typifies much of the Wechter line. Wechter's spider cone resonator has a pretty tobacco sunburst finish and a very cool, almost Les Paul-like cutaway and two f-holes. Cream-colored ABS binding accents the dark sunburst very nicely and the butterbean tuners are a nice vintage touch. Wechter designed the non-cutaway side of the upper bout with a slightly sloped shoulder that makes it a bit more comfortable to hold. And in general, it's an elegant and subtle package. Craftsmanship is solid and the instrument is free of visible flaws.
The Wechter was sent with D'Addario medium gauge strings (.013-.056), and it plays very evenly up and down the neck. A slightly wider (just a shade under 1 ¾") nut and string spacing made this guitar very comfortable for strumming, flatpicking and fingerpicking, and the heavier setup suggests that Wechter understands the needs of blues players. The absence of sharp edges on the frets and a setup that favors slide players made this a joy to play. And the shapely cutaway makes access up to the 17th fret a breeze, which facilitates sweet upper register slide work.
The Wechter is cutting and crisp sounding. Strumming chords and fingerpicking blues in standard tuning yields clear, sparkling mid-range tones with excellent separation between bass and treble. Slide workouts in A tuning sounded punchy and resonant, and in total the Wechter sounds exceptionally focused, demonstrates a great volume range and responds to heavy or light attack with equal aplomb.
Looking for more great gear for the guitar player in your life (yourself included!)? Check out this year's Holiday Gear Finds!
Outlaw Effects introduces their next generation of NOMAD rechargeable battery-powered pedal boards.
Available in two sizes, NOMAD ISO is a compact, versatile tool that offers the convenience of a fully powered board plus the additional freedom of not having to plug into an outlet. NOMAD ISO is ideal for stages with limited outlet availability, quick changeovers, busking outdoors, temporary rehearsal locations, and more!
NOMAD ISO builds upon the legacy of the ultra-convenient and reliable NOMAD rechargeable pedalboard line originally launched in 2018. The brand new NOMAD ISO editions feature eight isolated outputs (1 x 9V DC, and 1 switchable 9V/12V DC) for even more versatility and clean, quiet power. With an integrated lithium-ion battery pack boasting 12800mAh capacity, NOMAD ISO can fuel a wide array of pedals, and will last over 10 hours* on a single charge.
Each NOMAD ISO pedal board includes adhesive hook & loop pedal-mounting tape, eight (8) standard DC connector cables, and one (1) reverse polarity DC cable, giving you everything you need to build your ultimate "off-the-grid" rig. A rugged, road-ready padded gig bag with shoulder strap is also included, to safely protect your gear while you're on the move.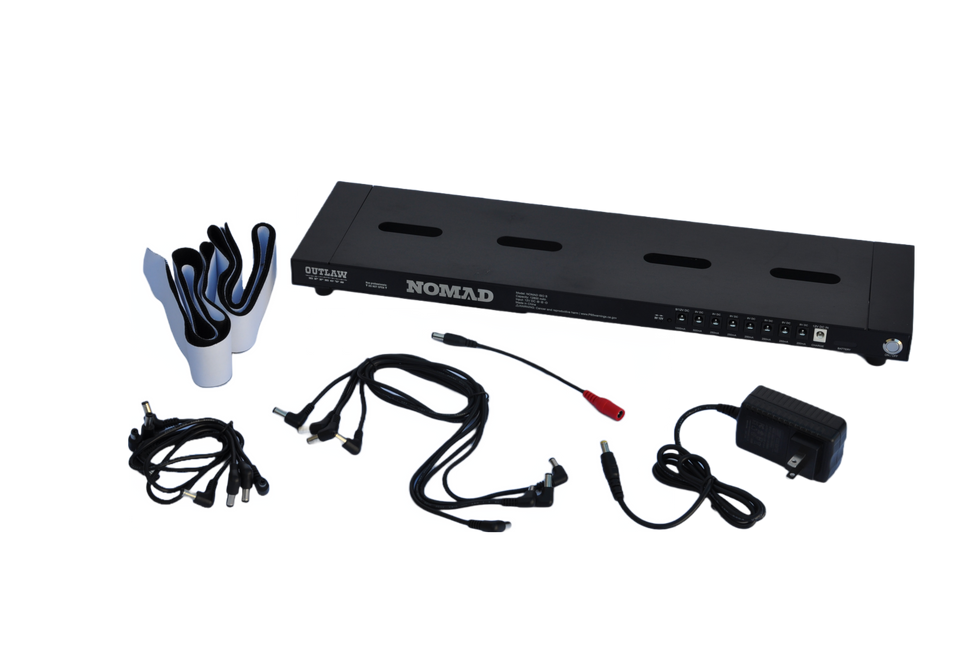 NOMAD ISO S: MSRP $309 / MAP: $249
Dimensions: 19 ¼" x 5 ¼"
NOMAD ISO M: MSRP $349 / MAP $279
Dimensions: 19 ¼" x 11"
Dunable announce new Minotaur model featuring Grover Rotomatic Keystone tuners.
The Minotaur's DNA is rooted in their classic Moonflower model, which Dunable discontinued in 2017. However, they have long since wanted to create a fresh take on a carved top guitar design, and various attempts to rework the Moonflower led them to a brand new concept with the Minotuar.
Dunable's goal is to give the player a guitar that plays fast and smooth, sounds amazing, and gives maximum physical ergonomic comfort. The Minotaur's soft and meticulous contours, simple and effective control layout, and 25.5" scale length are designed to easily meet this criteria.

Dunable Minotaur!
Features
25.5" scale length
Dual Humbucker
one volume, one tone, push pull for coil splitting
Grover Rotomatic Keystone tuners
Grover Tune O Matic bridge with brass Kluson top-mount tailpiece
jumbo nickel frets
12" fretboard radius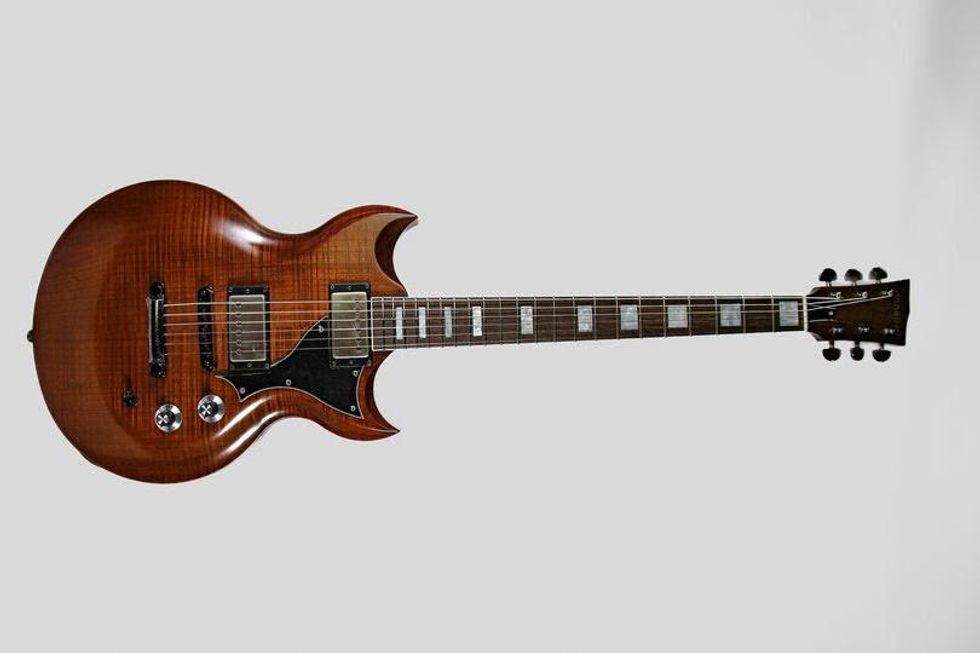 Dunable
This full-amp-stack-in-a-box pedal brings a new flavor to the Guitar Legend Tone Series of pedals, Missing Link Audio's flagship product line.
Adding to the company's line of premium-quality effects pedals, Missing Link Audio has unleashed the new AC/Overdrive pedal. This full-amp-stack-in-a-box pedal – the only Angus & Malcom all-in-one stompbox on the market – brings a new flavor to the Guitar Legend Tone Series of pedals, Missing Link Audio's flagship product line.
The AC/OD layout has three knobs to control Volume, Gain and Tone. That user-friendly format is perfect for quickly getting your ideal tone, and it also offers a ton of versatility. MLA's new AC/OD absolutely nails the Angus tone from the days of "High Voltage" to "Back in Black". You can also easily dial inMalcom with the turn of a knob. The pedal covers a broad range of sonic terrain, from boost to hot overdrive to complete tube-like saturation. The pedal is designed to leave on all the time and is very touch responsive. You can get everything from fat rhythm tones to a perfect lead tone just by using your guitar's volume knob and your right-hand attack.
Features 
Three knobs to control Volume, Gain and Tone
Die-cast aluminum cases for gig-worthy durability
Limited lifetime warranty
True bypass on/off switch
9-volt DC input
Made in the USA
MLA Pedals AC/OD - Music & Demo by A. Barrero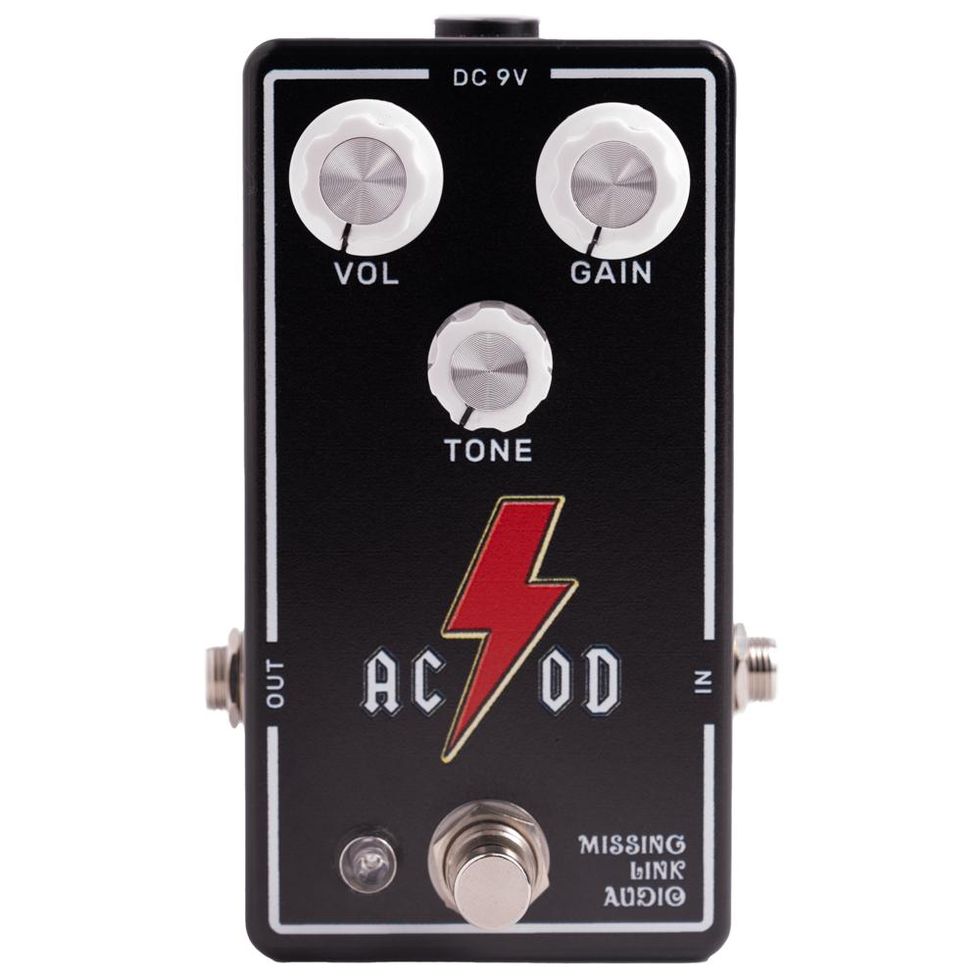 www.mlapedals.com.