Apogee GiO USB Guitar Interface & Controller Review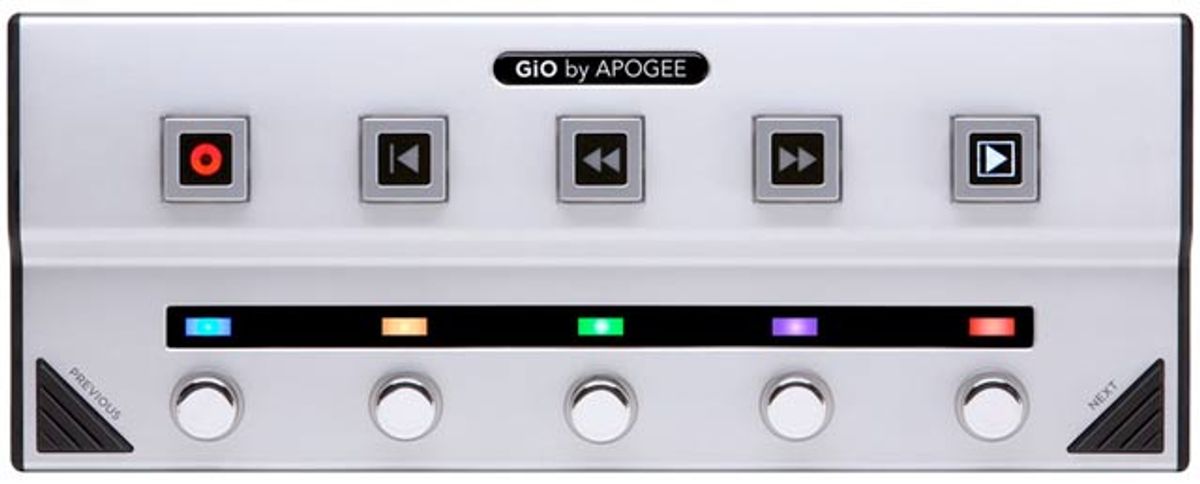 Apogee''s GiO is a guitar interface and controller for GarageBand, Logic, and MainStage.
You've got a Mac loaded with GarageBand and Logic Studio, and you've got your guitar, but how do you get them to talk to each other? That's the question that Apogee's new GiO Guitar Interface Controller aims to solve. Targeted as the Guitar Interface for the Mac, it combines a high-quality Apogee ¼" input/converter with a simple stomp-style layout to control effects and recording functions from Logic Pro 9, MainStage 2 (part of Logic Studio) and Garage Band (part of iLife) software. GiO is intended to free up your hands from the mouse and keyboard to let you focus on playing your instrument.
First Impressions
GiO is a solidly built, attractive piece of hardware. Weighing in at around 10 lbs, it measures approximately 7 x 18 x 2.5". The front of the unit features 12 stomp buttons: on the slightly raised top are five square ones that light up when depressed: (l to r) Record, Return to Start, Rewind, Fast Forward and Play/Stop. Below that are five round stomp buttons for turning effects and features on and off. The LEDs above them light when stepped on as well, but we'll talk more about that later. Then in each lower corner are triangular, rubber-coated buttons for Previous/Next selection of effects and amps.
On the rear panel is a 1/4" instrument input and a 1/4" MIDI Expression pedal input to control effects such as volume, delay/tremolo speeds, and wahs. The USB port is what powers the GiO and how you hook up your Mac. There's also a 1/4" instrument output where you can connect headphones or run the included ¼" to stereo RCA cable out to an amp or monitor rig. That's all there is folks—a clean, simple design.
How it Works
To use GiO, you simply install the included software and your Apple music programs instantly recognize it. Note that you'll need to be running OS X 10.5.7 or greater with an Intel or PPC G5 processor, with 1GB minimum of RAM (Apple strongly suggests a minimum of 2GB).
To fire up GiO, all you do is plug it in to a USB port on your Mac and watch it run through its light-up sequence. Then you launch the selected program, such as GarageBand, which actually has a handful of new guitar amps and stomp effects. In the Audio/Midi Preferences panel, GiO will now appear and you select it as the Audio I/O.
Next, you select an amp, choose either Line or Instrument Amplifier on the featured Apogee GiO control panel output, and turn the Mute off.
GiO's LEDs will light up with the same color as the corresponding stomp effect on the virtual floor. You can then turn them on and off by stepping on the buttons, or hit Next or Previous on GiO to cycle through more amp presets. If you want to record, hit Return to Start, then hit the Record button, which lights up red. You're now tracking.
It's especially effective with Logic Pro 9 and MainStage 2, both of which also have an extensive amount of new guitar amps and effects to choose from. In Logic, you select GiO in the Preferences>Audio>Devices>Core Audio. With either the Amp Designer or Pedalboard windows open, you can then use GiO to scroll through the choices on each. If neither is open, GiO will move through Logic's channel strip guitar settings.
In Action
Within a few minutes of setup, I was importing loops and synths, and then recording multiple hands-free guitar tracks. There's no doubt that not having to reach over every few seconds to operate the mouse increases your guitar creativity. I really appreciated the ability to quickly step through different amps to find the right sound.
With Logic, you can also use GiO to assign custom recording functions. For example, you can actually use it to create and arm a new track, and then scroll through your tracks. You can, of course, select other options to control, but these do work great for guitar recording.
When using MainStage, GiO will control different functions depending on which window is selected. For example, with the Performance window, I could move through the Patch List settings with the Next and Previous buttons. With the Playback plugin open, I could control Play/Stop, Cycle and Muting of the channel strip, and so on. You could program the buttons do different things on a per patch basis. For example, the transport controls might control Playback in a patch where one exists, but be utilized to enable or disable effects parameters in a path where Playback is not even utilized.
Going Beyond the Screen
Aside from using GiO directly with your music software, you can hook it up to an amp or a set of speakers. Taking it a step further, you can run it through the effects loop of your amp and just use the stompboxes from your software, switching them in and out as needed. It's also possible to customize it so that the stompboxes take you directly to a specific channel's strip settings.
The Final Mojo
Apogee's GiO is a cool piece of gear for Apple Mac users who are using either GarageBand (which comes on all Macs) or Logic Studio and who want to keep their hands free while recording and playing. With a $395 price point, you have to decide for yourself if it's worth the investment to keep those hands on the guitar where they belong. I do wish it had a wider reach and could control other programs, as the design, implementation and overall ease of use is excellent. However, from the studio to the stage it delivers as advertised, and it certainly does so with style and grace.
Buy if...
you want sturdy, Apogee-quality, hands-free guitar recording and preset changing for Apples Logic 9, GarageBand '09 and Mainstage 2 programs.
Skip if...
you don't run those programs, feel it's too expensive or don't mind manually operating your software.
Rating...