CP Thornton Guitars Professional Acoustic Review
Our review of the semi-hollow Professional Acoustic from CP Thornton Guitars reveals myriad reasons to be impressed.


Download Example 1
Acoustic Mode

Download Example 2


Hybrid Mode - Pos 4 (Neck HB Split)

Download Example 3


Electric Jazz - Pos 5 (neck HB), Tone 5

Download Example 4


Electric Rock - Pos 1 (Bridge HB), into Carr Mercury 1x12




SIGNAL CHAIN: Unless otherwise specified, all clips were recorded with a Sony PCM-D50 using Monster Cables into a Fender Blackface Bandmaster Head/Music Man RH150 2x10 Cab with the guitar's Tone and Volume at 10.

The Axis of Axes
At PG we're grateful for the number of exceptional guitars submitted for review consideration. They all have compelling attributes, whether it's aesthetics, tone, playability, design innovation and craftsmanship, or any combination thereof. If you think analytically like myself, you could view these attributes as axis lines on a graph. When an instrument is able to excel across these all these attributes, its resultant plot lines intersect, as I like to think of it, at the "Axis of Axes." The Professional Acoustic model produced by CP Thornton Guitars of Turner, ME, is an example of an instrument at the Axis of Axes. After 20 years of guitar study, instruction and performance, Chuck Thornton began pursuing his lifetime dream of "creating heirloom quality instruments that strike the rare balance of breathtaking beauty and engineering excellence." In the mid-eighties, he began building custom basses and guitars, and in 1993 he teamed up with renowned luthier Dana Bourgeois, working in his shop producing handcrafted acoustics and honing his skills, particularly in the art of tone-tapping and wood selection. Three years later, Chuck broadened his knowledge of stringed instrument design and woodworking skills working with violinmaker Jon Cooper. In 2000, he rejoined Dana Bourgeois at his new venture, Pantheon Guitars, working with many fine luthiers, including future CP Thornton business partner Richard Shapiro. Since opening its doors in 2004, CP Thornton has produced over 200 guitars and offers seven different models (five semi-hollow and two solidbody designs) including the semi-hollow Professional Acoustic model reviewed here.
Axis 1: Aesthetics

The Professional Acoustic model exudes understated elegance with timeless appointments. The single cutaway body is carved from solid tone woods: master-grade Sitka spruce top and mahogany back and sides, a design decision that gives a nod to the venerable Martin D-18, which served as a sonic standard for the instrument's acoustic tones. The top features a pair of f-holes and is finished in Extra Vintage Tobacco Sunburst with a thin top coat of catalyst urethane. The finish has just enough yellow and dark maroon accents to make you think that the guitar has been around for decades. The top finish is accented by a scraped top binding of spruce and is further highlighted by a very tasteful strip of super thin black/white/black violin-style purfling.
The two-piece quarter-sawn mahogany neck is capped with an ebony fingerboard and joins the body at the sixteenth fret with a patented neck-through design. The neck and headstock are tied together with an inlaid white accent strip, along with an expertly applied snowflake mother-of-pearl inlay. To complete the timeless aesthetics of the guitar, black and gold are the basis for the hardware package that includes a gold TonePros stoptail bridge, black GraphTech bridge saddles, gold pickup covers with black surrounds, black bell-style knobs, gold 5-way DiMarzio switch with black plastic tip, black selector mode switch, gold Gotoh 510 18:1 ratio tuners with black buttons, and gold strap buttons with black felt bushings.
Axis 2: Design Innovation / Craftsmanship
Three distinct patents are incorporated into all of CP Thornton's hand-built semi-hollow designs. The first is the sculpted neck joint that is made possible via the neck-through design, which helps maintain proper instrument balance and reduces feedback. The second patent covers the headstock design featuring radiused volutes behind the headstock and at the base of the ebony headplate veneer, adding strength and mass to a historically vulnerable part of a guitar. Lastly, the elegant single cutaway body shape is patented.
While they all share the same physical dimensions, the voice of each semi-hollow CP Thornton model is created by custom-carving the tone-tapped solid woods. The Professional Acoustic model uses Sitka spruce with mahogany to create its bold acoustic voice. Drawing upon Thornton's violin-making experience, the carved top and back are designed to maximize natural sustain, and to fine-tune the "singing" voice of the instrument. The top and back are attached to the neck-through wood blank with sound posts, in a manner that not only permits sound to transfer seamlessly from the top to the back, but also reduces excess feedback when played at higher volumes. Likewise the carved top is designed so that it won't distort under string pressure. Under the hood, the same level of craftsmanship is evident, as the guitar is expertly wired using Teflon-coated milspec silver wire. All in all, this innovative design is well-executed.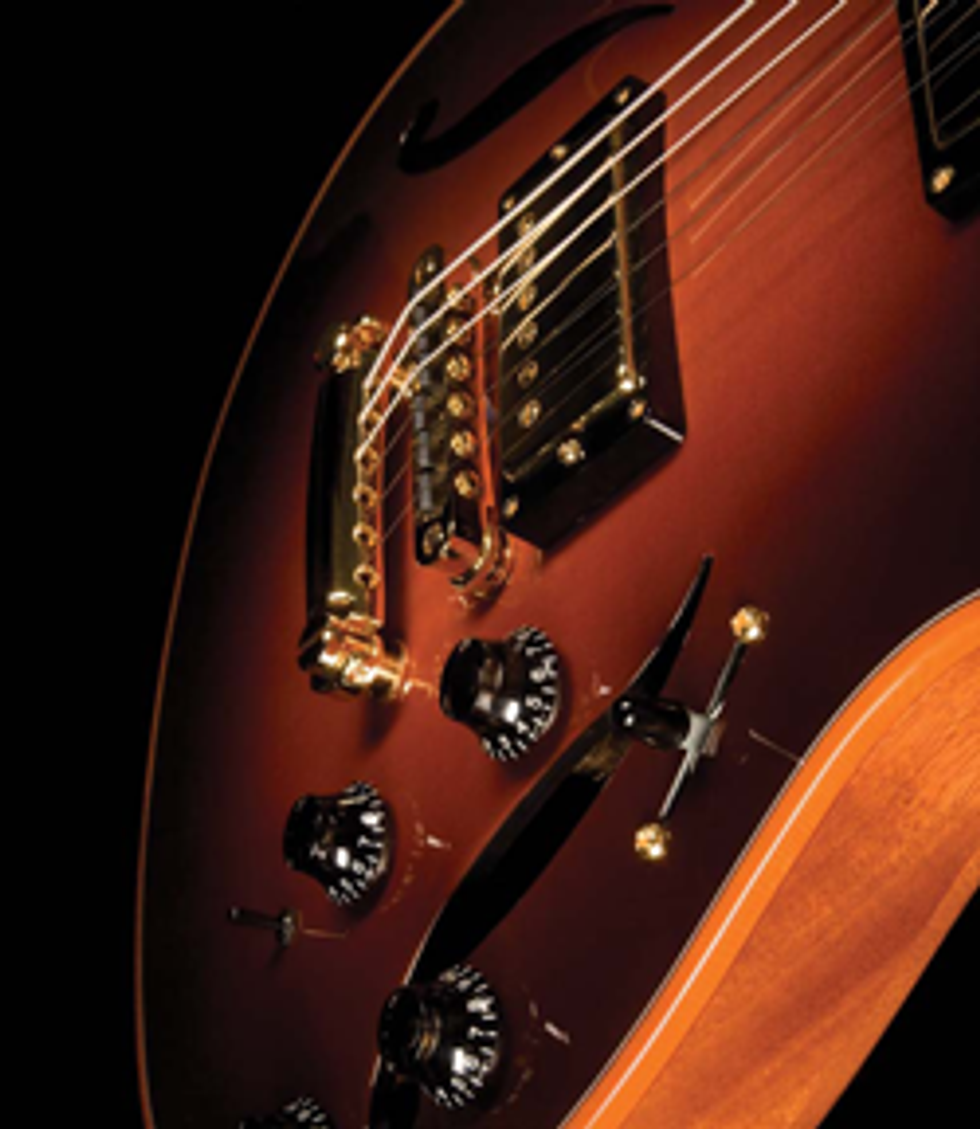 Axis 3: Playability

Whether you're an electric or acoustic player, the Professional Acoustic has playability characteristics that make both camps feel at home. With a body depth of 1-3/4", a 25" scale, 1-11/16"-wide bone nut, rounded C-neck carve, 6100 jumbo frets and 16" fingerboard radius, there is an instant familiarity when playing it. The semi-hollow design results in a relatively lightweight instrument (6 lbs 15 oz.) that is not at all neck heavy and balances well in every playing position. I especially appreciated the brazen use of .011 – .048 strings, which not only demonstrates the guitar's exceptional playability (full+ step bends are a breeze) but also brings out the bold yet nuanced voice of the instrument. The setup has just enough fight in it to make one really want to dig in, either in acoustic or electric mode. The heelless neck joint design augments the instrument's playability, offering easy access to upper fret registers. Layout of the instrument's controls is logical and offers the flexibility to control the volume of both the electric and acoustic pickups.
Axis 4: Tone

As you might guess, the tone achieves the same high standard as the other attributes of this acoustic/electric hybrid. Unplugged, the guitar's voice approximates that of the venerable Martin D-18 with its mid-range emphasis, natural sustain and blooming overtones. The guitar is voiced with a pair of Fralin Unbuckers along with a GraphTech Ghost Acousti-Phonic preamp system. The switching system allows the player to play the guitar in acoustic mode, electric mode or blended. The natural acoustic tones of the guitar are brought out wonderfully by this pickup system. In this mode, the guitar produced a snappy, yet bold acoustic tone that does not distort at high volumes.
Likewise, the Fralin Unbuckers are a fine choice for its electric voice, as their uneven coil winds augment the split coil modes, which blend very nicely with the Ghost system. The 5-way switch is as follows: pos. 5, neck humbucker (8.0K); pos. 4, neck split (4.5K); pos. 3, neck and bridge humbuckers (8.0K, 9.2K); pos. 2, neck and bridge split (4.5K, 5.2K); and pos. 1, bridge humbucker (9.2K). The electric mode offers up useable tones that range from jazz to blues to classic rock. While the guitar did not feed back at high volumes, high-gain applications left me wanting a little extra cut, which is typical of most semi-hollow designs. I found the blended tones quite appealing; as the electric tones became livelier their frequency range was extended by adding the Ghost system to the mix.
The Final Mojo
I would encourage readers to consider the offerings of CP Thornton and experience an example of a guitar at the "Axis of Axes."
Buy if...
you're seeking a well-executed acoustic-electric hybrid that you can pass on to future generations.
Skip if...
your hair metal gig demands high-gain lead tones along side your acoustic intros.
Rating...