Electro-Harmonix Next Step Talking Pedal Review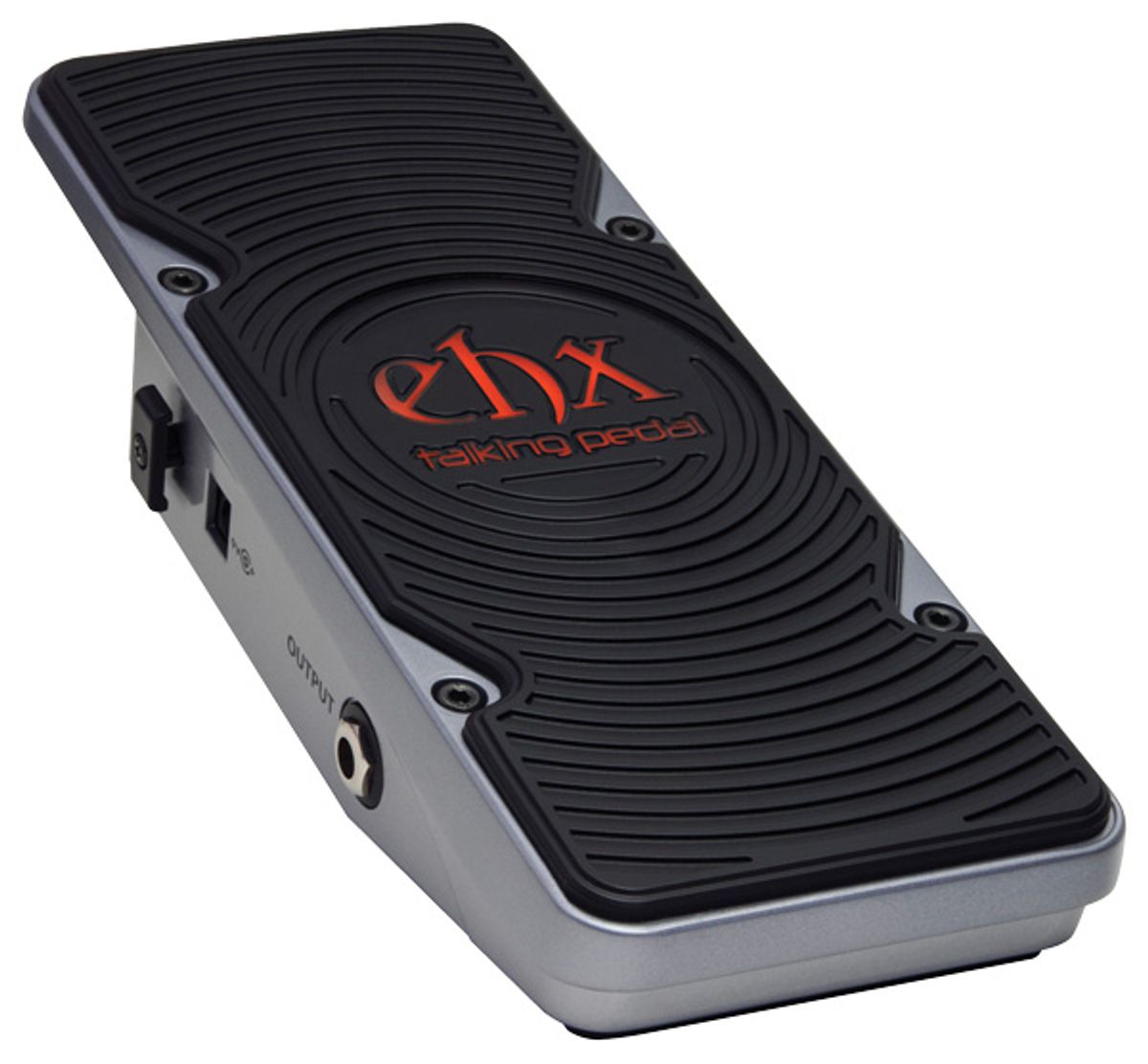 An exciting wah alternative in an innovative package at a great price.
A new Electro-Harmonix pedal usually means an exciting, if not radical, twist on tradition. So while I wasn't exactly surprised by EHX's attempt to reshape expression pedal effects with the new Talking Pedal formant filter (and the other pedals in the company's Next Step line), I'm thrilled by the sounds it makes and the way it makes them. Wah pedals may not have changed much since the '60s, but the Talking Pedal feels and sounds different.
Formant Speaks EHX is attempting to tackle the inherent shortcomings of traditional wah design via an expression pedal with no moving parts. The Talking Pedal resides in a super-rugged, unibody chassis that's rounded on the bottom. Inside is a motion sensor like those found in smartphones. And in classic EHX "why not?" spirit, there's also an adjustable fuzz circuit. It's a simple yet powerful combination that yields remarkable results.
The sonic differences between a wah pedal and a formant filter pedal can be subtle or extreme. Both effects employ resonant filters, but formant filter typically sound more like human voices. They usually consist of multiple filters sweeping multiple frequencies, producing a more complex, voice-like sound.
Rocking and Rolling The Talking Pedal's large, eye-catching logo glows red when the unit is engaged. To bypass, just rock the pedal forward, and the logo light turns off. Rolling it forward again re-engages the filter circuit.
Ratings
Pros:
Exciting new take on pedal expression. Formant filter tones are rich and throaty. Fuzz circuit is an excellent addition. Great price.
Cons:
Can't rest pedal in fixed position. Attaching to a pedalboard requires $13 Cradle add-on.
Tones:


Ease of Use:


Build/Design:


Value:


Street:
$95
Electro-Harmonix Talking Pedal
ehx.com

EHX's take on rocker pedal operation may be different, but interacting with the Talking Pedal feels familiar. In fact, rocking the pedal over its curved rubber bottom actually feels
more
natural than the pivot mechanism of traditional rocker pedals. And it works on every surface from hard desktops to plushy carpets.
One significant difference between the Next Step design and standard expression pedals: Gravity returns the pedal to its horizontal resting point, so you can't park it in a fixed position, not can you Velcro its bottom to a pedalboard. (Thankfully, not long after debuting the Next Step line, EHX released their $13 Cradle—a "holster" for the unit so it can be strapped down for secure transport.)
Talk Dirty To Me The Talking Pedal is dead silent when engaged, but its vowel sounds are rich and bold. You get a beefier tone than from a typical wah because the filters sweep multiple registers simultaneously. Paired with the neck humbucker on my Gibson SG, the pedal absolutely growled with overtones. A slow sweep through the pedal's range produces vowel sounds from "EE-OW" to "AH-EYE" to "YA-OH," much like the range of tones available on EHXs Stereo Talking Machine. Sweeping quickly provides fast-talking vocal expressiveness that can focus your tone and make riffs stand out.
The fuzz circuit is a useful addition, because a bit of drive and compression can push those filtered frequencies to the forefront. You control the fuzz content via a small side-mounted dial. The distortion has a squishy yet powerful tone that's almost Big Muff-like. The more fuzz you add, the more compressed the signal, and the squelchier the formant tones. At extreme settings, you get an awesome megaphone-like effect.
The Verdict Time will tell whether EHX's new take on the expression pedal paradigm will last. I encountered few frustrations other than the inability to set the pedal in a fixed position. The vocal formant sweeps are bold and throaty, while the fuzz circuit elevates those tones to new heights. The Talking Pedal is an exciting effect that may inspire new playing approaches.