The latest incarnation of Fender's most legendary solidbody is all about the zing.
Strat traditions aren't merely deep—they're also wide. It wasn't long after the instrument's 1954 debut before players started tinkering with Leo's original recipe, and the model's evolution in the decades since has often been dramatic. These days, the Stratocaster line is like a family tree that can be charted on a vintage/modern graph, with near-exact vintage replicas such as the Fender American Vintage line at one end of the spectrum and humbucker-equipped hotrods at the other.

If a historically accurate American Vintage Strat rated a 9.5 on this imaginary spectrum, the new American Professional Strat would get about a 7.5. At $1,399, the Professional's price is about average for a U.S.-made Fender Strat—costlier than the American Standard (which the Professional replaces) and American Special instruments, but not as expensive as high-end American Elite and American Vintage models.

A Familiar Feel
The Professional certainly feels like an old-school Strat. If you're a veteran Strat player, chances are someone could hand you a Professional for the first time just as you stepped onstage, and you could play all night with barely a second thought, except perhaps to admire the quality and consistency of the guitar's workmanship.

This build is excellent. The narrow/tall frets are perfectly installed, with smoothly rounded ends and a fast, sleek feel. The neck employs Fender's "deep C" profile, which feels svelte where the neck edges meet the fretboard, but with substantial mass filling your palm. The modern "sonic gray" finish has a subtle blue-green tint and a chic industrial look. The gloss finish polyurethane is mirror-perfect. The rear of the neck wears a thin matte finish.
The innate tone is airy and bright, with generous sustain and an attractively "hollow" acoustic-like resonance.

Smooth Setup
Our Professional arrived with a fabulous factory setup. The intonation was almost perfect. The actionwas slinky-low, yet buzz-free. The trem was set up "Jeff Beck style" (so that maximum pull raises the first string an exact half-step). The pickup heights were just right. This is truly a guitar you can play right out of the case. (And that molded-plastic hardshell case is included.)

The Professional sounds great unplugged. The innate tone is airy and bright, with generous sustain and an attractively "hollow" acoustic-like resonance. The whole instrument just hums when you strum, thanks in part to an expertly carved and seated bone nut. The bridge employs vintage-style two-screw saddles, and the entire assembly rocks smoothly and consistently on its fulcrum points. The pickup selector is the traditional 5-way type.

Modern touches include contemporary Fender tuners, a sleek new string tree design, a "trem'" arm that snaps rather than screws in. But Fender also revisits the under-appreciated Micro-Tilt neck angle adjustment feature that first appeared on oft-maligned 3-bolt-neck Stratocasters and Telecasters from the early '70s.

Another update is a modernized wiring scheme. On vintage Strats, there's a tone control each for the neck and middle pickups, but none for the bridge pickup—one of several factors that gives the Strat bridge pickup a "hard to handle" reputation. Here, though, the first tone knob controls the neck pickup, and the second tone knob controls both the middle and bridge pickups. For most applications, this system makes far more sense than the original design. The tone pots are nicely voiced, too. You can get more-than-decent traditional jazz tones when you roll them back.
Ratings
Pros:
Excellent build. Superb traditional tones. Cool wiring and hardware refinements.
Cons:
Not for strict vintage purists.
Tones:


Playability:


Build/Design:


Value:




Street:
$1,399
Fender American Professional Stratocaster
fender.com
Zing Went the Strings of My Strat
The Professional's snappy unplugged sound promises high-end excitement and, man, does it deliver when plugged in! In every pickup position, tones ring and chime, with snappy-crisp attack and pleasing sustain. But that's not to say the Professional is excessively bright. Thanks to the guitar's basic tonal balance and sense of top-end headroom, you can dig in hard for aggressively bright tones that still sound even and listenable.

The Professional houses a trio of single-coils designed by Tim Shaw, which, according to Fender, feature "a proprietary blend of alnico magnet types," though they offer no further details. Whatever their composition, the pickups provide vintage-approved sounds, but with a bit more treble openness. Everything balances beautifully (though part of that is due to the expert setup). The pickups' pole pieces are staggered as on a vintage Strat.

Meanwhile, the volume pot is wired using the popular "treble bleed bypass" mod, which adds an extra cap and resistor between two pot lugs. That way, tones lose no treble when you lower the volume knob. After playing a vintage Strat for decades, I found the effect is a bit surreal—but I love it! The revised wiring might be an issue for the small percentage of Strat players who use the volume knob as a secondary tone control. But now you can get crystalline clean tones at lower volume knob settings, which means you can set your amp fairly hot and veer from clean to crunch via the volume pot.

The Verdict
The original Strat design is so iconic and beloved that you have to be cautious about referring to changes as "improvements." With its updated wiring, pickups, and hardware, the American Professional Stratocaster may not be the best choice for hardcore Strat traditionalists. But the guitar will probably delight—uh—medium-core traditionalists, who will relish both its fine vintage-approved tones and the new possibilities afforded by the revised wiring. And there's no denying the Professional's universally fine build quality, zingy resonance, and richly nuanced tones.
Watch the Review Demo:

Looking for more great gear for the guitar player in your life (yourself included!)? Check out this year's Holiday Gear Finds!
Flare is a dual-function pedal with a tube-like booster and a 1970s-style ring modulator effect that can be played separately or together.
Flare's ring modulator is based on the iconic tone of the original Dan Armstrong Green Ringer. This vintage classic was made famous by Frank Zappa who loved the unusual modulations created by generating a harmonic octave over notes. Messiah's version offers two control knobs: a "Sparkle" tone attenuator and output Level control. Its taupe-gold body, purple and green knobs and stick-figure rock 'n' roller holding up a flame convey an appropriately rockin'70s vibe.

​In a unique twist, Messiah's Flare pairs the ringer with a warm tube-style boost instead of a fuzz. Flare feeds the booster into the ringer for an extra punch, while preserving the Green Ringerspirit. The ringer side also turns any fuzz into an octafuzz, and it has the ability to quiet signal background noise fed through it.
The booster side features a single Boost knob to control the MOSFET circuit, making it very tube-amp-friendly with a warm, organic boost and gain of up to 32dB.
​The pedal is a distinct improvement over the 1970s pedal that inspired it. "Most ringer pedals don't track well," Tom Hejda, owner of Messiah Guitars. "The player can't rely on repeating the same effect even with the most consistently played notes. We carefully matched the components, so our ringer follows your every move, producing that slightly dirty octave you expect on demand."
Messiah developed this vintage octave pedal with flexible features so that people who love that messy, dirty Zappa-esque sound can get there with ease but there's also something for those who have not fallen in love with fuzz or the Green Ringer alone. Flare offers an array of sonic options while retaining simplicity in the controls.
Each Flair Pedal Includes:
3 control knobs: Boost, Sparkle, and Level
Two effects – Ring Modulator and Boost – can be used together or separately
Space-saving top side jacks
Durable, cast aluminum alloy 125B enclosure with fun artwork
Easy to see, illuminated True-bypass foot switch
Standard 9V pedal power input​
Flare Pedal Demo
Messiah Guitars pedals are designed with an explorative player in mind. Like their custom guitars and amplifiers, Messiah's pedals are hand-crafted in Los Angeles for a long life with guaranteed quality.
Flare retails for $199.00 and can be purchased directly at Messiah Guitars or you can hear it in person at Impulse Music Co. in Canyon Country, CA.
For more information, please visit messiahguitars.com.
This feathery little guy is a joy to play because of its incredibly quick response to your right hand - much faster and more expressive than your typical auto-wah pedal.
​If it looks like a duck, acts like a duck, and QUACKS like a duck, then it must be a duck. That's how we came up with the name for our new envelope filter. This feathery little guy is a joy to play because of its incredibly quick response to your right hand - much faster and more expressive than your typical auto-wah pedal. Trevor explains how this is possible in the launch video, as well as gives a demo on Le Canard's operation.
​The attack control determines how quickly the filter responds to the envelope, and the decay sets how quickly the filter releases afterward. The range controls which frequency spectrum the filter does its magic on. Add to this relay-based full-bypass switching with failsafe, and you've got one crazy little quacky beast. It is so expressive that you'll want to give up on your rocker-wah forever.
The MayFly Le Canard envelope filter features:
Super fast responding envelope follower. Touch it and it jumps!
Range control to dial in the character of the filter
Attack control to control how fast the filter moves on that first touch
Release control to control how slowly the filter slides back to baseline
Full bypass using relays with Fail SafeTM (automatically switches to bypass if the pedal loses power)
Cast aluminum enclosure with groovy artwork
MSRP $149 USD ($199 CAD)​
Introducing the MayFly Le Canard Envelope Filter
All MayFly pedals are hand-made in Canada.
For more information, please visit mayflyaudio.com.
Outlaw Effects introduces their next generation of NOMAD rechargeable battery-powered pedal boards.
Available in two sizes, NOMAD ISO is a compact, versatile tool that offers the convenience of a fully powered board plus the additional freedom of not having to plug into an outlet. NOMAD ISO is ideal for stages with limited outlet availability, quick changeovers, busking outdoors, temporary rehearsal locations, and more.
NOMAD ISO builds upon the legacy of the ultra-convenient and reliable NOMAD rechargeable pedalboard line originally launched in 2018. The brand new NOMAD ISO editions feature eight isolated outputs (1 x 9V DC, and 1 switchable 9V/12V DC) for even more versatility and clean, quiet power. With an integrated lithium-ion battery pack boasting 12800mAh capacity, NOMAD ISO can fuel a wide array of pedals, and will last over 10 hours* on a single charge.
Each NOMAD ISO pedal board includes adhesive hook & loop pedal-mounting tape, eight (8) standard DC connector cables, and one (1) reverse polarity DC cable, giving you everything you need to build your ultimate "off-the-grid" rig. A rugged, road-ready padded gig bag with shoulder strap is also included, to safely protect your gear while you're on the move.
NOMAD ISO S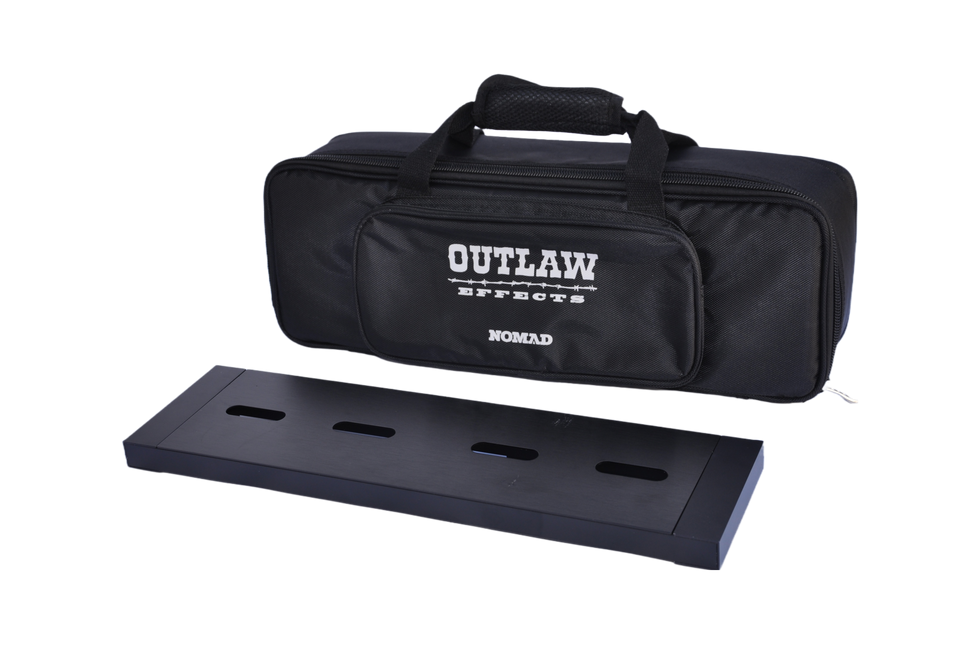 NOMAD ISO S: MSRP $309 / MAP: $249
Dimensions: 19 ¼" x 5 ¼"
NOMAD ISO M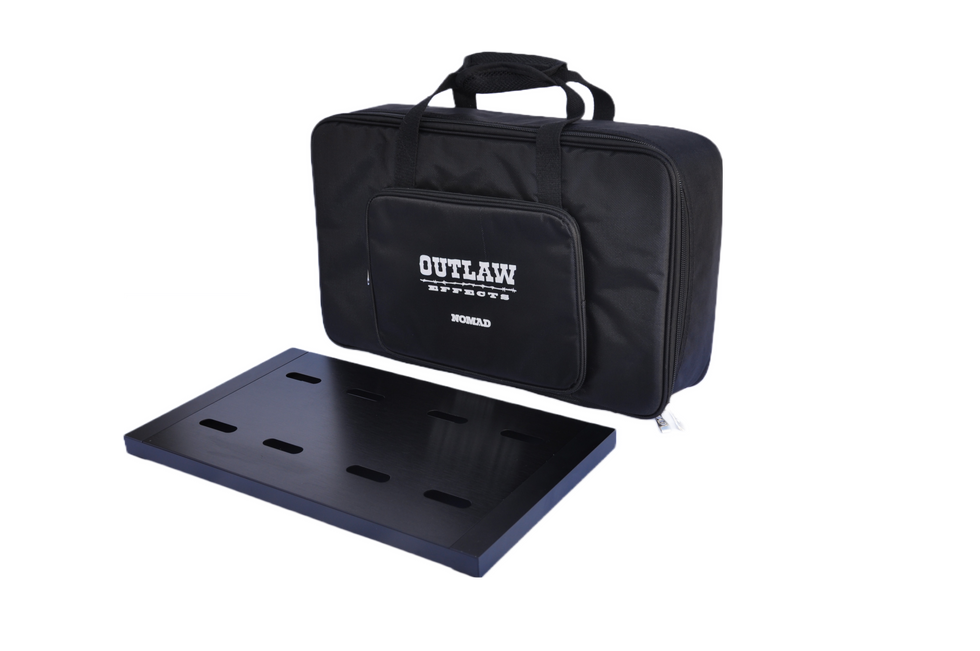 NOMAD ISO M: MSRP $349 / MAP $279
Dimensions: 19 ¼" x 11"
More info: https://www.outlawguitareffects.com.