JET Caldera Electric Guitar Review
The closing of 2010 may signal the end of a rather turbulent decade, but it's certainly a time to celebrate the state of the independent guitar-building industry, which, despite
The closing of 2010 may signal the end of a rather turbulent decade, but it's certainly a time to celebrate the state of the independent guitar-building industry, which, despite uncertain economic times, has been fruitful and innovative over the last decade. Small builders are not an entirely new phenomenon, but the popularity of the internet really helps small outfits get the attention they deserve. And playing a superb guitar like the JET Caldera reminds me how wonderful it is to be a player in a time when such outfits can thrive.
Force of Nature
You can tell the Caldera is a special guitar by just opening the case. It's a stunning instrument in every sense of the word. From headstock to strap button, the guitar revealed no finish or structural blemishes, no matter how hard I looked for them. The Caldera weighs just 7 1/2 pounds and was perfectly balanced when I stood and let it sit across my shoulder with my strap set waist high. The gorgeous transparent black korina body is capped with a quilted maple top and finished in a three-tone Caribbean Burst paint scheme with exquisite natural wood binding.
JET uses a unique process to join their body and top pieces, which involves carving the body wood to a peaked center in the middle, routing carefully placed tone chambers, then finally gluing the top on with an extremely strong polyurethane- based adhesive. According to JET, this makes the guitar tremendously resonant and lively. The entire body is encased in a polyester finish that exhibits a strong sheen and transparency.
I was taken aback by how closely JET paid attention to minor details, such as using exotic wood pieces to surround the pickup screw cavities and installing a recessed, angled jack on the back of the guitar. It's a practical and aesthetically pleasing design touch that's typical of JET's work. A string-through bridge, two custom-wound Seymour Duncan humbucking pickups (which are screwed directly into the body for better resonance and sustain), two Volume, and two Tone knobs (with a push-pull coil-tap switch in the neck pickup's tone control) make up the rest of the Caldera's hardware. Except for the pickup bobbins, there's not a trace of plastic on this instrument.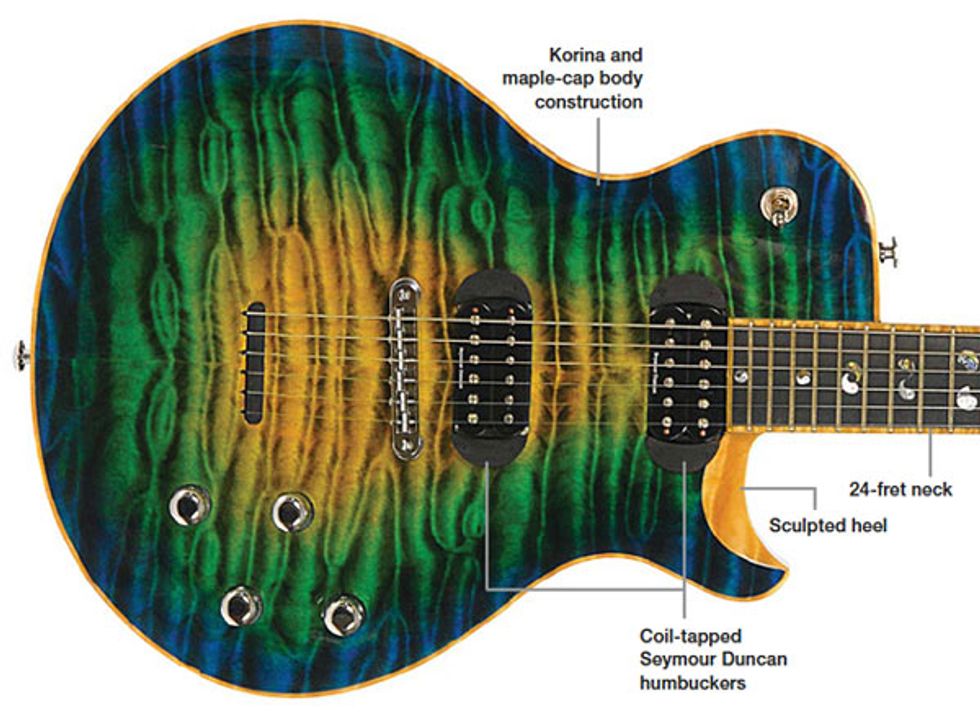 Neck Over Heels in Love
As lovely as the Caldera's body looks and feels, its neck was the real source of joy for me. Made of three pieces of quartersawn hard maple with a 25"-scale, the ebony-stained, 24-fret neck felt like a piece of finished marble in my palm. And with the perfectly smooth slab of ebony used for its fretboard, the Caldera's neck was one of the best I've felt in years. The joy didn't stop there, though. The Caldera's highly sculpted neck joint fit my hand like a glove, giving me effortless access to the higher frets. All that reach can feel a little strange if you're accustomed to the chunkier neck joints of a
Stratocaster
or
Les Paul
. But with its enhanced playability, the joint is a true design improvement that's easy to get used to.
Born to Burn
It's pretty evident that the Caldera has its roots in the hardrocking tones of a choice Les Paul, so I was eager to test the Caldera's mettle with a rig known for its LP friendliness—a 1981 Marshall JCM800 2204 half stack, set with the gain up about halfway. Starting right into some tight, blues-rock riffing, I was treated to clarity, sustain, and tonal bite that were off the charts. The highs were clear and present, but pleasantly rounded. The Caldera has a solid, defined low end, but I was struck by the guitar's pronounced high-midrange tones. Far from annoying or nasal, they work exceptionally well in exactly the way you'd want a humbucker to interact with a great British tube amp.
The dual custom-wound Seymour Duncan pickups are, in general, quite hot, but they possess a juicy bounce and sweetness that feels natural and easy to control. By comparison, the Caldera's coil-tapped sounds are a little disappointing and seemed a bit weak and thin, even when I ran just the neck pickup into a Fender Twin Reverb. Obviously I wasn't expecting the guitar to exhibit the same amount of force and punch as it had in full humbucking mode, but the chime-like quality of the high end was noticeably deadened when the tapped mode was engaged. That said, it's a tone that could work for jazz or blues players who require a little less muscle and high-mid kick in front of their amp.
The Verdict
The JET Caldera is an outstanding guitar. It offers many familiar Les Paul design motifs with refinements that alleviate some of the most common complains of that time-honored axe. I was hard-pressed to find anything involving the tone that was not top notch, except for an arguably weak coil-tap mode. Thanks to its great neck and super-resonant, lightweight body, playing the Caldera is almost as effortless as pulling it out of the case. Traditionalists should have no problem gravitating towards its impeccable build, though they might be turned off by how brazen and hot the pickups are. For modern rockers, however, the Caldera is a great choice, especially if you crave a guitar that stands out from the pack.
Watch the video review:
Buy if...
you're looking for a great-sounding, hot-rodded rock machine that's distinctiv eand magnificently playable.
Skip if...
you rely primarily on single-coil guitar tones.
Rating...