An integrated 100-watt power amp and overflowing features and effects, make up a potentially perfect do-it-all recording solution.
Excellent sounds. Switchable ohmage. Superb build quality. Good audio interface. Excellent editing software. Extensive MIDI functions. Dual-band impedance selector. Bestows new superpowers on simple, vintage-style amps.
Skimpy documentation. The priciest option.
Boss WAZA Tube Amp Expander Amplifier Attenuator
boss.info/us
5
5
4
4.5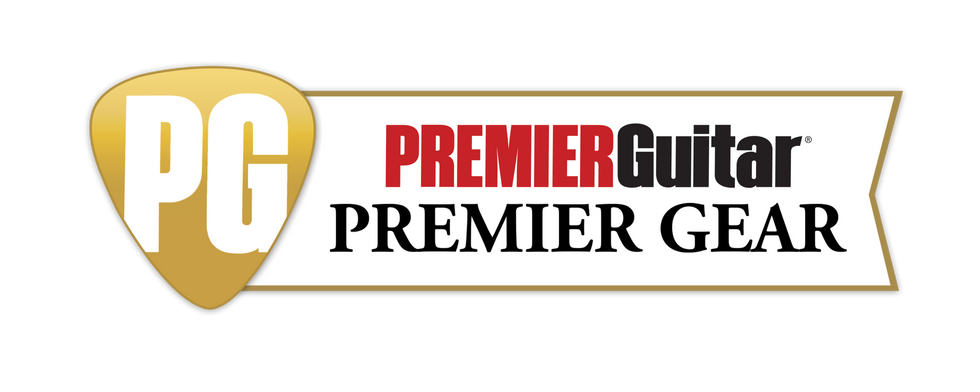 Boss's WAZA Tube Amp Expander Amplifier Attenuator is a fascinating and ambitious device. It's clearly influenced by Universal Audio's earlier OX Amp Top Box. (See "OX Me Again" sidebar.) But it adds several features not found on the OX—or anywhere else, as far as I know. But first, some basics. (We evaluated the Tube Amp Expander—TAE for short—with its improved version 2 software.)
---
The TAE is a hefty piece of hardware weighing 15 pounds and measuring roughly 15" x 12"x 4.5". The build quality is superb, with an ultra-rugged enclosure and high-quality pots, switches, and jacks. There's a classy built-in power supply. This a heavy-duty piece of kit—Boss isn't screwing around.
What's an "Amp Expander?"
Like the OX, the TAE is a rectangular box raised on rubber feet that can perch atop many combo and head-only amps. (It's also rack-mountable.) It, too, is a load box, speaker attenuator, direct-recording preamp, and IR player/loader. We'll cover those functions in a moment, but first, let's zoom in on the TAE's unique and useful "amp expander" role.
All the products covered here let you generate big-amp sounds at low volume. But TAE can also flip the equation, delivering small-amp sounds at high volume, thanks to an integrated 100-watt solid-state power amp. Let's say your favorite amp is a tiny Fender Champ. It's great for recording, but it lacks the muscle for stage use. You can route your Champ's speaker out to the TAE and crank the onboard amp for stage levels that rival a 100-watt stack. (Important: You'll need a speaker cabinet that can handle such levels, which can easily demolish a Champ's humble 8" speaker.)
Like the OX, the TAE includes an effects section offering EQ, compression, reverb, and delay. This provides a virtual effects loop for amps that lack one. If you add Boss's $133 GA-FC foot controller (not reviewed), you can toggle effects on and off and enter delay times by tap. (Most of these functions are accessible via front-panel switches, so a controller pedal isn't strictly necessary.)
So now that simple two-knob Champ includes a high-quality effects loop, a solo boost, footswitch remote control, preset storage, compatibility with many MIDI switchers and controller pedals, and enough onstage volume to compete with macho stacks and heavy-handed drummers. If that's not "amp expansion," I don't know what it is.
Refining Your Rigs
The TAE can store 32 IRs onboard, with more IRs accessible via an attractive, lucid software interface for Mac or Windows. (There aren't yet any editors for mobile devices.) The included IRs are a well-rounded collection of Marshall, Mesa, Fender, Vox, and Freidman cabs in configurations ranging from 1x8 to 4x12. Like the OX, the TAE refers to saved IR/effect combinations as rigs. You can store eight rigs onboard and switch between them without connecting to a computer. You can load your own IRs via a dedicated IR loader app.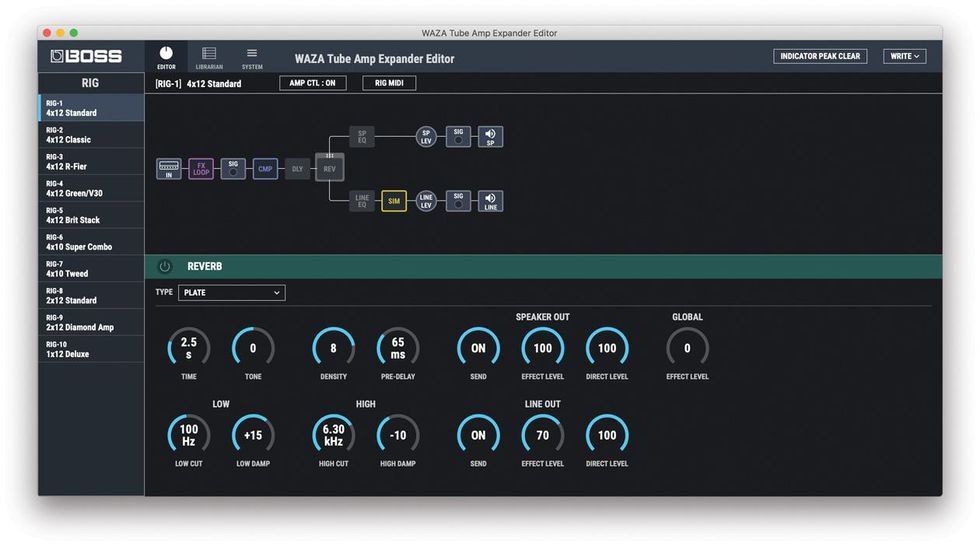 The TAE's audio editor boasts a lucid interface with an intuitive signal-flow graphic.
The five microphone models are a Neumann U 87, a Shure SM57, an AKG C451 B, a Royer R-121, a Sennheiser MD 421, plus several combined settings, all with adjustable virtual positions. Additionally, there are four room-mic settings of varied sizes. Sound quality is excellent.
Comprehensive Connectivity
The rear-panel functions are formidable. In addition to stereo XLR output jacks, there's a mono XLR out for feeding the front-of-house mixing desk. The effect loop can be configured as series or parallel. There are full-sized MIDI I/O ports—the TAE not only responds to control messages, but can also transit them to external gear. There's a channel-switching output for multi-channel amps, a stereo headphone jack, and a 4-ohm/8-ohm/16-ohm selector
Another unique feature is a sophisticated impedance selector with independent controls for bass and treble frequencies. This lets you fine-tune the response to suit individual amps. (For example, a low bass-impedance setting can nix unwanted oscillation from ultra-high-gain amps.)
The Verdict
Boss'sWAZA Tube Amp Expander Amplifier Attenuator performs an astonishing number of tasks and sounds great while doing so. The build quality is superb. It boasts unique features, such as its integrated 100-watt power amp and dual-band impedance controls. At $1,338, it's the costliest item in this roundup, and you may not need all its features. But for many gigging and recording guitarists, it could be a perfect do-it-all solution.
Rhett and Zach unpack the big news for secondhand guitar sellers and buyers: Sweetwater has launched their new Gear Exchange. How does it compare to Reverb, Craigslist, and Marketplace? To find out, Zach takes the site for a spin and buys a pedal. He calls the process both "very easy" and "normal." They discuss the pros and cons of the various used-gear outlets and share tips for not getting got when buying gear. Plus, Zach grew a mustache, Mythos Pedals is moving, and he talks about his forthcoming line of Strat pickups inspired by Hendrix's reverse-stagger setup.
Sweetwater vs. Reverb

The Tour Collection is defined by a minimalistic, vintage-inspired aesthetic, top-of-the-line components, and a simplified electronics configuration featuring new, custom pickups by Supro.
Available in the collection is the 16-inch-wide double-cutaway DC, the 15-inch-wide single-cutaway SS, and a 14-inch-wide Mini DC. Each model comes in three finishes: Slate Blue, Solid Wine, and Solid Black.

Every detail of the Tour Collection was chosen to achieve retro minimalism. Small diamond fingerboard inlays match 1930s-style diamond f-holes, and an undersized Throwback Scroll-style headstock achieves excellent head-to-body balance. The collection also features satin nickel hardware and custom Vintage Deluxe Grover tuners with a 15:1 gear ratio. Each model also features a simplified two-knob electronics configuration with 50s-style wiring to retain top-end clarity upon rolling off the volume knob. The neck shape in the Tour Collection is similar to the slim C-shape found throughout the D'Angelico line, but with more thickness in the shoulder to allow for snug hand fit as well as extra sustain. Medium Jumbo fret wire and a 12-inch fingerboard radius allow for quick navigation of the fingerboard while also prioritizing comfort for both rhythm and lead playing.
In 2020, Supro and D'Angelico became part of the same family of brands under Bond Audio. At that time, EVP of Product Ryan Kershaw and CTO Dave Koltai began designing custom pickups under the Supro name for the Tour Collection project.
"Supro Bolt Bucker pickups were designed to offer the tone of the most sought-after vintage "PAF" pickups from the late 1950's. Scatter wound, just like the originals, Supro Bolt Buckers utilize 42-gauge enamel wire along with a mixture of Alnico II (neck) and Alnico V (bridge) magnets to provide the perfect balance of warmth and clarity with unrivaled articulation and note bloom." - Dave Koltai, Chief Technology Officer at Bond Audio.
Introducing the Excel Series Tour Collection | D'Angelico Guitars
All models are available for pre-order and will be in stock this holiday season. US MAP $1499. For more information, please visit dangelicoguitars.com.
The Cream Amp is a handmade low-gain overdrive pedal based on the Electra Distortion circuit.
The Cream Amp was designed to deliver full dynamics amp-like dirt to your clean and crunch amp or to another pedal in the chain without altering your tone too much. To add some grit at low volume or to make your amp sound more full, use the Drive control to set the gain and the Level control to match with your amp.
​Two knobs to control Volume and Drive
Shielded inputs/outputs to avoid RF
Filtered and protected 9VDC input
Daisy-chain friendly
Current draw: 7.5mA
The Cream Amp pedal is hand-made in Barcelona with carefully selected components and has a price of 100.00€. The pedals are available and can be purchased directly from the Ananasheadonline store.
For more information, please visit ananashead.com.
The Red Sea was born out of the vision to provide complex signal routing options available to the live/performing musician, that up until now, are only found in a studio mixing environment.
​Introducing the Red Sea, an all-analog signal routing matrix, designed for countless stereo and mono signal path routing options. The Red Sea was born out of the vision to provide complex signal routing options available to the live/performing musician, that up until now, are only found in a studio mixing environment. The Red Sea has accomplished this in a compact, easy-to-use, and cost-effective solution.
Wet | Dry | Wet
The Red Sea gives you the ability to run a FULL Stereo wet dry wet rig using only 2 amps or just 2 signals to the FOH, while also giving you complete control over your Wet & Dry mix! Use the Blend knob to control the overall mix between stereo wet effects and mono dry/drive signals.
Stereo Dual Amps
Run dual amp modelers if full stereo w/ stereo effects. Gone are the traditional ways of one amp in the Left channel and another in the Right channel. Now use the Red Sea to seamlessly blend between two separate amps in true stereo. Think of this as a 2-channel amp where you can blend anywhere between both amps.
Stereo Parallel FX
Red Sea has two independent stereo FX loops. Use each FX loop to run stereo delay's and reverb's in parallel, where each effect does not interact with each other. Huge soundscapes can be achieved with washy reverbs and articulate delay repeats while being able to blend between each FX loops mix level.
The Red Sea can also do the following routing options:
Wet | Dry utilizing a single amp
Clean Wet | Dry | Wet (drives DO NOT run into wet effects)
Wet | Dry | Wet with dual delays (one in the L channel & other in R channel)
Parallel Dual Amps (run dual amp modelers in FULL stereo)
Convert a tube amp's serial FX Loop to a parallel FX Loop
Stereo and Mono analog dry through (avoid latency in digital pedals)