J Rockett Uni-Verb Review
Real optical modulation circuity and a digital spring reverb add up to luxurious, expansive, and authentic Uni-Vibe sounds.
Rich, authentic Uni-Vibe sounds from a real optical circuit. Spring reverb and Uni-Vibe are like chocolate and peanut butter!
No expression pedal option. Expensive. Reverb can sound more reflective than washy.
4.5
4.5
4.5
4
If you were designing a loving and largely accurate stompbox homage to the Uni-Vibe, adding the sound of spring reverb might not be an obvious move. The original Uni-Vibe certainly didn't have a spring reverb built into that big, clunky enclosure. So why would J Rockett pursue this path? Because it's incredibly fun and sounds amazing—that's why.
---
Swirl and Splash
Though its reverb component is digital, Uni-Verb's modulation section is not a digital facsimile. It's a true, optical chorus-and-vibrato (some might say phaser-and-vibrato) circuit, just like the original Uni-Vibe—right down to the little lamp that pulsates among optical sensors at the center of the ordered and neatly executed circuit board.
The hefty enclosure (J. Rockett pedals always feel more like high-quality test instruments from the 1950s than guitar pedals) is a handsome homage to the original Uni-Vibe, right down to little details like the chicken head knobs and "clock" markers that surround the chorus mix and reverb dwell dials. On an original Uni-Vibe, the two big dials (in fact, the only dials) are dedicated to output volume and modulation intensity. Here, those chores are handled by two small knobs in the pedal's center. The two additional knobs in the middle are reverb intensity (wet/dry mix) and the modulation rate control. Sadly, there is no expression pedal option for the rate, which, functionally speaking, makes the Uni-Verb a little less authentic.
Uni-Verb's modulations are thick and chewy enough to make you feel like you're sitting in a molasses puddle.
The Uni-Verb's reverb, which is generated via an Accutronics Digi-Log module, is immersive, engaging and fun. At higher levels it exhibits an almost staccato, super-reflective reverb texture rather than the washy decay I hear in the '60s black-panel Fender combo I used for comparison. This isn't an altogether uncommon phenomenon in digital spring reverb approximations—even in expensive, DSP-intensive ones. In isolation, this facet of the Uni-Verb's reverb sound is much more apparent. And it's most obvious when playing choppy chords or spacious lead lines peppered with strong transients. Passing chords and busier lead lines, however, tend to obscure the phenomenon, and once the reverb signal is enmeshed with the beautiful modulations you rarely notice it. That quirk aside, Uni-Vibe's reverb still sounds very much like real spring reverb. And when you're playing or listening to playback it exerts much of the same visceral tug and in-your-face snappiness of real spring reverb.
Human Chew Toy
At the highest intensity settings, the Uni-Verb's modulations are thick and chewy enough to make you feel like you're sitting in a molasses puddle. I played at these high intensity levels often in my time with the Uni-Verb. You could swim in a two-chord vamp forever here, and the pedal remains articulate in these spaces, even when you push the chorus mix. I'm sure some players would like for the pedal to probe more radical modulation zones. But I love the headroom that's built in at these high intensity levels. It makes the pedal more articulate and detailed, and you can dial in even more headroom if you keep the output level on the high side but just short of maximum. Needless to say, fuzz is a very sweet match for this pedal. And though, in my experience, some dark fuzzes or overdrives blur modulation detail and overtones in Uni-Vibe clones, the Uni-Verb is very accommodating of these voices. Even Sovtek-style Big Muffs sound alive and full of color and detail riding these waveforms. Gilmour obsessives take note.
The Verdict
Like so many J. Rockett pedals, the Uni-Verb sounds like the product of thoughtful design and intent, feels like a brick, and reflects a curiosity-driven "what-if" design mentality that, ultimately, yields sounds you don't typically encounter in a single pedal. It might not fix all your pedalboard overcrowding problems. But on more than one occasion I considered that I could very easily get away with playing a show with this pedal and nothing else. And though at $449 it represents a considerable investment, you'll be hard-pressed to find a more authentic Uni-Vibe pedal, and harder-pressed to find one that adds up to such a huge-sounding whole.
J. Rockett Uni-Verb Demo | PG Plays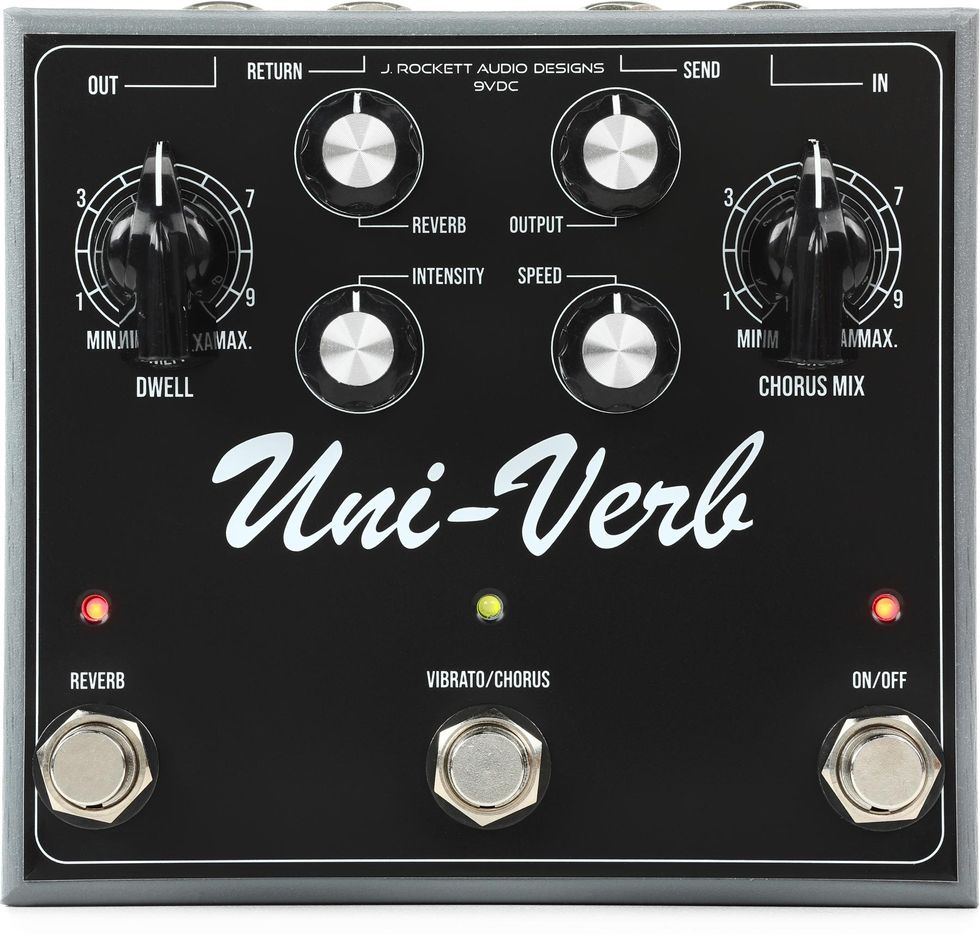 The Uni-Verb gives you access to the classic vibe-style textures showcased on such classics as Robin Trower's "Bridge of Sighs," Jimi Hendrix's "Machine Gun," Pink Floyd's "Breathe," and a whole host of others. This stompbox delivers the full gamut of the original's chorus and vibrato effects, along with a spring reverb for added vintage mojo and dimension. When the guitarists here at Sweetwater really want to nail classic vibe-style tones, we like to place the unit before our drives.
J. Rockett Audio Designs