Red Panda Raster 2 Review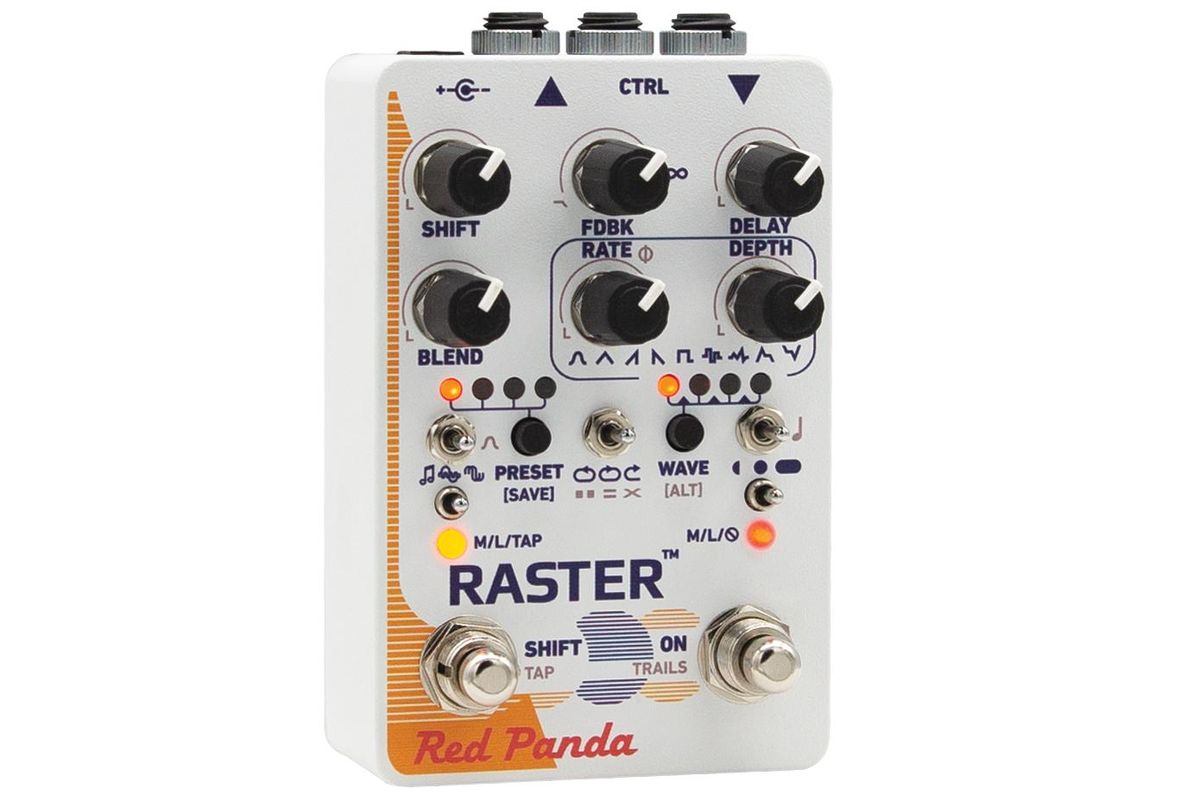 A feature-filled pitch-shifting delay meant for maximum weirding.
Wide-ranging and unique functionality. Envelope settings and momentary switches lend extreme interactivity.
Steep learning curve. Stereo input/output is only via TRS stereo cable.
4.5
4.5
4
4
You could call the Raster 2 a delay pedal with a pitch shifter and modulation, but that would set up inaccurate expectations about the pedal's sound and function. Instead, like many modern algorithm-driven glitch pedals, the Raster provides a way of interacting with sound. In that way, the Raster 2 is as much synth as tone augmenter.
---
The Raster 2 offers an intimidating set of controls: six knobs, six switches, two buttons, and two footswitches which have multiple functions. I started simple, only employing the delay, which offers 1600 ms of delay time. At its fastest settings, I added micro-pitch shifting to produce flanger and chorus sounds. Bigger pitch shifts (the control ranges up to an octave in each direction) revealed my favorite sound—a full wet blend and a momentary setting on the pitch shifter footswitch that added percussive, noisy, arpeggiated explosions.
Red Panda Raster 2 Review by premierguitar
moderate delay time, moderate descending pitch shifting, ramp up and down.
long, moderate, and short delay times, infinite feedback with low blend setting, moderate ascending pitch shifting, square ramp.
short delay settings with ascending pitch shift set to momentary switch, reverse envelope modulation.
moderate delay time, slight ascending pitch shifting, envelope-controlled modulation.
The modulation function has seven waveforms plus envelope and reverse envelope settings, the latter two of which are very interactive. At long delay settings and high feedback settings, each of these waveforms can take on a life of its own, oscillating into controllable infinity.
There are nice conventional delay and modulation sounds in the Raster 2, but its most exciting and unique settings are the craziest. There's cool stereo functionality, but it requires a less-convenient TRS stereo breakout cable instead of simpler separate left/right outputs. And, as with any advanced-level digital pedal, there's a lot to learn to get the most out of the Raster 2's capabilities. Even so, the Raster 2 offers quick rewards, too, and is more user-friendly in that respect than it first appears. Most important, it's so much fun, you'll want to keep digging in.