Rig Rundown: Baroness [2019]
Frontman John Baizley and former Cirque du Soleil shredder Gina Gleason explain the atmospheric metal outfit's switch to single-coils—and how a fuzz pedal first brought them together.
Creating one concept album is a daunting task for any band. So, the fact that Southern prog-metal steamroller Baroness just capped off their color-coded, 5-part odyssey (2007's Red, 2009's Blue, 2012's Yellow & Green, and 2015's Purple) with 2019's Gold & Grey, is no small feat. But the idea that John Baizley (the lone founding member and visual leader) still has a band is the bigger accomplishment. For one, during a 2012 world tour in England, the band's tour bus careened down a viaduct near Bath and severely injured numerous bandmembers and crew personnel. Following that turmoil, then bassist Matt Maggioni and drummer Allen Blickle left the band.
Enter bassist Nick Jost and drummer Sebastian Thompson. The fresh synergy from new members and raw emotions still bubbling from the crash fueled the stalwart guitar combo of Peter Adams and John Baizley, ultimately earning the band its most critical praise, including and a Grammy nod for "Best Metal Performance" on Purple's "Shock Me." (Check out our 2015 interview with Peter Adams and John Baizley.) And after another grueling run of dates, Peter Adams decided to leave the band to focus on family life back home. This left Baizley, once again, in the need of a musical chair to be filled.
Around this same the time, guitarist Gina Gleason was busy in Las Vegas working as the Muse in Michael Jackson: One by Cirque du Soleil at Mandalay Bay in Las Vegas. While browsing the interwebs in search of new gear, as guitarists do, she noticed fuzz fanatic Steve Strohm of Philly Fuzz was not only based in her hometown (duh, Philadelphia), but he was building them in her family's neighborhood. She had to have one for two reasons—she was after a germanium-based snarler and she wanted to support a local artisan. Purchase complete.
But before the pedal was shipped, part-time associate and Philly Fuzz friend, John Baizley sent Gleason a quick note on Instagram and the two hit it off. Instead of shipping the pedal, Baizley invited her over to his house to test out some other Philly Fuzz creations and to jam on his smorgasbord of equipment. The two kept in touch and whenever they crossed paths and had time in Philly, they jammed.
They talked about working on a side project, but let's be honest, Gina played a muse once in the King of Pop production, so it seems apropos she'd spark a new musical start for this chiseled rock band to help them finish their pentalogy. Her swaggering presence is best felt alongside Baizley, when their symbiotic relationship is most powerful with seething, dueling guitar riffs ("Borderlines") and evocative harmonized vocals ("Cold-Bolded Angels") that season Gold & Grey like new spices reinvigorating your mother's prized dish.
Before Baroness' Nashville gig at the Cannery Ballroom, PG's Chris Kies stopped by after soundcheck (and before an acoustic set at Music City's Grimey's record shop) to see how the band who once adorned humbuckers and full stacks onstage now slay with offsets and T-styles that chime and grind through a pile-up of small-wattage tube combos designed for high headroom and pedal manipulation. After a lengthy chat with John Baizley and Gina Gleason about their new full-Fender setups, each guitarist slings on a 6-string and shows off their stomp stations that illicit everything from spacious tranquility to mondo crush.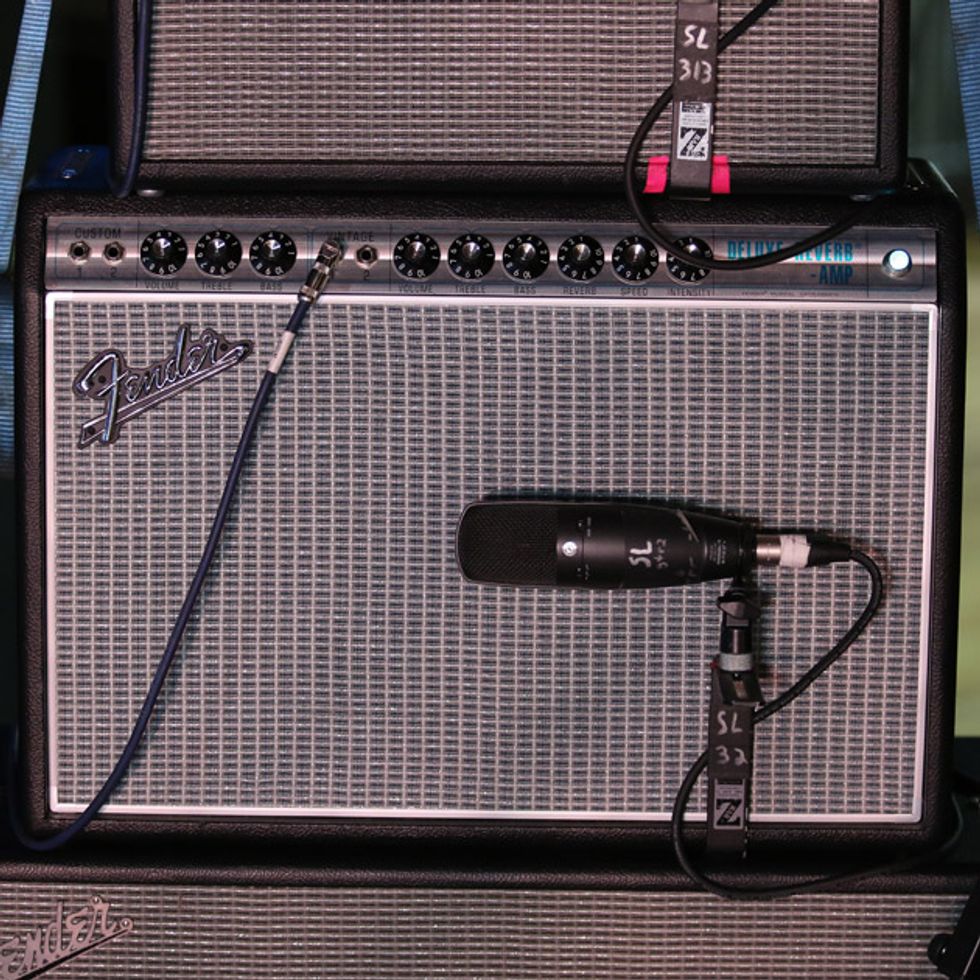 ---
Click below to listen wherever you get your podcasts:
---
D'Addario DIY Solderless Power Cable Kit:http://ddar.io/DIYPowerCables
---
---
---