Rig Rundown - Zac Brown Band
PG's Jason Shadrick is on location checking out the live rigs of Zac Brown and his guitarists Clay Cook and Coy Bowles.
PG's Jason Shadrick is on location in Davenport, Iowa checking out the gear of Zac Brown Band's three guitarists: Zac himself, Clay Cook, and Coy Bowles.
Zac's Guitars
Zac's main guitar is a custom prototype Taylor nylon-string built to his specifications with a beefy neck and hex pickup. All of the band's guitars are tuned a half-step down and all of the band members use D'Addario strings. He plays his main guitar for about 70% of the show and switches for different tunings and capo positions.
His go-to electric is a Collings I-35 he uses on "Uncaged," "Who Knows," "Colder Weather," and "Whiskey's Gone." He also occasionally uses a Dunleavy Chief Strat-style guitar, and a Gibson Les Paul. He uses a Beard resonator guitar for the song "Annie."
Zac's Pedals
Zac's pedalboard features a Keeley Compressor, Boss tuner, two Port City Sahana boosts set for rhythm or lead overdrive, a new Strymon El Capistan, and two Boss GE-7 equalizers for acoustic. The EQ pedals are set flat and used as a 5-7 dB boost for hard picking parts.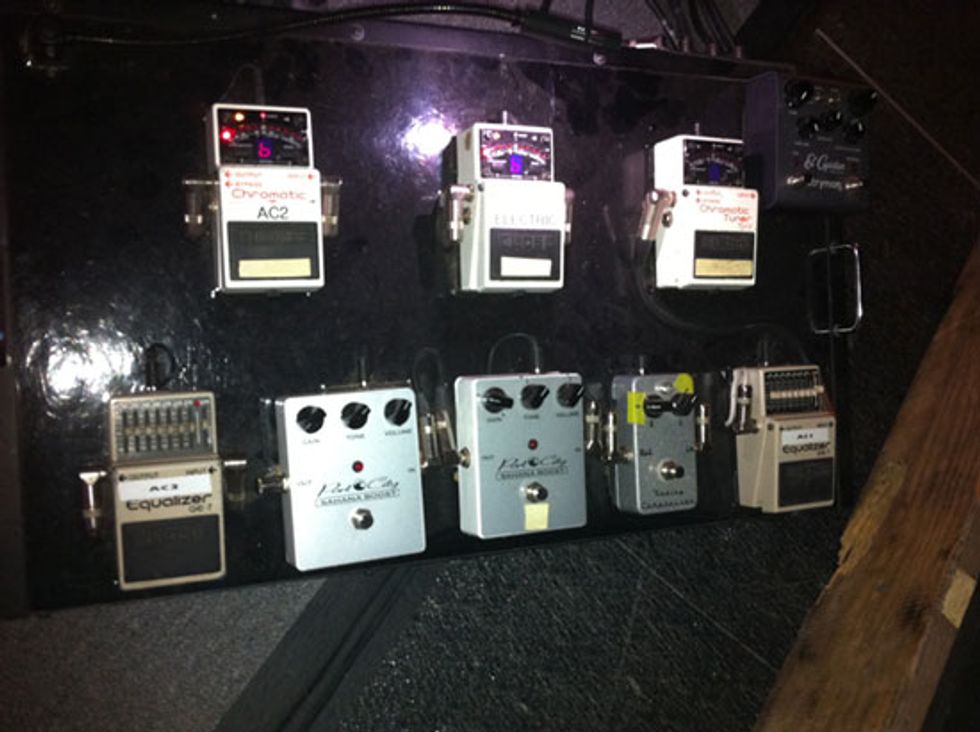 Zac's Amps
Zac uses two Fender 65 Super Reverbs. The signal split between one with stock speakers for a midrange cut, and one with Tone Tubby speakers for more body.
Clay Cook's Rig
Clay's Guitars
Clay defines his parts by either single-coil or humbucker sounds. For his single-coil parts on songs like "The Wind," "As She's Waling Away," and "Keep Me in Mind," he uses either a new Bill Crook pink paisley T-style or a '61 Fender Strat with Curtis Novak pickups. For humbucker tones he's using a Gibson Les Paul Goldtop (new issue) relic'd and modified by Bill Nash with coil-tapped pickups that he says are, "The most useful coil taps I've ever had on a guitar."
He also occasionally uses a stock '90s Gibson Firebird V, Bill Asher Electro Hawaiian lap steel with a vintage Rickenbacker horseshoe pickup, and piezo with blend knob, and a Collings MF mandolin with Fishman pickup in the saddle.
Clay's Amp
Clay uses a 50-watt Fuchs Overdrive Supreme set the same all show, engaging just a Bright switch for "Goodbye in Her Eyes."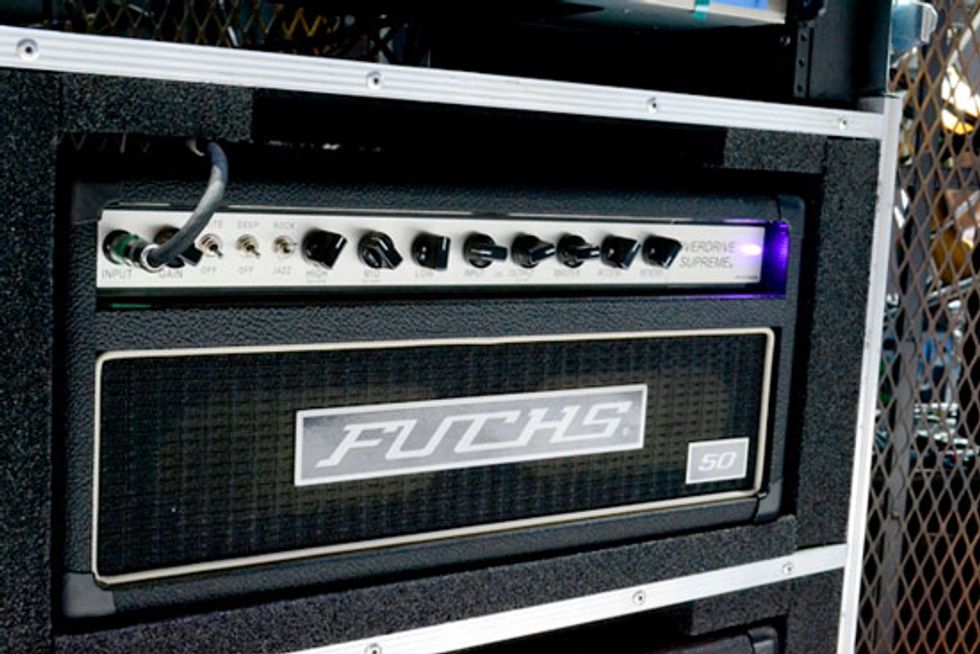 Clay's Pedals
Clay uses a Fuchs Royal Plush compressor to aid in "that Tele spank," and recently incorporated a Boss DD-7 delay to recreate the studio sound for "Goodbye in Her Eyes." Other than those effects, he has tuners for his electrics and mandolin.
Coy Bowles's Rig
Coy's Guitars
Coy uses a variety of guitars, but has been favoring a USA-themed Tele-style build by Frank Verilli with Lollar pickups, including a mini-humbucker in the neck inspired by Brent Mason. He also uses a '69 Gibson ES-335 Custom, an Ibanez tuned to open E flat for slide, a '79 Les Paul Custom, and a Taylor 814ce for the acoustic sets.
Coy's Pedals
Coy has the largest pedalboard in the band, with a Fuchs Plush Replay Tube Delay (used for "Goodbye in Her Eyes"), MXR Super Comp (which is sometimes swapped with a Keeley Compressor), VVT X-Drive, Voodoo Lab Sparkle Drive (his go-to pedal), Suhr Kokomo, Vox wah, Ernie Ball Volume Pedal, Boss TR-2 Tremolo (sometimes swapped with a Monster Effects Swamp Thang), Lovepedal Pickle Vibe, and a tuner. He uses an ABY box for switching between electric and acoustic, and the board is set up with a switcher that has each pedal on their own loop.
Coy's Amp
Coy also uses a Fuchs Overdrive Supreme, but his is a 100-watt because he likes pushing his speakers hard. He runs it through a custom VVT 2x12 cabinet with one Tone Tubby and one Celestion G1265. He uses the amp's built-in reverb with the amp's footswitch.