How to add individual on/off switches for each pickup to your Strat
Hello and welcome back to "Mod Garage." Thanks for all the emails during the last few weeks. Lots of people have asked me about modding a Stratocaster with three individual on/off switches for the pickups, to replace the traditional 5-way pickup selector switch, so here it is.

Replacing the common 5-way pickup selector switch on a Strat with three individual on/ off switches is more or less a variation of the "7-sound Strat" mod we discussed in detail earlier. With three individual switches, it's possible to dial in the bridge/neck pickups together in parallel (as you can do with any Telecaster) as well as all three pickups together in parallel. You can't do this with the traditional Strat wiring and a 5-way switch. The easiest solution is to simply route the neck pickup via an additional toggle switch and you're done (for further details please see my earlier column about this subject).

So why would someone replace the traditional 5-way switch on a Strat with on/off switches? There are several reasons: 1. with three switches in a row, it's easier to visualize what pickups are selected; 2. it looks cool and will get some attention because it's different; 3. with three push-pull or push-push pots for controls, it's possible to build a pickguard without any switching controls on the surface (this will look even cooler on a beautifully grained wooden Strat pickguard) 4. three on/off switches are much cheaper than a 5-way switch, so it can be economical when building a new Strat pickguard from scratch; 5. it's easier to do some special mods with this configuration, so you'll often find this on heavily modified Strats.

In a nutshell, this is like cutting a 5-way switch into three equal pieces and connecting each pickup to one of the pieces. Electrically, it's the same as having the 5-way switch, so it will have no influence on your tone. To start, you need three on/on SPDT toggle switches of your choice. You can also use on/on SPDT push switches, push-pull or push-push pots, or any other switching device of your choice. For this mod, I recommend you use a new pickguard without the routed slit for the typical 5-way switch. Such pickguards are available from many sources and will definately look better than drilling three new holes in addition to the (now unpopulated) slit. Naturally, you can use your stock pickguard and drill away. It's your axe, and you have to like it!

As mentioned earlier, a beautiful wooden pickguard allows you to use three push-pull or push-push pots to switch pickups, so you won't have anything on the surface besides the three knobs. This really looks cool and will definitely get your axe noticed. Some time ago, I had a customer who wanted three touch-sensitive switches underneath the pickguard, so he just had to tap a certain spot on the pickguard to dial in the desired pickup combination. This is also possible and could raise a few eyebrows. As always (in case you haven't done it before), printing out the standard Stratocaster wiring and placing it on your workbench is a good way to start. This way, it's much easier for you to see and understand the differences from the modded schematic.


Wiring diagram courtesy Seymour Duncan Pickups and used by permission. Seymour Duncan and the stylized S are registered trademarks of Seymour Duncan Pickups, with which Premier Guitar magazine is not affiliated.
Let's Get Started

First of all, desolder all connections from the 5-way switch and take it off. Naturally, you don't have to do this when you're building a new pickguard from scratch. Decide what switching device you like best, and install it on the pickguard. Now connect everything as shown in the drawing below and you're done. It's very easy to do, and if you compare this wiring with a traditional one, using a 5-way switch, it's very easy to see how these switches substitute for the function of the 5-way switch. Each toggle switch has an input (middle lug) to connect the pickup, and an output (bottom lug), to connect to the next switch, and finally to the input lug of the master volume pot—just the same as on the 5-way switch, but with individual switches. The upper lug of each switch is connected to ground. To make this connection easier, each of these lugs is connected together, and only one has an additional ground connection, to ground all three switches. This will save you from a cable mess on the pickguard. Alright, that's it! It's a simple mod, and you have only to decide if you want it or need it. Based on the number of requests I received, I assume a lot of players need it.
Stay tuned for more Strat mods coming in the months ahead. Until then... keep on modding!
---
Dirk Wacker

Dirk Wacker lives in Germany and has been addicted to all kinds of guitars since the age of five. He is fascinated by anything that has something to do with old Fender guitars and amps. He hates short scales and Telecaster neck pickups, but loves twang. In his spare time he plays country, rockabilly, surf and Nashville styles in two bands, works as a studio musician for a local studio and writes for several guitar mags. He is also a hardcore DIY guy for guitars, amps and stompboxes and runs an extensive webpage
singlecoil.com
about these things.
Looking for more great gear for the guitar player in your life (yourself included!)? Check out this year's Holiday Gear Finds!
Outlaw Effects introduces their next generation of NOMAD rechargeable battery-powered pedal boards.
Available in two sizes, NOMAD ISO is a compact, versatile tool that offers the convenience of a fully powered board plus the additional freedom of not having to plug into an outlet. NOMAD ISO is ideal for stages with limited outlet availability, quick changeovers, busking outdoors, temporary rehearsal locations, and more!
NOMAD ISO builds upon the legacy of the ultra-convenient and reliable NOMAD rechargeable pedalboard line originally launched in 2018. The brand new NOMAD ISO editions feature eight isolated outputs (1 x 9V DC, and 1 switchable 9V/12V DC) for even more versatility and clean, quiet power. With an integrated lithium-ion battery pack boasting 12800mAh capacity, NOMAD ISO can fuel a wide array of pedals, and will last over 10 hours* on a single charge.
Each NOMAD ISO pedal board includes adhesive hook & loop pedal-mounting tape, eight (8) standard DC connector cables, and one (1) reverse polarity DC cable, giving you everything you need to build your ultimate "off-the-grid" rig. A rugged, road-ready padded gig bag with shoulder strap is also included, to safely protect your gear while you're on the move.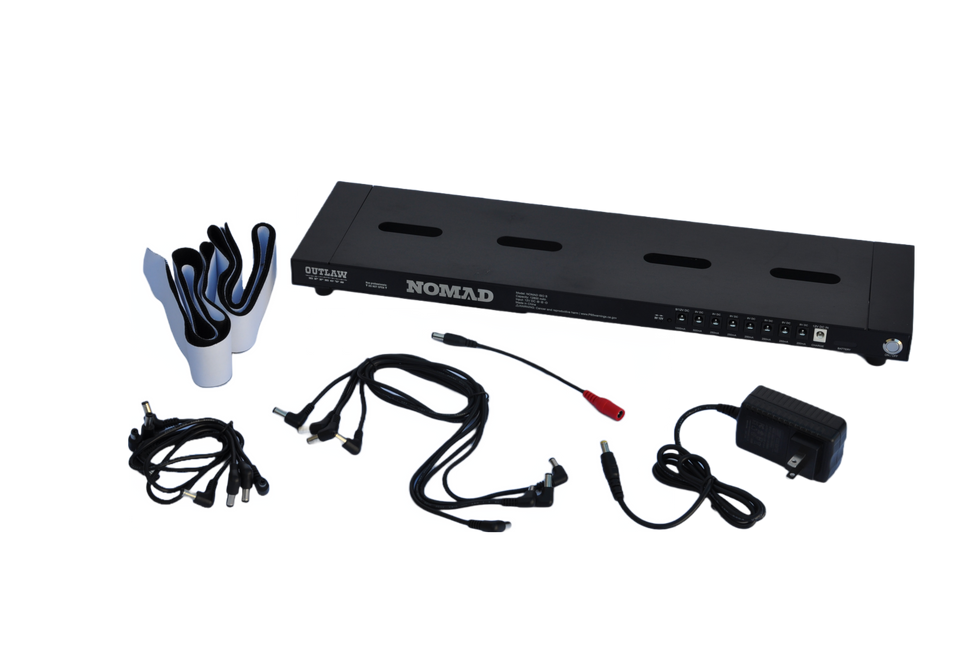 Dunable announce new Minotaur model featuring Grover Rotomatic Keystone tuners.
The Minotaur's DNA is rooted in their classic Moonflower model, which Dunable discontinued in 2017. However, they have long since wanted to create a fresh take on a carved top guitar design, and various attempts to rework the Moonflower led them to a brand new concept with the Minotuar.
Dunable's goal is to give the player a guitar that plays fast and smooth, sounds amazing, and gives maximum physical ergonomic comfort. The Minotaur's soft and meticulous contours, simple and effective control layout, and 25.5" scale length are designed to easily meet this criteria.

Dunable Minotaur!
Features
25.5" scale length
Dual Humbucker
one volume, one tone, push pull for coil splitting
Grover Rotomatic Keystone tuners
Grover Tune O Matic bridge with brass Kluson top-mount tailpiece
jumbo nickel frets
12" fretboard radius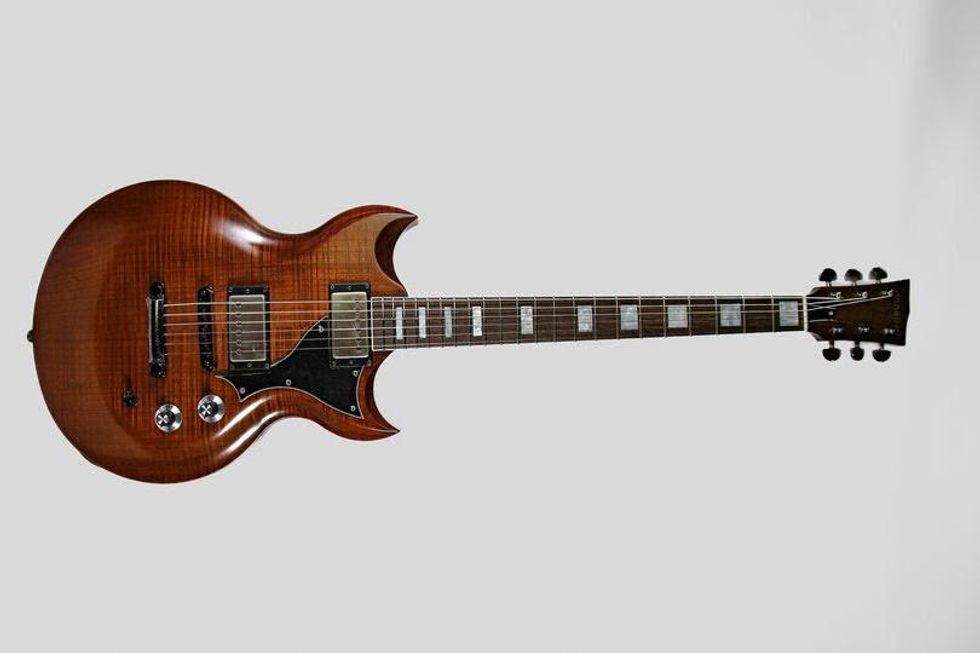 Dunable
This full-amp-stack-in-a-box pedal brings a new flavor to the Guitar Legend Tone Series of pedals, Missing Link Audio's flagship product line.
Adding to the company's line of premium-quality effects pedals, Missing Link Audio has unleashed the new AC/Overdrive pedal. This full-amp-stack-in-a-box pedal – the only Angus & Malcom all-in-one stompbox on the market – brings a new flavor to the Guitar Legend Tone Series of pedals, Missing Link Audio's flagship product line.
The AC/OD layout has three knobs to control Volume, Gain and Tone. That user-friendly format is perfect for quickly getting your ideal tone, and it also offers a ton of versatility. MLA's new AC/OD absolutely nails the Angus tone from the days of "High Voltage" to "Back in Black". You can also easily dial inMalcom with the turn of a knob. The pedal covers a broad range of sonic terrain, from boost to hot overdrive to complete tube-like saturation. The pedal is designed to leave on all the time and is very touch responsive. You can get everything from fat rhythm tones to a perfect lead tone just by using your guitar's volume knob and your right-hand attack.
Features 
Three knobs to control Volume, Gain and Tone
Die-cast aluminum cases for gig-worthy durability
Limited lifetime warranty
True bypass on/off switch
9-volt DC input
Made in the USA
MLA Pedals AC/OD - Music & Demo by A. Barrero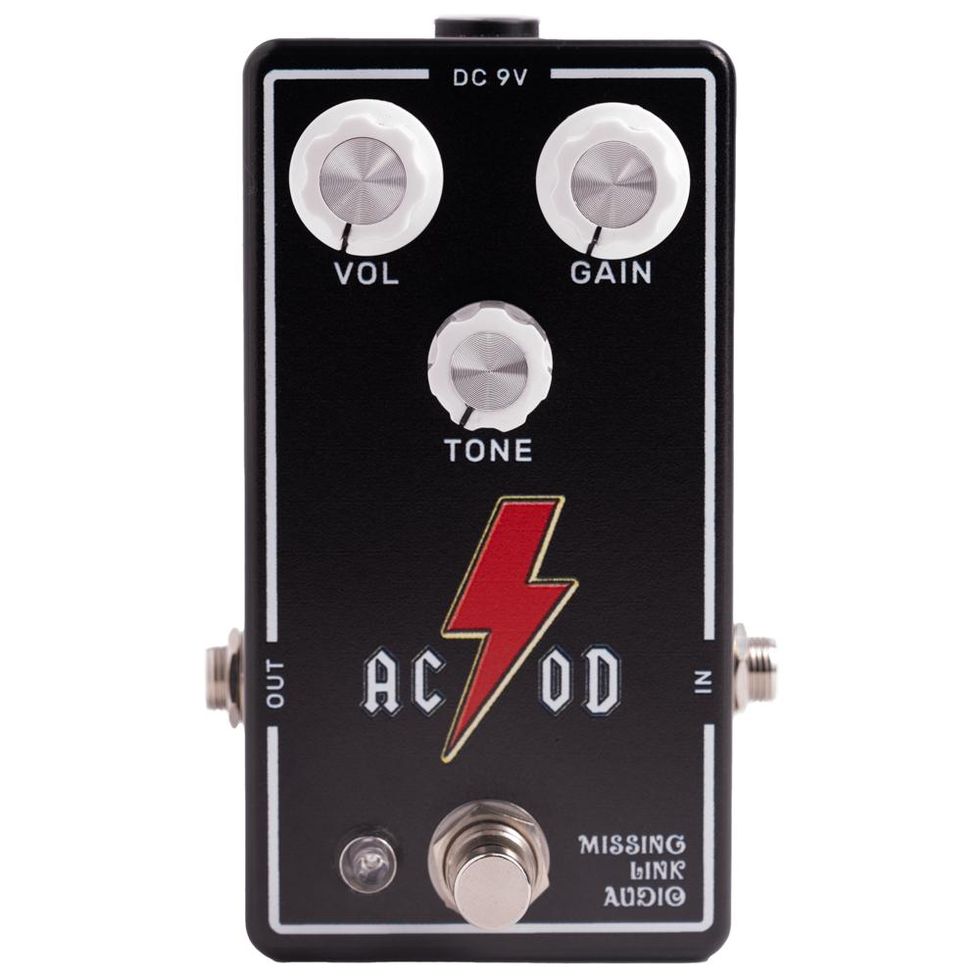 www.mlapedals.com.