Summer NAMM 2015: Editors' Picks – Day 2
Take a look at the gear that stood out on day 2 of Summer NAMM.
Guild Chris Hillman Signature Byrds Bass and Starfire II
These two Guild Starfire basses! Yikes! The sunburst Starfire on the right honors Byrds bassist extraordinaire Chris Hillman. It's got a mahogany body and neck and a fast-feeling 30.75" scale neck with a Byrds logo inlay at the 12th fret. It's a blast to play and brings the boom with a single BS-1 BiSonic pickup. (Street $1,499.) The $1,299, two-pickup Starfire II is also new at Summer NAMM. Beautiful stuff!
3rd Power Dual Citizen
One of the most impressive amps at NAMM was 3rd Power Amps' Dual Citizen. Like the name implies it can go from a beautifully chimey British sound to a robust and spanky blackface tone. The channels can either be blended together or switched via an included foot switch. It's loaded with Mullard EL-34s and weighs in at a solid 45 watts. Finally it has a mixed bus, pedal-level loop driver so you can put all your pedals after the preamp. It's available now and streets for $2750. Combo version coming soon.
EarthQuaker Devices Dunes, Interstellar Orbiter, & Levitation
EarthQuaker Devices shared a mother lode of new stompboxes. The Dunes is a condensed version of the 808-inspired Palisades, the Interstellar Orbiter is a dual-resonant filter that can do everything from wah emulation to a rotary speaker effect, and the Levitation is a vintage-voiced reverb reminiscent of somewhere between dirty '60s chamber, classic spring, and the ringing plate reverbs of yesteryear.
Washburn Guitars Woodline Series
Washburn Guitars' new Woodline series is probably the best-sounding affordable line of acoustics we've heard so far at NAMM. They range from $299-$399 street, and the higher-end WL020SCE shown here features a solid Sitka spruce top, laminated rosewood sides and back, Graphtech Nubone nut and saddle, and Fishman Isys+ electronics.
Greer Amps Black Tiger and Hammer
Greer Amplification came to Nashville with both a Black Tiger and Hammer in hand. The Black Tiger delay features an analog signal path with a digital delay repeater circuit and was designed to have the warmth and feel of vintage delays with some added touch sensitivity and slight grain on the repeats. The Hammer brings the nasty with textures that range from gnarly Texas rock distortion to squashed-out, almost cut-off fuzz. Both are $199 street and will start shipping once the Greer crew gets home.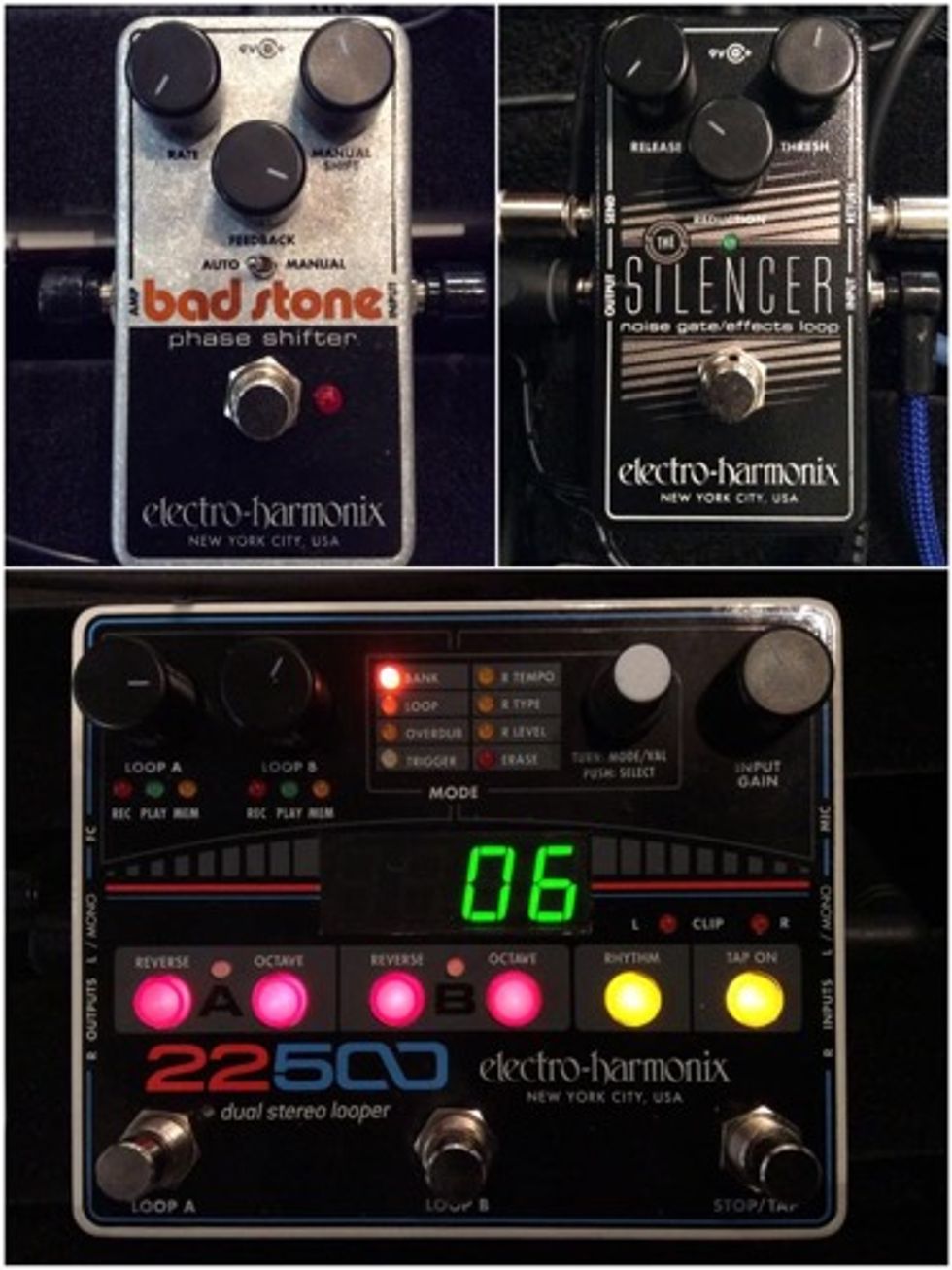 Electro-Harmonix 22500 Dual Stereo Looper
Mike Matthews and the Electro-Harmonix gang brought several new stomps to Music City this week but the 22500 Dual Stereo Looper made us turn our head. It has a slew of cool functions, including automatic loop-length matching, SD card storage, octave and reverse modes, XLR input for simultaneous instrument-and-vocal looping, drum loops, and more.
Ibanez Talman Presitge Series
Ibanez Guitars just showed us a trio of new Talman Prestige models that produces everything from Nashville-approved country spank to robust rock tones via the Seymour Duncan pickups. They will be shipping in November and will start at $1199.
TV Jones Spectra Sonic Standard
V Jones debuted the new Spectra Sonic Standard at NAMM this week. Available Bigsby B7-equipped or not, these matte-black beauties feature chambered alder bodies, set-in maple necks topped with rosewood 'boards, and TV Jones T-Series Spectra-Flux pups.
Roland JC-40
Roland U.S. is at Nashtown NAMM celebrating the 40th anniversary of their iconic Jazz Chorus amp with the release of the new JC-40. This 40-watt stereo amp still brings the famous "JC clean" tone and long-respected signature chorus effect, but also includes evolved features for modern players like enhanced onboard effects and a front-panel stereo input.
Fret King Esprit III
Trev Wilkinson is a tinkering genius. And his Fret King guitars always seem to offer some cool, unexpected twist on a classic. Or in the case of the Esprit III several twists. This candy apple red ripper, which fuses Firebird and Fender offset design cues features stacked P-90s, five way pickup selector with Fret King's Vari Coil tone control, Maestro-style vibrato, and Wilkinson roller bridge. This thing generates about a gazillion killer tone flavors. And the price is pretty fair too at $1,249.
Park Little Head 18 and Rock Head 50
Park Amps brought two really nice-sounding heads to NAMM. The Little Head 18 (top) uses the same preamp as the venerable P45, but has a rad self-biasing power section that accepts 6V6, 6L6, EL34, and other octal tubes—including rectifiers—without modification. Meanwhile, the EL34-powered, two-channel Rock Head 50 was inspired by the '70s Park Rock Head, but adds extra flexibility with a switchable cascading gain stage, and a cathode-following tone stack.
Daredevil Pedals Northern Clipper
Chicago's Daredevil Pedals brought the new Northern Clipper—a six-transistor silicon fuzz that's inspired to some extent by the Shin Ei Super-Fuzz and Maestro FZ-1S. The cool thing is that it strips out a lot of the less-functional aspects of those designs and concentrates on the heaps of fatness the circuit can generate. It's surprisingly versatile, with just the right amount of octave, and has a ton of range. Did we mention it sounds freaking huge and nasty? Price TBD, but will probably be around $140.
TecAmp MTS Cab
TecAmp brought an ingenious new cab to NAMM. Outfitted with 10" and 12" drivers, plus three kinds of tweeters—a 4" paper cone, a horn, and a neodymium-magnet tweeter—the MTS features three 3-way switches for selecting any combination of these high-end drivers (or none) at full or half engagement. The result is an astonishing variety of sounds perfect for everything from warm, thumpy R&B to Jaco-style soloing, bright funk snapping and popping, and much, much more.