As we approach Halloween, the power of the skull only increases! A Seattle guitarist makes a guitar for his everyday macabre needs.
"It is not my intention to be fulsome, but I confess that I covet your skull."
—Sir Arthur Conan Doyle, The Hound of the Baskervilles
Greetings to all my fellow guitar brethren! My name is Cary and I'm a guitar addict. I was bitten and smitten with the "guitar bug" as a kid, and the fascination has remained constant, even getting stronger over time.
Like many, I found I couldn't stop tinkering about with gear and guitars, trying to personalize and tweak them to my satisfaction. So, in dreaming up my next project (my wife would say scheming up), I thought about various finishes and patterns that might be fun. What could be more iconic and rock 'n' roll than the ubiquitous image of the skull? I thought of the classic hot rod and motorcycle painting technique of using lace as a template. Why not try it on a guitar body? If only there was a lace material with skulls as the main theme. Luckily, it turns out there is! I set out to give it a go.
"If only there was a lace material with skulls as the main theme. Luckily, it turns out there is! I set out to give it a go."
An old basswood 2003 Squire '51 body was my victim. I drilled it to make it string-through, stripped the original finish and rattle-canned on a good coat of primer, and finished in white. Doing first the front (no guts, no glory), then the back, I sprayed black through the lace to create a glorious pattern of skulls. I sealed the pattern in with 20-plus coats of wipe-on poly.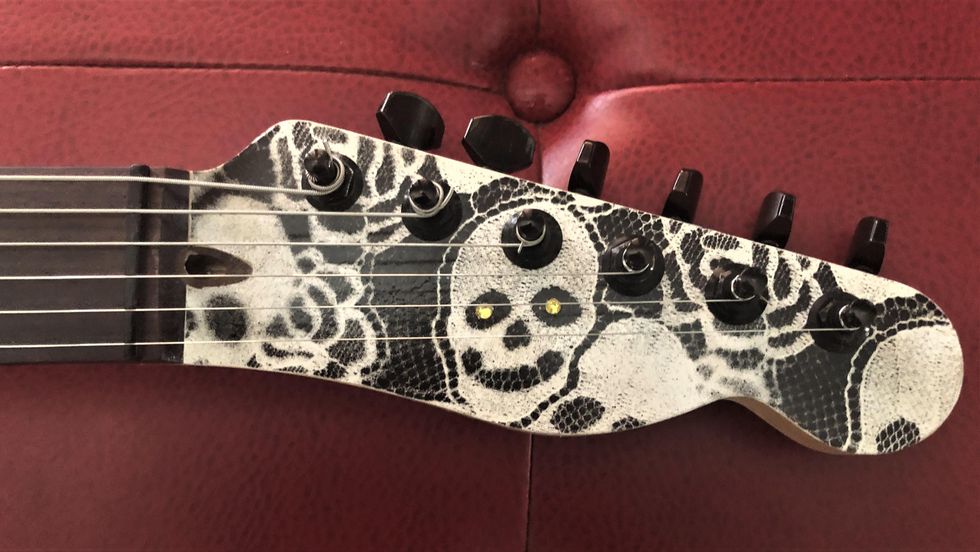 I added a custom Warmoth Tele neck with rosewood fretboard, boatneck carve, 6100 nickel frets, and finished it with wipe-on poly. Doug Shepherd, at Doug's Custom Neck Plates out of Texas, designed a skull neck plate for me. While waiting for various parts to arrive, I decided the skulls would look sinister if they had eyeballs. I inlaid yellow 3 mm crystal rhinestones into each socket so the guitar could stare down its audience. I selected a skull-approved DiMarzio Super Distortion for the bridge and a Duncan Hot Stack for the neck and kept it simple with a 3-way switch and volume. It sounds downright "skullduggerous" played through a TC Electronic Fangs into a cranked Quilter Aviator Mach 3. My neighbors seem to love it!
While this could be viewed as a Halloween guitar, I think of it more as a skull guitar for your everyday skull guitar needs. As we approach October, the power of the skull only increases!
Rock on all! I will keep an eye out for you. In guitars we trust.
A session man's take on the sound of a great tube amp—without the glowing glass.
Wickedly great EQ controls. A very musical range of overdrive tones.
Tight control can be a bit too subtle.
5
4.5
4.5
4.5
The Tilt is a new collaboration between Revv and session ace Shawn Tubbs that combines a robust medium-gain overdrive with a nuanced clean boost. Around Nashville, Tubbs has a reputation for burning lead lines and immaculately crafted tones. Designed to emulate the feel and response of a cranked single-channel amp, the Tilt absolutely nails the mission at hand. The overdrive circuit is based on LED clipping and features a rather simple control setup with volume, gain, bass, and treble. On the other side you have a 12 dB clean boost with two rather interesting controls: tilteq and a three-way tight toggle switch.
I tested the Tilt with my HSS Fender Stratocaster and a T-style Schroeder Chopper TL into a clean Fender Hot Rod Deluxe. Starting with the overdrive, I was quite impressed with how accurate and clear the EQ controls were. There were useful settings throughout the different frequency ranges. The drive was softer in the midrange than I was expecting but allowed for richer harmonics as I moved through different pickup positions. Not surprisingly, the sound of a dirty, cranked Princeton came to mind as I was exploring the width of the gain control. Mike Campbell tones for days.
It's not likely that anyone would mistake the Tilt for a high-gain monster, but with the gain cranked it does an admiral job of emulating Marshall-style tones—especially when you kick in the boost. The standout feature on the boost side is the tilteq, which simultaneously affects the lows and highs depending on which direction you turn it. My setup with the Schroeder was a bit bright, so I was able to surgically slice out some high end with ease with both the EQ and toggle switch, which affects the overall voicing of the boost. While none of us will get the exact same tone that Tubbs is famous for, the Tilt can shine a brighter light on the best parts of what you sound like.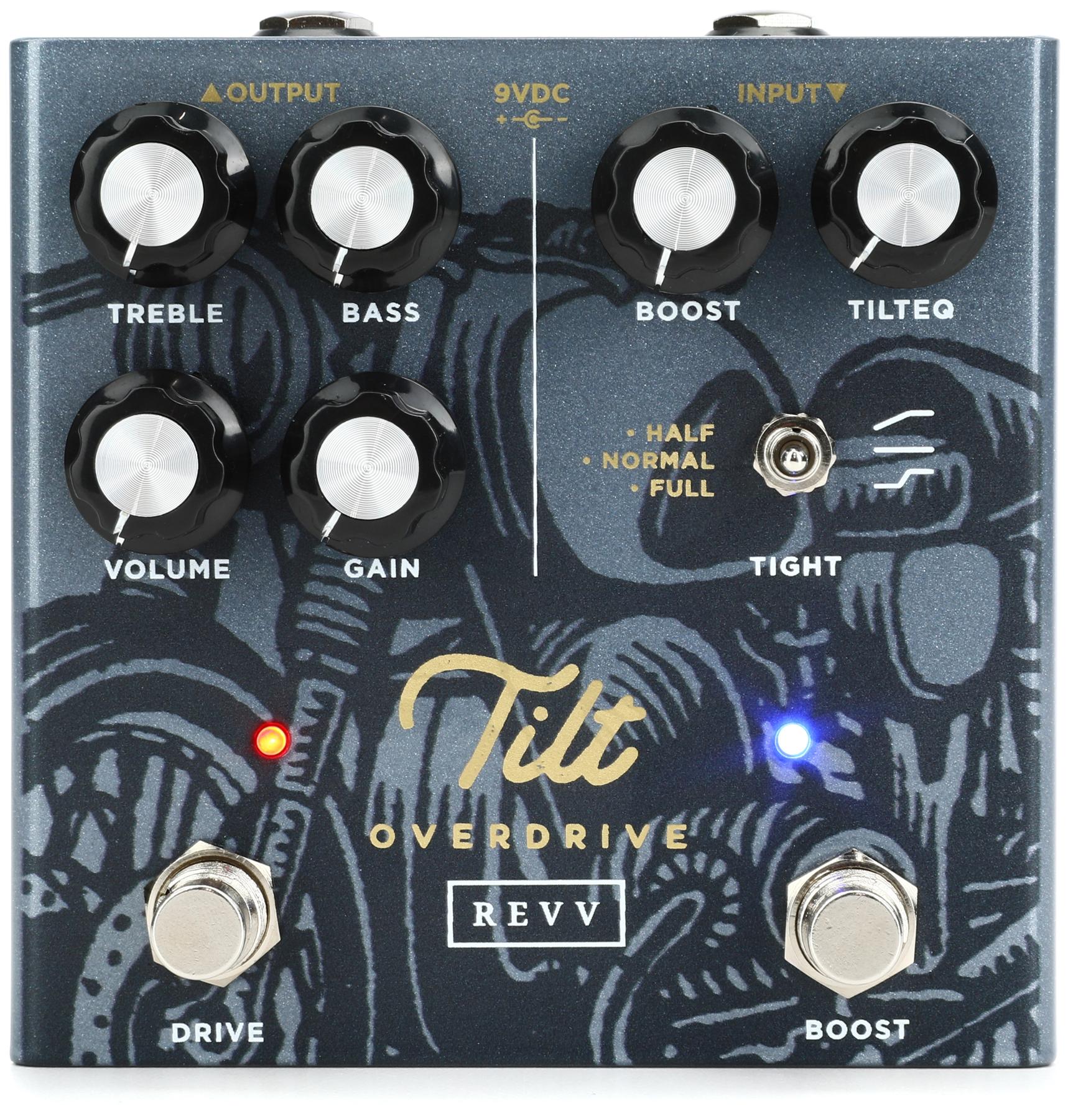 Collaboration between session/stage/YouTube guitarist extraordinaire Shawn Tubbs and Revv found Dan Trudeau
Exceptionally natural amp-like OD tones that are highly responsive to your playing
2-band drive EQ and tilt boost EQ for exceptional tone shaping capabilities
3-position tight switch to cut out the mud on higher boost settings
Road-worthy construction, with a blue sparkle finish and custom Shawn Tubbs graphic
Top-mounted 1/4-inch inputs to save room on your pedalboard
Revv
A 2x2 USB-C audio interface for macOS, iOS, and Windows, designed to kickstart any music or content creation project in the studio or on the go.

With BOOM you can record, monitor, and mix through class-leading mic preamps and pristine digital conversion. Capture any source from guitar, keyboard, and percussion, to voice and vocals with legendary Apogee sound quality at 24-bit/192kHz resolution. BOOM is the only interface in its class that lets you fine-tune your input sources with premium built-in hardware DSP FX. Are you a creator on the go? BOOM is powered by your device - just connect BOOM directly to your Mac, iPad Pro, or Windows laptop, and let your ideas flow wherever you go.
For almost four decades, Apogee has been perfecting the art of analog recording in a digital world. BOOM continues that legacy by focusing on the details and premium components - allowing your projects to stand out from the rest.
BOOM's conversion stages employ high-end analog to digital and digital to analog conversion components, not low-end codecs.
All inputs accept a professional-spec maximum input level of +18dBu, ensuring a pristine audio signal even with the loudest sources.

Mic preamps offer a class-leading 62 dB of gain, for capturing delicate sources with clarity and powering popular microphones like the Shure SM7B
BOOM's zero-ohm headphone output provides an audiophile experience, able to drive even high-impedance "hi-fi" headphones with power, clarity and a perfectly balanced frequency response.
BOOM is the first audio interface in its class to offer onboard hardware DSP. With the Symphony ECS Channel Strip (tuned by legendary mixer, Bob Clearmountain), you can shape and sculpt your input sources with a 3-band EQ, compression, and a drive knob that adds the warmth and grit of analog gear. The ECS Channel Strip is also available as a native plugin from Apogee.
Create the perfect live streaming production with the onboard Mixer and Loopback mode. Allowing you to listen to your game, Spotify playlist, & chat notifications all at the same time and at the perfect level.
Bundled with BOOM is Ableton Live Lite, which is a fresh and easy way to write, record, produce and perform your own music. It includes essential workflows, instruments, and effects for creating new sounds, recording ideas, performing on stage, and much more.​
Features:
Inputs:

balanced ¼" instrument/line input

1 balanced mic/line/instrument Combi input

Outputs

1 ¼" Zero ohm Headphone output

Left/Right ¼" balanced speaker outputs

Built-in hardware DSP with Symphony ECS Channel strip

PureDIGITAL connection for up to 24-bit/192kHz recording

Rugged construction with steel casing and rubber pads along the base

Connect directly to iPad Pro - Control with Apogee Control 2 app.

Bus Powered with Included USB-C Cable

Includes Apogee Control 2 software for macOS, iOS, and Windows

Includes Ableton Live Lite DAW (free license + download with registration)

Works with any audio recording application on macOS, iOS, or Windows

Get 50% off any Apogee plugin or plugin bundle when you register BOOM



BOOM is available for $299.99 (USD) at Apogee dealers Worldwide.
For more information, please visit apogeedigital.com.