Hilbish Design and Red Fang Introduce the Night Destroyer Preamp Pedal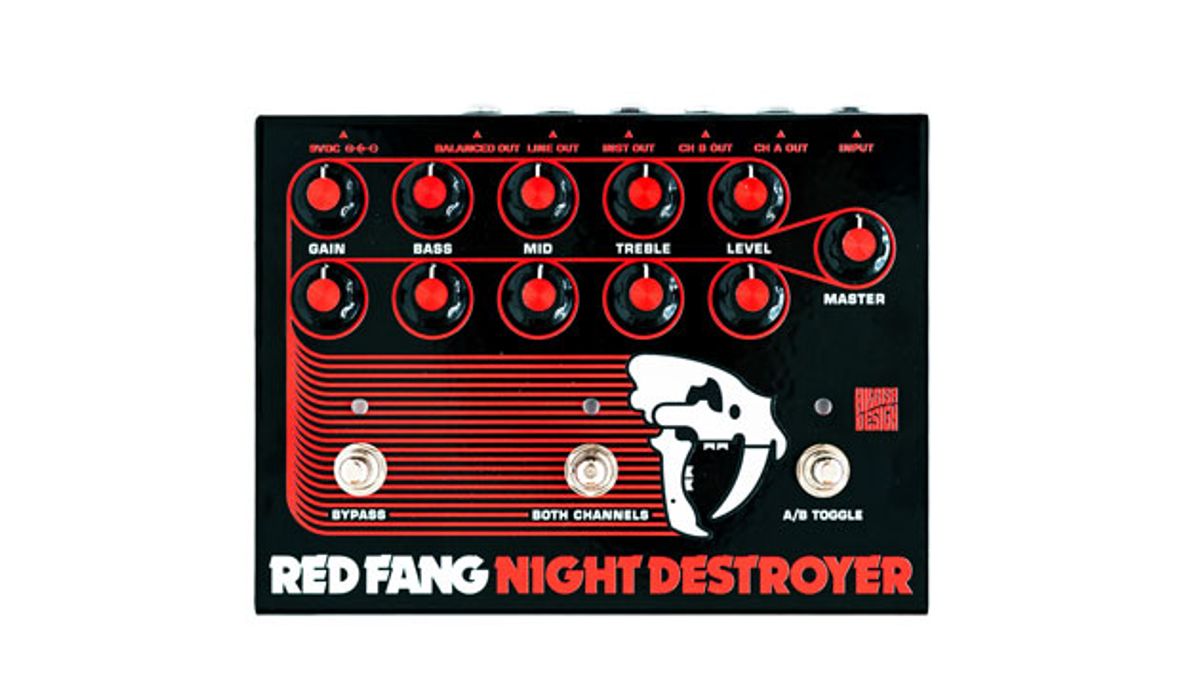 The limited-edition pedal is limited to 150 units and is based on the Sunn amps that Red Fang have used throughout their career.
Lynchburg, VA (September 25, 2020) -- Hilbish Design, in collaboration with Red Fang, releases the limited edition Night Destroyer Preamp pedal based on the legendary Sunn amps used by Red Fang throughout their career.
Extremely limited, 150 units worldwide, the Night Destroyer captures the searing tone of riff masters Red Fang. Hilbish Design took the the Sunn Beta series amplifiers that Red Fang is famous for using and stuffed them into a 8x6 heavy duty pedal sized enclosure. Whether you are on stage, or in your bedroom, you can shred with the same amazing tone.
As a preamp, the Night Destroyer can be plugged into any line level source such as a power amplifier, effects return on a guitar/bass amplifier, or mixing console.
The individual channel outputs can be run into a stereo power amplifier for the ultimate Bi-Amp rig. For example, run Channel A set up with an overdriven dirty tone into a 4x12 guitar cabinet and Channel B clean with lows boosted into a bass cabinet. This will give a gritty bass tone that maintains low-end with maximum control!
The instrument level output turns the Night Destroyer into a highly versatile drive pedal. You can easily get overdrive, distortion, and fuzz tones out of it, and use one channel to blend in clean tones, or switch between two different drive tones. The possibilities are endless!
The Night Destroyer also includes a balanced TRS output for DI applications. There are two footswitches for channel control, one for switching between channels A and B, and another to combine them in parallel. The third switch is used to bypass the preamp when using the instrument output, and mute the preamp when using any of the line level outputs.
The folded 14 gauge powder coated steel enclosure was designed to survive just about anything you can throw at it. This pedal features exclusive artwork by graphic designer Aaron Draplin, make sure the pedal stands out on stage.
Specs:
Two identical channels that can be run independently or in parallel
Each channel features a Drive control that can go from squeaky clean to completely fuzzed out
Active 3-band EQ allows for maximum tone sculpting
Extensive IO includes instrument and line level outputs, independent outputs for each channel for BI-AMP rigs, and a balanced output for DI applications
Three footswitches allow for complete control over channel switching
The Night Destroyer is available for $365. They can be purchased directly from Hilbish Design.
For more information:
Hilbish Design