How to Build a True-Bypass Tuner/Mute Box
Create a switcher that, when engaged, sends the guitar signal to the tuner and grounds the amplifier (mutes it).
Hello PG rockers and glowing autumnal greetings from your antipodean friend. In my previous column, Build Your Own Series Resistance Box, I explained how to build Tarquin—a super-simple box designed to coax new sounds from your fuzz pedal. I hope by now you've had a chance to bring this delightful little device to life.
I promise to return to infinitely more esoteric topics soon, but right now I'd like to continue along a similar path as before. Yup, your conspiratorial inventor wants to share another project.
This one is about Finbar—a handy wee device for those of us who use a tuner, but don't feel comfy with our signal passing through the tuner's own bypass circuitry. Finbar also offers the joy of muting your amp while you tune. Splendid.
Even more splendider, Finbar is a true-bypass tuner-mute box. (I know splendider is not a real word, but you're currently building a project called "Finbar" and may well already have a unit called "Tarquin" sitting on your pedalboard, so we left reality with coat check when we came in.) When disengaged, the signal passes through the DPDT switch to the next pedal in line—chaste and unaffected. When engaged, the signal from your guitar is fed to Finbar's tuner out jack and whatever is connected to Finbar's output is connected to ground (this will mute the signal).
So what is needed to create your very own Finbar? You will need a die-cast aluminum box, a DPDT stomp switch, three 6.5 mm (1/4") jacks, some wire, a soldering iron, and some solder.
The first step is to drill a hole in the top of the die-cast enclosure for your footswitch. Next, drill three holes in the sides of the enclosure. These are for guitar input, tuner out (plug your tuner in here), and finally output (this goes to your amp or the next pedal in the signal path).

Fig. 1. Finbar's drilled-out die-cast aluminum box, with its DPDT footswitch and input, tuner out, and output jacks installed.
Once your enclosure is suitably drilled, you need to install your footswitch and jacks—input, output, and tuner Fig. 1.

Fig. 2. Grounding wires in place.
Now comes the wiring: The metal enclosure you've used to house Finbar will provide good shielding. However, it's worth soldering a wire between the sleeve lug of the three jacks (Fig. 2), just in case one comes loose in the future.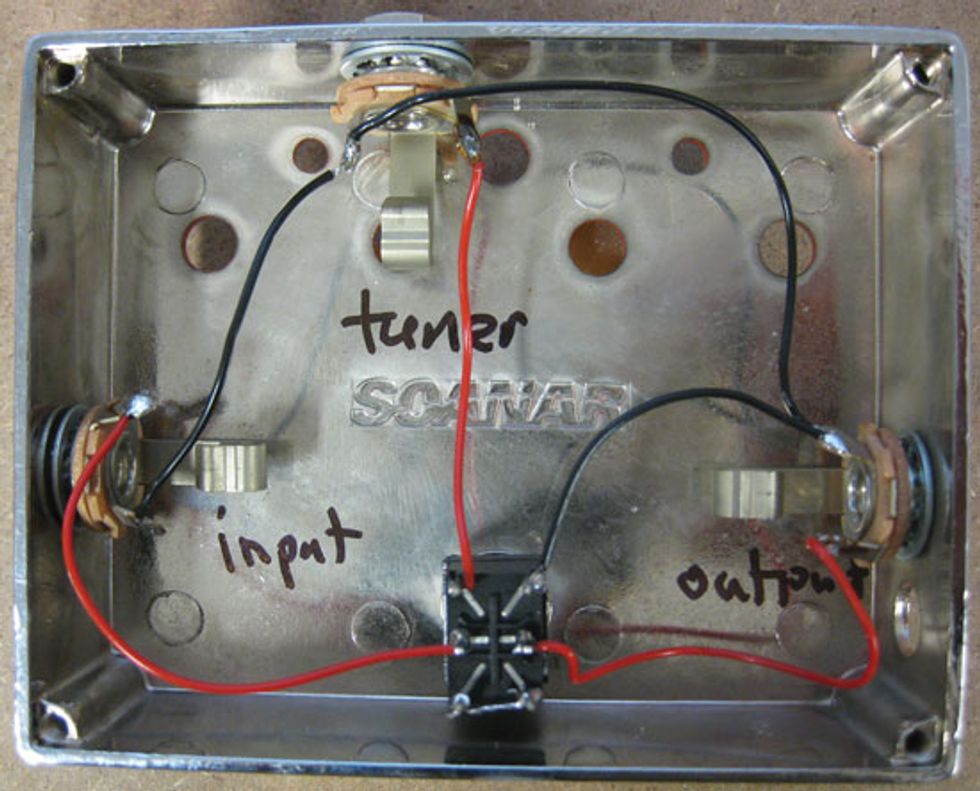 Fig. 3. The completed wiring looks like this. Note the bridge joining the DPDT's bottom left and right tags.
Next, solder a wire from the tip lug of the input jack to the center tag of the footswitch, as shown in Fig. 3. This center tag is the one closest to the input jack. Next, attach the tip lug from the tuner out jack to the top tag on the same side of the DPDT switch.
And now we move to the other side of the DPDT switch—the side closest to the output jack. Solder a wire from the tip lug of the output jack to the middle tag on this side. Next, attach a wire from the ground (any ring lug from one of the jacks) to the top tag on this side of the DPDT.
Finally, bridge the DPDT's bottom left and right tags.
Brilliant! What you've done is create a switcher that, when engaged, sends the guitar signal to the tuner and grounds the amplifier (mutes it). When the switcher is disengaged, your guitar signal flows cheerfully into the next pedal—free from any questionable bypassing jiggery-pokery.

Fig. 4. Finbar hooked up and ready to roll. Now you can tune silently and enjoy true bypass when you're wailing.
I recommend placing Finbar first in the signal path Fig. 4. This way your tuner gets your guitar signal unfettered by other effectors. You can even have it before your fuzz or other pedals (wah, for example) that require the high impedance load of your pickups. Because Finbar is true bypass, it will pass the high impedance load from your pickups onto the next pedal with no alteration.
As with any project, please proceed with caution. Only indulge in drilling, wiring, and soldering if you feel 100-percent confident. If you're not sure you're up to this project, ask someone who is for help. Engaging in the construction of a Finbar is entirely at your risk. He's pretty friendly, so if you proceed carefully, you'll be fine. Though a good supply of tinned goods and bottled drinking water never hurts.
Until next time, enjoy playing with your shiny new friends—Finbar and Tarquin!
---
Ben Fulton
is a Libran. He likes long walks on the beach and loves watching the sun set. He likes going out dancing but is just as happy to cuddle up in front of the fire with a good movie and glass of Pinot. He also is the CEO and head designer at Red Witch Analog Pedals.