Sunrise, FL (January 23, 2013) – IK Multimedia is proud to announce iRig BlueBoard, a groundbreaking new Bluetooth MIDI pedalboard for iPhone, iPad and Mac, which gives guitarists, bassists and keyboard
Sunrise, FL (January 23, 2013) – IK Multimedia is proud to announce iRig BlueBoard, a groundbreaking new Bluetooth MIDI pedalboard for iPhone, iPad and Mac, which gives guitarists, bassists and keyboard players hands-free control of mobile and Mac music apps. 
Winner of the iLounge "Best in Show" at the recent CES (Consumer Electronics Show in Las Vegas), iRig BlueBoard is a great addition to any mobile or studio rig for live performance and recording. Guitar players, vocalists and keyboard players can use it to extend control of their preferred music apps by switching presets, changing sounds or modifying effects parameters – all hands-free. They don't have to put down their instrument, and can remain focused on their performance.
Any music app or software that is MIDI compatible (the standard communication protocol for musical instruments) – such as IK's AmpliTube, VocaLive, SampleTank, iGrand – or any other Core-MIDI-compatible app like Apple GarageBand, can be operated wirelessly with iRig BlueBoard.
This ultra-portable unit uses Bluetooth 4.0 technology to transmit the actions of its four onboard, backlit footswitches and its two optional external pedals to the mobile device or Mac. Then using the included iRig BlueBoard app and software, the Bluetooth signals are converted into MIDI messages and routed internally to the music app that's running on the device.
It's also possible to fully customize the MIDI messages that are sent out by the four switches and two optional expression pedals. It's easy to setup iRig BlueBoard to control patch changes, effects parameters, reverb, delay on/off – or any parameter that can be controlled via MIDI. For a guitarist or vocalist using a mobile multiFX app like AmpliTube or VocaLive as a sound processor, iRig BlueBoard provides the foot-controlled functionality and convenience of a pedalboard, but with a form factor so compact and portable that it can easily slide into a backpack, a laptop bag or an instrument case.
Because it's wireless, iRig BlueBoard lets musicians setup onstage without being tethered to their mobile device. The unit's range is 10 meters (over 32 feet), giving musicians a great deal of mobility to roam the stage that would be impossible with a wired unit. Because the foot-switches are backlit, they're easy to see in all lighting conditions, even on a dark stage. Additionally, the fact that iRig uses wireless Bluetooth leaves all the wired ports of the device free, so they can be used simultaneously by interfaces or controllers that feature the 30-pin or Lightning connector, like IK's iRig HD, iRig MIDI or iRig Keyboard, and adapters or microphones that use the device mini-jack such as iRig or iRig MIC.
Even with all its impressive functionality, iRig BlueBoard measures only 27 cm wide x 9 cm deep (10.6" x 3.5"). It's extremely lightweight, but with a sturdy, stage worthy chassis and four foot-switches made of soft-touch rubber and designed for durability. Because of its ultra-low profile (it's only 2 cm / 0.8" tall) the unit can easily fit on a desktop.
For total portability, iRig BlueBoard is battery powered. It takes 4 standard AAA batteries, and because it uses Bluetooth Low Energy (BLE), it draws very little power, leading to extremely long battery life.
iRig BlueBoard is compatible with iPhone 5 and 4S, iPad 3rd and 4th generation, iPad Mini, and iPod touch 5th generation. For Mac, it's compatible with any model that supports Bluetooth 4.0 / Bluetooth Low Energy, like any MacBook Air, Mac Mini, or MacBook Pro that was released after June 2012.
Pricing and Availability
iRig BlueBoard is priced at $99.99 / €79.99 MSRP (excluding taxes), and will be available in the second quarter of 2013 from the IK network of music and electronic retailers around the world.
For more information:
www.ikmultimedia.com
Looking for more great gear for the guitar player in your life (yourself included!)? Check out this year's Holiday Gear Finds!
Outlaw Effects introduces their next generation of NOMAD rechargeable battery-powered pedal boards.
Available in two sizes, NOMAD ISO is a compact, versatile tool that offers the convenience of a fully powered board plus the additional freedom of not having to plug into an outlet. NOMAD ISO is ideal for stages with limited outlet availability, quick changeovers, busking outdoors, temporary rehearsal locations, and more!
NOMAD ISO builds upon the legacy of the ultra-convenient and reliable NOMAD rechargeable pedalboard line originally launched in 2018. The brand new NOMAD ISO editions feature eight isolated outputs (1 x 9V DC, and 1 switchable 9V/12V DC) for even more versatility and clean, quiet power. With an integrated lithium-ion battery pack boasting 12800mAh capacity, NOMAD ISO can fuel a wide array of pedals, and will last over 10 hours* on a single charge.
Each NOMAD ISO pedal board includes adhesive hook & loop pedal-mounting tape, eight (8) standard DC connector cables, and one (1) reverse polarity DC cable, giving you everything you need to build your ultimate "off-the-grid" rig. A rugged, road-ready padded gig bag with shoulder strap is also included, to safely protect your gear while you're on the move.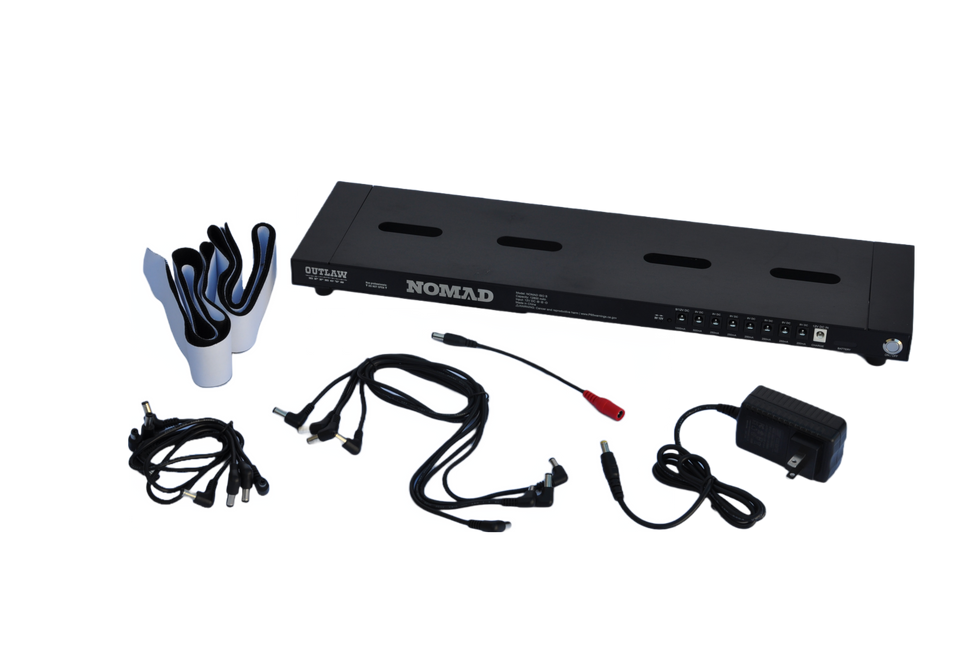 Dunable announce new Minotaur model featuring Grover Rotomatic Keystone tuners.
The Minotaur's DNA is rooted in their classic Moonflower model, which Dunable discontinued in 2017. However, they have long since wanted to create a fresh take on a carved top guitar design, and various attempts to rework the Moonflower led them to a brand new concept with the Minotuar.
Dunable's goal is to give the player a guitar that plays fast and smooth, sounds amazing, and gives maximum physical ergonomic comfort. The Minotaur's soft and meticulous contours, simple and effective control layout, and 25.5" scale length are designed to easily meet this criteria.

Dunable Minotaur!
Features
25.5" scale length
Dual Humbucker
one volume, one tone, push pull for coil splitting
Grover Rotomatic Keystone tuners
Grover Tune O Matic bridge with brass Kluson top-mount tailpiece
jumbo nickel frets
12" fretboard radius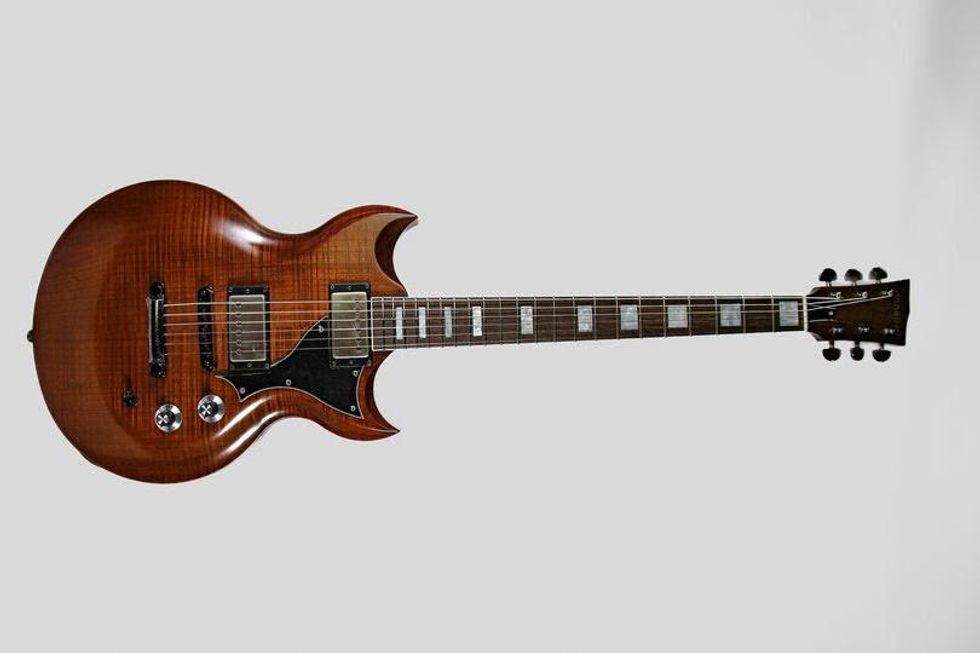 Dunable
This full-amp-stack-in-a-box pedal brings a new flavor to the Guitar Legend Tone Series of pedals, Missing Link Audio's flagship product line.
Adding to the company's line of premium-quality effects pedals, Missing Link Audio has unleashed the new AC/Overdrive pedal. This full-amp-stack-in-a-box pedal – the only Angus & Malcom all-in-one stompbox on the market – brings a new flavor to the Guitar Legend Tone Series of pedals, Missing Link Audio's flagship product line.
The AC/OD layout has three knobs to control Volume, Gain and Tone. That user-friendly format is perfect for quickly getting your ideal tone, and it also offers a ton of versatility. MLA's new AC/OD absolutely nails the Angus tone from the days of "High Voltage" to "Back in Black". You can also easily dial inMalcom with the turn of a knob. The pedal covers a broad range of sonic terrain, from boost to hot overdrive to complete tube-like saturation. The pedal is designed to leave on all the time and is very touch responsive. You can get everything from fat rhythm tones to a perfect lead tone just by using your guitar's volume knob and your right-hand attack.
Features 
Three knobs to control Volume, Gain and Tone
Die-cast aluminum cases for gig-worthy durability
Limited lifetime warranty
True bypass on/off switch
9-volt DC input
Made in the USA
MLA Pedals AC/OD - Music & Demo by A. Barrero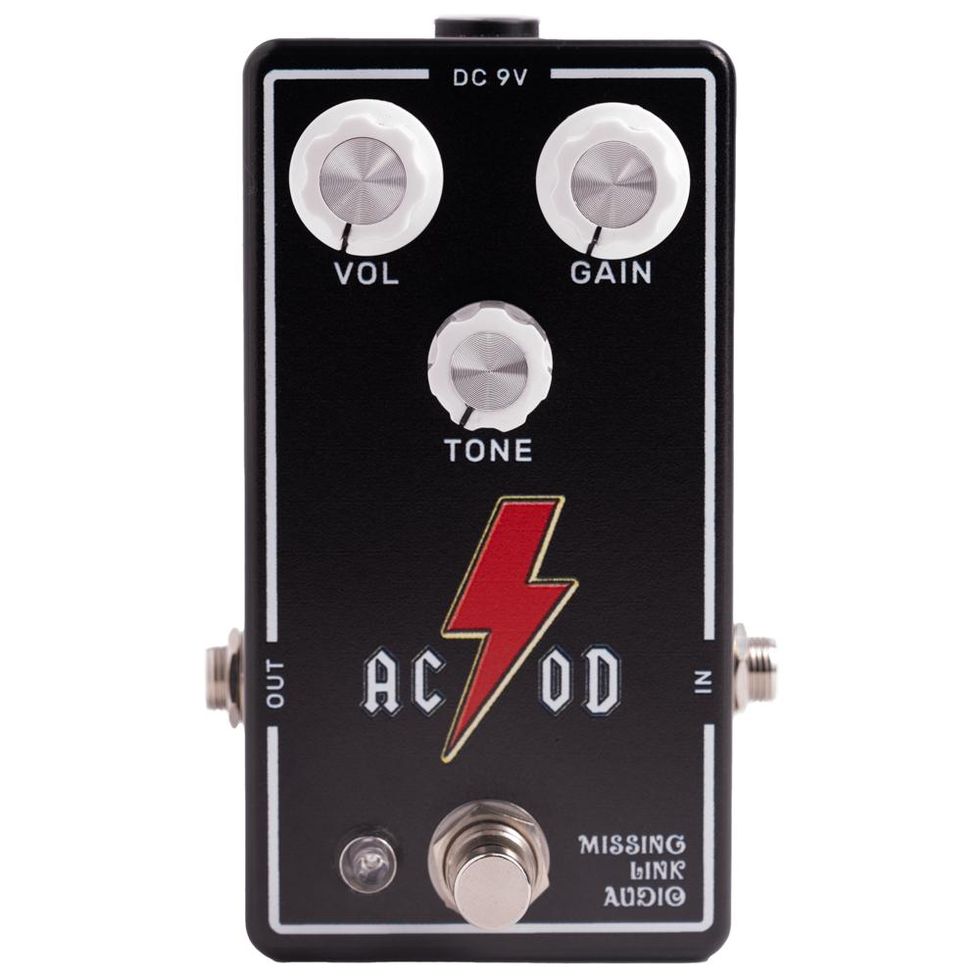 www.mlapedals.com.