...As well as reveal their latest music/guitar obsessions!
---
Q: What strings (brand/gauge) are on your No. 1 right now? How long do you keep rocking them?
---
Zach Irons — Irontom, AWOLNATION
A: I use Ernie Ball .010s. In Irontom, I like to keep them on for as long as I possibly can as a joke and I'm lazy. With that being said, I like how they feel and sound after four shows. In AWOLNATION, they usually get changed out before every show, which I don't love but I certainly cannot complain. When I'm home, I literally never change them unless one breaks, which rarely happens.
Current obsession: I just ordered an 808. It hasn't been delivered yet but I've definitely been obsessed with the idea of it and the impact it's had on so much of my favorite music of all time. So in the end, I might only be obsessed with the idea.. who's to say. I'm also always obsessed with wah. I feel that there's always new ways to use it and new ways to reinvent what it does.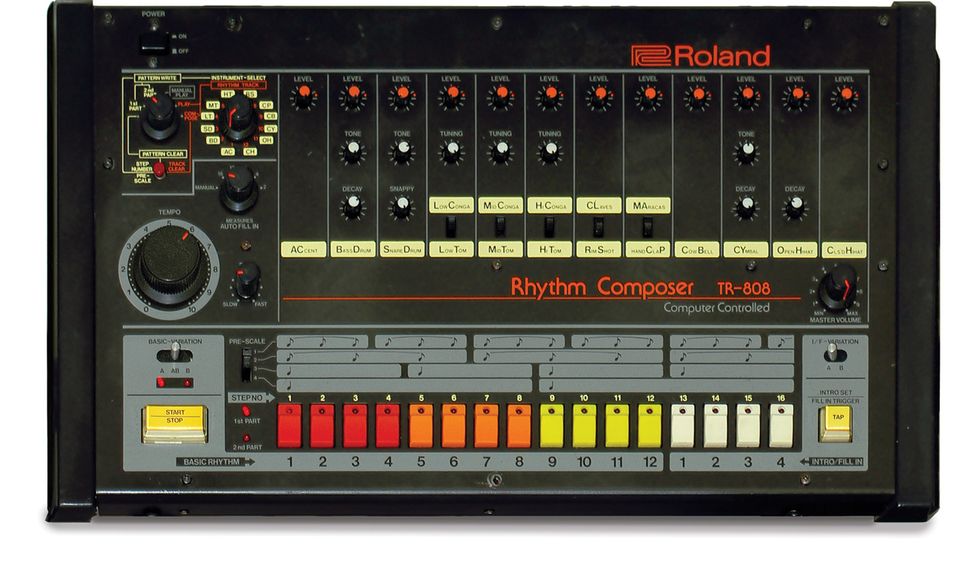 Photo by Brandon Daniel
---
Gary Gladson — Reader of the Month
A: Elixir Nanoweb .009–.046. Depending on how busy I am, they sound fresh for weeks. I've been using them for years now, even for the acoustics.
Current obsession: The music of Lightnin' Hopkins. I've been listening to him a lot recently and breaking down his style, incorporating those turnarounds into my playing, like in "Mojo Hand." When I hear him play, I can hear his personality and that's the ultimate goal of art to me: to have your personality stamp show through. When I get into a rut with my playing, stripping things down and rebuilding back to make the notes have more impact is the best way to come back. There are other players that help with that, too, but he is the current obsession!
---
John Bohlinger — Nashville Correspondent
A: I love new strings, but I am a very, very lazy man. Currently, I will need a tetanus shot if I play one more show on my three main guitars. D'Addario's NYXL strings are made for us: the indolent and cheap. They have a little life left in them right up until they break. I've used .010–.046 for the past 20 years.
Current obsession: After years of wetting down every note with verb and/or delay, lately I've been enjoying the high and dry. It occurred to me while listening to Miles Davis' Kind of Blue. Every note is definitive.
---
Rich Osweiler — Associate Editor
A: I'm pretty consistent with .045s, but not a particular brand so much, so when I do get around to changing the strings on my favorite P every three to four months (or six), I like to mix it up. Currently, "Blondie" is sporting Rotosound RB45 nickel roundwounds.
Current obsession: Dayglow. I won't/can't admit this to my daughter, but it was indeed my tween who introduced me to Sloan Struble's music, which has become one of my favorite things to listen to the past few months. His uber-hooky, guitar-driven indie pop is DIY at its finest.
---
Looking for more great gear for the guitar player in your life (yourself included!)? Check out this year's Holiday Gear Finds!
Created in collaboration with legendary guitarist George Lynch of Dokken and Lynch Mob fame, the Mr.Scary Mod adds an adjustable tube gain stage and an onboard Deep control, which together are designed to enable an amp to have increased sustain while still retaining note definition and dynamics.
LegendaryTones, LLC today announced production availability of its new Mr. Scary Mod, a 100% pure tube module designed to instantly and easily expand the capabilities of many classic amplifiers with additional gain and tone shaping. Created in collaboration with legendary guitarist George Lynch of Dokken and Lynch Mob fame, the Mr.Scary Mod adds an adjustable tube gain stage and an onboard Deep control, which together are designed to enable an amp to have increased sustain while still retaining note definition and dynamics.
Originally released as the Lynch Mod in February 2021, the updated Mr. Scary Mod features the same core circuit as the Lynch Mod but is now equipped with a revised tube mix combo per George's preference as well as a facelift in a newly redesigned electro-galvanized steel enclosure. As with the Lynch Mod, each run will be limited and the first run in Pumpkin Orange with Black hardware is limited to just 150 pieces worldwide.
​The Mr. Scary Mod adds an adjustable tube gain stage on top of the cathode follower position, keeping note definition and articulation while further increasing sustain. Each Mr. Scary mod is meticulously built by hand in the USA, one at a time, and tuned using high-grade components. Equipped with a single ECC81 (12AT7) in the first position and ECC83 (12AX7) in the second, the Mr. Scary Mod can clean up beautifully when rolling down your guitar's volume, and still adds scorching gain when you roll it back up. This is a gain stage that's been tuned and approved by the ears of the maestro George Lynch himself.
"The Mr. Scary Mod excels with dynamics and is incredibly touch-responsive, allowing me to shift from playing clear, lightly compressed cleans to full-out aggressive sustain and distortion –and control it all simply by varying my guitar's volume control and picking," said GeorgeLynch. "In many ways, it's an old-school approach, but it's also so much more natural and expressive in addition to being musically fulfilling when you can play both the guitar and amp dynamically together this way."
The Mr. Scary Mod installs in minutes, is safe and effective to use, and requires no special tools or re-biasing of the amplifier. Simply insert the module into the cathode follower preamp position of compatible amplifiers (includes Marshall 2203/2204/1959/1987 circuits) and

immediately get the benefit of enjoying a hot-rodded amp that delivers all the pure harmonic character that comes with an added pure tube gain stage. The handmade in the USA Mr. Scary Mod is now available to order for $319.
For more information, please visit legendarytones.com.
October Audio has miniaturized their NVMBR Gain pedal to create two mini versions of this beautifully organic-sounding circuit – including an always-on gain device.
The NVMBR Gain is a nonlinear amp that transitions gracefully from clean boost to overdriven tones. Volume increases from just over unity to about 10db before soft-clipping drive appears for another 5db of boost. Its extraordinary ease of use is matched by outstanding versatility: you can use it as a clean boost, push a stubborn amp into overdrive or create a just-breaking-up sound at any amp volume.

October Audio's new family of mini NVMBR Gain pedals includes a switchable version that allows you to bypass the effect: one option features brand logo pedal graphics, while the other sports a fun "Witch Finger" graphic with a Davies knob as the"fingernail".
The second version in the new lineup is an always-on device featuring the Witch Finger graphic and Davies knob, with the same NVMBR Gain circuit that lies at the core of the switchable version.
Features:
Knob controls gain and clipping simultaneously
Stunning silver hammertone finish
Switchable versions are true-bypass, available with classic or witch finger graphics
Authentic Davies knobs, including the "fingernail"
9V center negative power supply required
Dimensions: 3.63 x 1.50 x 1.88 in​
Witch Finger (always on NVMBR Gain) demo
​All October Audio pedals are assembled in Richmond, VA, and available for purchase directly through the online shop. Street price is $109 for NVMBR Gain footswitch versions and $89 for the always-on device.
For more information, please visit octoberaudio.com.