Interested in plugging a flattop into your favorite silver- or black-panel beauty? Here's what you need to know.
Have you ever tried to plug your acoustic guitar into a classic-style Fender amp? There are some hurdles to overcome, and this month I'll provide some advice on how to get past them. But first, some background.
Amps made for electric guitars are carefully designed and matched to the voltages and frequency profiles of signals delivered by electromagnetic pickups. An amp sounds best when it does a good job at amplifying or filtering out certain frequencies. So many of us have stumbled upon challenges when the input signal—say from an acoustic guitar or other instrument—is way different than what the amp expects.
A guitar signal is initially created by moving the strings. The more vibrating metal mass closer to the pickup's magnet, the more magnetic pull and more current is induced inside the coil wire in the pickups. More windings and stronger magnets induce more current, but also reduce brightness and clarity. The coil-wire thickness, wire material, and coating material and thickness also play a role in signal strength and frequency response. The signal voltage produced by a pickup is low—typically between 0.1 and 1V—and contains frequencies between 80 and 1200 Hz.
On the amp side, there are even more factors that amplify or weaken certain frequencies—so-called frequency filtering. Take a vintage Fender Deluxe Reverb. It is designed with specific tubes, resistors, and caps in the preamp stage to amplify a weak input signal and shape it through EQ, mix in some reverb, and transport the result to the power amp circuit, which does three things. First, it splits and duplicates that result into an inverted signal, then it amplifies the two signals as much as possible, and then feeds them into each side of a power transformer that alters the resulting voltage to a suitable level for a loudspeaker. That's typically 30 to 50V. The speaker cabinet and loudspeaker itself are the final stage in delivering a filtered and amplified guitar tone.
For acoustic guitars I prefer modern American-style speakers that can handle high power and both a firm bass response and a crisp top end.
If you hook up other instruments, like an acoustic guitar or a harmonica with a microphone, and feed an electric guitar amp their signals, you will get totally different results throughout the circuit. You may not get the tone you expect, or, in the worst case, you might damage the amp. But generally, all passive sources with electromagnetic coil pickups are safe to use. This includes piezo pickups mounted to the bridge of an acoustic guitar and vocal microphones. Since they are not powered by an external source like a 9V battery, they are passive and create a weak signal.
You should be careful using electrically powered sources like an acoustic guitar with a battery-powered preamp and EQ. Also, electric pianos, synthesizers, or Bluetooth speakers with mini-jack outputs are dangerous, too, since they can easily blow the loudspeakers due to a wrong volume or EQ setting. Electric pianos can sound very good through a vintage Fender amp. I've seen Fender Rhodes keyboards played through Twin Reverbs, and we've all heard organs through Leslie/Vibratone speakers, which can be run by Fender guitar amps.
Acoustic guitars with active pickups can be difficult. With typical default amp settings for electric guitar, the tone is narrow and focused around certain mid frequencies. It lacks fullness, top-end clarity, and overall balance. So, I have some tricks you should try if you're experimenting with this option. First, set all the EQ knobs to 10. This allows the guitar signal to travel through the preamp section with minimum change of tone. Be very careful with volume and start low—at around 1.5—and increase from there. I find big, powerful Fender amps are best for this, since they have plenty of clean headroom and wide EQ possibilities with a full set of bass, mid, treble, and bright-switch controls. And that makes them less prone to howling feedback.
A big speaker cabinet will enhance the low end, allowing the preamp and power amp to relax more without maxing out clean headroom. Remember that the power and energy lie in the bass. I suggest the silver-panel 40-watt Bandmaster Reverb and 85-watt Showman Reverb as practical amp heads for acoustic purposes. I use my Bandmaster Reverb with a 1x12 extension cabinet loaded with an Eminence Maverick. For acoustic guitars, I prefer modern American-style speakers that can handle high power and both a firm bass response and a crisp top end. Speakers are very important for your tone. The guitar's pickups are also important, together with a correct setup, so the action permits the optimum proximity of the pickups.
Acoustic pickups don't have to be expensive. They just need to be balanced and clear. A good guitar amp and some careful adjustments of the controls will do the rest.
New Dream '65, Ruby '63, and Woodrow '55 pedals offer the sound of vintage tube amps with powerful mobile app control and customization.
Dream '65 Reverb Amplifier
The Dream '65 Reverb Amplifier pedal delivers the bold cleans, sweet breakup, and divine spring reverb and vibrato of the essential American tube amp used by artists and producers for 60 years. $399.00 USD.
Ruby '63 Top Boost Amplifier
The Ruby '63 Top Boost Amplifier pedal gives users the chimey cleans, complex overdrive, and classic vibrato of the quintessential British valve amp beloved by artists from Queen to Radiohead to U2. $399.00 USD.
Woodrow '55 Instrument Amplifier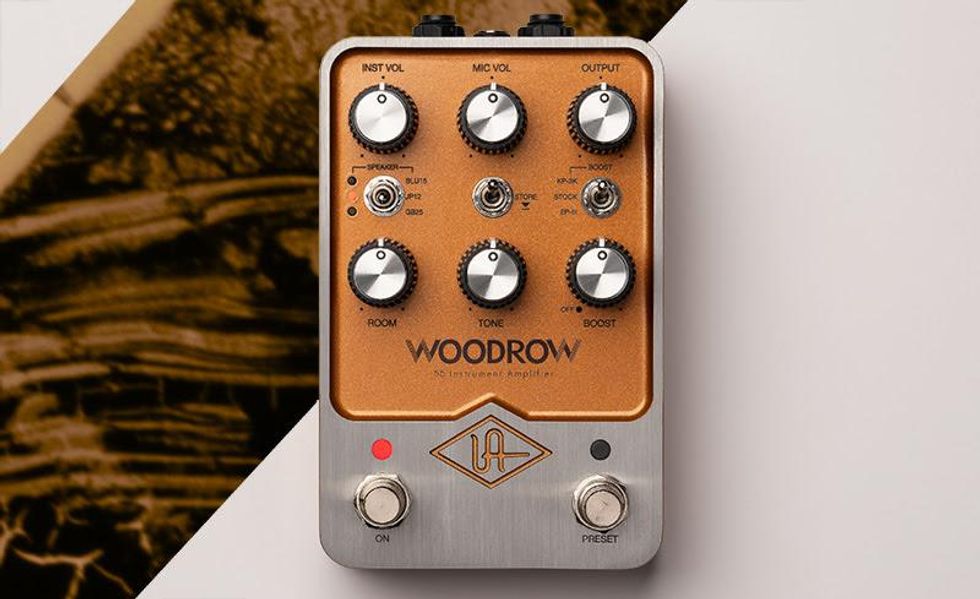 The Woodrow '55 Instrument Amplifier pedal gives users the sweet cleans and grungy distortion of the legendary tweed tube amp used by artists from The Eagles to Chuck Berry to Neil Young. $399.00 USD.
Features
Authentic emulations of iconic vintage American and British tube guitar amplifiers
Built on powerful UAFX dual-engine processing and world‑class UAD modeling
Includes speaker cabinet, mic, and room tones derived from award‑winning OX Amp Top Box
Classic speaker and cabinet combinations, custom boosts and circuit mods
Exclusive artist presets and pedal customization via UAFX Control mobile app (iPhone / Android)
Timeless UA design and craftsmanship, built to last decades
The emotional wallop of the acoustic guitar sometimes flies under the radar. Even if you mostly play electric, here are some things to consider about unplugging.
I have a love-hate relationship with acoustic guitars. My infatuation with the 6-string really blasted off with the Ventures. That's the sound I wanted, and the way to get it was powered by electricity. Before I'd even held a guitar, I knew I wanted a Mosrite, which I was sure was made of fiberglass like the surfboards the Beach Boys, Surfaris, and the Challengers rode in their off time. Bristling with space-age switchgear and chrome-plated hardware, those solidbody hotrod guitars were the fighter jets of my musical dreams. I didn't even know what those old-timey round-hole guitars were called. As the singing cowboys Roy Rogers and Gene Autrey strummed off into the sunset, the pace of technology pushed the look and sound of the electric guitar (and bass) into the limelight and into my heart. Imagine my disappointment when I had to begin my guitar tutelage on a rented Gibson "student" acoustic. At least it sort of looked like the ones the Beatles occasionally played. Even so, I couldn't wait to trade it in.
By the late 1960s, everybody had to have an acoustic guitar. America's youth had gone through the Greenwich Village folk boom and entered the West Coast Laurel Canyon scene. Young women who wanted to be Joni Mitchell and Neil Young-inspired men floated on down to local musical instrument emporiums to pick out their badge of artistry. In Europe, folkies blended traditional troubadour tunes with blues and rock, creating a genre that survives to this day. The most fuzzed-out psychedelic combos proudly displayed their introspective acoustic side. Everybody had an acoustic guitar. Of course, country music never forgot. Except for a short interlude of microphone-hugging country crooners, Nashville kept the strum going.
So, what makes the acoustic guitar so indefatigable? First and foremost is the beauty of its sound. Like the violin or the piano, the unadorned guitar has a purity of sound and purpose that is moving in a way electronic instruments are not. In concert, the connection between the musician and the sound the audience hears is undeniable. It's a tightrope walk, where technology cannot fool the listener. The fewer links in the chain, the closer the bond between performer and patron—and that's the experience people crave.d
Before you write off the seemingly fragile, hollow-bodied cowpoke guitar as the electric's poorer cousin, think again.
Another more practical aspect is portability. Although buskers have more recently turned to elaborate amplifier and looper setups for street concerts, not much beats a great singer accompanied by an acoustic guitar. Certainly, I can't imagine dragging an amp and a synthesizer down to the beach to jam some Bill Evans while friends roast s'mores. Okay, maybe. But the simplicity of a naked guitar in a dorm hallway or in a coffee shop can be a refreshing break from the relentless attack of electronic pop culture. In a world of autotune, backing tracks, and the layered-to-death ambush of modern music, a fingerpicked guitar is like a walk in the woods on a spring day. The fact that it can be easily taken anywhere makes it the instrument of choice for so many.
Another strong argument for the acoustic axe is its supremacy as an accompanist. Being a singer-songwriter doesn't leave a lot of viable options. Although Chet Baker managed a career as a crooning trumpeter, playing a horn while vocalizing requires additional backup. Singing while playing the violin isn't much easier. The piano is probably the most versatile sounding accompanist, but as much as I like Diana Krall, Ray Charles, and Elton John, their instrument of choice forces them to bring the party to the piano, not the other way around. You can argue that the electric guitar is a contender. Unfortunately, the slight portability downside of needing an amp and its tendency to drown out vocals makes it the second choice, whereas the acoustic guitar checks all the right boxes.
This all isn't to say that an acoustic guitar lacks the ability to deliver impressive soloing performance. Some of the most inspiring and emotionally vibrant instrumental music is delivered on acoustics. The roster of players currently burning up the fretboard in every genre is immense—possibly the most in history. The acoustic guitar's forte is to bring passionate and thoughtful melody to any song. This secret weapon has been applied to recordings from artists as diverse as the Beatles, Kiss, and Dream Theater. In the rhythm department, the acoustic steel string has been responsible for the foundational power of the Who, Alice in Chains, Pink Floyd, Guns N' Roses, and countless other "heavy" bands.
So before you write off the seemingly fragile, hollow-bodied, cowpoke acoustic guitar as the electric's poorer cousin, think again. They might not be as loud, or as flashy, but they pack an emotional wallop that often flies under the radar. Many decades down the line, I wish I'd paid more attention to what that first student guitar had to offer me. Maybe I'd have kept it, too