Enter here for your chance to WIN a Seymour Duncan PowerStage™ 700! Giveaway Ends October 20, 2021.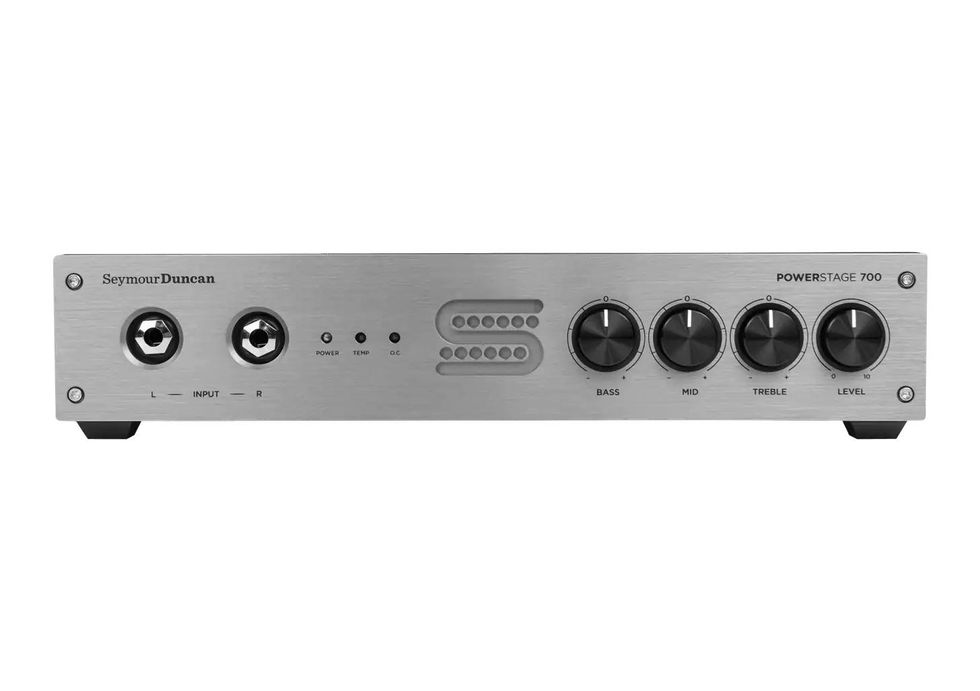 The PowerStage™ 700 is a game-changing product for guitar players that want uncompromising tone in a compact power amp. Maybe you love your tube amp but don't want to lug it around. Or you use a modeler that has a ton of functionality but doesn't sound as good when hooked up to your existing amp or direct to the PA. Perhaps you have the ultimate pedalboard and just need a better way of amplifying or running it direct. Do you dread fly dates or gigs because you're never sure what your backline will be?PowerStage is the answer, whether you're playing live or recording in the studio. When you create your tone from a modeler, pedals or effects processor, what you want is a clean, transparent power source that brings your tone to life. With PowerStage, you can bring your whole rig to the gig without compromising your sound, breaking your back or draining your bank account.
Seymour duncan
Dead Sara's Siouxsie Medley joins PG editors and our reader of the month to reveal recent guitar purchases and our latest musical obsessions.
What was the last guitar you bought and why? What's next on your wish-list?
Siouxsie Medley | Dead Sara
Photo by Steve Porter
A: A 1991 Gibson Les Paul Florentine was the last touring guitar I bought. I bought it from my buddy because the Les Paul Custom I was playing for years broke my ribs twice. Not even kidding, mid-show! Haha. That's not a knock on the Les Paul; it's just a heavy guitar for a chick who weighs a buck-five. So, the Florentine has been a breeze on my back and ribs but still has the chunky Les Paul sound that I love and is vital to the Dead Sara sound.
I've purchased a couple of old Silverstones for home use. My early '60s Japanese 319 model has such a special feel. The action on it is literal butter. I do all of my writing on it. It's my best friend. I'd love to get another Grammer acoustic. I have a '70s G10. Country artist Billy Grammer made a line of his own guitars and they're the best-sounding acoustics—they resonate for days.
​Current obsession:
Magic Wands, Viagra Boys, Harriet, Tom Waits, Future Islands, Aretha Franklin, Nina Simone, T. Rex, Sam Cooke, Richard Swift, and the list goes on.... I've been cycling through that list most heavily recently. Magic Wands will always have a soft spot in my heart, as the lead singer, Dexy, was my nanny as a kid and taught me how to play guitar. Don't know where I'd be without her influence. (And all the times she did my homework for me so I could keep practicing chords). Love her and her music.
Dorian Ford | Reader of the Month
Dorian Ford
A: I bought an American Original Fender Jazzmaster. I bought an American Pro Jazzmaster a couple years prior, and I wanted a more vintage-sounding Jazzmaster with a rhythm circuit, so I bought it. Next, I'm going to get an MIJ Jazzmaster, a Fender Coronado II, or an Eastwood Airline 59 3P DLX. I'm torn!

Current Obsession:
I don't know why, but lately I've been obsessed with the Dandy Warhols, specifically The Dandy Warhols Come Down album. Love the guitar tones on that album and the hooks are hauntingly catchy.
Ted Drozdowski | Senior Editor
A: A while back I concluded a decade-long search for a National. For a long stretch, money was an issue, but that didn't stop me. Thankfully, I didn't find The One until I had the scratch. It was right after Christmas 2018, and, on a whim, I played through a clutch of them on the wall at Carter Vintage here in Nashville. Two Style 1 Tricones really spoke to me: a 1930s and a 1997.

Photo by Laurie Hoffma
The '97 was easy to play, had better tonal detail and sustain, and was cheaper, so—no brainer. It also has a mysterious mandala-like symbol that George Harrison painted on some of his guitars welded onto it.
Photo by Laurie Hoffma
Plus, the owner knocked a couple hundred bucks off. Since then, it's appeared on my band's acoustic EP and some videos—and it makes me happy when I see it perched on its stand, every time. Dunno what's next!
Current Obsession:
Getting back to work on music. The first leg of the pandemic laid me out creatively. Now, I've got a patch of new songs and arrangements, and I'm working on a script.
Jason Shadrick | Associate Editor
A: The last guitar I purchased was my Schroeder Chopper TL. About eight years ago we reviewed one of Jason Schroeder's instruments and the feeling of having to return it stuck with me.
Once one of his Chopper TL models became available, I had to jump on it. It's a T-style that is light as a feather and just feels great. Naturally, the Lollar pickups sound great, too. It's become the standard to which all my other guitars need to measure up to. Next on my list is something in the 335 family. Still on the hunt for that.

Current Obsession:
With the recent demise of my band, I've noticed that finding something non-musical to fill my time helps and I'm deep in a chess phase. It's simple enough to break out your phone when you have a few minutes and solve a few puzzles. I highly doubt I'll be going pro anytime soon, but it's fun to dive deep into a world where nobody gives a crap about how transparent your overdrive is.
A mid-priced take on a slotted-headstock, 12-fret dreadnought with big bass and a lot of class.
Solid build. Big bass response. Great finish. Easy-to-play neck.
Fourteen-fret dread fans may miss some sustain and high-end resonance.
4
4.5
4
4
Mid-priced acoustic guitars are a tricky proposition. The maker has the unenviable task of building a guitar that's affordable but upmarket enough in sound and playability to justify spending what's still a considerable chunk of change. That design directive generally means compromise at every turn. So, when I received the Alvarez Masterworks MDR70ESB, I thought a lot about what concessions Alvarez might have made. But sitting there in the case, everything about this guitar's looks belie its $999 street price. From its 12-fret neck, cool vintage sunburst, all-solid spruce and rosewood construction, slotted headstock, and hip 12th-fret inlay, the Alvarez sets up big expectations.
Big Guitar, Big Looks
The MDR70ESB is a formidable guitar with a big dreadnought body—15 7/8" across its lower bout and 5 7/8" deep—that feels sturdy but comfortable. The MDR70ESB features a solid AAA North American Sitka spruce top and solid rosewood back and sides. Alvarez's signature bridge looks like a wide, upside down "W," which I dig—it's distinctive without being too clever. A two-ring abalone and ABS rosette dress up the top, and, along with the high-gloss poly top, they give the guitar just enough visual pop. Just inside the soundhole are controls for an LR Baggs Element active system.
The MDR70ESB's mahogany neck features an Indian Laurel fretboard devoid of ornamentation except the 12th fret inlay, where the neck meets the body, which is a sharp touch. I can't help but get excited by the look of a slotted headstock. And paired with Alvarez's inlaid logo and open gear tuners, this one is exceptionally attractive and classy.
All About That Bass
Plucking the Alvarez, the guitar's resounding bass is immediately noticeable but not overbearing. It has a dry, balanced sound that offers plenty of note separation. Fingerpicking and arpeggiated picking are a pleasure, and any kind of percussive playing feels alive with so much plucky attack on tap. At times, that dryness is less of an asset, and some midrange and high frequencies can sound muted relative to the robust bass—a not-uncommon byproduct of 12-fret design. At times, this means the MDR70ESB sounds a little more akin to a small-bodied guitar with a lot of bass response. Fingerpicking players may love this tone profile (as well as the fingerstyle-friendly 1 3/4" nut width). Fans of big, D-28-style stumming tones may find it less attractive. Either way, the Alvarez's tone makeup is a very cool alternative to classic 14-fret dreadnought tones.
I can't help but get excited by the look of a slotted headstock. And paired with Alvarez's inlaid logo and open gear tuners, this one is exceptionally attractive and classy."
Moving around the neck, notes ring evenly and the action is smooth and pliable. Open position playing is comfortable and that even response makes for easy transitions up the neck, where a slinky feel makes for easy bending. There's plenty of room to navigate the entire fretboard with precision. While doing so, I found the satin-finished neck to feel a little anonymous, but that's a matter of preference and it certainly felt comfortable if not distinctive.
The Verdict
The MDR70ESB is a classy but understated instrument that represents a genuine alternative to classic, 14-fret dreadnought tone profiles. It shines in unexpected ways. And rather than providing lush pianistic arpeggios and rich, sustaining chords associated with 14-fret dreads, it's a dry, percussive guitar that delivers a lot of bass response and provides even, precise, and strong fundamental tones. It's also an easy-to-play instrument that is comfortable to hold. And thanks to discreetly situated onboard electronics, it's ready to gig—making the $999 street price feel a lot more like a value than a mid-price compromise.
Photo by James Swanson
JW's first fresh music in four years features him on all the instruments for one version, while another features a gentler Appalachia approach.

Jack White is back with his first new solo music in nearly four years. The incendiary" Taking Me Back " (Third Man Records) is available digitally worldwide now. The single, produced by White at Third Man Studios in Nashville, features the 12x GRAMMY®Award-winning artist on all vocals and instruments.
Additionally, the hard rocking"Taking Me Back" arrives paired with a genuinely gentler version aptly titled "Taking MeBack (Gently)." Both versions are joined by new visuals, premiering today at White's official YouTube channel.
Jack White – Taking Me Back (Call of Duty: Vanguard Lyric Video)
Lyric video for Jack White's new single "Taking Me Back". Listen to "Taking Me Back": https://ffm.to/takingmebackFollow Jack White:Facebook: https://JackWhit...

"Taking Me Back" can also be heard in the just-unveiled video game trailer for Activision's upcoming Call of Duty®: Vanguard, along with footage from the game in the newly premiered lyric video for the song. Developed by Sledgehammer Games, Call of Duty®: Vanguard delivers World War II like never before as players will rise on every front when the game launches worldwide on November 5. The title is the newest release from the blockbuster Call of Duty® franchise that's sold over 400 million copies around the world.
Jack White – Taking Me Back (Gently) [Visualizer]
Visualizer for Jack White's new song "Taking Me Back (Gently)"Listen to "Taking Me Back" & "Taking Me Back (Gently)": https://ffm.to/takingmebackDirected by ...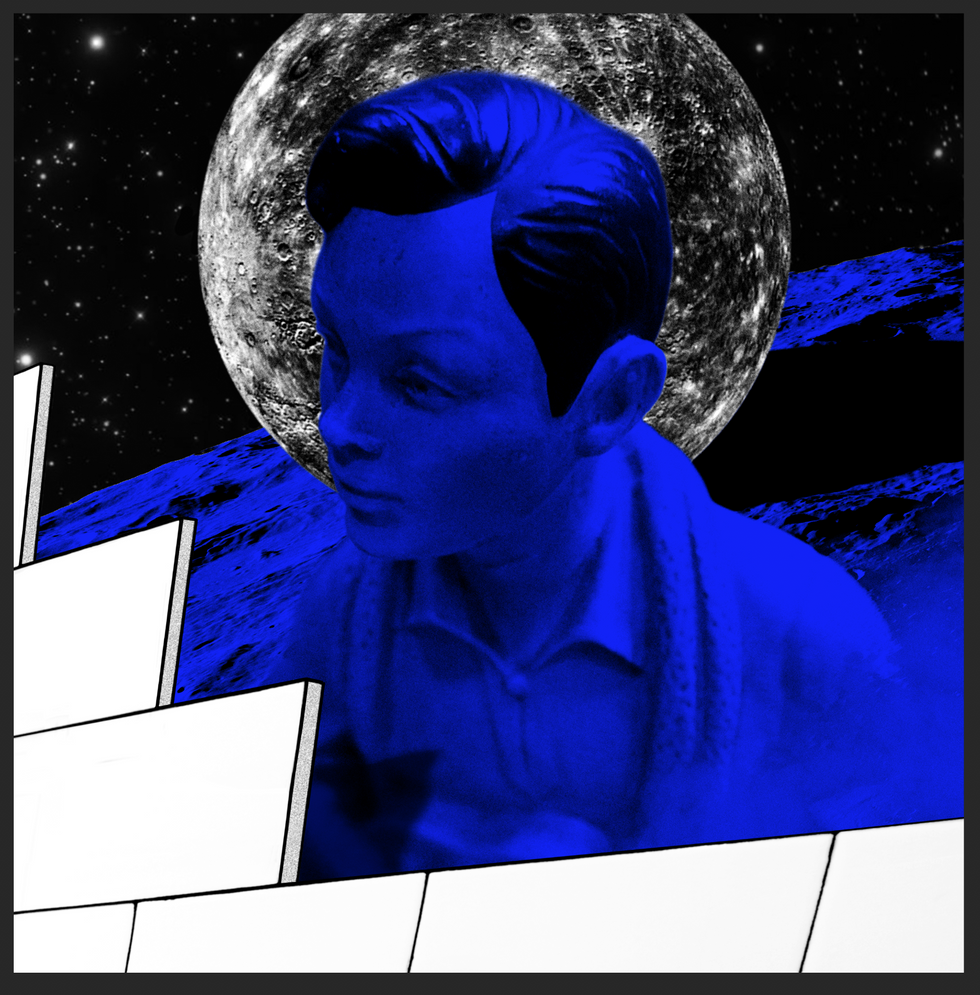 Jack White is a 12-time GRAMMY® Award-winner and 36-time nominee. All three of his acclaimed solo albums – 2012's RIAA gold certified solo debut, BLUNDERBUSS, 2014's LAZARETTO, and 2018's BOARDING HOUSE REACH – debuted at #1 on the SoundScan/Billboard 200 along with a variety of other charts. Among his myriad international honors, White's long run of career GRAMMY® awards and nominations saw BLUNDERBUSS earning five nods over two years, including "Album of the Year," "Best Rock Album," "Best Rock Song" (for "Freedom At 21"), "Best Rock Performance,"and "Best Music Video" (the latter two honoring the single, "I'm Shakin"). LAZARETTO proved equally popular with GRAMMY® voters, scoring a nomination as "Best Alternative Music Album," while its title track received the 2015 GRAMMY® Award for "Best Rock Performance" as well an additional nod as "Best Rock Song." Praised by NME as "wild, mysterious and unlike anything else around…a full, lush sounding thing packed with personality and life," BOARDING HOUSE REACH proved among White's most unique works, topping a variety of charts in the US and Canada while drawing applause around the world. "The spirit of freaky free-play is thrilling and refreshing, a worthy end unto itself," wrote Rolling Stone. "Like nearly all of White's work, it manages to feel fresh, original, and still deeply rooted in history." In 2020, White released The White Stripes Greatest Hits (Third Man Records/Legacy) and, more recently, unveiledjackwhiteartanddesign.com , as well as opened the doors to Third Man Records London– the third Third Man Records location and first internationally.
Enter here for your chance to WIN a Lunastone Deep Metal! Giveaway Ends October 19, 2021.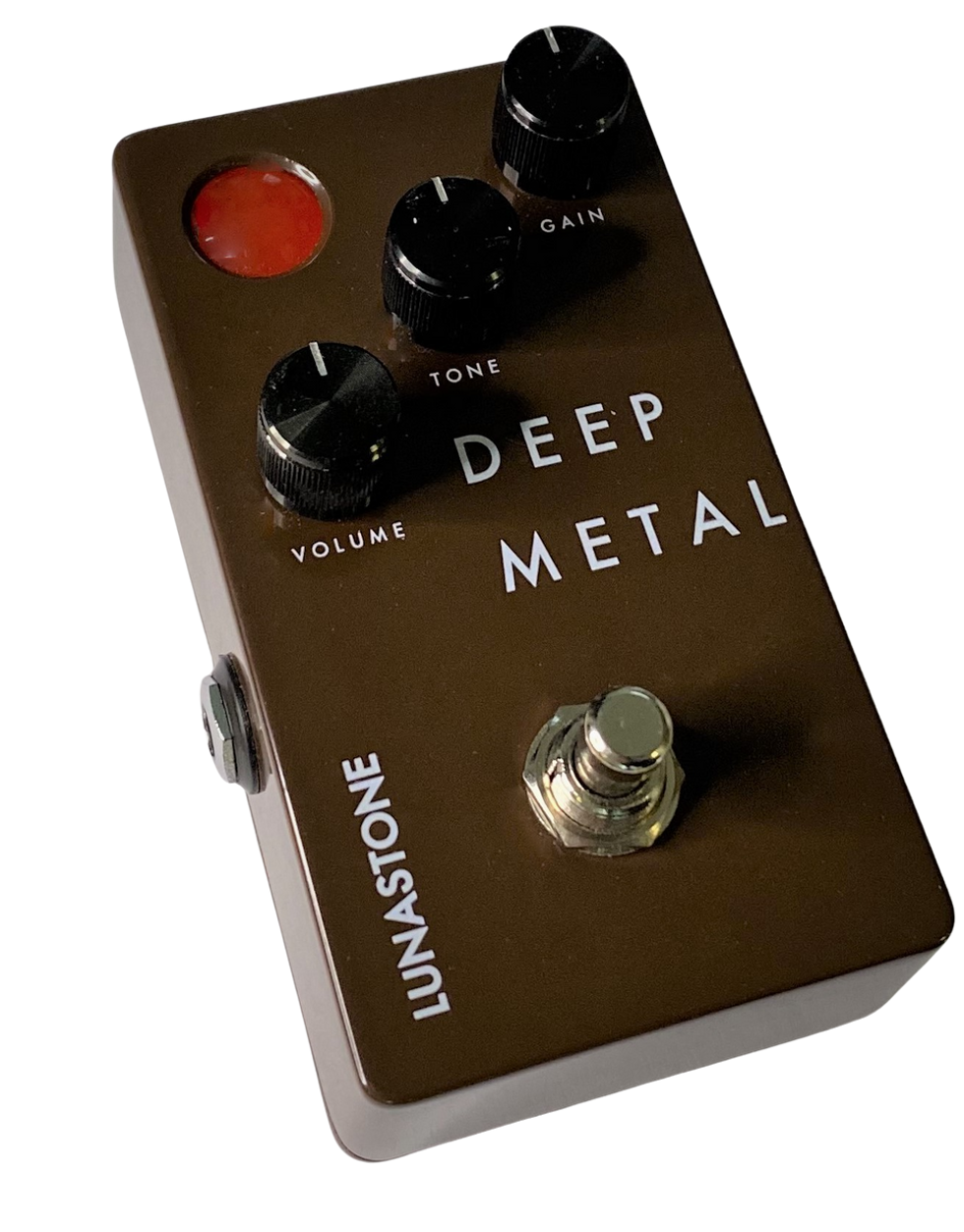 Deep Metal is a plug and play, Massive Metal Distortion. Mid tone reacts fast, while the low end feel like a thunder. A Metal Distortion for guitarists that just can't get the sound huge enough!
Lunastone
Orangewood Guitars announced today the launch of the Topanga Collection, a premium all solid guitar collection that adds to the brand's lineup of high-quality, accessibly-priced instruments. Inspired by lush natural acoustics and the beauty of vintage guitars, Topanga is Orangewood's highest-tier collection thoughtfully designed for versatile, seasoned guitarists. Three models will be unveiled as part of the collection: Berkeley (Dreadnought), Sierra (Grand Concert), and Cleo (Grand Auditorium Cutaway).
For enhanced stability and tone, the all solid Topanga Collection sports a torrefied Sitka spruce top with pau ferro back and sides. Orangewood's unique torrefaction process highlights the golden glow of aged wood, ensuring no two guitars look the same. Along with the ebony fingerboard and bridge, guitarists will enjoy the dynamic tonal range of the collection's superior tonewood and vintage-inspired design, but with all the conveniences of modern guitar construction.
Players can choose to upgrade their model with an LR Baggs Anthem pickup – an award-winning system. For aesthetics, gold hardware, striking abalone detailing, a natural gloss finish, and a new headstock design set the Topanga Collection apart from anything Orangewood has ever made before.
Features
Top: Solid Torrefied Sitka Spruce
Back / Sides: Solid Pau Ferro
Fingerboard: Ebony
Bridge & Bridge Pins: Ebony
Nut & Saddle: TUSQ
Rosette: Abalone
Inlays: Mother of Pearl
Tuning Machines: Grover Open Gear Tuners (gold)
Finish: Natural Gloss
Bracing: Scalloped-x
Optional Pickup: LR Baggs Anthem
Hard Case Included
"We're incredibly proud to finally introduce our Topanga Collection to the guitar community," said Eddie Park, Orangewood's Co-Founder. "From the premium tonewood to the refreshed headstock logo design, our new models mark the next chapter in the Orangewood journey. We can't wait to hear the innovative new sounds Berkeley, Sierra, and Cleo will inspire."
The Topanga Collection starts at $895 ($1,195 with the LR Baggs Anthem Pickup System) and will be available online starting October 15th at owguitar.co/topanga-collection. Affirm payment plans are available.