Martin OMC-16OGTE Acoustic Guitar Review
Martin''s OMC-16OGTE acoustic uses Roland COSM modeling for a stage-ready guitar
C.F. Martin & Co. is just full of surprises these days. This sweet little OM is a case in point. From sustainable woods to alternative materials to clever electronic wizardry, Martin is combining tradition with high-tech functionality in some very appealing ways.
Sugar and Spice and Everything Nice
The three-piece back has wings of ovangkol, which is a species of
Guibourtia
that comes from tropical West Africa, with an Indian rosewood wedge. The sides are also ovangkol. The top is solid Sitka spruce with a bold herringbone rosette—and I am a sucker for herringbone. The specs online say the neck is "select hardwood" and this looks like a nice piece of mahogany, which is a solid choice.
The fretboard and bridge, however, are not at all traditional, and not even wood. They're something called Richlite, which is a "paper-based fiber composite used for a variety of architectural, food service, recreational and industrial applications," including musical instruments, according to the company. I have to confess, I'm a bit of an ebony snob when it comes to fingerboards and bridges, but this stuff really took me by surprise. It feels amazingly like ebony, and I would be willing to bet it's more stable and durable (whether or not ebony adds to the tone of a guitar is not a debate I'm willing to go into here). This Richlite stuff, which contains phenolic resin, feels great and the guitar plays like buttah, so I like it. We have a 1-3/4" nut and a 2-1/4" saddle, which is ideal for fingerstyle playing, and even though the fretboard has inlays, the Richlite was more consistent-feeling with the shell than ebony, and they didn't bug the crap out of me like inlays sometimes do.
The bindings and endpiece are a material called
Boltaron
, which is a laminated plastic used in everything from aircraft components to credit cards. The nut and saddle are Corian, another new-fangled material that's proven to be tone-worthy in both acoustic and electric guitars. Now, contrast all this high-tech, alternative material with the classic, quintessential Martin look; this guitar looks like something my grandfather would have played on his front porch in southern Iowa. The shape has a vintage vibe about it, and the simple b/w/b perfling and herringbone rosette make it look completely charming. The mortise-and-tenon neck joint is another nod to tradition, and feels as rock-solid as it gets. The glossy top and satin back and sides are pleasing as well, and the satin neck is fast and completely comfortable.
All Shook Up
The pickup and onboard digital preamp are from Roland, and I have to say, they're seriously cool. The pre is called the COSM, for Composite Object Sound Modeling. We've seen quite a bit of this technology in the acoustic guitar world recently, and while some of it is very intriguing, I'm not sure there's not a fair way to go before they
really
get what they're after. The Roland preamp has a lot of truly useful features, but is so intuitive that I was able to figure out most of it before finding the manual (although I'm not a novice when it comes to acoustic technologies).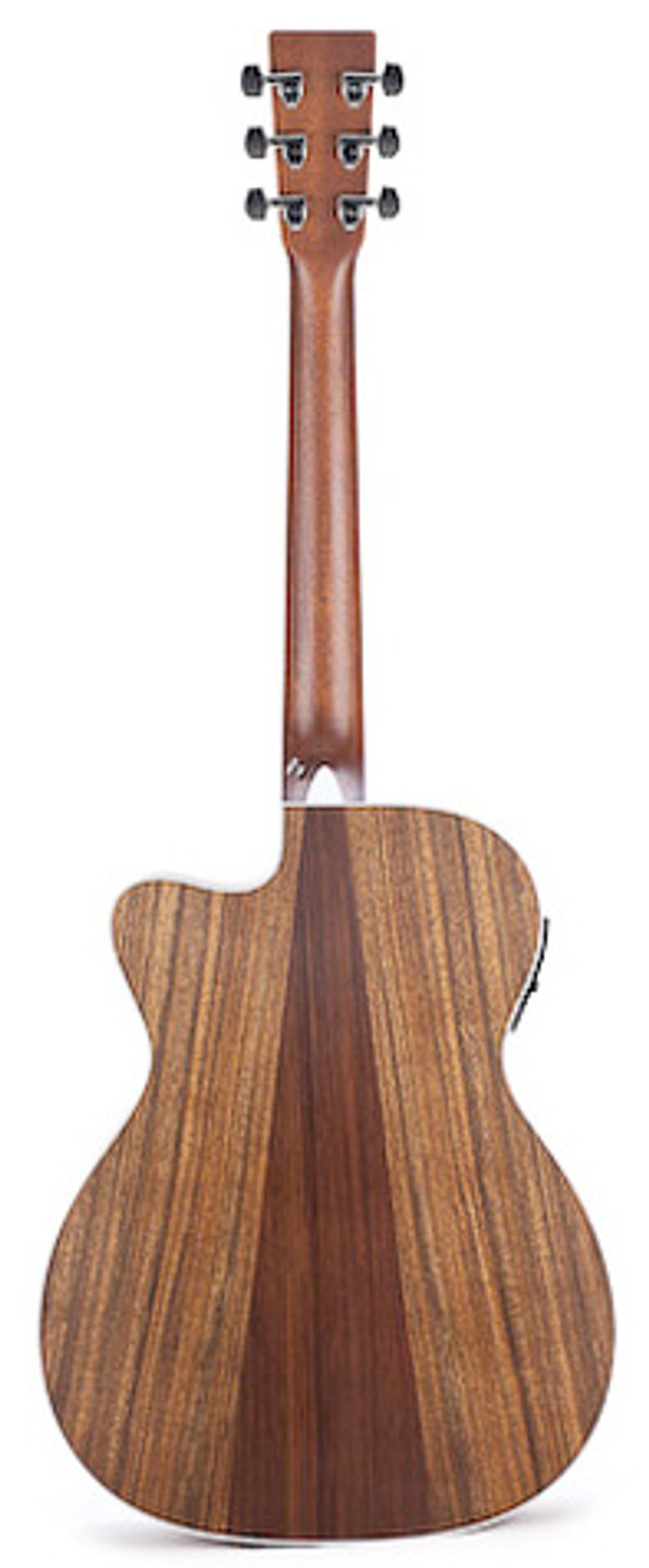 Here's basically what it's about: pickups are handy but mostly don't sound that great, and almost never sound like the real deal. In order to add what's missing back into the pickup signal, Roland created this cool algorithm that simulates the body sound and gives you that breath and richness that most pickups aren't able to capture. I would say they're 75 percent successful, and that's really good. The preamp has several built-in reverbs and three different body models that you can edit to taste. The 7-band EQ is easy to use and very responsive. I plugged into my trusty Baggs Core 1 Reference Monitor, and as I heard the harbingers of feedback stirring, I pressed the Anti-Feedback button and the feedback was instantly busted and my tone was intact. That right there is worth its weight in gold.
The Body knob is the heart of the modeling part, and dialing from left to right is quite an adventure. I found straight-up to around one o'clock to be the most musical positions, and preferred model 2 out of the three defaults. The preamp also has a tuner that is super easy to read and remarkably quick to respond. Batteries are housed in a chamber in the side of the lower bout, so they're easy to access—gotta love that.
Shut up and play the damn thing
Acoustically, it's a decent sounding guitar, though I wasn't blown away by the tone. It's bright and snappy, and as I said before, plays like buttah. There isn't anything this guitar won't let you do. It is a pro-level guitar that requires no compromise from a player, at least none that I could find, and I took it for a pretty wild ride. I can't imagine any player hitting the wall with this guitar. It just wants to play.
Plugged in, you get to play with the EQ and the models, almost like
painting
with the tone. You can make it sound as rich and full and vibrant as you want, or snarky and raw, or sizzling and poppy. It's kind of like a video game for your ears. In a recording studio, this could be very useful mixed with a mic'd signal to bloom up into a mix, smash your way through it, or dance on top of it. It's a true stage-ready axe, light and comfortable, perfectly playable and versatile as it gets.
The Final Mojo
I wish the acoustic sound was a little more irresistible, but that's not what this guitar is about. It's about walking out on a stage and kicking ass, and it does that extremely well. It's also a guitar you can feel good about, from its solid made-in-America pedigree to its sustainable mojo.
Buy if...
you need a stage-ready guitar that will let you play anything your heart desires.
Skip if...
you just want to cuddle on the couch with a heart-meltingly gorgeous sounding playmate.
Rating...