Mesa/Boogie Unveils the Mark Five: 25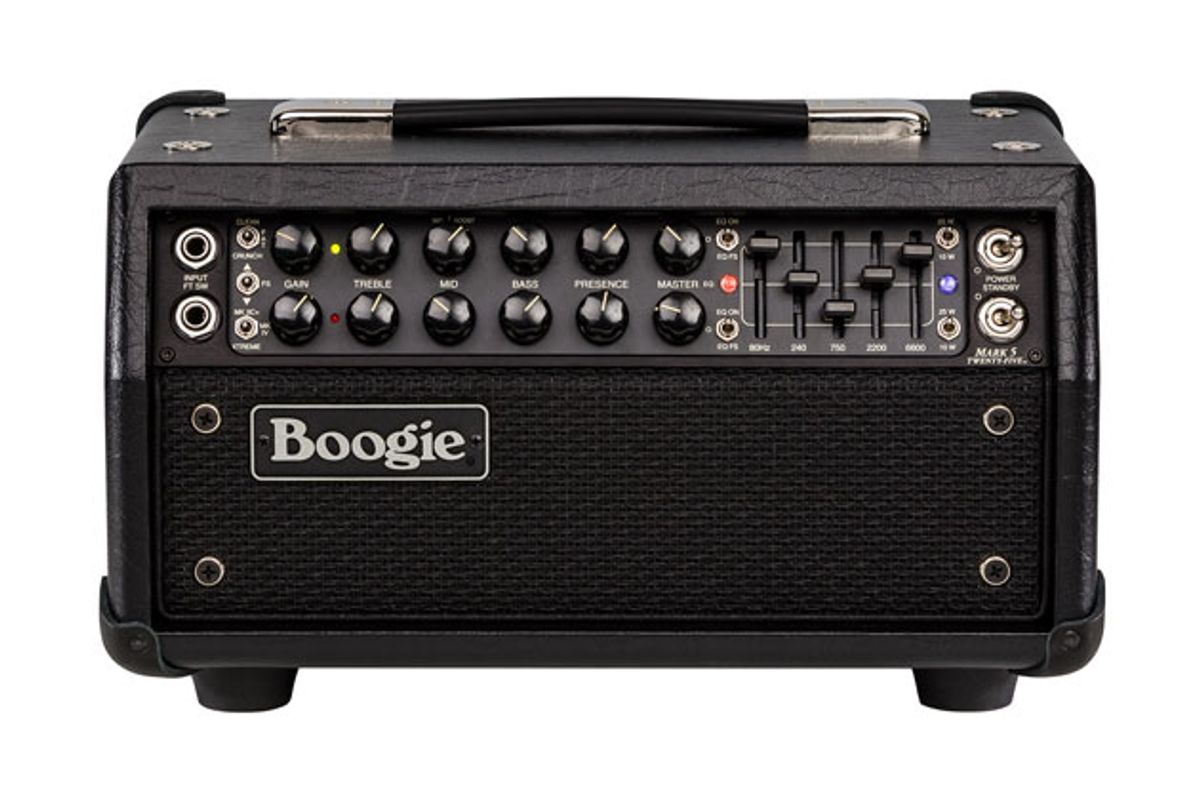 The amp's 10-Watt mode utilizes two tubes operating in Class A/B Triode for lush harmonics and liquid feel at lower volumes.
Petaluma, CA (September 24, 2014) -- Mesa/Boogie is excited to announce the addition of the new compact Mark Five: 25 to its renowned line of award winning Mark Series amplifiers, hand-built in the company's Petaluma, California shop.
During years of development, Mesa's team looked back to the wellspring of past Mark amps for inspiration on the new Mark Five: 25. Revisiting the coveted Mark II-C+ and comparing the vintage icons to the production 6L6 powered Mark Five, which many believe is the brand's best work to date paying tribute to the II-Cs, the team confirmed that many of the Mark Five modes absolutely had to be included in the new mini package. The key requirement being that, in the end, the new Mark must truly sound on par with or even better than the original II-C+. Given this challenge they set out to find a layout that would accommodate 6 incredible modes in a sub-compact chassis size. Mesa's research overwhelmingly confirmed that players preferred two, and only two, preamp channels for a tiny Mark amp. With pedals now offering such a personalized, quick-change approach to getting different sounds, Mesa set to work defining the Five: 25's two channels. Mesa claims the result is a collection that includes the very best of the Mark IIC+ and the Mark Five in a package that many will find unbelievably powerful and versatile for its size.
"Our goal was to do something quite reMarkable with the Mark Five: 25. We set out to pack the stylistic width, versatility, aggressiveness and tone of our full sized Mark amps in the most useable, compact format we could dream up, based on feedback from our community. In combining the power of the Mark Five preamp with our Dyna-Watt 2xEL84 power section in the Mark Five: 25, I think we've created a new Mark amp of unprecedented portability, clip-ability and high-speed, tactile expressiveness. I believe the Mark Five: 25 will firmly carry the Mark amp lineage far beyond the current "little amp" trends of today to define a new sonic territory and class of amplifier hard to ignore in any size or wattage category for years to come," said Doug West, Director of Marketing at Mesa/Boogie.
At only 16.5 pounds, 8 inches tall and only 14 inches wide, the long list of features included in the new Mark Five: 25 will quickly draw any guitarists attention. Features include Mesa's patented Multi-Watt channel assignable power amp and proprietary Dyna-Watt technology providing two power levels with different wiring configurations via independent 10/25 Watt power switches for each channel. According to Mesa, the amp's 10-watt mode utilizes two tubes operating in Class A/B Triode for lush harmonics and liquid feel at lower volumes while the 25-Watt Mode utilizes 2 tubes operating in Mesa's exclusive Dyna-Watt Class A/B Pentode for maximum power, punch and clarity.
Delivering two fully independent channels with six style modes, the Mark Five: 25's Channel 1 features clean, fat or crunch modes with a Multi-Watt power switch offering of 10 or 25 Watts. Channel 2 features the legendary Mark IIC+, Mark IV and Xtreme Modes with a Multi-Watt power switch of 10 or 25 Watts. The new model also includes Mesa's selectable 5-Band Graphic EQ which is footswitchable, channel assignable or bypassable. Rounding out an expansive feature set, Mesa fans will also find the brand's classic all-tube, spring reverb with independent channel control via the rear panel, a fully buffered, tube FX Loop and a Mesa amplifier first, a built-In CabClone Cabinet Simulator with internal amp load and headphone output – featuring closed-back and open-back voicings, speaker on/off and ground lift switches.
For more information:
Mesa/Boogie