How to Stay Happy and Healthy on the Road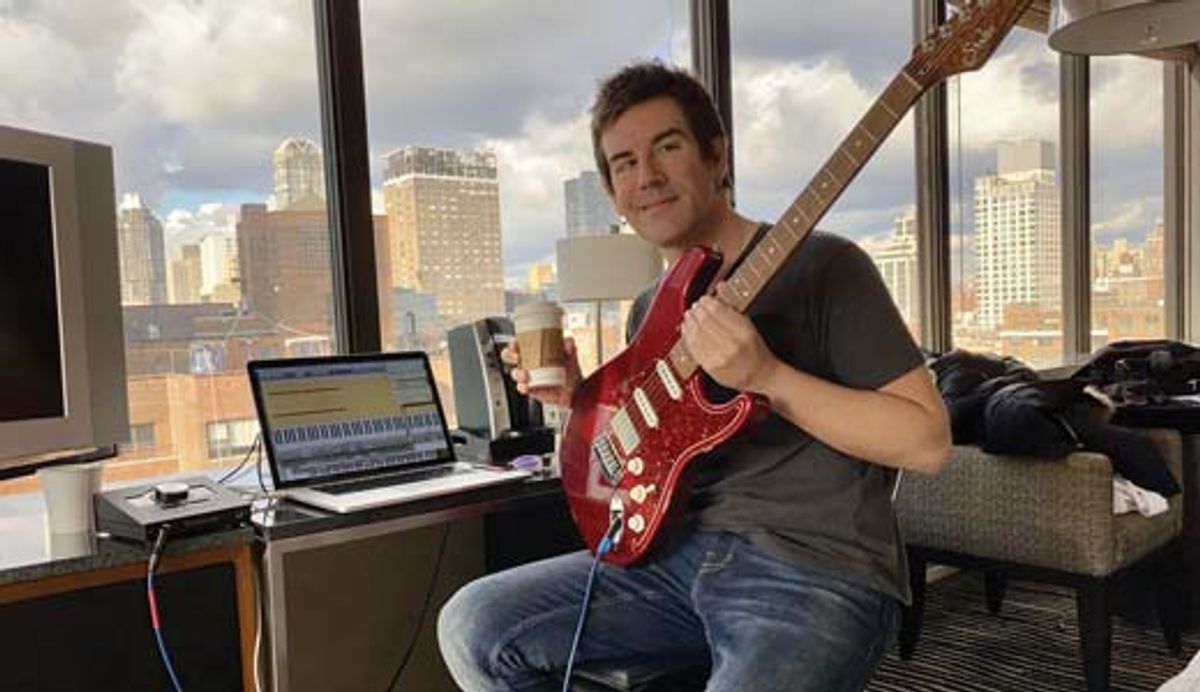 Give our columnist coffee, a guitar, an interface, and his laptop (plus a decent hotel room), and he'll be upbeat on tour. Did we mention coffee?
Sideman to the stars Pete Thorn shares his regimen for avoiding the pitfalls of touring.
Well, that time is upon me again. I'm headed out on the road! I'm actually writing this in a New York hotel room, and tonight I'll be on a plane to the U.K. to start a run of 30-plus theater dates with the Classic Rock Show, an extravaganza of rock classics played by a top-notch band. I've really had to woodshed these songs and it's going to be a blast to perform them.
The upsides of touring are many. Of course, it's awesome to make a living doing what we love, but the pitfalls can be numerous as well. This month, I'd like to give you some pointers on how to avoid those pitfalls so you can stay happy and healthy on tour!
---
Keep your chops together. You'll certainly be getting plenty of playing time at gigs and soundchecks, but I find it's also beneficial to maintain a practice and/or writing routine outside of the shows. I always bring my laptop and UA Apollo Twin desktop recording interface, which allows me to record, mix, and practice guitar easily and virtually anywhere. The UA plug-in amp models sound great, and I can even route the output to my laptop speakers. Instant practice amp! And if I come up with a cool song idea, I can quickly lay it down in my DAW.
Fun tip: Carry a couple 1/4"-to-RCA cables with you when traveling, and try running the outputs from your interface into your hotel room TV's aux input. It'll probably be louder and fuller sounding than your laptop speakers. Of course, you can also carry a portable speaker on the road, like the little Fender Newport I use for this purpose. I have a Bose SoundLink Mini as well, but the 1/8" input adds some latency to the signal.
Want an even simpler practice setup? My other fave hotel room companions are mini amps such as the Blackstar Fly 3 and NUX Mighty Lite BT. They're both under $100 and make instant jamming so much fun. No laptop required. They're great for warming up backstage as well. I'm also really excited about the new Boss Waza-Air wireless headphone amp—which has amp simulation and effects built in—where your guitar signal gets to the headphones via a wireless transmitter. It's another no-brainer for a portable practice rig!
You'll certainly be getting plenty of playing time at gigs and soundchecks, but I find it's also beneficial to maintain a practice and/or writing routine outside of the shows.
The most important thing is keeping a guitar readily available—out of the case or gig bag at all times. Just having it sitting out in a hotel or dressing room definitely makes me pick mine up more.
Eating right. I discovered about eight years ago that I'm seriously gluten intolerant. Simply being aware of this and sticking to a pretty strict gluten-free diet has really helped my health. Eating catering, restaurant food, or, even worse, fast food on a daily basis can catch up with you quickly. I wish I'd started eating right much sooner, but better late than never, right?
The Yelp app is quite handy when I'm on tour, because I can easily research and seek out healthy food that works for me. And I suggest avoiding late-night tour-bus snacking binges! When traveling on a moving bus that rocks to and fro, they've never led to anything but acid reflux for me. It goes without saying, but also try and keep the intoxicating substances to a minimum. Alcohol really does us no favors, and I'm always trying to be honest with myself about only drinking in moderation.
Sleep. Getting proper sleep is so important, and it can be a real challenge whether you are flying, traveling by bus, or in a van. Eyeshades and earplugs are two things I always carry with me, without fail. Melatonin can be very helpful when you are trying to reset to a new time zone. There's no easy fix for jet lag, but getting lots of sunshine during the day and eating at regular meal times can help your body clock reset. Short naps are okay, but keep them under 30 minutes or you are not napping—you're sleeping. And it'll just take you longer to adjust fully. If you can make it until 10:30 or 11:00 p.m. before sleeping, that's perfect. If you go past that time and stay up too late, you'll have trouble getting any sleep at all.
Exercise. Last but not least, getting regular exercise can really help both your body and your mind. Many hotels have gyms and/or pools, and I highly suggest making use of them. It's amazing what 30 minutes on a treadmill does for my mood by getting those endorphins going, which helps me stay mentally focused, even, and stable.
By the time you read this, our current tour should be just about wrapping up. If you're headed out to play some gigs sometime soon, stay safe out there and remember what a privilege it is to travel and play music. We are lucky to be doing this. Until next month, I wish you great tone!