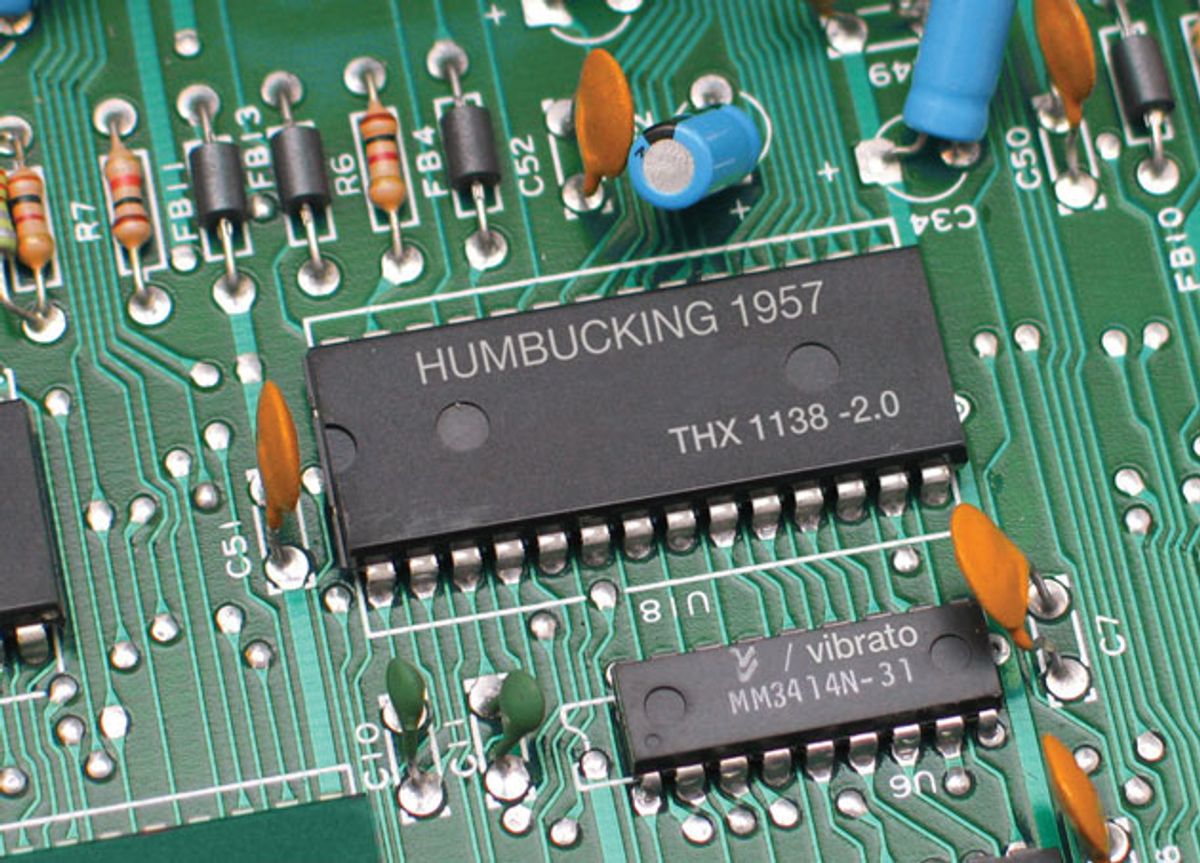 Pop the hatch on your self-driving car, load in your automated guitar, and head out for tonight's gig?
When I was a kid, there were countless stories in the popular media about the world of the future. My favorite prediction was the assurance we'd all be zipping to work in our own flying cars. (I can only imagine the carnage, had that come true.) Of course, that was a much more primitive time, and the technology to control and navigate such a device wasn't available. But if you have ever watched a drone-flying meet, you know it still isn't perfect.
Now we're all hearing a lot about the research on, and race to achieve, the so-called self-driving automobile. At least cars only move in two axes—none of that dangerous climbing, diving, and rolling. Savvy tech entrepreneurs are hell-bent on applying their data drivel to the "problem" of transportation. I imagine that the logic involves seeing our inability to focus on anything for more than a few moments as inevitable, and the solution to automobile crashes is to hand the keys (and the wheel) over to computers. Yay.
Well, I'm scared to death of all you crappy drivers, so I'm all for this. In fact, it got me thinking about self-playing guitars. Despite my reputation as a vintage-guitar curmudgeon, I'm really the quintessential early adopter. In 1980 I introduced a "wireless" telephone to our guitar factory so we could keep in touch with vendors and customers while out on the shop floor. And despite cries of despair from one of our partners, I was solidly behind the acquisition of (hold your breath) a fax machine! Then, of course, there is that little high-end-boutique-handmade-custom-shop thing called Hamer in 1974. The reason I am telling you about how I've always been so far ahead of my time is to assure you that my track record all but guarantees that I'm right on this self-playing guitar thing. Augmented guitars are going to be the wave of the future. Imagine the possibilities!
The way I see it, there will be several levels of automation available. The first level allows you to control your guitar via motion sensors at the wave of your hand, or even the wink of your eye. (There will also be a learning mode where the guitar studies your habits and then actually anticipates your phrasing, but I'm getting ahead of myself.) Anyway, the first level of automation provides simple pitch-correction and intonation-assist. Rhythmic adjustments will be delivered via digital delay and/or preemptive sampled interventions.
Imagine the laid-back groove of Warren Haynes or the typewriter perfection of Eric Johnson right at your digital fingertips!

Your own personalized "wobble" signature will add the human "feel" based upon your input on the "influences" drop-down menu. Imagine the laid-back groove of Warren Haynes or the typewriter perfection of Eric Johnson right at your digital fingertips! Of course, in the name of safety for both you and any possible audience, there will be full-time Clam Avoidance Control™ (CAC), which mitigates any accidental "fretwork miscalculations." This includes instantaneous, virtual position-shifting to avoid key-change errors—allowing you to float effortlessly over chord progressions via transpositional architecture algorithms. Is this exciting, or what?
The second level of assistance involves interactive M2M (musician to musician) networking via LiFi (light-wave networking) with any of the musicians you may be performing with. In this enhanced scenario, your instrument "talks" with the other musicians' instruments to anticipate dynamics, accent hits, leading notes, and vamps. (Note: Autonomous drums may be late to market.) More advanced software/hardware upgrades will allow the network to determine potential tempo shifts or key changes based upon input from facial-recognition software, which views your instrument's built-in, music-video-production camera trained on the audience.
For complete peace of mind, a parallel mirror flash OS provides security by entering ANODE (Auto Nuclear Option Deployment Extraction) should the main CPU crash. ANODE segues seamlessly into "Mustang Sally" while your instrument reboots. This avoids any dissatisfaction that might derail customer conversions. This is going to be great!
Somehow this all reminds me of one of the most basic ethical questions often examined in literature: Should we proceed just because something can be done? Well, I've got the answer for you. Level three involves an interface with autonomous vehicle delivery of the instruments to the gig while you stay at home binge-watching TV on your laptop.
Have a great show!
Looking for more great gear for the guitar player in your life (yourself included!)? Check out this year's Holiday Gear Finds!
Outlaw Effects introduces their next generation of NOMAD rechargeable battery-powered pedal boards.
Available in two sizes, NOMAD ISO is a compact, versatile tool that offers the convenience of a fully powered board plus the additional freedom of not having to plug into an outlet. NOMAD ISO is ideal for stages with limited outlet availability, quick changeovers, busking outdoors, temporary rehearsal locations, and more!
NOMAD ISO builds upon the legacy of the ultra-convenient and reliable NOMAD rechargeable pedalboard line originally launched in 2018. The brand new NOMAD ISO editions feature eight isolated outputs (1 x 9V DC, and 1 switchable 9V/12V DC) for even more versatility and clean, quiet power. With an integrated lithium-ion battery pack boasting 12800mAh capacity, NOMAD ISO can fuel a wide array of pedals, and will last over 10 hours* on a single charge.
Each NOMAD ISO pedal board includes adhesive hook & loop pedal-mounting tape, eight (8) standard DC connector cables, and one (1) reverse polarity DC cable, giving you everything you need to build your ultimate "off-the-grid" rig. A rugged, road-ready padded gig bag with shoulder strap is also included, to safely protect your gear while you're on the move.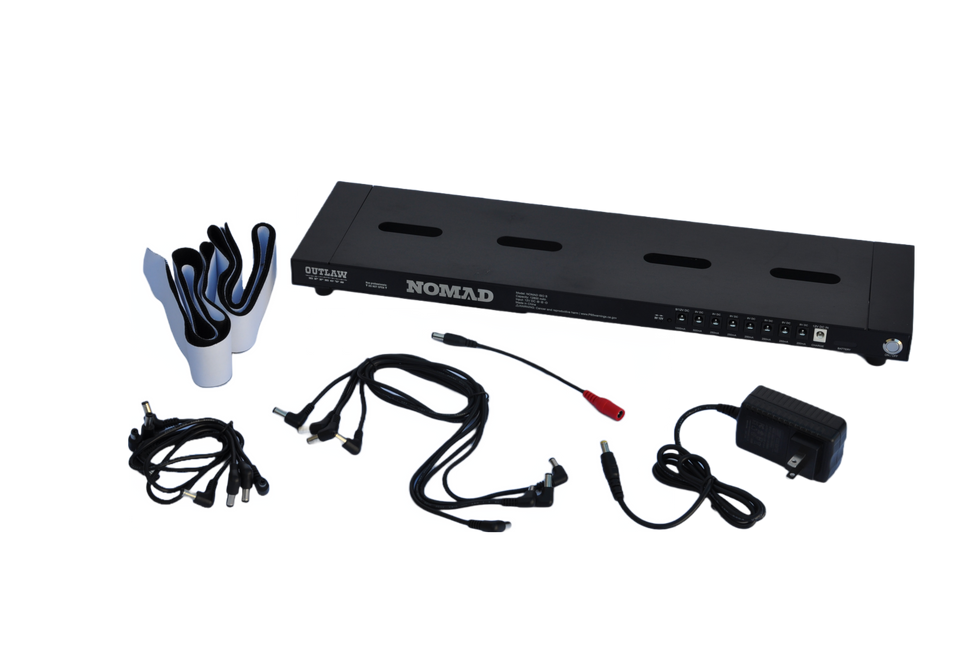 Dunable announce new Minotaur model featuring Grover Rotomatic Keystone tuners.
The Minotaur's DNA is rooted in their classic Moonflower model, which Dunable discontinued in 2017. However, they have long since wanted to create a fresh take on a carved top guitar design, and various attempts to rework the Moonflower led them to a brand new concept with the Minotuar.
Dunable's goal is to give the player a guitar that plays fast and smooth, sounds amazing, and gives maximum physical ergonomic comfort. The Minotaur's soft and meticulous contours, simple and effective control layout, and 25.5" scale length are designed to easily meet this criteria.

Dunable Minotaur!
Features
25.5" scale length
Dual Humbucker
one volume, one tone, push pull for coil splitting
Grover Rotomatic Keystone tuners
Grover Tune O Matic bridge with brass Kluson top-mount tailpiece
jumbo nickel frets
12" fretboard radius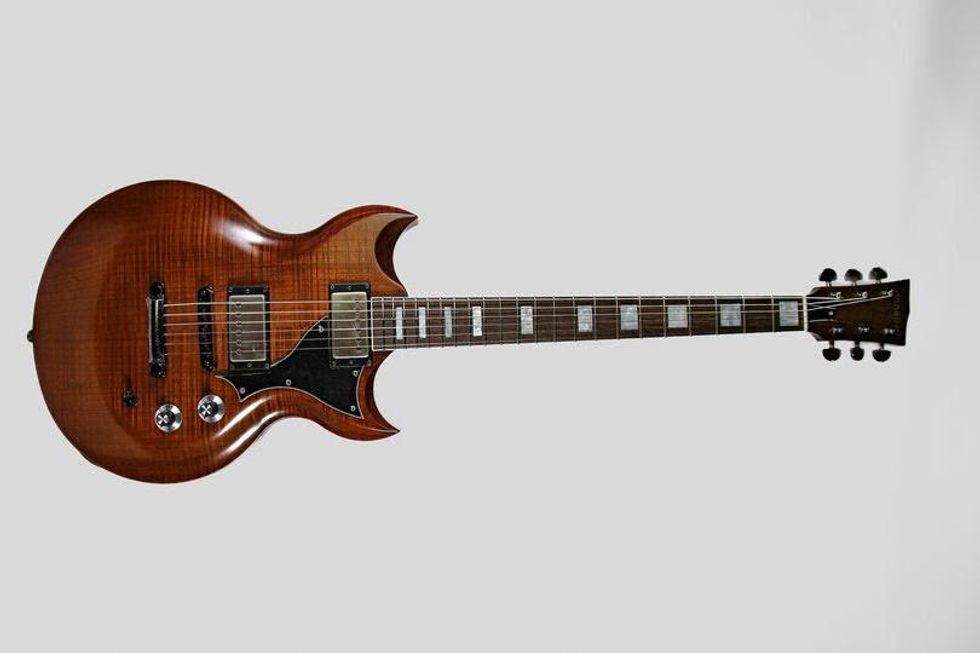 Dunable
This full-amp-stack-in-a-box pedal brings a new flavor to the Guitar Legend Tone Series of pedals, Missing Link Audio's flagship product line.
Adding to the company's line of premium-quality effects pedals, Missing Link Audio has unleashed the new AC/Overdrive pedal. This full-amp-stack-in-a-box pedal – the only Angus & Malcom all-in-one stompbox on the market – brings a new flavor to the Guitar Legend Tone Series of pedals, Missing Link Audio's flagship product line.
The AC/OD layout has three knobs to control Volume, Gain and Tone. That user-friendly format is perfect for quickly getting your ideal tone, and it also offers a ton of versatility. MLA's new AC/OD absolutely nails the Angus tone from the days of "High Voltage" to "Back in Black". You can also easily dial inMalcom with the turn of a knob. The pedal covers a broad range of sonic terrain, from boost to hot overdrive to complete tube-like saturation. The pedal is designed to leave on all the time and is very touch responsive. You can get everything from fat rhythm tones to a perfect lead tone just by using your guitar's volume knob and your right-hand attack.
Features 
Three knobs to control Volume, Gain and Tone
Die-cast aluminum cases for gig-worthy durability
Limited lifetime warranty
True bypass on/off switch
9-volt DC input
Made in the USA
MLA Pedals AC/OD - Music & Demo by A. Barrero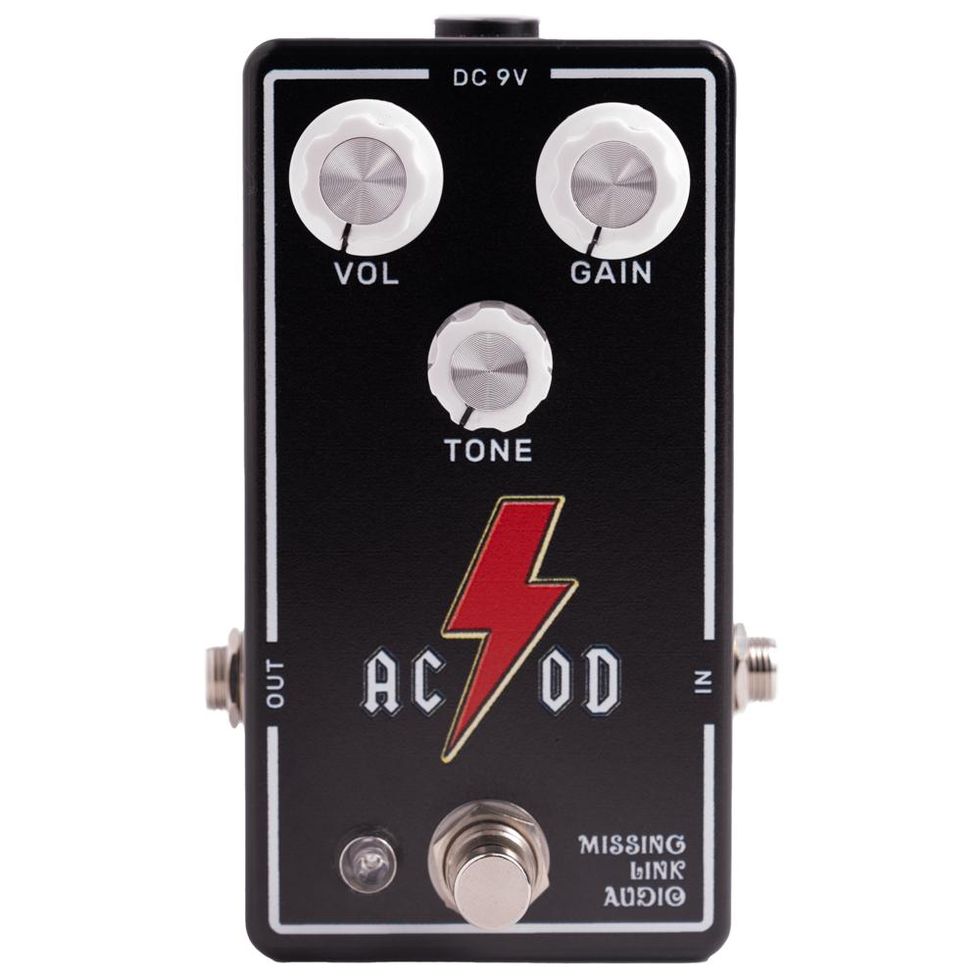 www.mlapedals.com.