Last Call: The Ups and Downs of Touring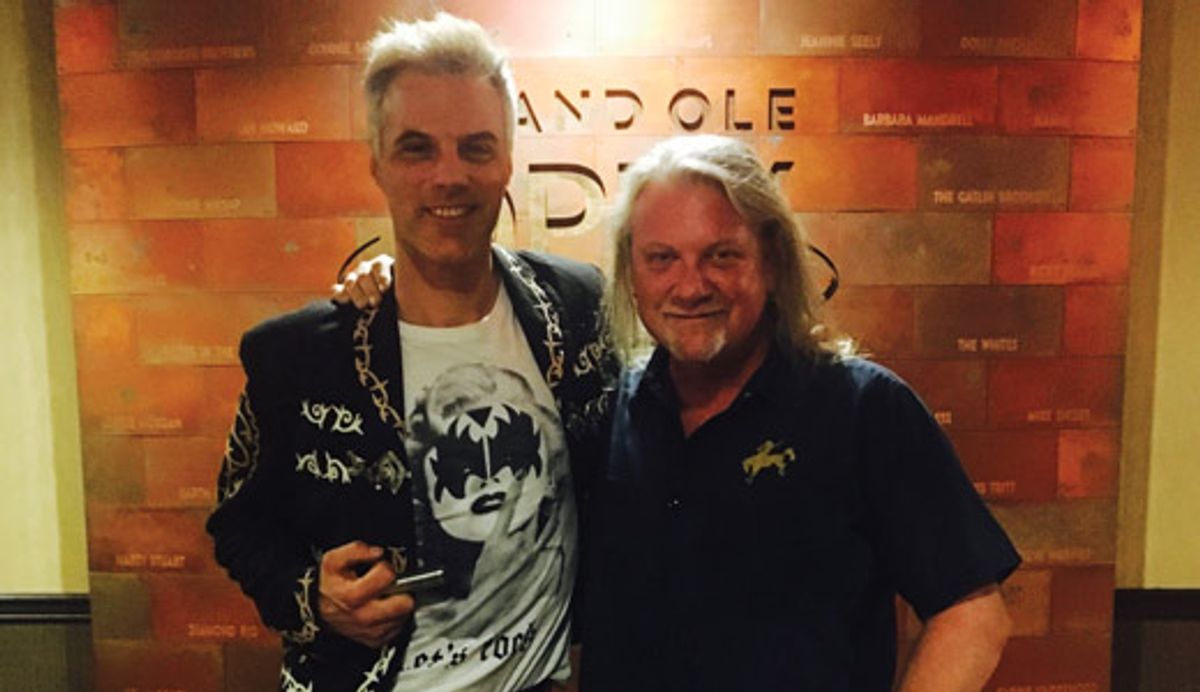 Embracing whatever life on the road brings.
This month John Bohlinger enlisted his tourmate, sound engineer Wayne Pauley, to co-brainstorm this column. Pauley has mixed tours by Keith Urban, Nikka Costa, Sawyer Brown, Trisha Yearwood, and Bo Bice, among many others. He was also the engineer for the TV show
Nashville Star
. He and John tour with Lee Brice. John has drawn on Wayne's insights before: in a September 2015 column titled "
Wayne Pauley's Tips for Tour Survival
" and a June 2014 column,"
From Front of House
."
---
There's the family you're born with, and there's the family that fate, choice, God, the Devil, or a blend of all gives you. Wayne Pauley is family—second type.
Wayne and I are currently sitting on a loading dock at a casino in Albuquerque, New Mexico. It's post soundcheck and we're watching civilians walk in to gamble. Statistically speaking, these low-rollers will lose $72 per day. Wayne and I agreed—that's not gambling. As a longtime touring team, we know what true gambling is. When you tour, you risk money, health, and relationships every day. In short, touring is gambling with your life.
If you want to tour, you take the good with the not so good. Although touring looks glamorous from the outside, trust us: It has most of the low points of an average job, plus heinous-to-dangerous aspects that one will not find in a standard 9 to 5, sleep-in-your-own-bed-every-night gig. Let's rattle off some of the ups and downs.
Time.
Upside: You only work a few hours per day. You have plenty of free time to improve yourself by practicing your instrument, taking courses online, writing a book or a song. There are endless possibilities for a motivated person.
Downside: You are on the clock 24/7. If load-out ends at 2 a.m. and you have a flight at 6 a.m., too bad. You'll sleep when you're dead. Also, every day is an opportunity to build a closer relationship with your bad habits. It's easy to become a chunk or a drunk. We can attest that the Devil makes use of idle hands.
Health.
Upside: Work is not typically too strenuous or stressful, and you have time to exercise most days.
Downside: If you don't try to exercise, you'll spend a lot of time sitting. Finding a gym and a ride both ways that fits into your schedule can be a challenge and expensive if the venue doesn't have a hookup. A day pass and two Uber rides per day really adds up over a 180-day touring schedule.
Free Food.
Upside: It's free food! We all like to eat.
Downside: Most road food is bad for you, and because catering, craft services, and green room snacks are always available, it's easy to eat a lot of poison and empty calories. Nearly every day, Wayne and I eat fistfuls of M&M's without even noticing. Another downside is, most tour bus bathrooms cannot accommodate number two. Trying to schedule bowel movements around bus stops often leads to constipation.
Make the most of the best things in life and make the least of the worse. Touring or not, that's not a bad philosophy.
Travel.
Upside: You get paid to see the world.
Downside: Wayne and I have been in bus wrecks, bus fires, car wrecks, emergency landings, fistfights (not with each other), and several scary ER visits in exotic locations. When you log many miles, you'll experience danger in many forms.
Family/Friends.
Upside: Touring is an opportunity to meet interesting people that potentially could become lifelong friends or mates. Two of our current bandmates met their wives while on tour. In addition to the people you meet along the way, the band and crew can become a whole new family. Also, when there's time off, it's usually uninterrupted, so you can spend it with your literal family and not worry about work.
Downside: You're not at home with the people you love. John has a couple divorces and shares a beautiful daughter with one ex-girlfriend. Wayne only has one divorce, but we're confident he has a few more left in him. There's attrition in relationships when you're seldom around. And time off is always on someone else's schedule. You'll miss weddings, birthdays, anniversaries, funerals, and holidays.
Here's something else we think you should remember: The Law of Conservation of Charge dictates that every time some negative electric charge is created, an equal amount of positive charge is created at the same time because the total charge of a system doesn't change. In other words, there is exactly as much positive electric charge in the universe as there is negative electric charge. Neil deGrasse Tyson agrees. In non-nerd speak, that means that the Universe runs on ups and downs, the yin and yang, the negative and positive. Without the bitter, the sweet does not taste as sweet. Wayne and I have made a life of touring work for us by embracing one simple rule: Make the most of the best things in life and make the least of the worse.
Touring or not, that's not a bad philosophy. As a fun exercise, please add your own tour ups and downs to the Premier Guitar Facebook page, send us a letter, or add them to the comments section of the online version of this story. Best horrific experience wins.