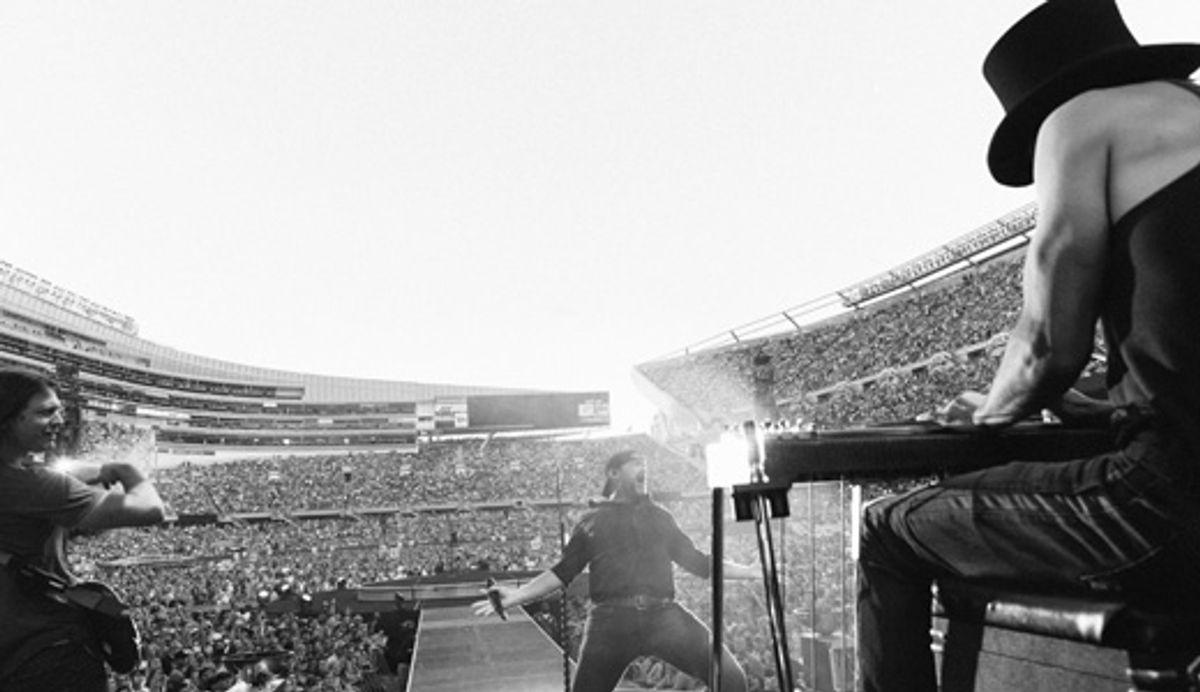 Photo by Spidey Smith
The lowdown on this sideman's life: It's sweet!
I've been a sideman for most of my adult life. Not surprisingly, a dozen people recommended that I Netflix Hired Gun, a documentary about musicians who play for major artists.
---
Hired Gun, though entertaining, earned a B-minus from me. To give you some idea of my Netflix music-doc grading scale, "A" music documentaries include:
• Anvil! The History of Anvil
• Tom Petty and the Heartbreakers: Runnin' Down a Dream
• Muscle Shoals
• The Wrecking Crew
• Searching for Sugar Man
• History of the Eagles
•Rush: Beyond the Lighted Stage
So, what's my beef with Hired Gun? It felt like one-third of the musicians interviewed saw themselves as victims, not getting a fair deal compared to the artists in front. To paraphrase their chief complaint, "One day you're a rock star on tour, living the life, checks deposited every Friday. Then suddenly, it's over and you're an anonymous schmoe with a mortgage you can't pay, while the artist you worked for remains a star."
Here's why that's nonsense. There's an expiration date on every career. That said, in the music industry, the average sideperson's shelf life is considerably longer than that of the people in front. During my quarter of a century hired-gunning it, more artists than I can remember paid me to play for them. They did all the work, had their time fighting for the spotlight, and then, for the most part, faded away. When their runs ended, somebody else took their place in the spotlight and hired me. That's the beauty of being a hired gun: When the gig is over, you take your gear and what you've learned and move on to the next artist.
The most soul-crushing struggle I ever experienced as a musician was during my two ill-fated record deals, (or, to put it more accurately, record ordeals). During deal one, I had a publishing contract that paid me enough to live on: $2,000 per month for a family of three. The publisher dropped me when the record deal ended, correctly assuming they'd wasted enough money on me.
In the music industry, the average sideperson's shelf life is considerably longer than that of the people in front.
When the second record deal rolled around, I had to take a job driving a bread truck at 5 a.m., because I had to give up hired-gun gigs to work on my own project. The label's advance money was spent on the recording. I could've gotten another pub deal, but I wanted to keep my publishing, thinking it would make me rich when the album came out. The album never came out. By the time I was dropped, I'd sold all but a few favorite guitars to survive. It was a great relief to realize that I'm not star material.
Being an artist requires real work, which does not jive with my hippie-Zen-cowboy leanings. On my current touring gig with Lee Brice, I only need to show up for a soundcheck and a show. The rest of the time, I'm playing guitar, riding my bike, exploring the city we're playing, trying to write this dumb column, and enjoying a long, pre-show siesta. My boss, Lee, works all day doing meet-and-greets, talking to radio, strategizing with management, and working on the next album and the next tour while promoting the current album and tour. After the show, I'm shoving pizza down my gullet in my sweatpants while watching Mike Judge's Tales from the Tour Bus. Lee is signing autographs or talking to program directors or promoters. He puts in 16-hour days all the time. I work two or three hours, tops. Best of all, my work isn't even work. I just play music. I wouldn't trade places with my boss for anything.
Jon Small, a film producer I worked with for six years on NBC's Nashville Star, began his career as Billy Joel's drummer in a band called the Hassles, and later, in Atilla, a duo with Joel on B3 and Small on drums. When an injury ended Jon's playing career, he took what he learned in music and turned his focus to film, where he became one of the most successful video producers of all time, producing all of Garth Brooks' work as well as groundbreaking videos for Taylor Swift, Aerosmith and Run-DMC, Keith Urban, Miranda Lambert, Janet Jackson, Billy Joel, and a long list of others. Jon gave me the best career advice ever when he said, "Never look for security in the person you're working for. You are your own security."
It's empowering to know you're the only security you need. When I hit my expiration date as a sideman on tour, TV, and recordings, I will happily transition to the small time with my own little band, schlepping my gear to play sticky-floored clubs with crap PAs and dim stages. It's liberating when your only real ambition is to play music. If you want more than music out of the music business, you're going to be disappointed.
In front, the flame burns bright and fast. On the side, it's less bright, but can burn for decades. I love being a sideman and am forever grateful to the people in front who paid me to share their stages. They did the real work. I just play. This sideman scam is the sweetest apple on the tree.
[Updated 8/5/21]