Tone Tips: Developing Songs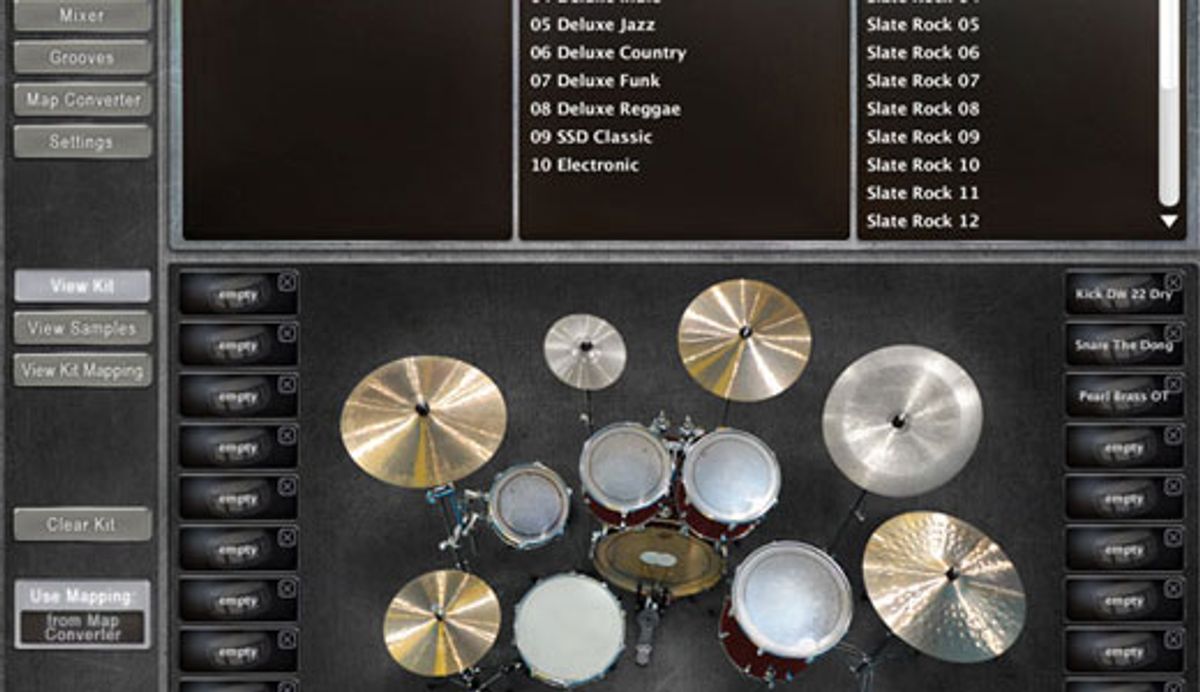 Pete Thorn details the process he uses to compose and record instrumental "mini songs."
One of the things I do to earn a living and keep myself busy musically is make gear-demo videos, usually for manufacturers of effects pedals. (My YouTube user name is Sinasl1.) I like to start each video off with a piece of music that's composed specifically to show off the capabilities of the pedal. I find it to be an effective and fun way to demonstrate the gear within a musical context. Many people ask me how I come up with the parts for these "mini songs," so for this month's column, I'm going to focus on developing musical ideas.
---
Drums and Drum Programming
I like to start with a drum groove since it sets the overall vibe of a song. Playing along to grooves is great for your time and rhythm chops, and compositionally, it can be a great rut buster. I use Steven Slate Drums 4.0 (SSD4), a great-sounding drum program that is relatively easy to use.
I'll call up an SSD4 kit within Logic Pro and find a preset groove I like, jam along, and develop a guitar riff based on where the groove takes me. I'll then usually lay down a scratch guitar part. Once that's done, I end up tweaking the drums quite a bit. I always make sure the kick pattern is complimentary to the guitar part, without slavishly following its rhythm. Putting fills in appropriate places, changing the pattern up for the various song sections, and varying velocities and timing can all add up to a very real-sounding drum track.
Crash Course in Bass Guitar
Once I've programmed my drum part, I'll plug in my bass with the goal of laying down some cool low end. Locking in with the kick is essential. It's interesting to note that guitarists are sometimes surprised when they try and learn a bass part to a song they already know on guitar. I mention this because a great bass part can be subtly or radically different from the rhythm guitar.
A good example is AC/DC's "Back in Black." While the guitars play an E–D–A chord progression in the verse before going into that classic descending pentatonic lick, the bass plays E–D–C# (the 3 of the A triad) before dropping out for the lick. It's subtle, yet so cool, and it adds just the right amount of complexity to a simple rock song.
You should use your musical instincts, not just your guitar instincts.

The Almighty Guitar
This brings us to our chosen instrument. Six strings and the truth! To start, I'll lay down what I consider to be the main rhythm-guitar part (most likely the riff or chords that I initially wrote to the drum groove). If I'm doing a video demo of, say, an overdrive pedal, I'll usually use a clean amp and then set the pedal for the most complimentary drive tone I can dial up. I always pay close attention to the groove so I can lock in and make it sound as much like a band as possible. The last thing I want is to sound like a guy jamming over a canned bass and drum track.
I'm probably guilty of doubling parts too much in the studio, but I just love the sound of doubled, hard-panned rhythm guitars. That said, sometimes it's best to leave a single mono-rhythm part be. Check out Dean DeLeo's work on some of the later Stone Temple Pilots releases. I love that he would play a tough rhythm part but not double it. They'd just have it panned one way or the other, and let that be the main guitar part that drives the song. Then when another complimentary part comes in—usually panned the other way—it really has an impact.
Doubling can make things sound huge, but every time you add a part, you are going to effectively smooth over the cool subtleties (like little timing and dynamic variations) that are there in existing parts.
When it comes to melodies and soloing, it's like painting a picture for me in terms of note choice, dynamics, and phrasing. What is phrasing? Basically, I think of phrasing as the choices you make musically. It's great practice to sing a part when coming up with a melody and solos before you try to play it. You should use your musical instincts, not just your guitar instincts. Your heart and brain will tell you what needs to happen, and then your hands will follow. I can almost guarantee that you'll come up with more memorable and less-predictable parts this way.
Putting It All Together
Last, but not least: Listen to everything together and decide if it all fits. Are all the parts contributing towards the common goal of making a great song? You want to make sure none of the parts are stepping on one another. If there's a little melodic-bass riff happening at the end of a verse leading into a chorus, maybe you could let the guitar ring out and make space for the bass. If there's a guitar solo, maybe end it a few beats before the next song section starts to leave room and some breathing space for the pending melody. What you don't play is as important as what you do play. Space in the music is important, so don't be afraid to leave holes for other musical elements to shine through.
Happy creating and see you next month!