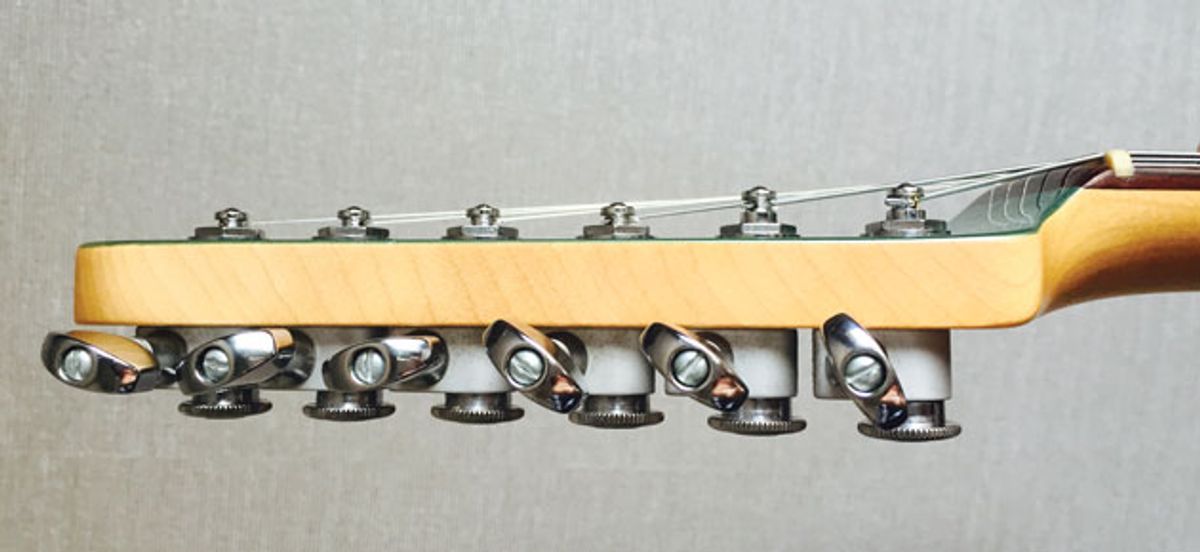 Tuning tips sure to make your life easier and audience happier.
My first instrument was violin. I picked it up a year before I got my first guitar and I played for about seven years. Though I haven't practiced in years, I think playing violin had a profound impact on my ear and my desire to play in tune at all times. There are no frets to guide you on the violin, so you have to be constantly aware of your intonation. There's nothing more excruciating than listening to an out-of-tune violinist! This month, I'm going to focus on maximizing the tuning stability of your electric guitars.
---
Setting intonation.
Because the guitar uses equal-temperament tuning, it can never actually be perfectly in tune. The best we can hope for is a sort of happy medium, and the length of each string from the nut to the bridge saddle must be adjusted precisely in order to maximize and maintain that happy medium. This is called intonation, and I highly recommend checking your guitar's intonation on a regular basis.
Most electric guitars feature adjustable bridges that allow you to individually modify the scale length of each string. It's a good idea to make intonation adjustments after you've adjusted anything else on your guitar—such as the truss rod—that could affect the length of the string from the bridge to the nut.
You should use a quality electronic guitar tuner to check intonation. First, play the 12th-fret harmonic of the 6th string and make sure it reads perfectly in tune. Now play the fretted 12th-fret note. If it reads flat, the bridge saddle must be moved forward towards the nut. If the fretted note is sharp, the bridge saddle must be moved away from the nut. Tip to remember: Flat equals forward.
It's important that you only attempt to adjust intonation using relatively new strings. Once strings develop pits and flat spots from making contact with the frets, they simply won't intonate properly. Speaking of which, change your strings fairly frequently if you want to be as in tune as possible, and stretch them properly when you first put them on. After re-stringing, I pull each string firmly but gently away from the fretboard over the entire length of the string from the bridge to the nut. Then I re-tune and repeat until the strings don't go flat anymore. Proper stretching of the strings will go a long way towards alleviating tuning headaches later on.
Using a dab of lubricant in each nut slot keeps the string friction to a minimum, and I do this every time I change strings.
The nut.
For the open notes to sound correct, the strings need to break over the nut at an angle and create downward tension as they head over the headstock toward the tuners. Some friction is unavoidable, so the trick is to minimize that friction. Having a nut that's cut properly is crucial: If the nut slots are cut too narrow for the string gauge you use, this can cause the string to bind—certain to cause tuning headaches. If the nut slots are not cut deep enough, action can suffer and fretted notes can sound noticeably sharp. Too deep, and the strings will buzz against the 1st fret. It's a fine line, and making sure your nut is optimized is a job best left to a competent tech or luthier. Even expensive guitars straight from the factory sometimes need the nut to be adjusted and tweaked to maximize playability and tuning stability. A replacement nut made of slippery material like graphite can greatly help alleviate binding, but keep in mind that nut material affects tone.
Fender-style guitars.
Electric guitars with Fender-style six-on-a-side headstocks usually have relatively straight string-pull, meaning the strings don't fan out from the nut. Straight string-pull is a good thing in my book, because it means the string faces less resistance on its way from the bridge to the tuning peg. However, headstocks like this normally don't slant backwards at an angle like Gibson-style headstocks, and that's why string trees are used to create enough downward tension on the strings as they pass through the nut. But string trees are another place the strings can possibly bind. You can avoid using string trees on Fender-style guitars by winding the 1st, 2nd, and 3rd strings quite low on the tuning posts to create enough downward tension.
My Suhr instruments use locking tuning pegs with staggered-height posts that create more downward tension on the high strings. These tuners eliminate the need for string trees, and because they are locking, they also eliminate the need to wind the string around the post, which removes yet another potential source of tuning stability issues. I highly recommend retrofitting Fender-style guitars with locking, staggered tuners.
Gibson-style guitars.
Guitars with three-on-a-side headstocks often don't have straight string-pull across the nut and the strings fan out somewhat from the nut to the tuners. With downward tension from the slanting back of the headstock also a factor, tuning issues can develop. That's why I religiously lubricate the nuts on my Gibson-style guitars. Using a dab of lubricant—such as Big Bends Nut Sauce—in each nut slot keeps the string friction to a minimum, and I do this every time I change strings. Adding a little to the point where the strings break over the bridge saddles doesn't hurt either.
One other tuning tip for Gibson-type axes: I'll check the tuning on the 2nd string at the 3rd fret as well as the open B. I often find that I need to tune the open B ever so slightly flat, otherwise the 3rd fret D note will be slightly sharp and that makes many chords sound sour to me. Once again, it's a balancing act and impossible to get a guitar perfectly in tune.
I hope you find these tips useful. It goes without saying that the more in tune you play, the more your audience will appreciate it!
[Updated 10/22/21]
Rhett and Zach unpack the big news for secondhand guitar sellers and buyers: Sweetwater has launched their new Gear Exchange. How does it compare to Reverb, Craigslist, and Marketplace? To find out, Zach takes the site for a spin and buys a pedal. He calls the process both "very easy" and "normal." They discuss the pros and cons of the various used-gear outlets and share tips for not getting got when buying gear. Plus, Zach grew a mustache, Mythos Pedals is moving, and he talks about his forthcoming line of Strat pickups inspired by Hendrix's reverse-stagger setup.
Sweetwater vs. Reverb

Expanding on the innovations of Cort's original 8-string multiscale, the KX508 Multi-Scale II features an updated okoume body and a specially designed Fishman Fluence Modern Humbucker.
The KX508 Multi-Scale II is the second iteration of the eight-string KX508, Cort's first multi-scale 8-string guitar introduced in 2020. Like its predecessor, the KX508 Multi-Scale II has a visually stunning poplar burl top in a Mariana Blue Burst finish. Beyond its visual appeal, the poplar burl is an ideal tonal complement to Cort's newly introduced okoume body. Okoume is known for its light weight and ability to improve tonal clarity. It has a tight low-end and highly articulate high-end, which matches the overall sonic characteristics of the KX508 Multi-Scale II. The multi-scale, measuring 26.5 to 28 inches, offers a punchy low end while maintaining a familiar feel and tension on the treble strings, which allows for speedy runs and string-bending. Players have unhindered access to the high frets thanks to the low-scooped heel.

The 5-piece maple and purple heart neck not only provides strength and stability, aided by a spoke nut hotrod truss rod, but a strong and focused sound. The Macassar ebony fingerboard (15.75-inch radius) offers smooth playability along the 24 frets with teardrop inlays. Macassar is an ideal tonewood for high-gain applications because of its ability to cut through a dense mix. At the top of the neck, the 2 7/32-inch nut width (56.5 mm) is surprisingly comfortable for an 8-string guitar and is even suitable for players with smaller hands. The individual hardtail bridge with string-thru-body design results in greatly improved sustain, superb string separation for enhanced articulation, and precise intonation. Deluxe locking machine heads offer reliable tuning as well as easier and quicker string changes.

The Cort Sessions | KX508 Multi Scale II Electric Guitar
MSRP $1699.99 USD

MAP $1199.99 USD
For more information, please visit cortguitars.com.
The Tour Collection is defined by a minimalistic, vintage-inspired aesthetic, top-of-the-line components, and a simplified electronics configuration featuring new, custom pickups by Supro.
Available in the collection is the 16-inch-wide double-cutaway DC, the 15-inch-wide single-cutaway SS, and a 14-inch-wide Mini DC. Each model comes in three finishes: Slate Blue, Solid Wine, and Solid Black.

Every detail of the Tour Collection was chosen to achieve retro minimalism. Small diamond fingerboard inlays match 1930s-style diamond f-holes, and an undersized Throwback Scroll-style headstock achieves excellent head-to-body balance. The collection also features satin nickel hardware and custom Vintage Deluxe Grover tuners with a 15:1 gear ratio. Each model also features a simplified two-knob electronics configuration with 50s-style wiring to retain top-end clarity upon rolling off the volume knob. The neck shape in the Tour Collection is similar to the slim C-shape found throughout the D'Angelico line, but with more thickness in the shoulder to allow for snug hand fit as well as extra sustain. Medium Jumbo fret wire and a 12-inch fingerboard radius allow for quick navigation of the fingerboard while also prioritizing comfort for both rhythm and lead playing.
In 2020, Supro and D'Angelico became part of the same family of brands under Bond Audio. At that time, EVP of Product Ryan Kershaw and CTO Dave Koltai began designing custom pickups under the Supro name for the Tour Collection project.
"Supro Bolt Bucker pickups were designed to offer the tone of the most sought-after vintage "PAF" pickups from the late 1950's. Scatter wound, just like the originals, Supro Bolt Buckers utilize 42-gauge enamel wire along with a mixture of Alnico II (neck) and Alnico V (bridge) magnets to provide the perfect balance of warmth and clarity with unrivaled articulation and note bloom." - Dave Koltai, Chief Technology Officer at Bond Audio.
Introducing the Excel Series Tour Collection | D'Angelico Guitars
All models are available for pre-order and will be in stock this holiday season. US MAP $1499. For more information, please visit dangelicoguitars.com.
The Cream Amp is a handmade low-gain overdrive pedal based on the Electra Distortion circuit.
The Cream Amp was designed to deliver full dynamics amp-like dirt to your clean and crunch amp or to another pedal in the chain without altering your tone too much. To add some grit at low volume or to make your amp sound more full, use the Drive control to set the gain and the Level control to match with your amp.
​Two knobs to control Volume and Drive
Shielded inputs/outputs to avoid RF
Filtered and protected 9VDC input
Daisy-chain friendly
Current draw: 7.5mA
The Cream Amp pedal is hand-made in Barcelona with carefully selected components and has a price of 100.00€. The pedals are available and can be purchased directly from the Ananasheadonline store.
For more information, please visit ananashead.com.