Vintage Vault: 1955 Fender Bandmaster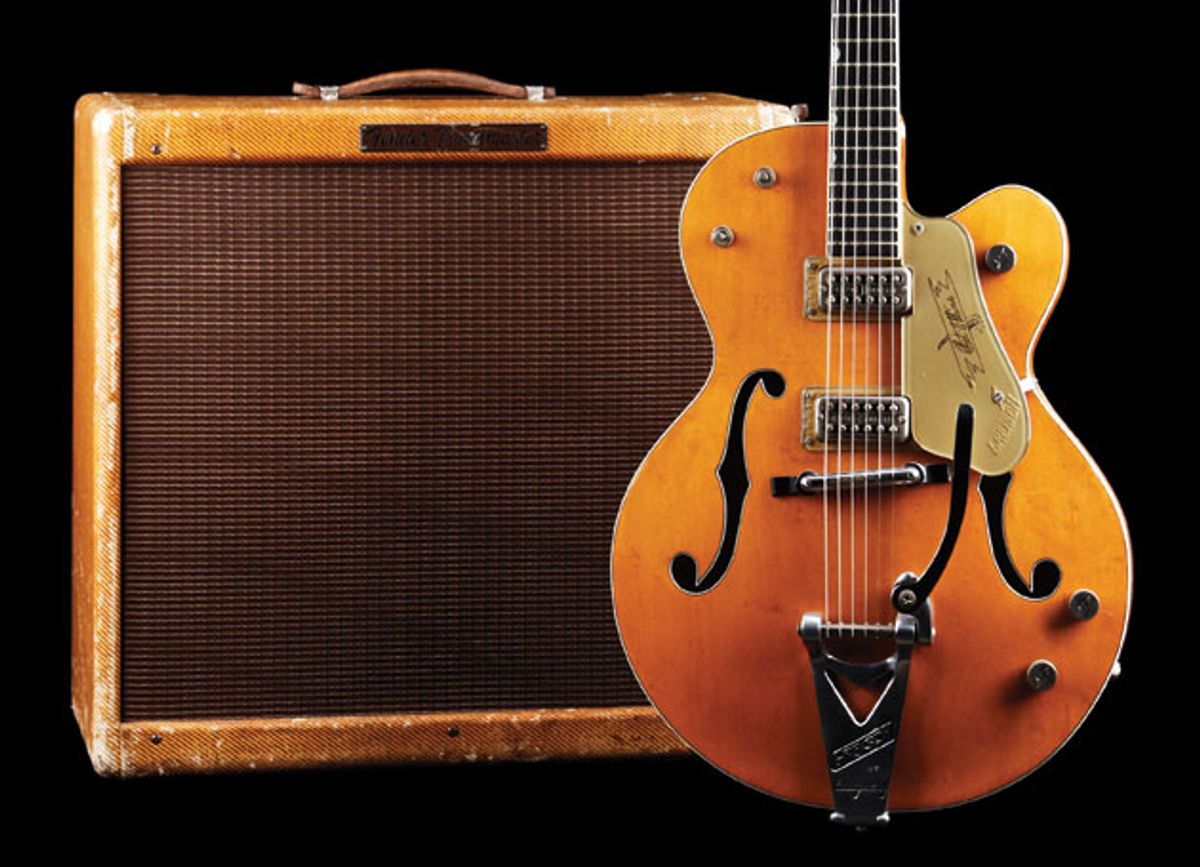 One of Fender's great 1950s amps—and a signature sound of Who's Next.
In 1938 Leo Fender opened a shop specializing in radio and electronics repair. By 1946 he was manufacturing amplifiers and electric lap steels as the Fender Electric Instrument Co. Leo's hard work and willingness to listen to feedback from working musicians made Fender amps top sellers by the '50s. Other companies copied Fender's constantly improving designs.
As Fender's 1950s product line grew to include electric guitars and electric basses, more amplifier models were added, with the Bandmaster debuting in 1953. It was Fender's third 1x15, dual 6L6 amp, following the Pro and the Bassman. The Bandmaster's biggest innovation was a new tone circuit with independent bass and treble controls, as opposed to the one-knob tone circuit of the earlier models.

Fender had to remove the bell cover from the middle 10" speaker to fit it in front of the tubes and chassis.
The 1x15 Bandmaster lasted until mid 1955, when all Fender amps received a narrow-panel makeover (the previous incarnations had wider front panels, and before that, "TV" fronts). The narrow-panel Bandmaster had three 10" speakers.
The 1955 Fender Bandmaster shown here has features common to most narrow-panel models made between 1955 and 1960. These include: two channels labeled MIC and INST; a volume control for each channel; treble, bass, and presence controls; and standby and on/off switches, along with a ground switch. The 26-watt amp has two 6L6G power tubes, three preamp tubes (one 12AY7 and two 12AX7s), and a 5U4G rectifier. The 21 ¼" x 22 ½" x 10 ½" cabinet houses three Jensen P10R speakers, the top one with its blue bell cover removed to fit in front of the tubes and chassis.

With its dual 6L6GB power tubes, the Bandmaster was one of Fender's more powerful tweed amps.
The narrow-panel tweed Bandmaster is best remembered today as the amp Pete Townshend used to such great effect on the Who's 1971 album Who's Next. He paired it with a 1960 Gretsch 6120 Chet Atkins model to create shimmering guitar orchestrations.
In 1955 a Bandmaster had a list price of $289.50. The amp's current value is $10,000. The 1961 price for a 6120 Chet Atkins hollowbody was $475. The guitar's current value is $7,500.

The '55 Bandmaster offered four inputs—two each for instruments and mics.
Sources for this article include Fender Amps: The First Fifty Years by John Teagle and John Sprung, Gretsch 6120: The History of a Legendary Guitar by Edward Ball, and The Soul of Tone: Celebrating 60 Years of Fender Amps by Tom Wheeler.