In Search of the Great Horned Marlin
A somewhat rare 6-string puts the groovy and gonzo guitar design aesthetic of 1960s Japan on full display.
Does size matter? Well, according to yours truly, size does matter—especially when it comes to guitars. Being an extra-large dude, I've often gravitated to guitars that are, well, extra large. I love my big Gretsch Tennessee Rose and old Harmony Rocket because they just feel right in my hands and strapped up. I've owned plenty of "tiny" guitars, but I've never really bonded with any of them. Even a Telecaster seems a little small to me! So, I'd like to talk about one of the biggest of the vintage made-in-Japan electrics: the Marlin PA-25.
---
For comparison, my Gibson ES-125 measures 16" across at the middle. The Harmony Rocket is a little smaller at 15" and change, and my Tennessee Rose is about 16". These are the guitars that feel really good to me. The Marlin, however, measures across the body at over 17". That's a lot of guitar and I frickin' love it! What's more is that it follows the late-'60s Japanese design aesthetic of guitar making, with gonzo and extreme front of mind.
Even the horns are slightly asymmetrical and just scream Pac-Man at first glance.
The Marlin PA-25 was designed by the short-lived Idol Company in Japan and featured in the same lineup as the PB-26 bass I wrote about in April 2020 ["This Bass Might Be Responsible for the Pointy Headstocks of the '80s"]. The PA-25 was probably the most extreme 6-string offering in the catalog, but sales were limited to the Japanese market. An unknown importer did bring these guitars to the U.S. for a short time, so you can actually find them in the states, but it is akin to finding Teisco Spectrum 5s or Guyatone Telstars. They're rare, but totally fun to track down.
Idol was one of three Japanese companies—along with Firstman and Honey—to sprout from the Teisco Gen Gakki factory outside of Matsumoto. When Teisco was bought by Kawai in 1967, they shifted their guitar manufacturing to Hamamatsu. The old Teisco factory was left dormant for a short time, but production soon started again in earnest in the late '60s. Idol and Honey were shuttered within a few years, but all three brands featured similar construction and interesting designs, and left us with some rather crazy guitars from the time period. These days, the factory now makes a rather good Japanese beer.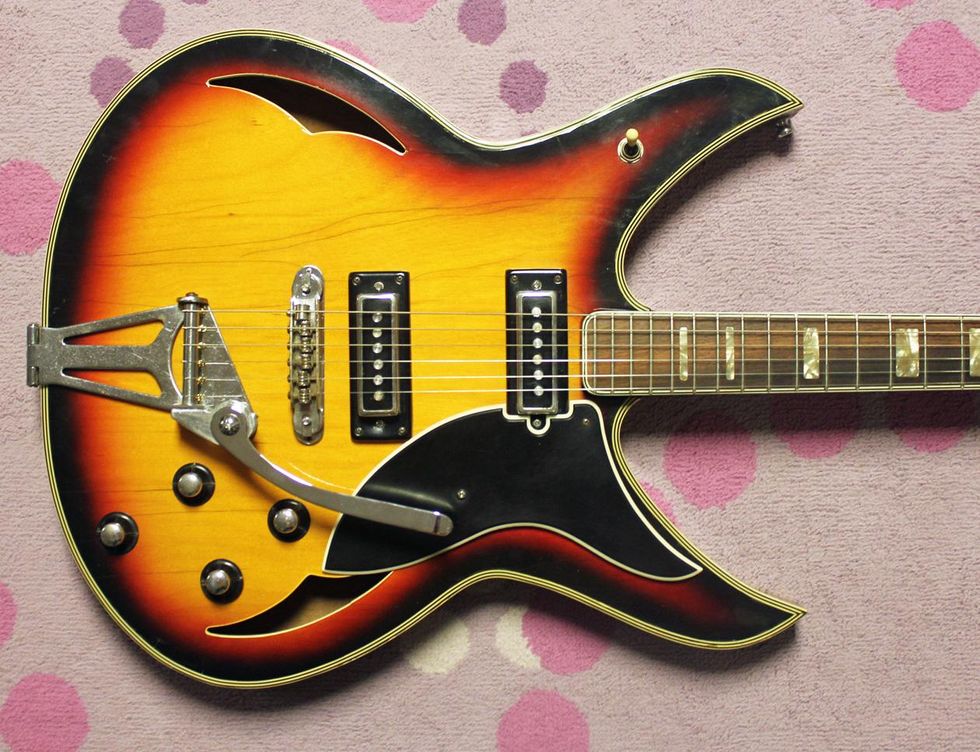 Photo 2
This big boy has a multi-bound neck and body, along with some super-rad UFO-shaped domed knobs. The bridge and tremolo are standard fare for the time, but both actually work well. The bridge is pinned to the body and the guitar always feels stable and stays in tune. I especially love the body cutouts and pickguard, which really add to the flow of the design. The same goes for the horns, which are slightly asymmetrical and just scream Pac-Man at first glance.
The body itself is rather thin (1 3/4") and has absolutely no arch on the front or back, which is something I seldom see with hollowbody guitars. This sort of build does put a bit more stress at the bridge, but they generally hold up over the years. Unfortunately, the finishes do not. I've owned two of these guitars and they both suffered from long checking lines in the lacquer. Still, it's a small price to pay for looking so cool!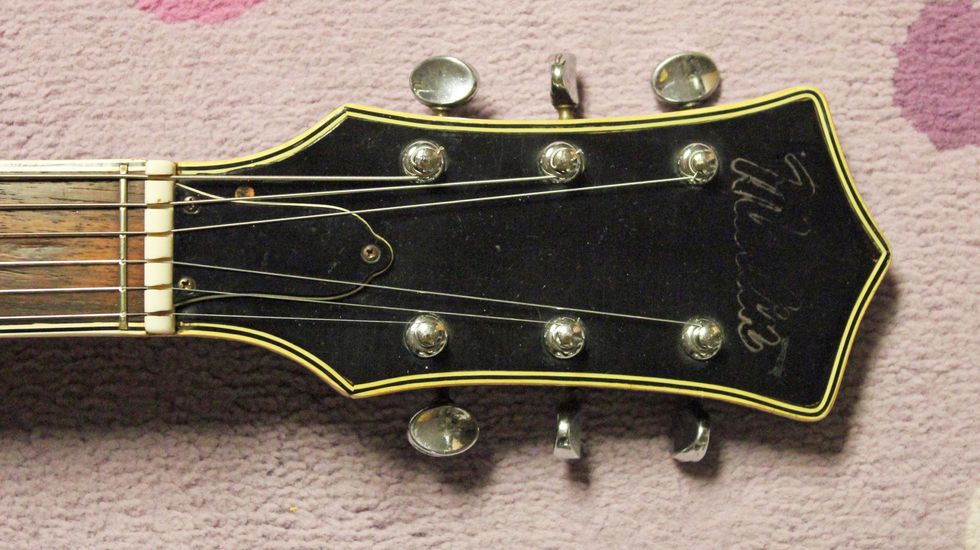 Photo 3
Sonically, these guitars pack some punch. The two single-coils (Photo 2) are super bright and make me want to play with the loudest slapback delay I can muster. The PA-25s are also kind of percussive in a way I adore.
As for the Marlin headstock badge (Photo 3), apparently the logos were applied with some sort of gel or raised plastic that never lasts. Every Marlin guitar I've seen has been left with a ghostly image of what was probably once a cool-looking logo.
After writing this, I'm feeling the need to go downstairs and give my PA-25 a little love in the form of playing the heck out of it. And I think I'll go with Howlin' Wolf's "Built for Comfort."
1968 Idol PA-25 Guitar Demo
Mike Dugan runs from clean to filthy as he plays this 1968 Marlin PA-25—with a little assist from John, Paul, George, and Ringo.
From Your Site Articles
Related Articles Around the Web