Design, build, and playability all combine in Yamaha's over-engineered-but-way-hip SG-3 guitars from the 1960s.
For better or worse, I have my email out there in the ether for anyone to ask me questions about old guitars. Sometimes I can genuinely help folks, and other times people just want to chat and share stories. The most common question I get is, "What is your favorite old Japanese guitar?"
---
That's tough for me to answer. I'm often in awe of a design. Other times, I admire a guitar's build and playability. Then, of course, I dig the tones of certain guitars. But when I bring it all together and combine all the factors, the answer can be pared down to the late–1960s Yamaha SG-3 guitars.
The SG-3 (and the two pickup SG-2) was really Yamaha's first foray into electric guitar building on a large scale. Located in Hamamatsu, Japan, Yamaha was—and still is—quite the prolific company. Back in the '60s, they had a rather large musical instrument department that made just about everything, from pianos and drums to amplifiers and stereo equipment. When the company started making electric guitars, everything was designed and produced in-house. And boy, did they ever succeed.
See, the SG-3 was designed in part with some help from musicians, electricians, and machinists who all came together in that admirable Japanese fashion where the finished product is a reflection of the best collective efforts put into it. These guitars were substantial and probably over-engineered, in a sense. These weren't the guitars we'd find at the local department store, and the SG-3 had a rather regal price tag of $249.50, which was a lot of bread!
The foundation of the SG-3 was certainly influenced by Mosrites and Fender's Jazzmasters and Jaguars, with an offset body, metal nut, slim neck, 25½" scale, and a powerful sound. The pickups are rather aggressive for the times, and that chunkier bridge unit is really where the magic lies. Those are actually two single-coils in that humbucker-looking housing, but they are differently designed. The one closest to the bridge has an extra magnet under the coils and then a metal bridge plate under that. That means the first bridge pickup is just meaner and more aggressive than the other ones. It's a cool idea when paired with the roller control on the upper bout.
The SG-3 (and the two pickup SG-2) was really Yamaha's first foray into electric guitar building on a large scale.
While the lower bout has a simple 3-way switch for all the pickups, the upper has a switch to engage the blender feature. This allows you to use that last roller to blend in that first pickup, combine it with the middle pickup, or turn it completely off. Yes, it's overly complicated but, once you find a sweet spot, good grief! The other rollers and knobs are simply volume and tone controls.
Aside from the electronics, you have to really appreciate the masterful roller-bridge and tremolo, which actually work very well. Heck, even the truss rod is "hidden" under a pseudo neck plate that allows for easy adjustment. The earliest versions of the SG-3 had an ultra-cool script motorcycle logo. Color choices were limited to sunburst, red and white, and all the guitars featured a poly finish.
As far as feel goes, the necks on these models are a little on the thinner side and the bodies are a little thicker, which to me feels like it's a mix of a Jazzmaster and a Mosrite. The offset body feels like a combination of both guitars and is well-balanced when strapped on. Link Wray famously used a red SG-2 for many years, and that's probably where I first saw one of these in action.
This model had a relatively short run, with production starting in mid-1966 and ending by the late 1960s. These Yamaha SG guitars didn't seem to sell very well here in the U.S. Most examples were brought back by servicemen stationed overseas, but you can find SG-3 guitars all over Japan, and it's a super special treat to discover the original cases, which often include a cute little vinyl bag of accessories.
So, now that you know my all-time favorite Japanese guitar, please don't go out there and start driving up the prices!
1969 Yamaha SG2 Guitar Demo
Looking for more great gear for the guitar player in your life (yourself included!)? Check out this year's Holiday Gear Finds!
Outlaw Effects introduces their next generation of NOMAD rechargeable battery-powered pedal boards.
Available in two sizes, NOMAD ISO is a compact, versatile tool that offers the convenience of a fully powered board plus the additional freedom of not having to plug into an outlet. NOMAD ISO is ideal for stages with limited outlet availability, quick changeovers, busking outdoors, temporary rehearsal locations, and more.
NOMAD ISO builds upon the legacy of the ultra-convenient and reliable NOMAD rechargeable pedalboard line originally launched in 2018. The brand new NOMAD ISO editions feature eight isolated outputs (1 x 9V DC, and 1 switchable 9V/12V DC) for even more versatility and clean, quiet power. With an integrated lithium-ion battery pack boasting 12800mAh capacity, NOMAD ISO can fuel a wide array of pedals, and will last over 10 hours* on a single charge.
Each NOMAD ISO pedal board includes adhesive hook & loop pedal-mounting tape, eight (8) standard DC connector cables, and one (1) reverse polarity DC cable, giving you everything you need to build your ultimate "off-the-grid" rig. A rugged, road-ready padded gig bag with shoulder strap is also included, to safely protect your gear while you're on the move.
NOMAD ISO S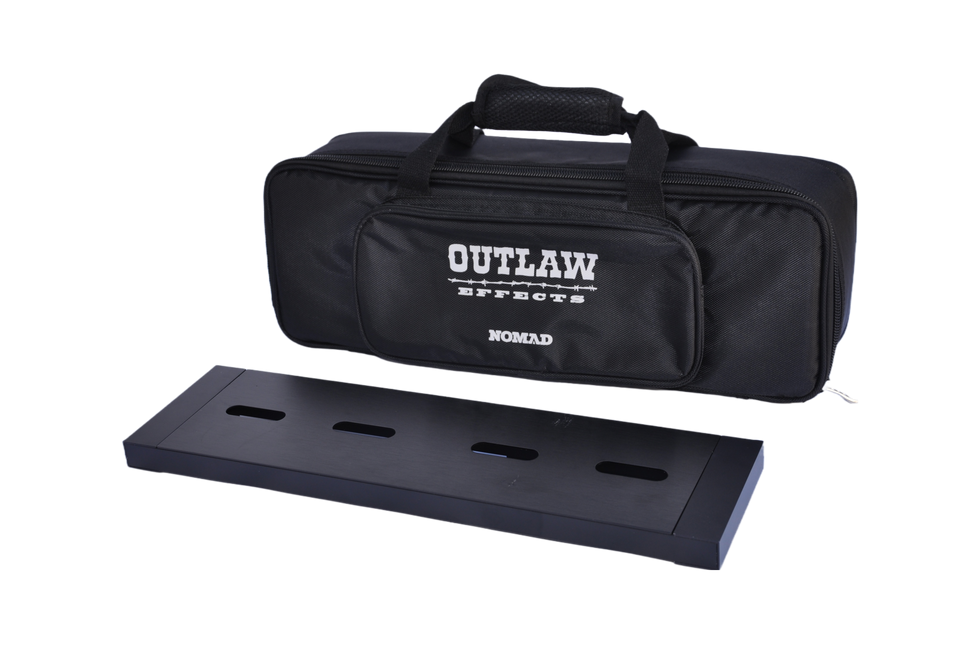 NOMAD ISO S: MSRP $309 / MAP: $249
Dimensions: 19 ¼" x 5 ¼"
NOMAD ISO M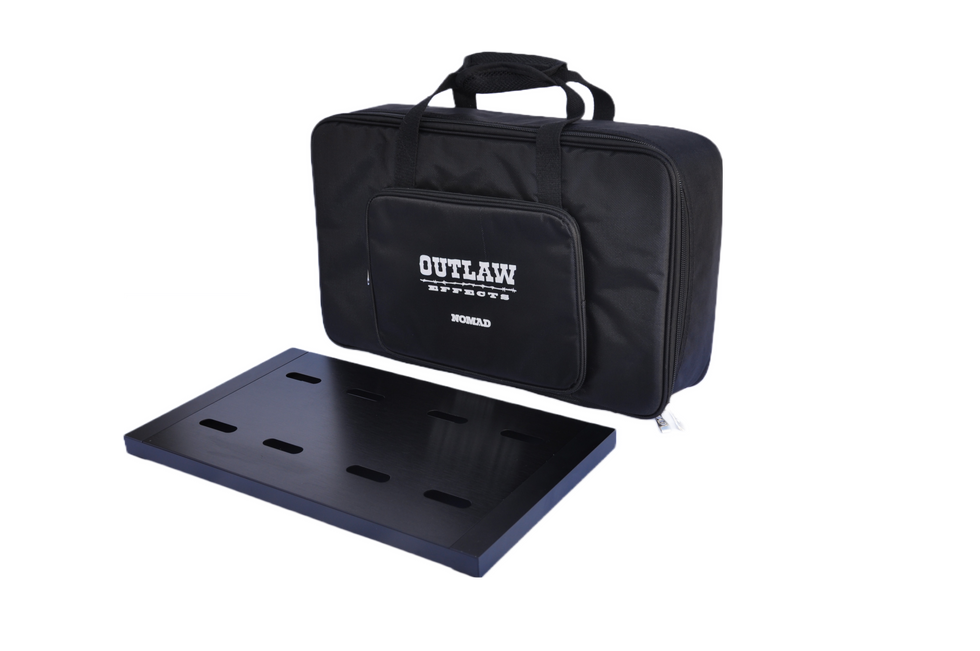 NOMAD ISO M: MSRP $349 / MAP $279
Dimensions: 19 ¼" x 11"
More info: https://www.outlawguitareffects.com.
Dunable announces new Minotaur model featuring Grover Rotomatic Keystone tuners.
The Minotaur's DNA is rooted in their classic Moonflower model, which Dunable discontinued in 2017. However, they have long since wanted to create a fresh take on a carved top guitar design, and various attempts to rework the Moonflower led them to a brand new concept with the Minotuar.
Dunable's goal is to give the player a guitar that plays fast and smooth, sounds amazing, and gives maximum physical ergonomic comfort. The Minotaur's soft and meticulous contours, simple and effective control layout, and 25.5" scale length are designed to easily meet this criteria.

Dunable Minotaur!
Features
25.5" scale length
Dual Humbucker
one volume, one tone, push pull for coil splitting
Grover Rotomatic Keystone tuners
Grover Tune O Matic bridge with brass Kluson top-mount tailpiece
jumbo nickel frets
12" fretboard radius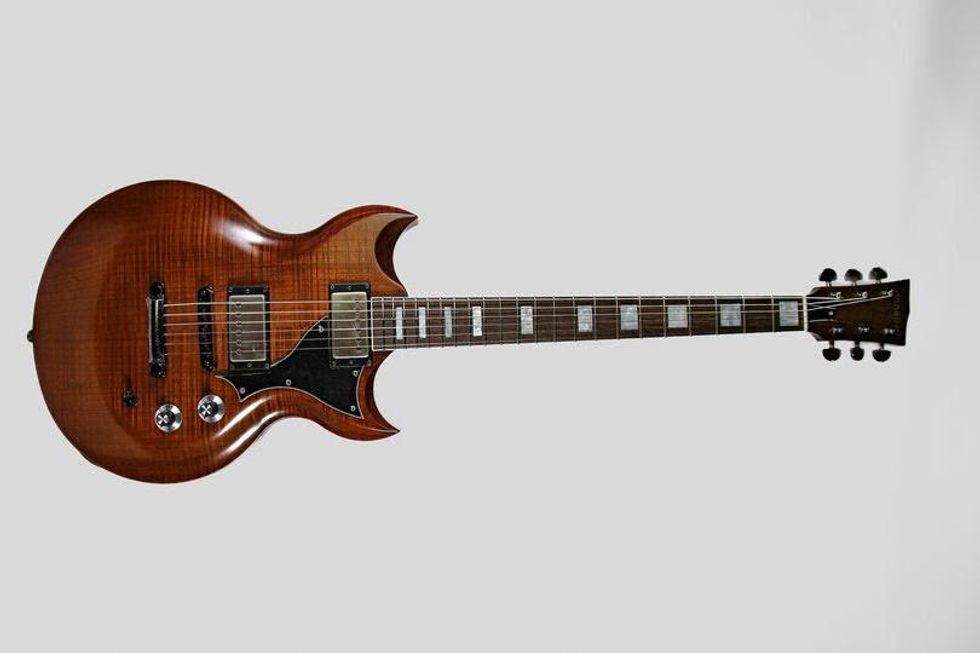 Dunable
This full-amp-stack-in-a-box pedal brings a new flavor to the Guitar Legend Tone Series of pedals, Missing Link Audio's flagship product line.
Adding to the company's line of premium-quality effects pedals, Missing Link Audio has unleashed the new AC/Overdrive pedal. This full-amp-stack-in-a-box pedal – the only Angus & Malcom all-in-one stompbox on the market – brings a new flavor to the Guitar Legend Tone Series of pedals, Missing Link Audio's flagship product line.
The AC/OD layout has three knobs to control Volume, Gain and Tone. That user-friendly format is perfect for quickly getting your ideal tone, and it also offers a ton of versatility. MLA's new AC/OD absolutely nails the Angus tone from the days of "High Voltage" to "Back in Black". You can also easily dial inMalcom with the turn of a knob. The pedal covers a broad range of sonic terrain, from boost to hot overdrive to complete tube-like saturation. The pedal is designed to leave on all the time and is very touch responsive. You can get everything from fat rhythm tones to a perfect lead tone just by using your guitar's volume knob and your right-hand attack.
Features 
Three knobs to control Volume, Gain and Tone
Die-cast aluminum cases for gig-worthy durability
Limited lifetime warranty
True bypass on/off switch
9-volt DC input
Made in the USA
MLA Pedals AC/OD - Music & Demo by A. Barrero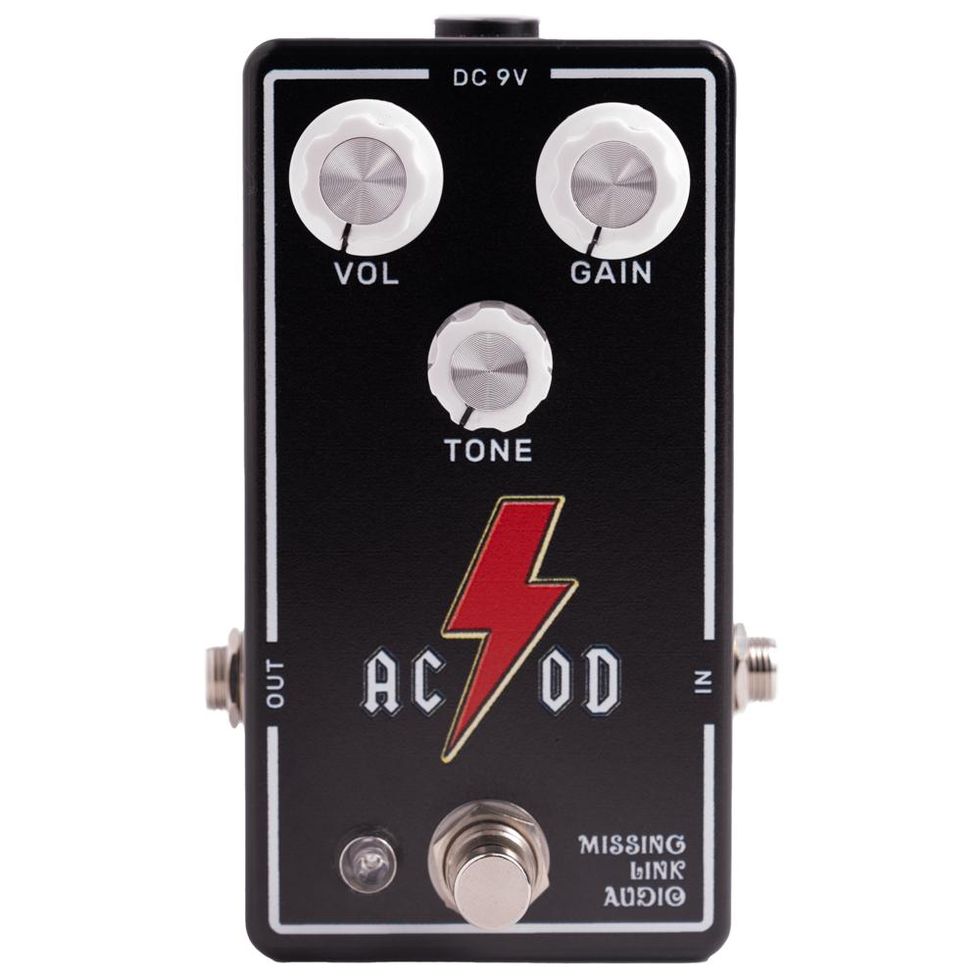 www.mlapedals.com.