Quilter Labs Announces the OverDrive 202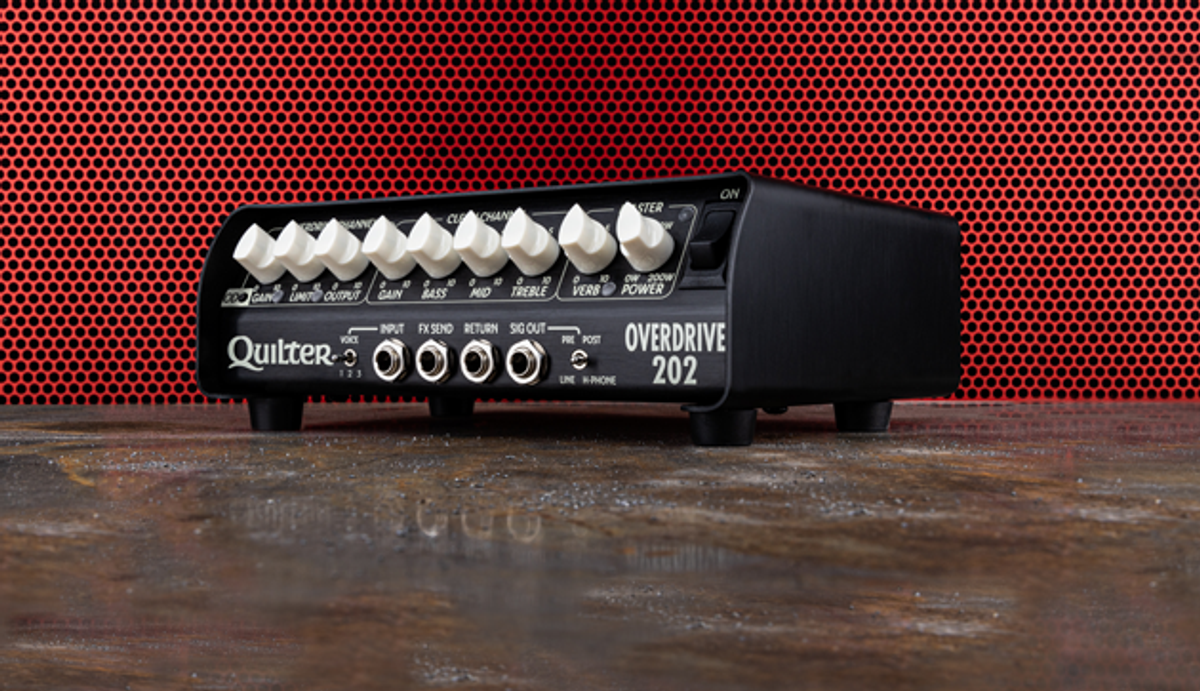 A 200-watt head aimed at dirty tones that comes in at a measly three pounds.
Costa Mesa, CA (June 29, 2020) -- Something good desperately needed to come out of 2020 and Pat Quilter was not going to let us down this year! Unveiling an all new upgrade to the successful Quilter OverDrive 200, the OverDrive 202 advances an already iconic miniature 200-watt, three-pound guitar head. Pat Quilter took note of some of the most iconic amplifiers and crammed them into something so small it can quite literally fit in the pocket of your gig bag while swinging enough power to put down any annoying drummer or even a full band!
Until now the guitarist looking for serious overdrive has been forced to cart around amplifiers designed in a time before their parents were born and likely built by body builders using cranes and large scale construction equipment. Or at least that's what one must assume given the unbelievable weight and size of some of these iconic tone machines. But even players who demand larger than life tone from their amplifiers also need options more realistic than asking the whole crowd to come to your house so they can hear your band play or renting a large moving truck to get to the gig. With a pandemic running loose, we now have the challenge of social distancing as well! We need our tone to be able to impact the person in the back of the venue, or even down the street. But don't think this can only make face melting distortion, this amplifier delivers incredible pristine cleans, and delivers up low to mid gain tone the likes of which you will be astonished by!
The OverDrive 202 takes the "built from the ground up" 200 Watt Class D power amp design from the astonishingly popular Tone Block 202 and adds two switchable channels while also giving three tonal options that would cost tens of thousands to recreate if you bought the actual amplifiers. But the design advances don't stop there. Utilizing Quilter patented tube behavioral recreation technology, the OverDrive 202 recreates the actual behavior of tubes and delivers unprecedented power while weighing in at a mere 3.3 pounds. Delivering an incredibly powerful performance, (notes feel bigger and hit harder) the OverDrive 202 does more than any other amplifier can while effortlessly fending off the usual gig killing problems like overheating, or adapting to bad AC power from the wall.
With wattage-calibrated Master Volume, finding the "safe" zone for speaker power for your cabinets is easier than ever. Plus, you can get the right level of saturation at any volume without any tonal change! Interfacing with the PA on silent stages is easier than ever before with cab simulated output, a choice of pre or post line out, and a speaker tapped direct out that all function safely without a load attached. The universal switching power supply not only self-adjusts to worldwide voltages, but also self-adjusts to inconsistent voltages at your local bar gig or generator powered outdoor stage without need for switches or heavy and expensive power conditioners.
Weighing in at only 3.3 pounds (1.5 kg) the OverDrive 202 is the ultimate solution for guitarists, steel guitarists, or anywhere you may need tube like or solid state-like instrument amplification. We recommend docking the OverDrive 202 in our BlockDock 12HD for 23 pounds (10.4kgs) of combo amp convenience that can keep up with the heaviest hitting drummers and full stack rigs.
"This is the best damn head we have ever made." Says company CEO Chris Parks. "20 years from now those of you who pick one of these bad boys up will be laughing at all the poor fools with bad backs and high chiropractor bills. Meanwhile you will still be enjoying perfect, reliable, lightweight tone."
For more information:
Quilter Labs