An overachieving overdrive that gets way bigger than its name suggests.
Sweet balanced crunch tones. Dynamic. Sparkling, full, and clean at attenuated guitar volume. High-quality build.
5
4.5
4.5
4
Overdrive pedals don't often set my world alight—even great ones. But I've spent a month with the England-built Great Eastern FX Small Speaker Overdrive, and it remains attached to the other end of my coil-y cable. Ostensibly, the Small Speaker is meant to be a variation on the tweed-Fender-Champ-in-a-box theme. However, both the pedal's name and the Champ associations fail to do justice to how large and alive it sounds and feels tethered to a bigger amp.
For one thing, the Small Speaker has more headroom and low-end ballast than a hot, wide-open tweed Champ. You can certainly summon the focus and midrange-y punch that makes that amp a star in front of a microphone. But thanks to the Small Speaker's excellent EQ, you can also conjure a substantial measure of tuneful low end that is a perfect counterweight to its open, aerated highs and mids, and makes this little pedal a wrecking ball.
The Small Speaker is also super dynamic. If you set the pedal up for a crunchy, high-gain setting, it gets much cleaner at attenuated guitar volumes—not sort of clean and thin, or slightly crunchy, but full-bodied and sparklingly clean. This characteristic, among many others, makes it a dream pairing for a black-panel Fender. I've had the black-panel Tremolux used for this review for decades. It's flat-out my favorite amp. But in all that time, I don't ever remember it sounding quite as sweetly crunchy as it does when hooked up to the Small Speaker Overdrive. What an impressive little pedal.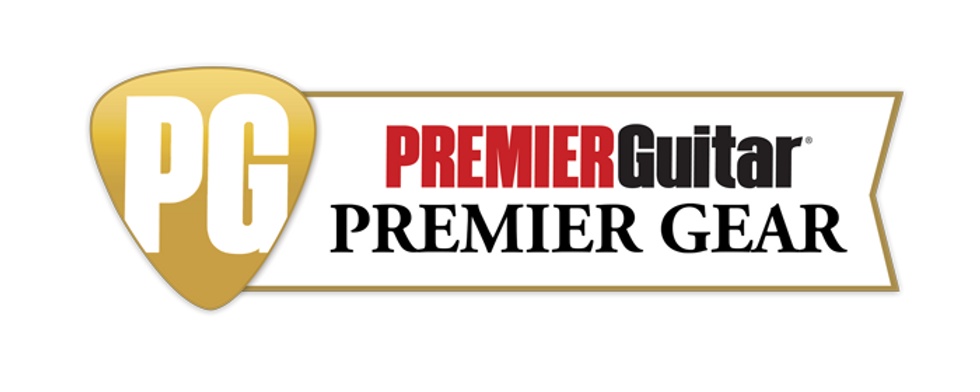 Megadeth founder teams up with Gibson for his first acoustic guitar in the Dave Mustaine Collection.
For the new acoustic guitar, Gibson acoustic luthiers in Bozeman, Montana collaborated with Dave Mustaine the legendary guitarist, vocalist, songwriter, and founder of the multi-platinum selling and Grammy Award-winning band, Megadeth. The Gibson Dave Mustaine Songwriter in Ebony is available in a both a standard version and a limited edition model, signed by the artist. Part of the Dave Mustaine Collection, the new Dave Mustaine Songwriter in Ebony is the first 24-fret neck ever installed on a Gibson acoustic guitar. With a slightly thinner walnut body, the Dave Mustaine Songwriter guitar features a cutaway for easy access to the upper frets.
Megadeth has gone on to sell more than 50 million albums worldwide, earning many accolades along the way, including a Grammy Award for the title track from their most recent album Dystopia, along with 12 additional Grammy nominations, as well as five consecutive platinum/multi-platinum albums. Megadeth has headlined many of the biggest stages in the world and recently played their most successful tour ever, closing every night on the North American amphitheater "Metal Tour of the Year". Also, a New York Times bestselling author and sought after speaker, host, and commentator, Mustaine has remained a standard bearer for metal and heavy guitar rock, combining a musical and technical standard with the punk and rock n' roll ethos and attitude.
Icons: Dave Mustaine of Megadeth
The bass wiz and author shares deep wisdom about bass, music, and more.
Victor Wooten On How to Start On Bass Guitar | Wong Notes Podcast