A bass OD that shows the combo of German engineering, top-quality parts, and modern design isn't only for luxury cars.
 

Ratings

Pros:

High-quality, robust construction. Ability to blend in clean tone.

Cons:

Difficult to manipulate controls. Unusual layout. Significant volume changes when adjusting settings.

Street:

$299 street

RMI Basswitch Enhanced Overdrivermi.lu

Tones:Ease of Use:Build/Design:Value:
---
From the country that gave us Beethoven and BMWs, Germany's Lehle is producing a bold new distortion called the RMI Basswitch Enhanced Overdrive. Much like German automakers, the pedal builder has made a name for itself by using exceptionally high-quality components and paying attention to detail. The manual for the Enhanced Overdrive states that the pedal "starts where a little distortion is not enough," which had me primed for a test drive.
Tanks a Lot
The Basswitch Enhanced Overdrive is completely manufactured in Germany and the all-metal housing is solid as a tank. There are four control knobs for tone, mix, gain, and volume, and the knobs are uniquely recessed to protect them from damage and inhibit unintentional setting alterations. The company also incorporates a proprietary footswitch, which I won't go into in detail about here, but suffice it to say it's an ultra-robust design that feels practically indestructible. The pedal's status LED is always on: glowing blue when the distortion is engaged, and white when bypassed.
Sure enough, a lot of the obnoxious frequencies were tamed, and those previously objectionable frequencies allowed my signal to cut through the mix in a very pleasing way.
The Basswitch Enhanced Overdrive is not a true-bypass pedal, but instead features a high-quality and audibly transparent buffer intended to provide a very low-impedance signal to combat any possible cable length issues. The pedal is powered via a standard 2.1 mm barrel connector accepting 9–15V (AC or DC), which is then internally brought to 18V for increased headroom. The pedal does not have the option of battery power.
Lehle-ing It Down
For initial testing, I went with the old standards: a 1965 P bass into a 1965 Ampeg B-15. My first impression of the pedal was that it was bright sounding and a bit brash. I know how much high end can get gobbled up by drums and guitars in a mix, however, so I pulled up a track I had recently recorded in my studio and replaced my original bass line with one using the Lehle overdrive. Sure enough, a lot of the obnoxious frequencies were tamed, and those previously objectionable frequencies allowed my signal to cut through the mix in a very pleasing way. And the quality of the distortion in combination with the original signal via the mix control gave my tone a nice, tight bottom with plenty of low end intact.
I did find that the overall control of the box takes a bit of getting used to. For me, the recessed knobs were somewhat difficult to manage. And because the controls are all very interactive, I found that any changes to the settings usually needed some notable compensation with the volume control. Also, the mix and tone controls are, in a sense, "upside-down," since middle ground is 6 o'clock rather than the typical 12 o'clock. All of this said, however, I'd imagine many players will find their desired sound and leave it. Another feature worth noting is that the tone control actually adjusts the midrange, which is unusual, but it's quite effective in shaping the tone of the grit, since it's placed before the gain stage.
The Verdict
Yes, it took me some time to "get" the Basswitch Enhanced Overdrive. It's like that esoteric new band your friend recommends. The band's sound might not grab you at first, but after you start to sink into it, they quickly become your favorite. The minimum gain setting on the pedal still delivers a lot of distortion, so I found the Basswitch Enhanced Overdrive to be a little bit of a one-trick pony. It's a very good trick, however—especially if you like the idea of great, aggressive distortion that will not turn your bass tone into a thin, washy mush.
Looking for more great gear for the guitar player in your life (yourself included!)? Check out this year's Holiday Gear Finds!
Outlaw Effects introduces their next generation of NOMAD rechargeable battery-powered pedal boards.
Available in two sizes, NOMAD ISO is a compact, versatile tool that offers the convenience of a fully powered board plus the additional freedom of not having to plug into an outlet. NOMAD ISO is ideal for stages with limited outlet availability, quick changeovers, busking outdoors, temporary rehearsal locations, and more!
NOMAD ISO builds upon the legacy of the ultra-convenient and reliable NOMAD rechargeable pedalboard line originally launched in 2018. The brand new NOMAD ISO editions feature eight isolated outputs (1 x 9V DC, and 1 switchable 9V/12V DC) for even more versatility and clean, quiet power. With an integrated lithium-ion battery pack boasting 12800mAh capacity, NOMAD ISO can fuel a wide array of pedals, and will last over 10 hours* on a single charge.
Each NOMAD ISO pedal board includes adhesive hook & loop pedal-mounting tape, eight (8) standard DC connector cables, and one (1) reverse polarity DC cable, giving you everything you need to build your ultimate "off-the-grid" rig. A rugged, road-ready padded gig bag with shoulder strap is also included, to safely protect your gear while you're on the move.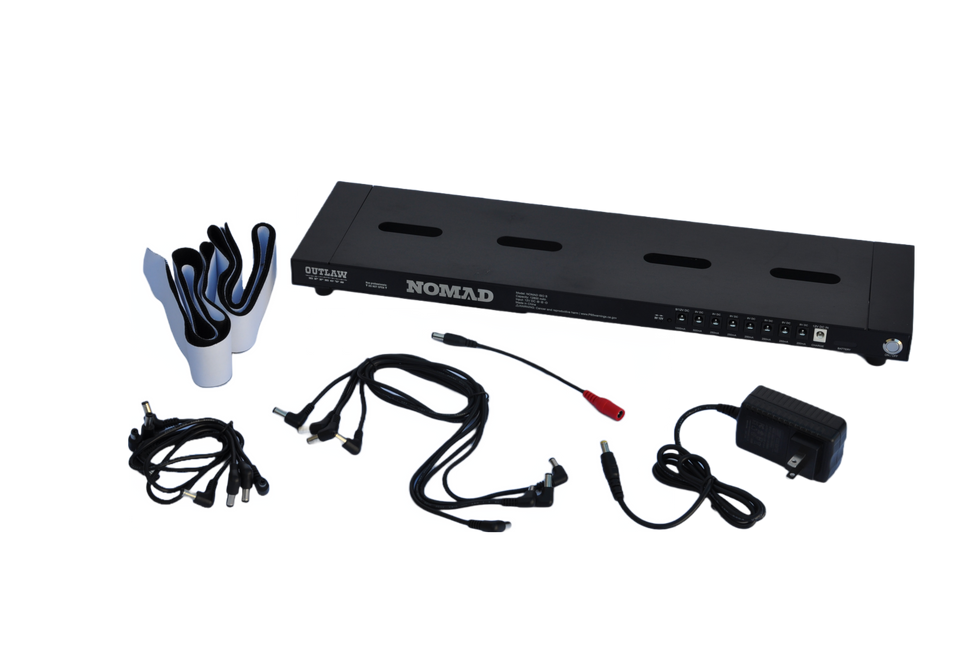 Dunable announce new Minotaur model featuring Grover Rotomatic Keystone tuners.
The Minotaur's DNA is rooted in their classic Moonflower model, which Dunable discontinued in 2017. However, they have long since wanted to create a fresh take on a carved top guitar design, and various attempts to rework the Moonflower led them to a brand new concept with the Minotuar.
Dunable's goal is to give the player a guitar that plays fast and smooth, sounds amazing, and gives maximum physical ergonomic comfort. The Minotaur's soft and meticulous contours, simple and effective control layout, and 25.5" scale length are designed to easily meet this criteria.

Dunable Minotaur!
Features
25.5" scale length
Dual Humbucker
one volume, one tone, push pull for coil splitting
Grover Rotomatic Keystone tuners
Grover Tune O Matic bridge with brass Kluson top-mount tailpiece
jumbo nickel frets
12" fretboard radius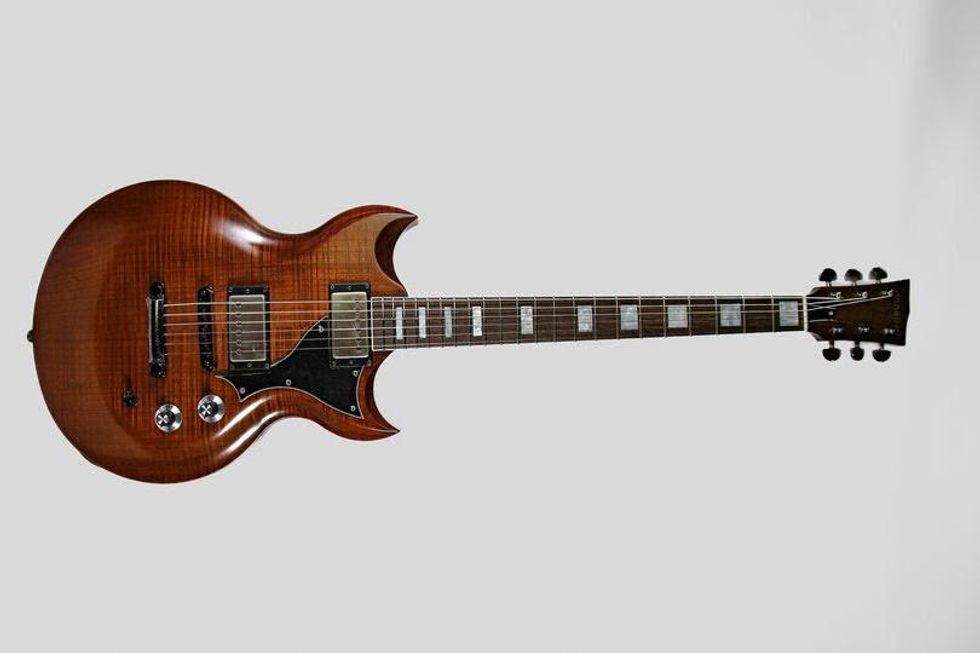 Dunable
This full-amp-stack-in-a-box pedal brings a new flavor to the Guitar Legend Tone Series of pedals, Missing Link Audio's flagship product line.
Adding to the company's line of premium-quality effects pedals, Missing Link Audio has unleashed the new AC/Overdrive pedal. This full-amp-stack-in-a-box pedal – the only Angus & Malcom all-in-one stompbox on the market – brings a new flavor to the Guitar Legend Tone Series of pedals, Missing Link Audio's flagship product line.
The AC/OD layout has three knobs to control Volume, Gain and Tone. That user-friendly format is perfect for quickly getting your ideal tone, and it also offers a ton of versatility. MLA's new AC/OD absolutely nails the Angus tone from the days of "High Voltage" to "Back in Black". You can also easily dial inMalcom with the turn of a knob. The pedal covers a broad range of sonic terrain, from boost to hot overdrive to complete tube-like saturation. The pedal is designed to leave on all the time and is very touch responsive. You can get everything from fat rhythm tones to a perfect lead tone just by using your guitar's volume knob and your right-hand attack.
Features 
Three knobs to control Volume, Gain and Tone
Die-cast aluminum cases for gig-worthy durability
Limited lifetime warranty
True bypass on/off switch
9-volt DC input
Made in the USA
MLA Pedals AC/OD - Music & Demo by A. Barrero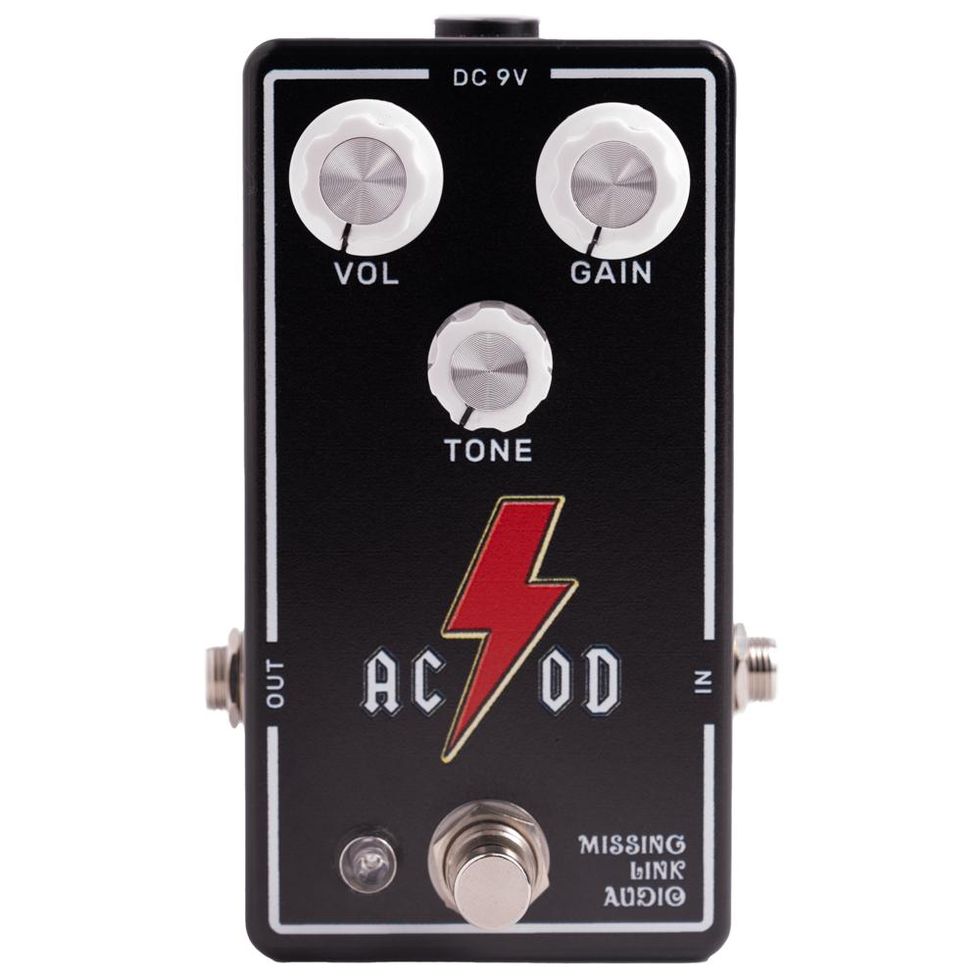 www.mlapedals.com.