The Subversive Guitarist: Power to the Pinky! - Nov. '18 Ex. 11
The newest gem in the Grand Pacific line opens up the tone possibilities of a round shouldered dreadnought.
The 417e-R Is a Grand Pacific acoustic-electric crated with solid Indian rosewood back and sides, a solid Sitka spruce top and V-Class bracing. The round-shoulder dreadnought design pairs beautifully with the classic rosewood/spruce tonewood configuration, yielding a vintage-inspired, blended sound with clear low-end power and notes that overlap into a seamless whole. A warm bass range and crisp trebles resonate around a slightly scooped midrange, while the innovative bracing design coaxes out more power, longer sustain and near-perfect harmony across the fretboard. Like its siblings, the 417e-R is detailed white binding, black and white top purfling, a single-ring agoya shell rosette, Finial fretboard inlays in Italian acrylic, a gloss-finish body with a Tobacco Sunburst top, nickel tuners and a faux tortoiseshell pickguard. It includes ES2 electronics for warm and dynamic amplified sound and a deluxe hardshell case for storage and protection.
You could win a Fable Granular Soundscape Generator from Walrus Audio!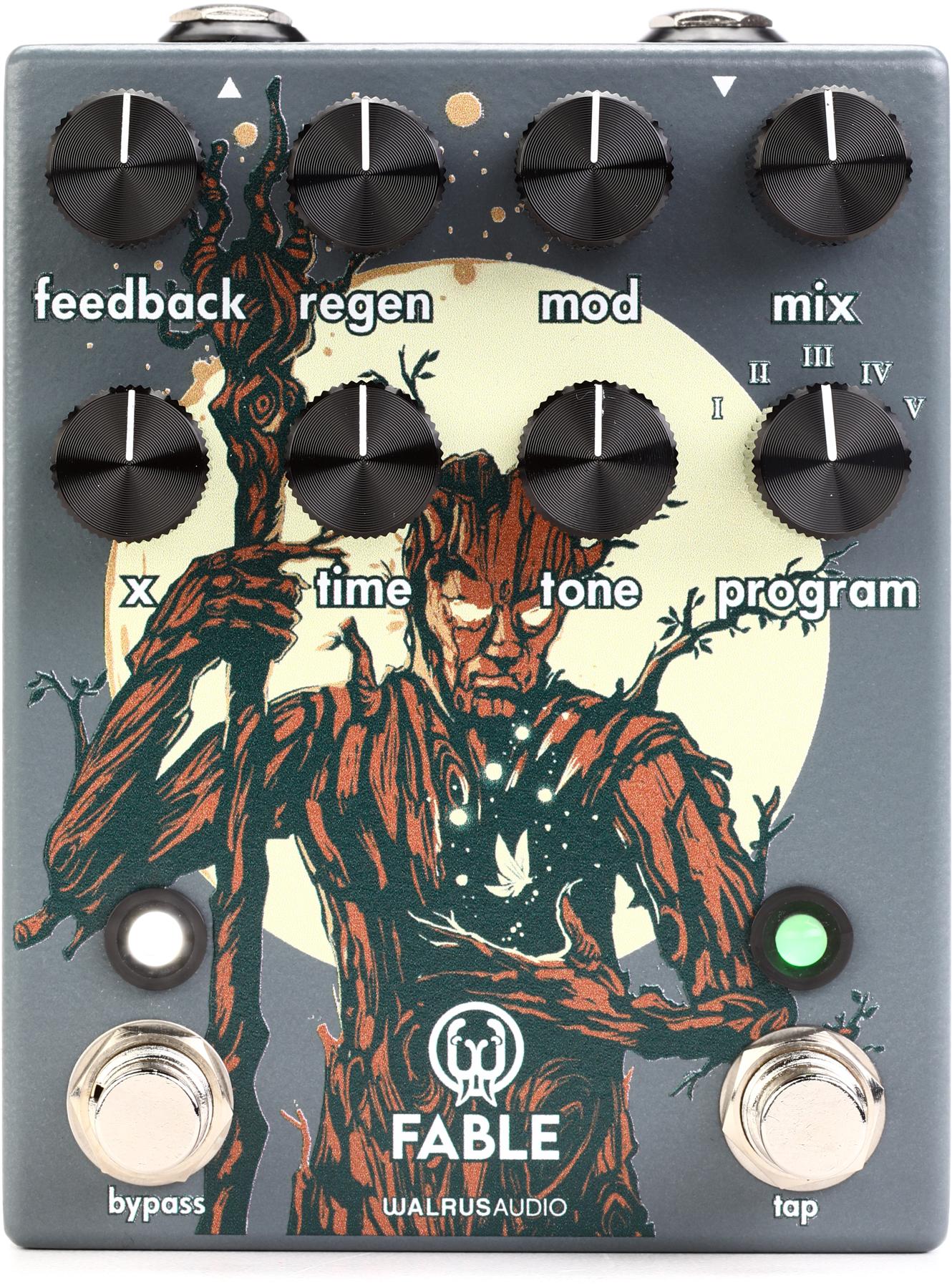 Let your storybook adventure grow with the Fable Granular Soundscape Generator. The Fable creates new sonic adventures with five granular delay programs centered around sample and chop algorithms that create bizarrely beautiful networks of sampled and resampled sounds.
Walrus Audio
The DiMarzio Model J is designed to be 50 percent quieter than the original Fender Jazz bass single coil pickups, and it's 60 percent louder.
Tanya O'Callaghan, famed for her dynamic stage presence, in-the-pocket timing, and world-class touring resume talks about her new favorite bass pickup, the DiMarzio Relentless J.
Tanya has toured with Whitesnake, Bruce Dickinson (Iron Maiden), Maynard James Keenan (Tool/APC), Dee Snider (Twisted Sister), Steven Adler (Guns N' Roses), Nuno Bettencourt (Extreme), The Riverdance, The Voice, Orianthi, Michael Angelo Batio, Kevin Godley, Sharon Corr (The Corrs) and David Grey, to name a few…
DiMarzio introduced the world's first Fender Jazz bass replacement pickups at the NAMM show of 1977. DiMarzio invented the dual bar ceramic magnet structure for extra power and included twin hum-cancelling coils for decreased noise. The DiMarzio Model J is 50 percent quieter than the original Fender Jazz bass single coil pickups, and it's 60 percent louder.
We also added adjustable pole pieces to improve the string balance and designed them in our signature cream color. At its introduction, the DiMarzio Model J immediately become an industry standard and has been the pickup of choice on thousands of hit recordings.
With the introduction of the Relentless P bass pickups, co-designed with Billy Sheehan, we began to think how we could make our Jazz Bass pickup even better.
As with the Relentless pickups, we removed all the hard edges from the standard J Bass pickup and added an arch to the top of the pickup to bring the sensing coils and pole pieces closer to the strings. These improvements increase the dynamic range and make active circuits unnecessary.
We invented (patent pending) parallelogram-shaped coils to add dimension, punch, and dynamics to the Relentless J sound, and we incorporated metal covers with foil-shielded cables to further suppress the background noise.
DiMarzio's extra shielding makes the Relentless J better for both recording and stage performances. We mounted it onto a robust .09375" thick circuit board base plate so we could eliminate the annoying protruding mounting screws — ultimately creating a more comfortable and consistent foundation to rest your fingers on.
Tanya O'Callaghan for DiMarzio Relentless J Bass Pickups
​To improve the balance when both pickups are used together, we made the bridge position pickup louder than the neck position pickup. When the pickups are blended, you get a better volume match.
The Relentless pickups incorporate Neodymium magnets and produce 70 percent more output than traditional passive pickups, and they're dead quiet. We've expanded the mid-range punch, adding snappy highs and precise lows. These pickups have a broad magnetic field so you can even bend notes without volume dropout.
Relentless J pickups will breathe new life into any bass, increase playability, and work well for any style of music from Motown to metal.
For more information, please visit dimarzio.com.