Tools for the Task: PAF-Style Pickups
Ten PAF-style options to freshen your tone.
Gibson's early "Patent Applied For" humbuckers are the stuff of legend, and Seth Lover's pickup creation is widely regarded as one of the most important advances in the electric guitar's evolution. If you're chasing the holy grail vintage-PAF sound but find yourself a few a thousand short of the price of an original mint set, you may want to check out some of these modern—and affordable—alternatives.
SEYMOUR DUNCAN SH-18 Whole Lotta Humbucker
Wound with 42-gauge plain-enamel wire and housing rough-cast alnico 5 magnets, these humbuckers are exact replicas of the custom pickups Seymour Duncan made for the likes of Clapton, Beck, and Page in the early '70s.
$189 street (set)
seymourduncan.com
LOLLAR Imperial
The unbalanced-coil Imperials were designed to provide airy top end, tight lows, balanced midrange, and complex overtones. The alnico 2s in the neck and alnico 5s in the bridge are degaussed to specific levels unique to each position.
$350 street (set)
lollarguitars.com
DYLAN PICKUPS DAF
"Dylan Applied For" humbuckers are available in both alnico 3 and alnico 5 versions. They're wax-potted and feature 4-conductor wiring for coil-splitting and phasing options. They come in a variety of finishes. (Toaster-top and clear bobbin models shown.)
$299 street (set)
dylanpickups.com
GIBSON BurstBuckers
Designed to recapture the tonal magic of the original PAF humbuckers, BurstBuckers are not potted. They boast vintage-style 2-conductor wiring, unmatched bobbin windings, and alnico 2 magnets. The Type 1, Type 2, and Type 3 models offer varying output levels.
$176 street (single)
gibson.com
BARE KNUCKLE PG Blues
Designed to replicate the famous out-of-phase mid-position sound of Peter Green's '59 Les Paul, this pair features sand-cast alnico 2 magnets, scatterwound bridge coils of plain-enamel 42AWG wire, and Formvar-coated wire in the neck coils.
$289 street (set)
bareknucklepickups.co.uk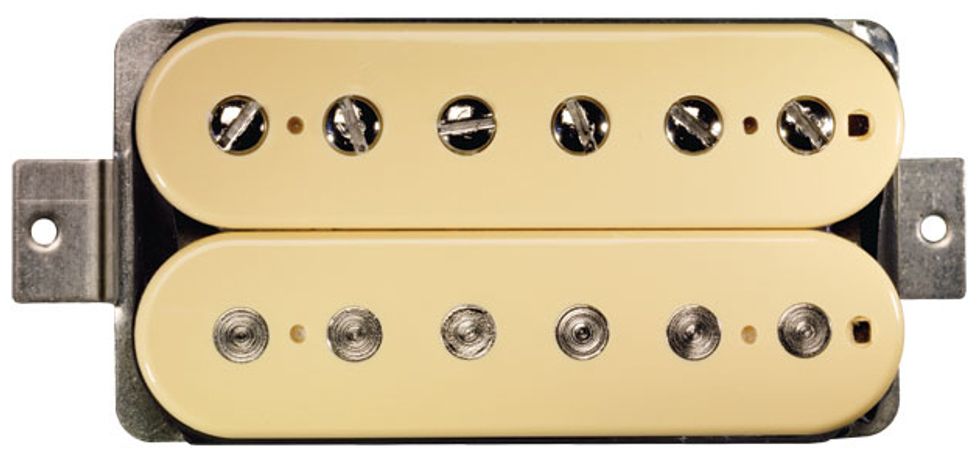 DIMARZIO PAF Masters
The PAF Master Bridge pickup employs alnico 4 magnets for their high iron content, while the Master Neck pickup houses alnico 5s. Both feature 4-conductor wire. Several patented DiMarzio techniques contribute to their quiet, bright, and dynamic performance.
$149 street (set)
dimarzio.com
RIO GRANDE Buffalo Texas Set
This set consists of a Genuine Texas bridge pickup and a Buffalo Bucker for the neck. Available with 2- or 4-conductor wiring and in a variety of colors/covers ($50 less for standard nickel covers), these alnico 5 pickups are wound to 8k for the neck and 9k for the bridge.
$296 street (set as shown)
riograndepickups.com
LINDY FRALIN Pure PAF
Wound at 7.5k-7.8k in the neck and 8k-8.4k in the bridge, these humbuckers use alnico 2 magnets to soften the treble and smooth the grind. Pure PAFs are built to look like the real deal. A partial-tap kit is available separately.
$260 street (set)
fralinpickups.com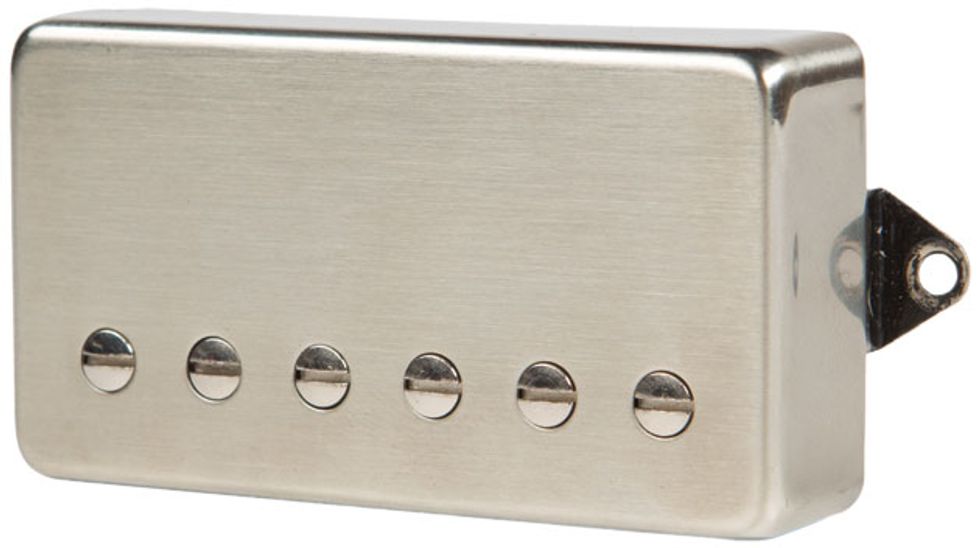 SUHR Thornbucker
Created to have all the best attributes of '50s PAF-style pickups without the downsides, these humbuckers are available in a range of colors. They feature such modern touches as 4-conductor wiring and a variety of spacings. The neck pickup houses an alnico 5 magnet while the bridge holds an alnico 4.
$119 street (per pickup)

suhr.com
LACE Big Block
This barium-ferrite set offers tones reminiscent of classic twin-humbucker guitars from the '50s and '60s, but with the modern features of a Lace humbucker: low magnetic string pull, low noise, and coil-splitting capability.
$195 street (set)
lacemusic.com