Trash or Treasure: Custom Kraft Ambassador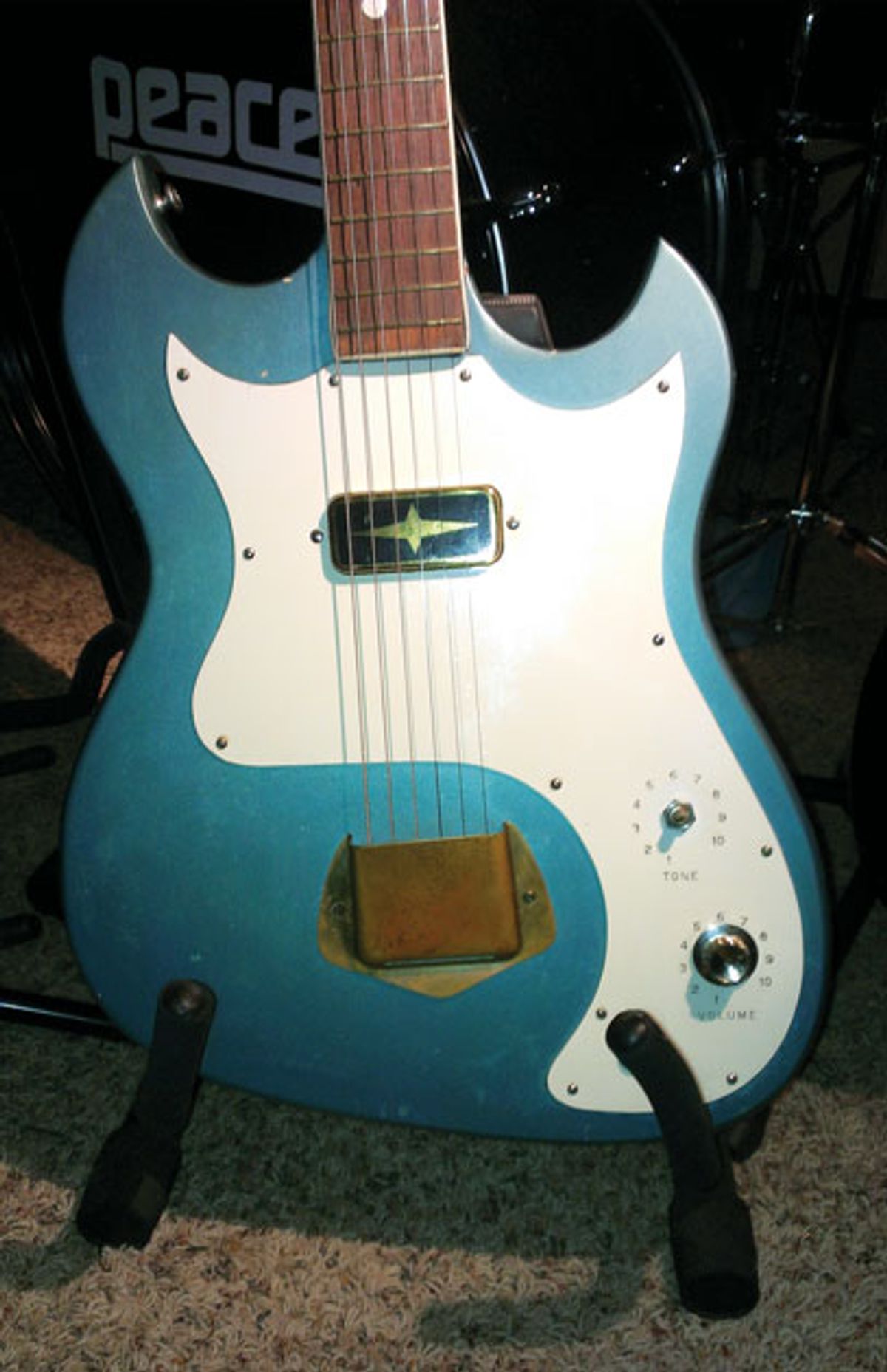 A reader finds a steal of a deal at $2 for a vintage Custom Kraft Ambassador.
Hi Zach,
I have this Custom Kraft electric guitar that I would like to know the value of in its current state, and also what it might be worth restored. I got it from an auction about 15 years ago for the whopping sum of $2. What can you tell me about it?
Thanks
John Smith in West Valley City, Utah
Hey John,
These 1960s guitars just ooze coolness! I especially like the star on the pickup and the control numbers located on the pickguard instead of the knobs.
Guitars were becoming big business in the late 1950s and early 1960s, and just about every manufacturer, retailer, and distributor was jumping on the bandwagon. St. Louis Music—a distributor/importer/manufacturer of musical instruments—was no different. The company was founded by Bernard Kornblum in 1922 and started out as an importer of German violins, but quickly expanded into a full-line musical distributor.
By the mid-1950s, St. Louis Music was distributing a wide range of guitars and amplifiers from manufacturers such as Alamo, Harmony, Kay, Magnatone, Rickenbacker, and Supro. Competition was fierce from the large catalog retailers like Montgomery Ward and Sears, so every distributor and retailer was trying to get the upper hand. Instead of selling a line of guitars that numerous other companies could, why not create their own brand? St. Louis Music did exactly that. (House brands became very popular throughout the '60s, and companies like Kay, Harmony, and Valco were producing guitars for several different distributors/retailers.)
When a guitar is refinished, you can never go back to the original finish, and that's what collectors are looking for.

St. Louis Music launched Custom Kraft as their house brand in 1961. The first guitars to bear the Custom Kraft name were a line of semi-hollowbodies built by Kay. In 1963, Custom Kraft appeared on their line of solidbody double-cutaway electrics (likely built by the Valco company) called the Ambassador, the model you have. Other archtop and flattop acoustics were also built by Kay to fill out the entire Custom Kraft line.
Custom Kraft guitars were offered by St. Louis Music through the late '60s until Valco/Kay (by this time they were the same company) closed in August of 1968. With Custom Kraft in the history books, St. Louis Music then introduced the Electra line, followed by the trademarks Westone and Alvarez. Today, St. Louis Music is a division of U.S. Band and Orchestra Supplies Inc., and is one of the largest distributors of musical instruments and accessories in North America.
Your Ambassador has sort of an offset SG-style body with a bolt-on neck, a 19-fret fretboard with dot inlays, a single DeArmond-style pickup, and individual volume and tone knobs. With simple features like this, it's obvious it was intended as a beginner model.

Custom Kraft guitars were distributed by St. Louis Music as their house brand in the 1960s until production ceased in 1968.
The color is called metallic blue, which looks very similar to the well-known Lake Placid blue. In excellent condition, this guitar would be worth between $250 and $350. With a missing tone knob, broken volume knob, and heavy patina on the bridge, you're probably looking at $200 to $250. That's not bad considering your $2 investment!
Restoring/refinishing a guitar is a delicate matter and should be given much consideration before proceeding. When a guitar is refinished, you can never go back to the original finish, and that's what collectors are looking for. Oftentimes, an individual wants to totally restore a guitar for sentimental reasons (perhaps it's their father's or grandfather's instrument). But keep in mind that the value will typically be reduced by about half of the same guitar in original-mint condition, even if you get it back to near-mint condition by refinishing.
For a $350 guitar, that's not going to make much difference. After looking at pictures of your guitar, however, it doesn't appear that it needs to be refinished. It just needs a few things replaced. Replacement parts for guitars are certainly available, but since this isn't a mainstream guitar, you might have a tough time finding new knobs, a new bridge, etc. Your best option may actually be finding a "donor" guitar of the same vintage for these parts.
No matter what the guitar is, if you can pick up a vintage guitar from the 1960s for $2, it's
definitely
a treasure—especially when it has rare features like this! (And don't let your friends tell you otherwise.)