Rig Rundown: Living Colour's Vernon Reid and Doug Wimbish [2016]
Armed with a boatload of pedals of every size and shape, the funk-rock tandem demonstrates the sonic mayhem they create on a nightly basis. Bonus: Bass legend Billy Cox crashes the party!
Before their Nashville gig in April of 2016, Living Colour's Vernon Reid and Doug Wimbish met with PG's John Bohlinger to talk about their combined sorcery that makes guitar, bass and drums sounds like an army of instruments. Reid and Wimbish utilize killer chops and miles of pedals and cables—making their tech Jeff Cummings the hardest-working man in show business. During the interview, bass legend Billy Cox crashes the party for some avuncular bass commentary.
Reid's muse has recently brought him to work with PRS to create his No.1, a 2015 S2 Vela VR prototype with EMG 57/66 pickups and a Roland GK synth pickup. The somewhat complicated controls allow Reid to mix, match, and blend all the pickups together.
This 2015 PRS Custom 24 serves as Reid's backup. Paul Smith himself reshaped the neck into a deep-V contour. It houses a set of PRS 85/85 pickups and a Roland GK pickup. Both guitars are strung with D'Addario NYXL .011–.049 strings and travel in a Mono M80 Dual Electric Guitar Case.
Reid runs two Mesa/Boogie heads: a Dual Rectifier from the early nineties and a slightly younger Trem-O-Verb. Each amp runs into a dedicated Mesa Rectifier cabinet.
In addition to the mighty Boogies, Reid uses a super-cool 50-watt Supro Titan 1x12.
Reid's amp arsenal is rounded out with a Kemper Profiling Amplifier.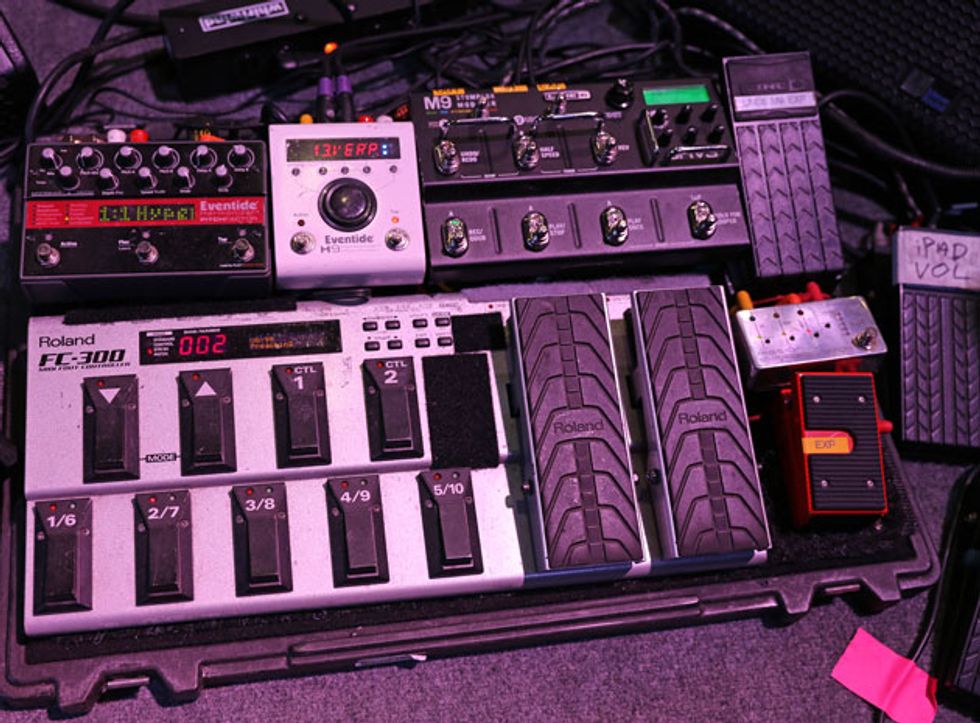 Reid's post-guitar signal chain is notoriously complex, but he's essentially using parallel signal paths to feed four different sub rigs. His main board features a Line 6 M9 modded by JVH3 Audio, Eventide H9 and PitchFactor stomps, a Roland FC-300 MIDI foot controller that governs a Roland VG-99 (not shown), an AMT EX-50 mini expression pedal, and a Mission Engineering Expressionator that allows the AMT to control up to three separate devices.
From there, it goes to two DOD AC 240 Resistance Mixers that feed the Kemper.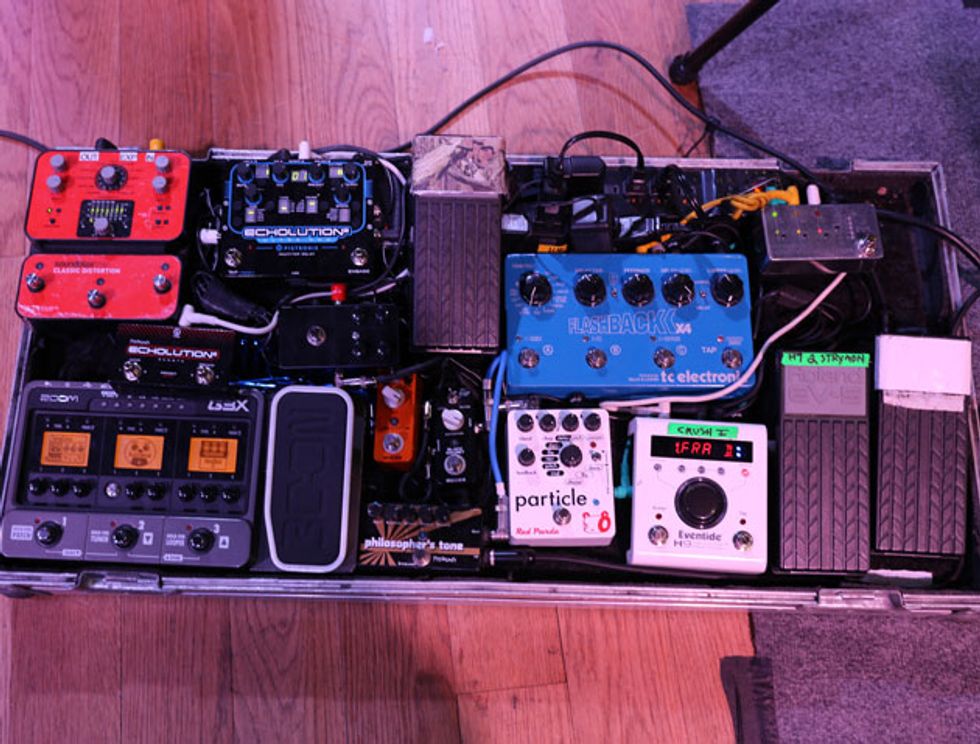 This board is in line with Reid's Supro Titan combo and features Pigtronix Echolution 2 Ultra Pro and Philosopher's Tone pedals, another Eventide H9, a TC Electronic Flashback X4, a Red Panda Particle, Moore Black Secret and Ultra Drive stomps, a Zoom G3X, a Source Audio Soundblox Pro Classic Distortion, three Roland EV-5 expression pedals, and another Mission Engineering Expressionator.
On Reid's right sits this table full of technology. The centerpiece is the Roland VG-99 synth that sits next to a Focusrite iTrack Dock. The Edirol M-10MX 10-channel mixer receives signals from various sources including the iPad, Red Witch Synthotron, and Electro-Harmonix Mel9.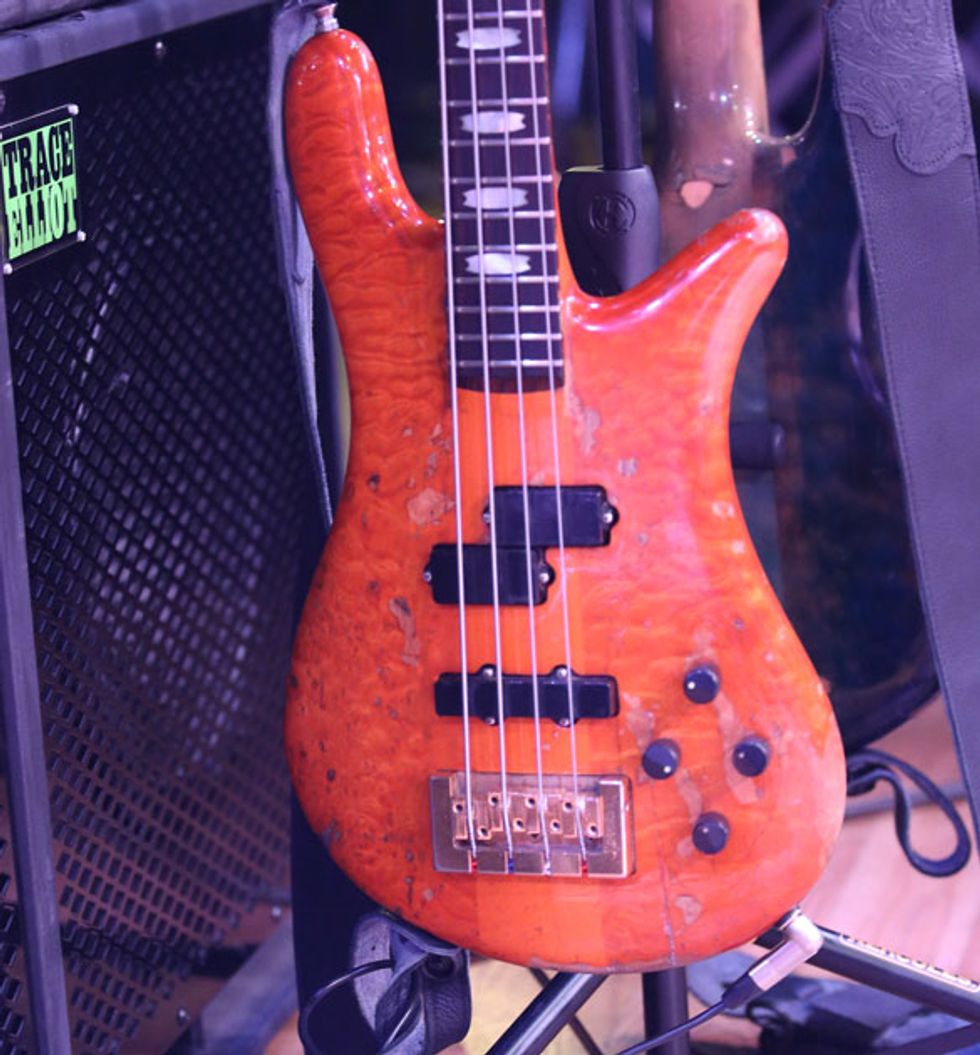 Since 1987, Wimbish has played his '87 NS2 Spector signature model prototype bass that features an EMG PJ Pickup set wired into a Spector preamp section and strung with Rotosound .040-.100 strings.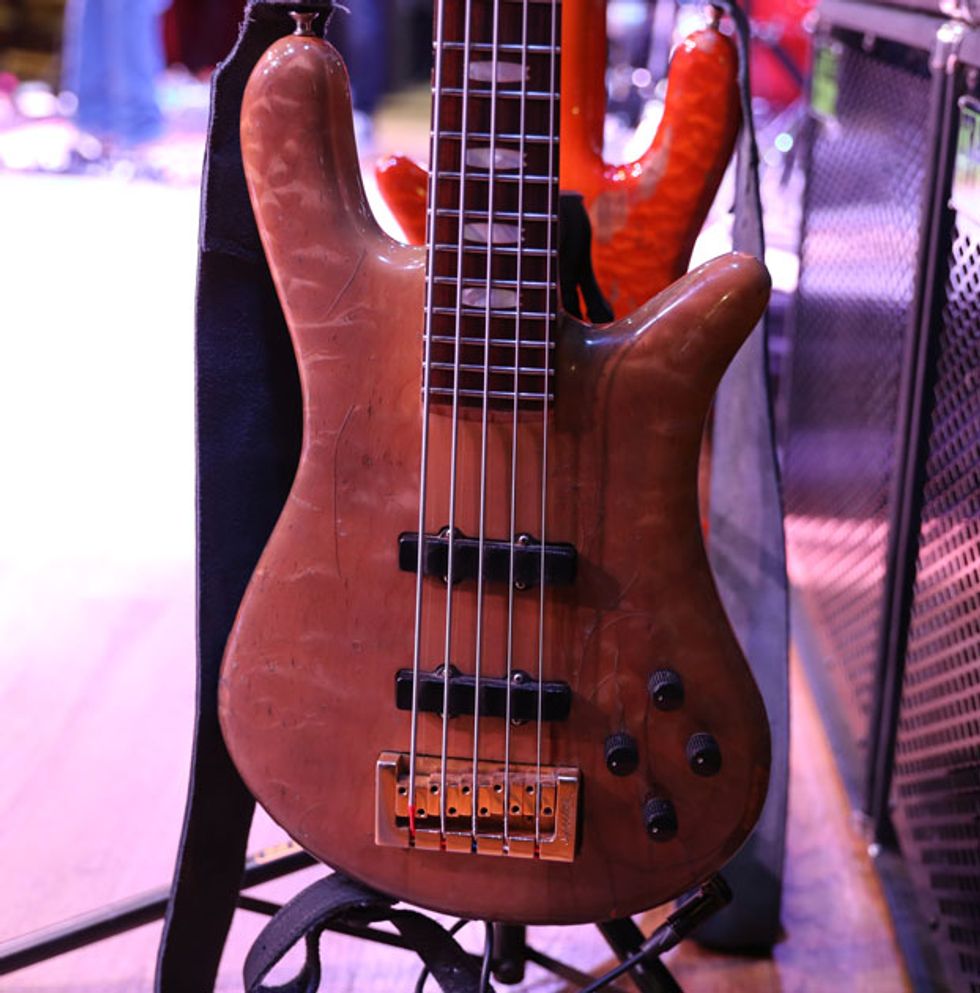 When Wimbish needs that low B, he uses his 1987 NS2 Spector 5-string. It's also loaded with a set of EMG Jazz pickups and Spector preamp. He also uses Rotosound strings (.040–.120) and Mono cases with Moody straps.
Wimbish runs two Trace Elliot AH 1200-12 heads. The amps run into a pair of Trace Elliot cabs (4x10 and 1x15) that are loaded with Celestion speakers.
The signal path on bassist Doug Wimbish's main board begins at a Tech 21 SansAmp Bass Driver DI, and then proceeds to an older Pigtronix Disnortion and a Danelectro Daddy O. Also featured are three Bosses—a BF-2 flanger, a Slicer and a DD-3 delay (the SD-1 Super OverDrive housing actually holds an 800-ms digital delay/sampler)—DigiTech Whammy and Synth Wah stomps, a Dunlop Cry Baby wah, a vintage DOD FX25 envelope filter, and a Way Huge Ring Worm. Wimbish stays in tune with a Peterson StroboPlus HD.
A secondary board houses yet another pair of Eventide H9 units, a Pigtronix Infinity looper, and a Beat Buddy (which Wimbish demonstrates to Billy Cox in the video).
Special thanks to the band's extremely hard-working tech, Jeff Cummings.