A Guild hollowbody stuffed with undies? A wooden slide? Dinky, about-to-burst, plywood combos? All these "left" turns fuel this Wood Brother's solo journey.
Just ahead of releasing his first solo album, Always Smilin'(via Honey Jar/Thirty Tigers), Oliver Wood invited PG into his Nashville-based studio space. In this episode, the Wood Brothers' cofounder shows off some key instruments—including his beloved and beaten 1965 Guild T100D, a Stella with a gold-foil, and an acoustic reminiscent of Robert Johnson's Gibson L-1—rattles small, cranky combos, and details how he looks for inspiration in all the "wrong" moves (like stuffing underwear in a hollowbody, using a wooden slide, and having a gold-foil in a 1930s Stella).
---
[Brought to you by D'Addario XS Strings: https://www.daddario.com/XSRR]
1965 Guild T-100D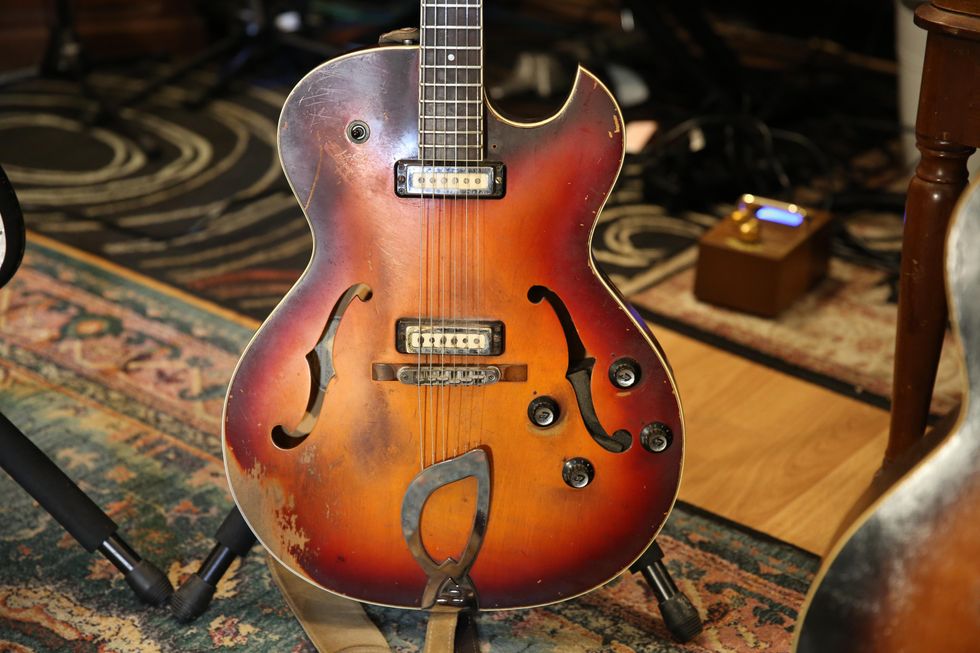 "In the early '90s, I was one of millions that played Strats because of Stevie Ray and Hendrix," admits Oliver Wood. "I sort of felt lost in the shuffle of the Strat sound and look so I decided I needed to go in another direction."
So, when this 1965 Guild T-100D came to the shop he was giving lessons, Wood knew he could carve a new path with this interesting hollowbody.
It's been his main ride since the mid-'90s and the heavy hitter for King Johnson and Wood Brothers albums and performances.
Without Wood telling the story in the Rundown you may never believe it, but to combat and corral its unwieldy feedback he stuffed it with tighty-whitey briefs. That fix lasted nearly 20 years until a tech for Live From Here with Chris Thile properly outfitted it with foam.
He uses DR Strings (.011–.050) for his electrics, Dunlop Purple Tortex 1.14 mm picks, and will tune the Guild to standard or "1/2 G." (Wood tunes down the 1st string to D allowing for slide work, while still forming chords on the other five strings.)
1960s Harmony "Holiday" Bobkat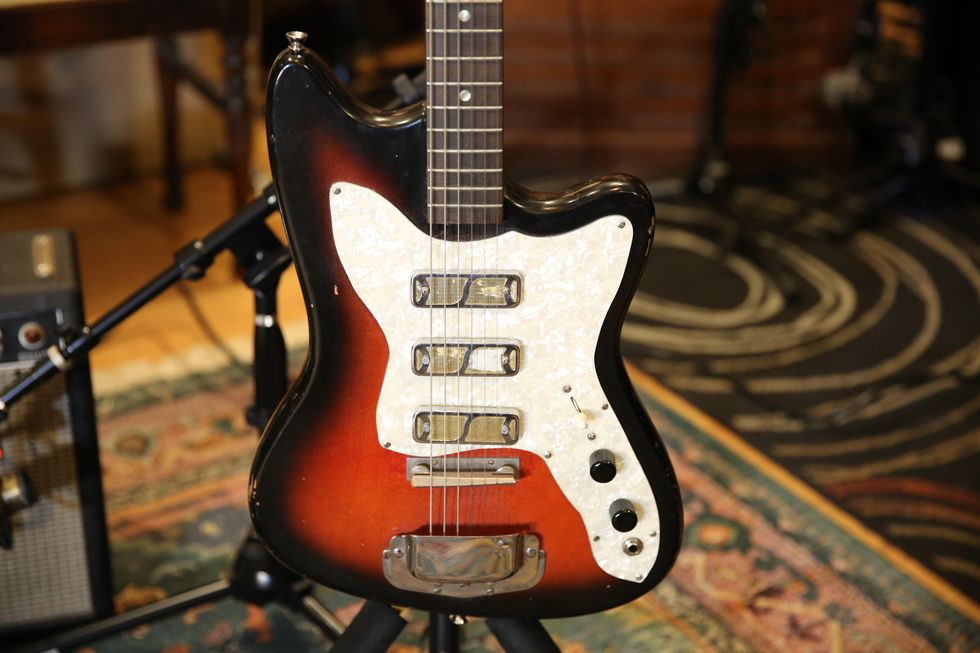 Here is a 1960s Harmony "Holiday" Bobkat that is loaded with stock DeArmond gold-foil pickups. Wood picked up the rare cat in East Nashville's Fanny's House of Music. The only change he made to the pawnshop prize is removing the pickup rocker switches, master volume and tone controls, and spruced it up with a fresh pickguard.
"Holiday" Headstock
Here's the "Holiday" headstock to Oliver's Harmony Bobkat.
1950s Gibson CF-100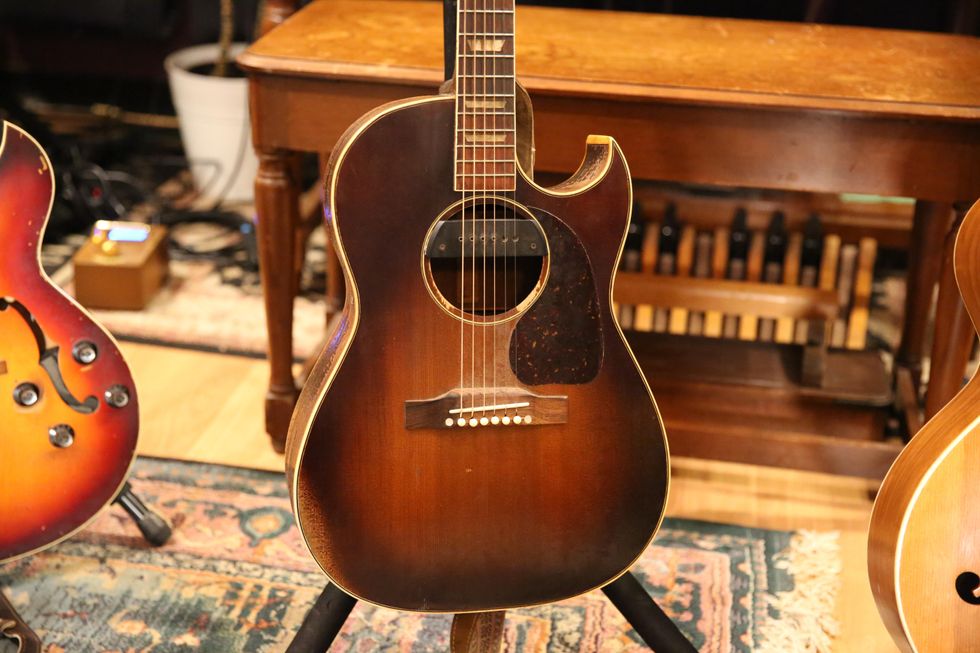 Believe it or not, Wood scored this 1950s Gibson CF-100 at Guitar Center. In the Rundown, he claims that this was the first cutaway (like the ES-175) that Gibson ever did on an acoustic. To make it a road dog, he added a K&K Sound Pure undersaddle pickup and a Sunrise S-2 soundhole pickup.
1950s Epiphone Zenith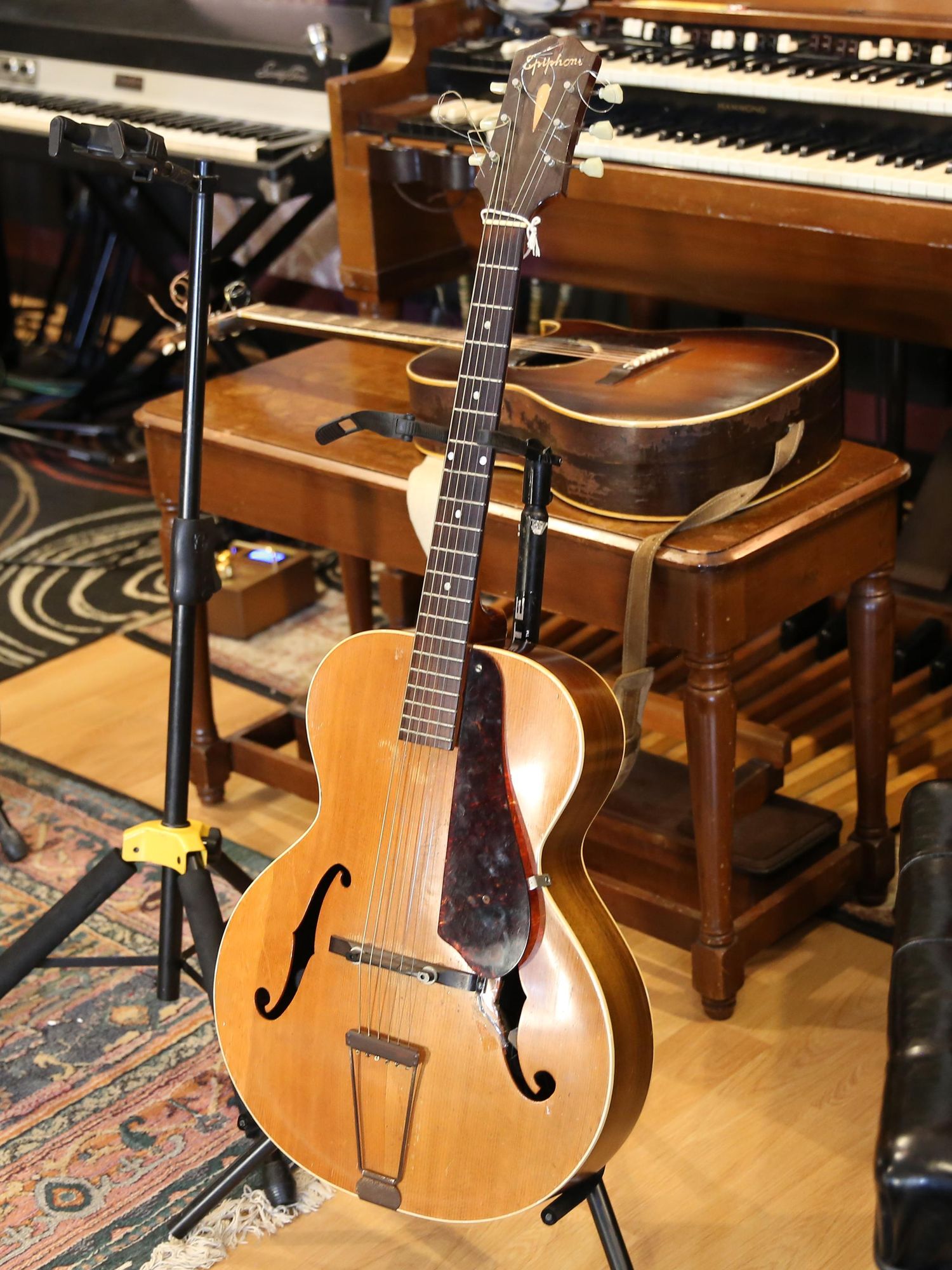 If you want to hear this 1950s Epiphone Zenith amplified, queue up "The Battle is Over" that's featured on Always Smilin'. He plugged straight into the board and captured on a 4-track tape recorder. Another mood of this archtop captured on the new solo album is on the jumpy, funky "Fine Line."
1937 Gibson L-00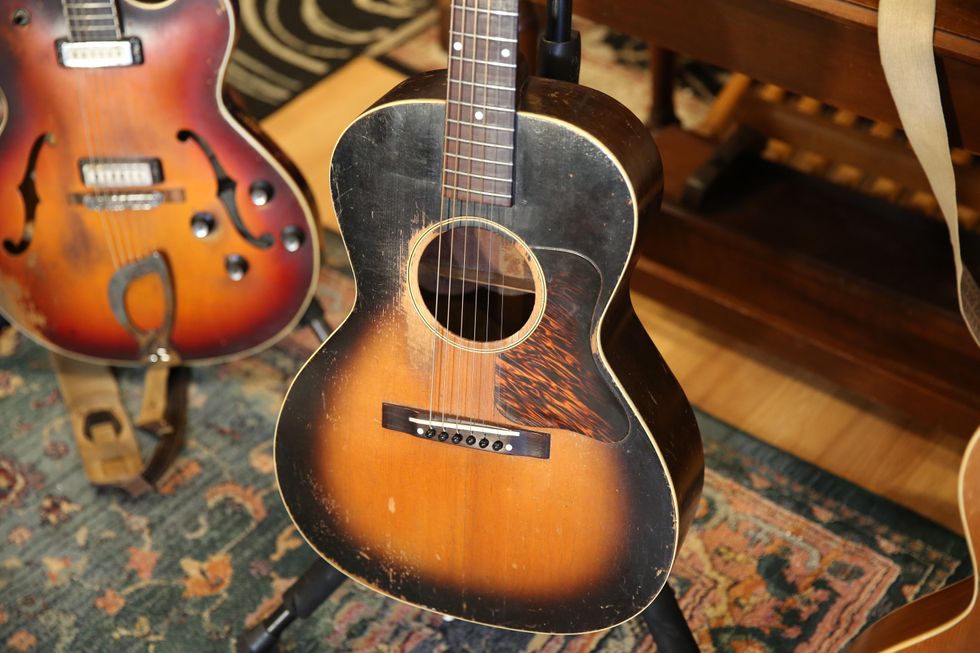 Above is Oliver's 1937 Gibson L-00—a close cousin to Robert Johnson's famed L-1. The treasured piece was a gift from another artist and touring mate that gave him the pre-war guitar because Wood wouldn't stop playing his 1930s acoustic.
1930s Stella & 1960s Epiphone Pathfinder
Talk about a peculiar pairing—here's a 1930s Stella he got for $200 in Augusta, Georgia, while the amp is a 1960s Epiphone Pathfinder.
He sent the Stella to Reuben Cox (Old Style Guitar Shop) in L.A. to overhaul the guitar. Cox updated it with sturdier bracing, a rubber bridge, retrofitted with a Teisco gold-foil pickup, and Wood plays it flatwound strings.
Oliver's Wooden Slide
Recently Oliver has been interested in less sustain, so he's been experimenting with this wooden slide his wife gave him. Wanna hear the wooden weirdness captured on tape, check out "Unbearable Heart" on Always Smilin'.
'50s Kay Model 703 and a mid-1960s Fender Champ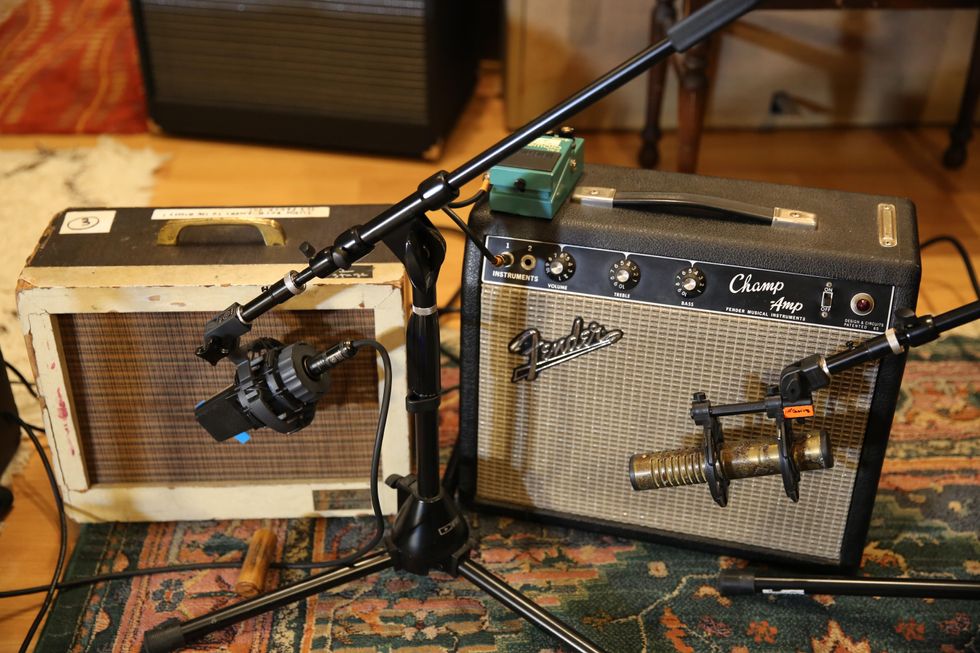 With King Johnson, Wood wrangled his Guild T-100D through a blaring Super Reverb. During the tenure of the Wood Brothers (and his solo stuff), he's slowly downsized currently landing on these two diminutive darlings—a '50s Kay Model 703 and a late-1960s Fender Champ.
Boss TR-2 Tremolo
Since his Champ doesn't have reverb or modulation, he always has this OG Boss TR-2 wobbling in the background.
Oliver Wood's Pedalboard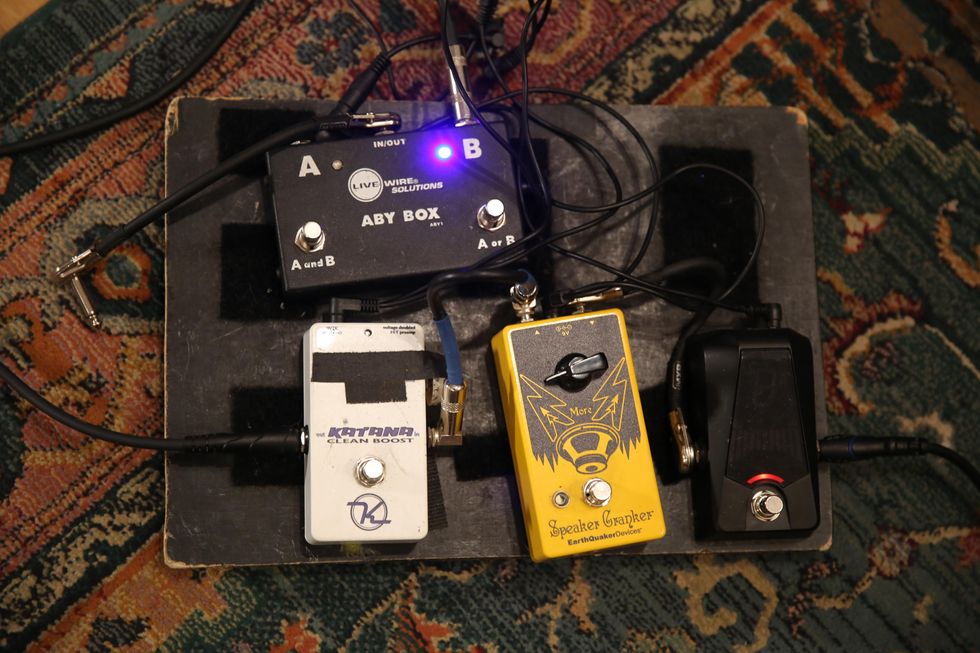 For extra oomph and grit, he'll kick on either the Keeley Katana Clean Boost or the EarthQuaker Devices Speaker Cranker. The Livewire Solutions ABY1 Guitar Footswitch controls the amps and the Korg Pitchblack tuner keeps his guitars in check.