Vintage Vault: 1965 Gibson J-160E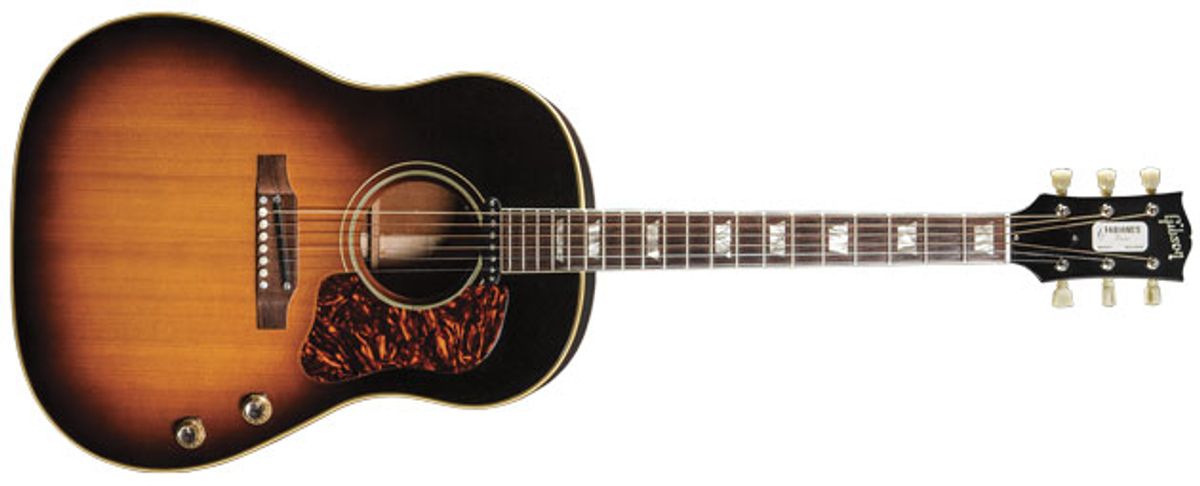 A classic acoustic-electric flattop with a rock 'n' roll pedigree.
Gibson introduced the J-160E in July 1954 as its second electrified flattop guitar. It had the look of a regular slope-shouldered Gibson, like a J-45 or Southern Jumbo, but was specifically engineered for optimum use as an electric. Unlike its predecessor, the small, cutaway solid-top CF100E, the J-160E had a 3-ply laminated spruce top with ladder bracing. This construction made the guitar more rigid and less prone to feedback when amplified.
John Lennon and George Harrison used their J-160Es extensively on many of the Beatles' hits.

The early catalog copy read: "Country and Western artists are particularly enthusiastic over this full size, Jumbo flattop electric guitar—the first instrument ofits type to be equipped with patented Gibson adjustable bridge, permitting lowering or raising string action."

Mounted underneath the top, the J-160E's P-90 pickup is relatively stealthy.
The guitar may have originally been intended for country musicians, but it is better known today for its association with the Beatles. John Lennon and George Harrison used their J-160Es extensively on many of the Beatles' hits. The guitar remained in production until 1978. It has been reissued off and on since the '90s.

Memories of a bygone era: Like car dealerships today, many '60s music stores adorned instruments
with their name and logo.
The 1965 J-160E pictured here has the typical features seen that year. These include a one-piece mahogany neck with a 20-fret bound-rosewood fretboard joining the body at the 15th fret, an unbound headstock with a pearl Gibson logo and crown inlay, double-ring nickel Kluson Deluxe tuners, a top-and-back-bound slope-shoulder mahogany body with a laminated spruce top (the body became square shouldered by the late '60s), a neck-position P-90 pickup with its coil located beneath the top, tone and volume controls, a side-mounted jack, and a top-belly bridge with an adjustable saddle. The 1962 catalog price was $219.50 plus $50 for a hardshell case. The current value for one in excellent all-original condition is $4,000.
Sources for this article include Gibson Electrics: The Classic Years by A.R. Duchossoir, Beatles Gear by Andy Babiuk, and Gibson's Fabulous Flat-Top Guitars by Eldon Whitford, David Vinopal, and Dan Erlewine.