Vintage Vault: Gibson Firebird I Inverness Green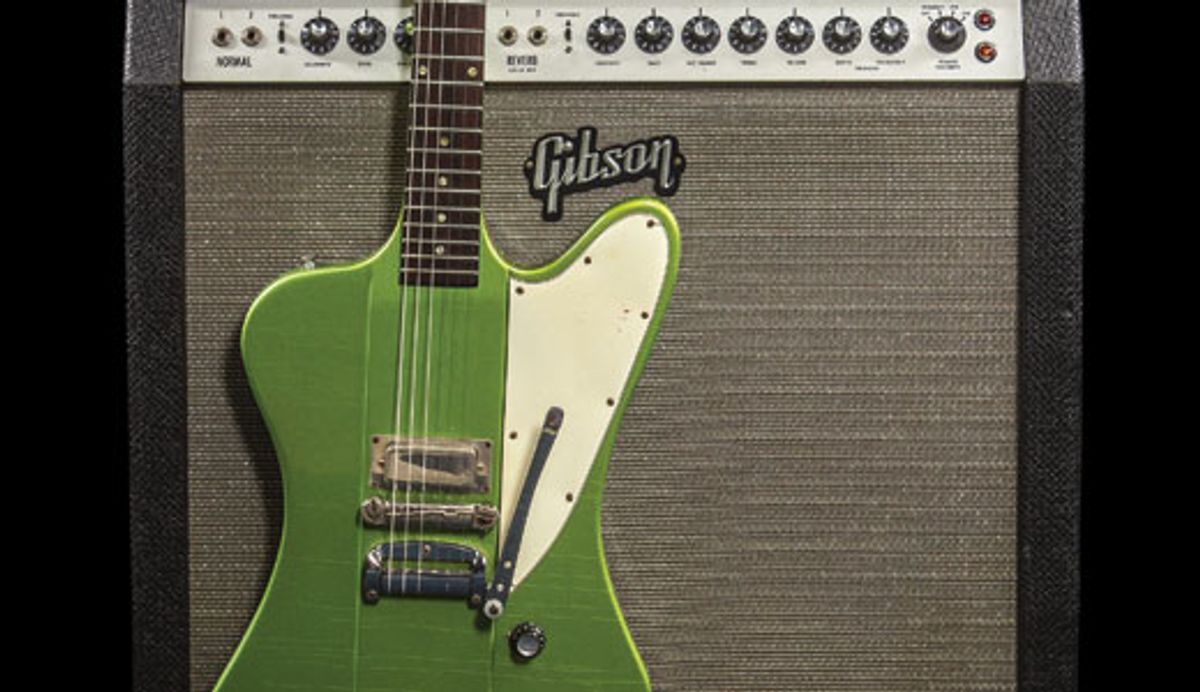 A rare custom-finished 'Bird from the Gibson space-age-design playbook.
In 1962, Gibson president Ted McCarty decided that a daring, innovative guitar was needed to compete with Fender's modern-looking Jazzmasters and Jaguars. For a fresh, all-new concept, McCarty sought aid outside the company and hired well-known automobile designer Ray Dietrich. Dietrich had recently retired to Kalamazoo, Michigan, after 50 years of designing for top companies like Lincoln, Packard, Ford, and Chrysler.
For a fresh, all-new concept, McCarty sought aid outside the company and hired well-known automobile designer Ray Dietrich.
Introduced in the spring of 1963, the new Firebird series consisted of four guitars (the Firebird I, Firebird III, Firebird V, and Firebird VII) and two basses (the Thunderbird II and Thunderbird IV). The Firebirds had a unique asymmetrical body shape, with two mahogany wings attached on either side of a long mahogany neck that ran all the way to the bottom strap button. Seth Lover's mini-humbucker pickups, designed in the late '50s, were utilized, rather than the typical full-sized humbuckers used on most Gibsons by this date. Another departure from Gibson convention was the use of six banjo-style tuners positioned in a row along the low side of the headstock—the opposite side of Fender's archetypal arrangement. The standard finish for these guitars was a dark tobacco sunburst, but you could also order 10 custom colors that imitated Fender's offerings, albeit with different names.

The now-rare Inverness Green finish was a custom color choice and cost an additional $15. Most early Firebirds had a
dark tobacco sunburst scheme.
The Firebirds were numbered according to price, with the smallest number selling for the lowest amount. The 1963 catalog described the Firebird I thusly: "The new solidbody by Gibson that is priced for the growing economy-minded market. Gives you all of the fine performance of this exciting new series of guitars at a price you can afford. You have to try it to believe it."

The six banjo-style tuners adorn the bottom of this 'Bird's headstock, rather than duplicate Fender's six-on-top look.
The Firebird I pictured this month, serial number 179868, has features common to the entry-level Firebirds made in 1964. These include a mini-humbucker in the bridge position, a 24 3/4" scale neck, an unbound rosewood fretboard with dot inlays, a compensated bar bridge, and a short vibrato device. The vibrato on this example, however, is different than the Maestro-style whammy often seen on Gibsons of the era, and is more like those used on Epiphones and some SG Specials. This guitar is finished in the rare Inverness Green. The original list price was $189.50 plus $15 for the custom Duco color. The current value for a guitar like this one in excellent all-original condition is $15,000.

This guitar's vibrato arm is an oddity among Gibsons of the era, which more often featured a Vibrola or Maestro whammy, or were retrofitted with Bigsbys by their owners.
Behind the Firebird is a 1965 Gibson GA-55 RVT Ranger. Its two 6L6 power tubes push 40 watts of power through four 10" speakers. The amp has two channels and is equipped with reverb and tremolo. The current value is $500.
Sources for this article include Gibson Electrics: The Classic Years by A.R. Duchossoir; Flying V, Explorer, Firebird: An Odd-Shaped History of Gibson's Weird Electric Guitars by Tony Bacon; Gibson Guitars: Ted McCarty's Golden Era, 1948-1966 by Gil Hembree; and Gibson Amplifiers: 1933-2008: 75 Years of the Gold Tone by Wallace Marx Jr.