1933 National Duolian Resonator Repair
A rare resonator with a broken headstock, cracked fingerboard and corroded steel body
National built the Duolian metal-body vintage resonator from 1930 to 1938. What makes this Duolian different from many others is its frosted Duco crinkle-type finish, in a very rare shade of grey to dark green. This feature makes the restoration that much more pleasurable. It'll be good to have this guitar fit for human hands to play again.


1933 Doulian Specs:
Steel Body with rolled-edge f-holes
Single convex 9.5" diameter cone
Wooden maple biscuit and saddle
Nickel-plated tailpiece
Ebonized maple fingerboard with no binding
Fingerboard radius 10", gradually flattening to 15"
Total of 19 frets, 12 frets clear of the body
Mahogany round "C" neck
Slotted peghead stamped NATIONAL DUOLIAN

Stamped on peghead top is:
C 666 0
MADE IN USA
PAT.1808756
OTHER PAT.PEND.

Diagnoses


Headstock
Clearly, the bass tuner side of the headstock needs to be repaired. This will be the second time. You can see it had previous epoxy slapped on everywhere, which is finally weakening and coming loose. I could tell by observing the gluing surface of both pieces that there was no pressure applied in the gluing process to help create a tighter, stronger glue joint. The glue was applied kind of like thick frosting on a cake.

Fingerboard
At the fingerboard extension there is a 9" crack with a 1/16" wide gap. This area has never had any previous repair done to it. It appears that one of three screws used to secure the fingerboard to the metal body, hiding under the upper last fingerboard dot, has caused or at least encouraged the fingerboard to crack.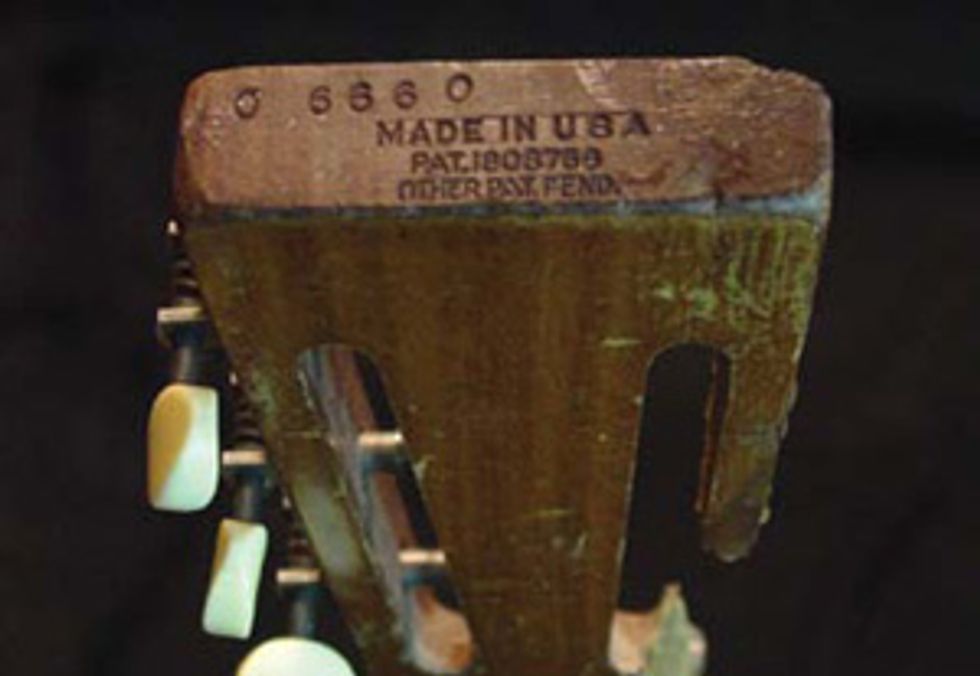 Body Corrosion
This instrument has been kept in a very moist atmosphere for some time, and the steel body will need some mild cleaning and conditioning. Care must be taken to avoid distorting the frosted Duco finish. The tools and materials used for this restoration are available from stewmac.com or a local hardware store:
#5391 Shop Stand and Guitar Repair Vise
#1816 Nut and Saddle Vise
#4167 Glue Brush
#4199 Mixing Cup
#5174 Slow Setting Clear Epoxy
#3721 Small Cam Clamps
Extra Strength Stripper
Dental pick/Dental scraper tools.

Headstock Rebuild
It was very important to remove all of the epoxy from the previous repair so that I could get a strong and proper fit, ensuring that the wood would not come apart again.
What seems to work best for removing weak epoxy is extra-strength stripper, which I normally use for removing finishes. I carefully apply the stripper with a glue brush until I can see it begin to react. I use my smaller flexible spatula with dental tools and gracefully shovel out the old unwanted glue, but without altering any of the wooden foundation, removing one layer at a time. As you see in the picture I'm securing the neck with my Shopstand and Guitar Repair Vise. The Nut and Saddle Vise works well for gripping and holding the smaller two pieces of wood while removing the old glue. Note: keep a small cup of water and a Q-tip near by, so that if the stripper goes in an area where you had not planned, a quick dab of water and wipe from the Q-tip on the surface will deactivate the stripper.
Now that all of the epoxy is removed we're ready to put the three pieces together and check the fit. Overall, the fit is looking good, considering that there are small to medium slivers of missing wood. We'll go back to address those later, after the first stage of gluing is completed.
We're now ready to dry assemble using clamps. It takes a few tries clamping up the side wall of the headstock to get all three separate pieces to sit right for the final fit. I really want to have this part down before mixing my glue, slow-setting clear epoxy. I'm using a variety of non-stick 4-1/2" plastic clamping cauls to tidy everything up.
We will be addressing final stages of the headstock rebuild, fingerboard crack and body corrosion in next month's "Restoring an Original."
---
John Brown
John Brown, of Brown's Guitar Factory, is the inventor of the Fretted/Less bass. He owns and operates a full guitar manufacturing and repair/restoration facility, which is staffed by a team of talented luthiers. He is also the designer of guitar making/repair tools and accessories that are used today by instrument builders throughout the world.
brownsguitarfactory.com

info@brownsguitarfactory.com