New Dream '65, Ruby '63, and Woodrow '55 pedals offer the sound of vintage tube amps with powerful mobile app control and customization.
Dream '65 Reverb Amplifier
The Dream '65 Reverb Amplifier pedal delivers the bold cleans, sweet breakup, and divine spring reverb and vibrato of the essential American tube amp used by artists and producers for 60 years. $399.00 USD.
Ruby '63 Top Boost Amplifier
The Ruby '63 Top Boost Amplifier pedal gives users the chimey cleans, complex overdrive, and classic vibrato of the quintessential British valve amp beloved by artists from Queen to Radiohead to U2. $399.00 USD.
Woodrow '55 Instrument Amplifier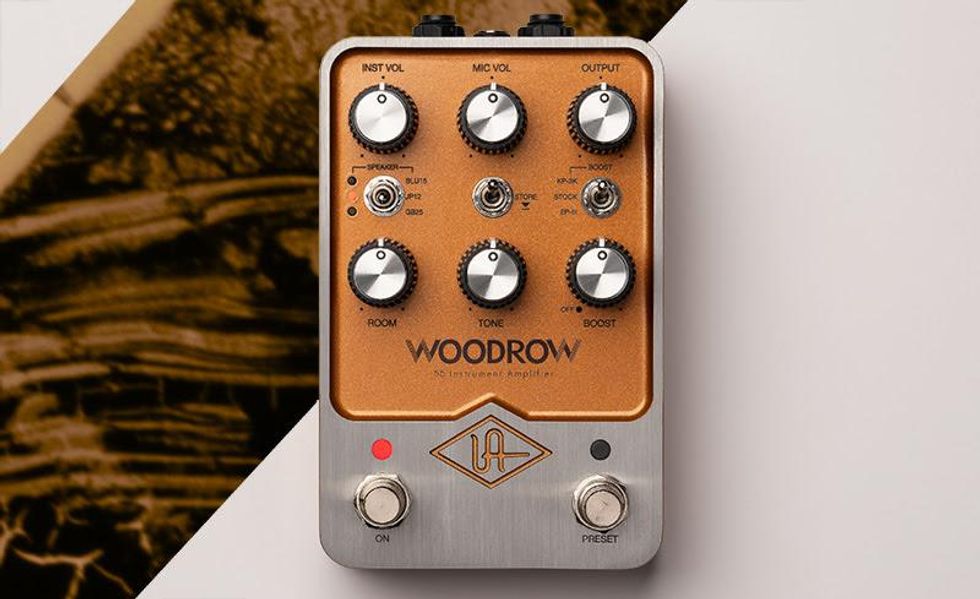 The Woodrow '55 Instrument Amplifier pedal gives users the sweet cleans and grungy distortion of the legendary tweed tube amp used by artists from The Eagles to Chuck Berry to Neil Young. $399.00 USD.
Features
Authentic emulations of iconic vintage American and British tube guitar amplifiers
Built on powerful UAFX dual-engine processing and world‑class UAD modeling
Includes speaker cabinet, mic, and room tones derived from award‑winning OX Amp Top Box
Classic speaker and cabinet combinations, custom boosts and circuit mods
Exclusive artist presets and pedal customization via UAFX Control mobile app (iPhone / Android)
Timeless UA design and craftsmanship, built to last decades
Daniel Rocco explains how the News of the World track deconstructed the rock-song formula, compares the opening to Jaws, and praises Brian May's wizardry.
A maze of modulation and reverberations leads down many colorful tone vortices.
Deep clanging reverb tones. Unexpected reverb/modulation combinations.
Steep learning curve for a superficially simple pedal.
4.5
4
4
4
A lot of cruel fates can befall a gig. But unless you're a complete pedal addict or live in high-gain-only realms, doing a gig with just a reverb- and tremolo-equipped amp is not one of them. Usually a nice splash of reverb makes the lamest tone pretty okay. Add a little tremolo on top and you have to work to not be at least a little funky, surfy, or spacy. You see, reverb and modulation go together like beans and rice. That truth, it seems, extends even to maximalist expressions of that formula—like the SolidGold FX Ether.
The Ether is tricky enough to bewilder if you're not careful. The three modulation modes—tremolo, harmonic tremolo, and vibrato—all feel, sound, and interact with the reverb differently. An economical but mildly complex control set definitely demands that you put in a little study. And few settings fit neatly into tidy categories like "vintage spring emulation" or "light hall." But what the Ether lacks in super-intuitive operation it makes up for in surprises and a fluid user experience that can drag a player in new directions.
Deep Thought
For guitarists accustomed to simple pedal reverbs, the Ether will take some work to master. There are just five knobs for tone (color), modulation depth and speed, reverb decay, and a wet/dry mix that functions as the level for both the reverb and modulation. A 2-way toggle switches between the three modulation modes or introduces a shimmer effect. What looks simple on the surface, however, belies great complexity among the available sounds. The modulation depth control alone, for instance, is full of tricks. It controls modulation waveform intensity but can also significantly re-cast the voice and response of the three modulation voices. In addition to intensity, depth also changes the shape of the modulation. On one side of noon the pedal generates sawtooth waves; on the other side, softer sine waves. Somewhat counterintuitively, waveform depth is most intense at clockwise and counterclockwise extremes and least intense closest to noon. Additionally, the noon position is a quasi-random waveform in vibrato mode, a square wave in tremolo mode, and a flutter triangle wave in harmonic triangle mode. So, while it's fun to twist knobs at random to see what you can conjure, getting some semblance of control over the sonic outcome takes paying close attention to how these variables relate to each other.
There are cool, subtle sounds in Ether, even if subtle isn't exactly a specialty.
The knobs are sensitive, too. This is great for fine-tuning settings when you have an intuitive, muscle-memory-based handle on how the controls work. But they can feel twitchy at first. Nowhere is this more apparent than in reverb decay and level. They each have considerable range. But the lowest level and decay settings primarily yield big reverb sounds. There are cool subtle sounds in the Ether, even if subtle isn't exactly a specialty. On the mellower side of the Ether's envelope, I dialed in a reasonable-enough facsimile of an old Fender black-panel spring reverb set to noon, as well as some really cool tile-like, fast-reflection sounds. But the differences between them on the level and decay controls were small and it can be hard to nail in-between sounds reliably. If you largely live your reverb life on the subdued side of splashy, you might want to look elsewhere.
The Ether's controls are expansive on the modulation side as well. But each modulation mode also moves through very different ranges of intensity. Vibrato modulation, for instance, sounds very intense at high depth settings in relatively dry mixes. Harmonic tremolo voices, however, need a much wetter signal to stand out prominently. Regular tremolo settings tend to require high effect levels (which means you need to mind your reverb decay settings as well). Again, these differences make practice key. But relinquishing control can be just as satisfying. The harmonic tremolo reverbs can span phasey washes and noirish throb. Standard tremolo, while not the most radical effect, provides fast-twitching or hypnotic icing to metallic hyper-springy surf-ish settings. Vibrato's reverb settings, meanwhile, can range from surreal, robotic modulations to sweet near-rotary sounds. Finding the points where these sounds intersect and mingle is a joy if you have the time to spare.
The Verdict
Apart from the Ether's lack of low-key, conventional reverb sounds and interactive, trickier-than-it-looks controls, it's hard to not fall under the device's spell. If you have time to kill, getting lost in the mega-expansive controls, many combinations of modulation textures, and fields of reverb-based overtones can create pure joy. If you're inclined toward option fatigue or dread getting lost in quirky controls onstage, there are simpler ways to get your reverb fix. But if it's big-to-bigger spaces you're after and the ability to render them distinct, mutant, and wild with washes of tremolo, vibrato, and phasey textures, the Ether is an almost endless amusement park of clanging, bouncing, ringing, and resplendent modulations.
Photo by Emanuela Bonetti
The Italian maestro talks about the spiritual inspiration he draws from his Basque roots, as well as channeling his endless guitar-tinkering passions into his latest musical project, Buñuel.
Italian guitarist and sonic adventurer Xabier Iriondo has an affinity for the Basque term, metak—which literally means, "pile"—and he often incorporates it into the names of his various projects. His custom-built experimental guitar is the Mahai Metak (or "table pile"). Some of his unconventional musical collaborations also include the term, as in PhonoMetak and PhonoMetak Labs. And Sound Metak was the name of the eclectic shop he ran for about a decade in the early 2000s, which sold everything from boutique guitar pedals to shoes. (Check out his Instagram profile, which, in addition to pictures of his amazing collection of guitars, pedals, and vintage amps, is also a showcase for his impeccable taste in footwear).
"I am half Basque," Iriondo says. "And these words—like "mahai" and "metak"—come from the Basque language. A metak is when you take the grass that you're cutting, and you make a mountain of this grass in the garden. In the past, you gave this metak to the cows." Another traditional Basque practice and type of metak involves shredding and drying corn stalks to use as fodder over the long, cold winter months. So, a metak is a pile of collected things that are preserved for an extended period. In Iriondo's view, this serves as an analogy for something deeper. "I love this idea, because you can put everything inside the metak," he says. "It's like a collection of your emotions. For example, with my shop, Sound Metak, I sold different kinds of things—from old gramophones and vinyl shellac records to fuzz pedals and jukeboxes and guitars and amplifiers—it was a lot of different things. Metak for me is an idea, and my instrument, the Mahai Metak, is the same thing. It's an energy from my fantasy, which is everything I can put out from my mind."
Buñuel is a noise-rock quartet named after the legendary Spanish filmmaker, Luis Buñuel. The band formed was formed in 2016 by (from left to right) bassist Andrea Lombardini, drummer Francesco Valente, American vocalist Eugene S. Robinson, and guitarist Xabier Iriondo.
Conceptually, metak also helps to explain Iriondo's musical diversity. Born in Milan, he started playing the guitar at 17, and became something of an Italian celebrity as part of the alternative band Afterhours, with whom he's been a member since 1992 (except for hiatus throughout most of the aughts). But Afterhours is about as mainstream as Xabier gets. He's also made incredible noise with myriad projects, like his recordings and performances with Can's Damo Suzuki (Damo Suzuki's Network), collaborations with the cream of Europe's avant-garde (?Alos, Pleiadees), numerous solo projects, and the list goes on and on.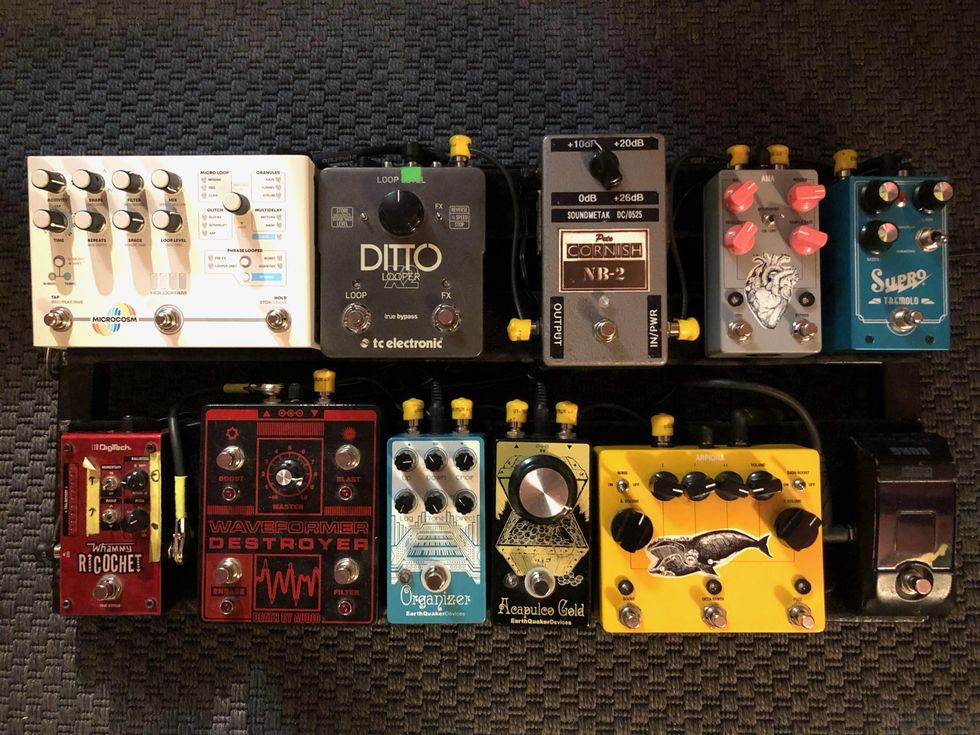 Xabier Iriondo's pedalboard: "When you're using some of these destruction pedals on the loud and heavy stuff, the guitar isn't so important. You destroy everything with these kinds of pedals."
His most recent outing is the abrasive, apocalyptic, noise-rock quartet Buñuel. Named after the legendary Spanish filmmaker Luis Buñuel, the band first came together in 2016 and mixes the talents of a trio of Italian musicians—Iriondo, bassist Andrea Lombardini, and drummer Francesco Valente—plus American vocalist Eugene S. Robinson. Their new release, Killers Like Us, is awash in fuzz and rages between brain-crushing, metal-tinged cuts like "A Prison of Measured Time" and "When God Used a Rope" to slow, doomy dirges like "Hornets" and "When We Talk," as well as moments of unstructured, free improvisation interspersed throughout the record.
BUNUEL - When God Used A Rope (official video)
"We are three Italian musicians," Iriondo says about Buñuel's genesis. "We were a little bit famous here in Italy, and we decided to choose an international singer. We wrote to Eugene Robinson, and he accepted our idea. For our first record, the three of us recorded 10 songs in a studio in Italy. We sent them to Eugene in San Francisco, he sang on them, and then sent the tracks back to us. We did that again for this record." Not only were the vocals recorded separate from the rest of the band, but Robinson didn't even get a chance to rehearse with them. The first time the band played together as a quartet was onstage in front of an audience. "We didn't rehearse with Eugene—we rehearsed ourselves—and we met with him the first day of the first gig. That's how it started."
Despite Iriondo's years of experience with group improvisation, that was not the approach he took with Buñuel. You'd think improv would be helpful when stepping onstage raw with an unrehearsed new singer. Rather, the band's vibe is through-composed songs that are played the same way—except for planned sections set aside for improvisation—night after night.
"When I want to take a solo, I adjust the Cornish directly with my foot. I open up the volume, and then I arrive in the cosmos."
"We play the songs like they are on the album," says Iriondo. "Although we do have some parts, or structures, that can change. For example, on our first tour, we wrote our 10 songs, and that's all we had. At the end of the show, the audience asked for more. I said, 'Okay, let's start with an improv,' and that improv we used on those gigs from the first tour became a song on the second album ["The Sanction" o 2018'sThe Easy Way Out]. We composed each day, each gig, and the song transformed and arrived at the end of the tour."
When recording Buñuel, Iriondo harnesses that live feel by taking a minimalist approach to overdubs. Aside from an odd guitar solo or two, the instruments are recorded live, with the band members standing together and looking at each other. "I also play pop rock with other bands, and overdubbing is okay for that kind of music, but the wildness of this project gains a lot when we're all playing together in the same room," he says.
For both of Buñuel's albums, including the new Killers Like Us, the three Italian core band members recorded the songs in Italy and sent them to vocalist Eugene Robinson in San Francisco. Robinson sang over the music and then sent the tracks back to Italy.
"In the past, in the '90s, I used the VHT head system that people talked about," he says about the now-rebranded Fryette Pittbull Ultra-Lead. "I bought the second one that arrived in Italy in 1994. But in the last 20-to-25 years, I started using theHiwatt DR103, and I think that's my sound. When I plugged in for the first time, I said, 'What the hell is this?' I can go from high-frequency, crystal-like sounds to really deep grunge sounds with a lot of low frequencies. In general, with Buñuel and also Afterhours, I use the Hiwatt, and then also another amp, a 300-watt SWR California Blonde, which is a transistor amp. I have the headroom also in the clean sounds, but when I engage all my fuzzes and boosters, the gain is incredible, and it's still in front of you all the time."
"I love this idea, because you can put everything inside the metak. It's like a collection of your emotions."
Iriondo's tone is wild, too. Considering how mangled, heavy, and distorted his sound gets, it's interesting how he crafts his tone almost exclusively with pedals, which he uses to drive his amps. He owns more than 20 heads and cabs, and his preference is classic British amps like Hiwatt, Orange, Carlsbro, and Simms Watt—he has a few of each in assorted colors—that have a lot of headroom. He feels those work best with his high-gain pedals.
Xabier Iriondo's Gear
Xabier Iriondo's custom-built "Mahai Metak" is a 10-string short-scale table guitar. Six of the strings are tuned to D in different octaves and act as drones. The other four are G, G, F, and A. It has pickups on both ends, plus an onboard oscillator and distortion unit, and controls for volume and tone. "I play it with Chinese sticks, and I create rhythms and special sounds with steel wool—that stuff you use in America to wash your dishes. It sounds great."
Photo courtesy of Xabier Iriondo
Guitars
Two custom Billy Boy Guitars made by Fabio Ghiribelli (a white model and a purple model used with Buñuel, with a TV Jones pickup in the neck position and a '52 Tele pickup in the bridge)

NukeTown Venusian IX Signature 9-string
Loic Le Page (Mahai Metak Guitar)
James Trussart Red Star Steelcaster
Amps
Hiwatt DR504 stack
Hiwatt DR103 head and 4x12 cab (1970)
Vox AC30TB (1992 reissue)
Orange OR120 head with 4x12 cab (1969)
Orange bass cabinet with 18" speaker (1970)
Simms Watts AP100 Mk2 (1972)
Marshall 1959 SLP Purple Limited Edition (1994)
300-watt SWR California Blonde
Effects
Hologram Microcosm Granular Looper

TC Electronic Ditto X2
Pete Cornish NB-2
AC Noises AMA (reverb w/ oscillator + bit crusher)
Supro Tremolo
DigiTech Whammy Ricochet
Death By Audio Waveformer Destroyer
EarthQuaker Devices Organizer
EarthQuaker Devices Acapulco Gold
AC Noises Arpiona Xabier Iriondo signature
Korg PB-03 Pitchblack
Strings & Picks
D'Addario .010–.052
Dunlop Tortex Purple 1 mm
Iriondo has a seemingly endless collection of pedals, too, although his go-to is his signature octave-synth-fuzz-boost Arpiona, made by Italian builders AC Noises. The pedal starts with a gated fuzz circuit inspired by Death By Audio's Harmonic Transformer, followed by a sub-octave bass synth, more fuzz, and a boost. He uses that in conjunction with an EarthQuaker Devices Acapulco Gold, and a Pete Cornish NB-2 boost that's always engaged. "When I want to take a solo," he says, "I adjust the Cornish directly with my foot. I open up the volume, and then I arrive in the cosmos."
Afterhours - Spreca una vita
Iriondo is also no purist. If an analog circuit will get him the sound he wants, great, but he's just as happy using a digital device. "I use everything that can give me satisfaction," he says. "Why not?"
Why not, indeed. He also gets that satisfaction from his guitars. "About 80 percent of my choice in guitars is the feel, and 20 percent is the sound," he says. "When you're using some of these destruction pedals on the loud and heavy stuff, the guitar isn'tso important. You destroy everything with these kinds of pedals. They completely destroy your clean sound. Although when I play pop-rock music, I change my guitars a lot."
Xabier Iriondo bought his James Trussart Red Star Steelcaster directly from the luthier at his L.A. home in 2012. It features a metal front and back perforation body, maple neck, rosewood fretboard, and two Arcane Inc. pickups.
Photo by Alberto Mori
But that feel is elusive, which may explain Iriondo's vast collection of instruments. He has vintage guitars he doesn't mod at all, but in general he's an itinerant tinkerer. He usually swaps out pickups, even on his less expensive guitars, and has a significant number of custom-built guitars as well. "I'm not only a collector, I'm a professional, which means guitars are my life," he says. "I want to have tools that work well with me. In the last few years, I've had the opportunity to have my dream guitars that I ask luthiers to build for me with my specific specifications. The principal guitar that I used on the Buñuel project is made by Billy Boy Guitars. It has an incredible tremolo, and it's a light guitar. All the sounds you hear on Buñuel are made with that guitar."
Perhaps Iriondo's most unique instrument is his custom-built Mahai Metak. It's a 10-string, short-scale table guitar. Six of the strings are tuned to D in different octaves and act as drones. The other four are G, G, F, and A. The instrument has pickups on both ends—near the bridge as well as near the nut—plus an onboard oscillator and distortion unit, and controls for volume and tone. He plays it with an assortment of items, including marbles, roach clips, and steel wool. "I play it with Chinese sticks," he says, "and I create rhythms and special sounds with steel wool—that stuff you use in America to wash your dishes. It sounds great. I use it with the loopers and reverbs and it creates these noisy and bizarre sounds, as well as melodic sounds that create a nice texture."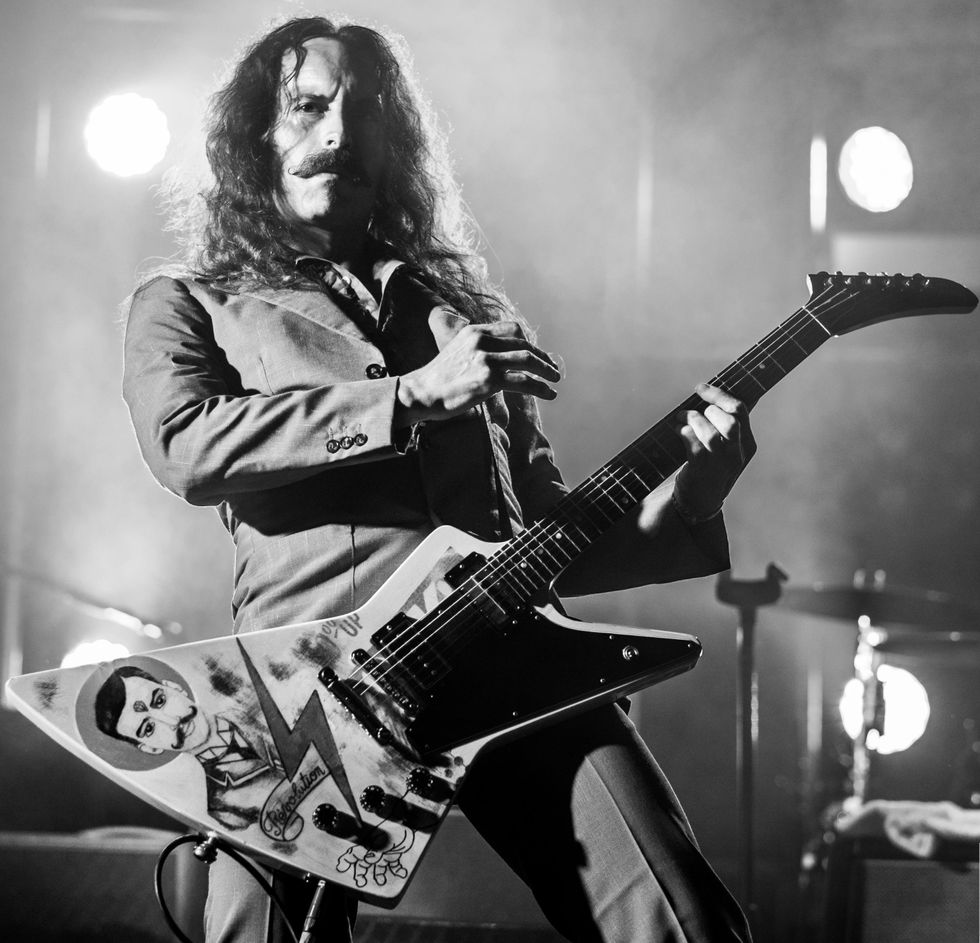 Iriondo's Gibson "Elettra" Explorer was handpainted by Valentina Chiappini
Photo by Matteo Pieroni
It's that openness and wonder, as exemplified by Iriondo's voracious appetite for gear, as well as his embrace of disparate genres and styles, that are the ingredients that make up his metak. Call it his esoteric pile of ideas, which gives him permission to explore the endless energies of his imagination. He'll conjure up sounds that are heavy and dark—or playful and light—and almost always fun, and, maybe, even a little mischievous.
And isn't that, ultimately, the ideal?
YouTube It