Photo by David McClister
Seeking a "hard reset," Derek Trucks and Susan Tedeschi lead their rambling roots-music collective though an ambitious new four-part opus that tells Layla's side of the story.
Sometimes the universe brings together timeless energies that seem destined to explode into a beautiful new creation. All they need is the right people to harness them and unlock their potential. In the case examined here, those energies included an ancient Persian love story, a legendary '70s rock album, the sometimes-painful realities of relationships, and a worldwide pandemic. The people are the wife-and-husband guitar duo of Susan Tedeschi and Derek Trucks, along with the 10 other members of their Tedeschi Trucks Band (TTB). The creation? A four-part multimedia masterwork titled I Am the Moon.
As their fans know, Tedeschi, who'd built her career on stinging Tele tones and one of the most soulful blues voices in modern music, and Trucks, an electric slide prodigy who first made waves as a solo artist before joining the Allman Brothers Band, met in 1999, fell in love, married, and started a family. In 2010, their careers united as well when they formed TTB with a rotating cast of equally exceptional musicians. Many tours, four studio albums, a Grammy, and eight Blues Music Awards later, TTB has become something more akin to a rambling roots-music collective than a band.
Tragedy struck the ensemble in February 2019, with the death of original band member and multi-instrumentalist Kofi Burbridge (brother of former TTB bassist Oteil Burbridge). The group was devastated. Then, while still dealing with the loss of their dear friend, Covid put a hard stop to the entire music industry. Something had to give.
Tedeschi Trucks Band - I Am The Moon: Episode I. Crescent
"After the loss of Kofi and Covid, we felt like we needed to hard reset to figure out where we were," Trucks observes. Away from the road, Tedeschi and Trucks poured their energy into the relationships that matter most—their own family.
"When the lockdown happened, our son was moving on to college," Tedeschi says. "There was a real sense of, 'This is our last real hang time with him.' It was really nice to be in a place with our kids where none of us could go anywhere, and we actually got to spend real quality time together."
According to Tedeschi, sending their son off into the world inspired one of I Am The Moon's songs, "La Di Da." But Covid and a difficult goodbye were only two of the energies coalescing into what would be TTB's most ambitious project.
Meanwhile, Mike Mattison, TTB vocalist and guitarist, was immersing himself in the seventh-century poem Layla and Majnun, credited to Persian poet Nizami Ganjavi, and the 1970 album it inspired, Derek and the Dominos' Layla and Other Assorted Love Songs. The band had already been examining the musical side of these works and had recorded a live rendition of the Layla album, with guest Trey Anastasio, at the 2019 Lockn' Festival. That performance was released as Layla Revisited Live at Lockn' in May 2021. The poem is considered the East's Romeo and Juliet. It follows two lovers through a timeless tale of passion, joy, separation, and death. Eric Clapton and Duane Allman's collaboration focused heavily on Manjun's side of the story. And Mattison wanted to give it a twist.
Initially, TTB's members began to work on the I Am the Moon album cycle apart during lockdown, but they amassed at Derek and Susan's home when it was time to record.
Photo by David McClister
"He had been kicking around this idea of taking the Layla concept and flipping it on its head—thinking about the story from Layla's perspective," Trucks says. "He reached out to everyone in the band with a suggestion that we all dig into the poem while we're at home, before we could really get together. The concept was to keep everyone tight."
With the members immersing themselves in Layla and Majnun, the creative juices quickly began flowing. But to capture the results, Tedeschi and Trucks would need to bring the entire band together. So, after a whirlwind of quarantining, vaccines, and negative test results, TTB's players moved in with Susan and Derek. "They came down and lived with us, the core of the band," say Trucks. "Once a few of the songs were written, that creativity started really inspiring everybody and sparking ideas. It had its own gravity at that point. I've never been a part of anything quite like it."
"It was nice having no rules and no time constraints and being able to let things flow and happen organically."—Susan Tedeschi
Many songs and arrangements were created in the moment, right on the studio floor. According to Trucks, that gave the recordings the energy of being onstage. "We track with the core of the band. It's two drums, bass, me and Sue, and keyboards. Sue's usually in a vocal booth, either with a guitar and a quiet amp in the room or an amp in another room. I'm set up in the same room as the drummers with a big tent around my amp. So, it felt a lot more like it feels onstage when we're exploring."

While many songs were brought in by individual band members, Tedeschi agrees that the relaxed, open environment was crucial to the songwriting process. "It was really cool to hear some of the things that the other musicians were coming up with," she says. "The boys would play the riff or something, like on 'All the Love,' and it was really fun to sing against. I was trying to take in everything that was going on in the moment, as well as the poem. So, as Derek was saying earlier, it was nice having no rules and no time constraints and being able to let things flow and happen organically."
Derek Trucks' Gear
Trucks' primary instrument for I Am the Moon was the fourth prototype for the Gibson Custom Shop's Dickey Betts SG VOS.
Photo by David McClister
Guitars
Gibson Custom Shop Dickey Betts SG VOS prototype No. 4
1965 Gibson ES-335
1960s Supro tuxedo finish
Vintage National resonator
Vintage Gibson Roy Smeck acoustic
1930s Gibson L-00 with DeArmond pickup
Various vintage Martin acoustics
Amps
Early '60s Fender Deluxe
1950s tweed Fender Deluxe
Effects
Leslie cabinet
Vintage Echoplex
Strings & Slide
DR Customs
Coricidin bottle slide
That freedom also applies to Trucks' solos. "They're all improv, mostly," he says. "The solos are live on the floor because they're what's leading the track at that moment. Some of the solos you definitely think about more than others, but a lot of them, they happen naturally. That seems to be the best way."
Though Trucks' thick tone and inimitable slide work are all over nearly every song, Tedeschi's rhythm playing drives the whole project. And when the two cut heads, as on "Playing With My Emotions," it's pure blues-rock magic. "'Playing With My Emotions' was actually in the moment," Tedeschi remembers. "Derek looks over at me and is like, 'Play!' I'm like, 'Oh, okay.'" [laughs]
"I haven't used any Echoplexes or Leslies and things like that on our stuff. One of these days, I'll get into it."—Susan Tedeschi
"It's fun when, thematically, that makes sense," Trucks says. "But it wasn't written or scripted when we went to that. Me and Sue, we play the dueling-guitar stuff live. An old friend, Colonel Bruce Hampton, would call them guitarguments." [laughs]
"Playing With My Emotions" perfectly illustrates both players' approach to tone. Trucks is all about his signature, driven slide sound, which is perfectly offset by Tedeschi's cleaner-yet-still-biting Tele.
Susan Tedeschi's Gear
Tedeschi played her 1970 Fender Stratocaster for the sessions. TTB fans regularly see this guitar, as well as her longtime favorite, a '90s Telecaster, in concert.
Photo by David McClister
Guitars
1990s Fender Telecaster
Late 2000s Gretsch White Falcon
1970 Fender Stratocaster
Strings & Picks
Amps
1964 Fender Deluxe Reverb
Effects
1968 Vox Clyde McCoy wah (gift from Jorma Kaukonen)
"I was using my Tele through my '64 Deluxe [Reverb]," she says. "Whatever came out in that moment is what you got. I had every intention to go back in later and re-do it, but it never happened."
If you've seen Tedeschi onstage, you've probably seen that Telecaster. It's also featured on the cover of her breakout solo album, Just Won't Burn. But, as Trucks remembers, the Tele wasn't her only go-to for these sessions. She also played her 1970 Fender Strat, and a Gretsch White Falcon on "Circles 'Round the Sun."
Trucks employed a wider range of instruments to cover the music's acoustic, resonator, and electric tones. "I think on 'Fall In,' I'm using a National that we ended up running through an old Supro amp," Trucks says. "And I have this old Supro [a 1960s tuxedo model] guitar that I use as well. We used a lot of different acoustic guitars. I have a 1930s Gibson L-00 that has an old DeArmond pickup, like Elmore James, that I used a few times. I think on 'Emmaline' I was playing that. I have an old Gibson Roy Smeck. And there are a few old Martins that we use." In the studio, Derek goes for early-1960s Fender Deluxes.
"Me and Sue, we play the dueling guitar stuff live. An old friend, Colonel Bruce Hampton, would call them guitarguments."—Derek Trucks
Although they use similar amps, Tedeschi and Trucks take wildly different approaches to their sounds. "I haven't really done a ton of experimenting yet," said Tedeschi. "I haven't used any Echoplexes or Leslies and things like that on our stuff. Those are all really fun, but for the most part, on this record, I'm playing vibrato or a wah. One of these days, I'll get into it. I don't know why I haven't. I do enjoy doing that."
While sticking to tones with plenty of vintage vibe, Trucks explores a bit more. His only rule is it has to sound great in the track. "A lot of times, me and Bobby T [longtime TTB recording engineer and road manager Bobby Tis] would experiment," he says. "I would always have a second amplifier upstairs being recorded for some extra room sound. A lot of times, we would put a vintage Echoplex on it for a little bit of smudge. I would use that old Supro sometimes with that setup. I would plug into the Leslie quite a bit, too, for certain overdubs or a song like 'Circles 'Round the Sun.' It think that song is my guitar going through my Deluxe and an actual Leslie, which is a pretty great sound. Then there's one or two songs where I took the solo on a tweed Deluxe. But it's funny. You can get a sound on the floor that sounds incredible, and then you take a solo and you realize it's either too little of something or too much of something."
Rig Rundown - Tedeschi Trucks Band
Trucks' standout moment comes early in the four-album collection as he guides the band through the only instrumental, I Am the Moon: I. Crescent's closing track, "Pasaquan." Clocking in at over 12 minutes, the song is part Allman-style jam, part Middle Eastern melodicism, and part Floydian expanse. With a song like that, Trucks knew the band had to nail it. It had to sound electrifying.
"I didn't want to play it more than once or twice in a row, ever," says Trucks. "I wanted to make sure that, when we did capture it, it would be spontaneous. We really took wildly different approaches each time we played it." Trucks also took an uncharacteristic approach to both his gear and technique on "Pasaquan."
"I used a 1965 335 on it and tuned down to D. I realized there was no other way to get that sound. It's made for that tune. And it's all fingers. Over years of being onstage with the Allman Brothers, you'd have to improvise quite a bit in different ways, so you get your chops up for that."
About the chapters of I Am the Moon—I. Crescent, II. Ascension, III. The Fall, IV. Farewell—Trucks says, "We had this episodic concept pretty early on, and we had the album titles pretty early on. We were listening to a lot of vinyl, and I started realizing that all of our favorite records were cut for vinyl, which is 35 or 40 minutes. We knew we had the right amount of material for that, and it worked."
"We track with the core of the band. It's two drums, bass, me and Sue, and keyboards."—Derek Trucks
All four episodes were released a month apart to let listeners absorb each album of the saga to its fullest. But together, a beautiful story of love, distance, creation, and saying goodbye unfolds. This approach to releasing the albums paid off, and fans embraced the music faster than any previous TTB title.
"When we did the first show of this summer tour, I think we played two of our old original tunes, and then we did the whole Crescent record, start to finish," Trucks says. "We were a little bit shocked at how well it went. Usually, when you break out new material, there's a little bit of air that goes out of the room. This time around, it seemed like people connected with it pretty early on. Even when we'd get done playing the new stuff and go back to some of our older stuff, it didn't have the same weight."
It's not hard to understand why so many people connect with I Am the Moon. It deals with the universal experiences of human relationships—creating what Tedeschi sees as a timeless, cross-cultural connection.

"The poem was interesting, because you have a lot of different correlations with family and how everybody's affected by each other," she says. "Here, Layla is in a situation where she's in love, and she has to be able to let go of it. She has to be able to say goodbye even though she doesn't want to. I thought it had a parallel to being able to let go and say goodbye to my son. It was the perfect story and the perfect concept for that time."
YouTube It
MG-400 houses 2 powerful DSP chips for high-definition White-Box Amp Modeling algorithm (TS/AC-HD) and Core-Image post-effects.
The Nu-X MG-400 is a value-packed modeler akin to his little brother, the MG-300. MG-400 houses 2 powerful DSP chips for high-definition White-Box Amp Modeling algorithm (TS/AC-HD) and Core-Image post-effects. Since releasing the MG-300, people have been blown away by the sound and playability, not to mention the ease-of-use tone tweaking and intuitive interface. And now, the MG-400builds upon the MG-300 feature set moveable signal blocks, extra 12 IR COLLECTION slots, flexible P.L block with MIN & MAX parameter setup, send/return fx loop, abundant SYSTEM MENU, and physical master volume knob, MG-400 is now the best value modeler for the money.
The white-box algorithm offers realistic playability and analog-chaos response. The concept of "Chaos makes the muse" perfectly applies to the analog circuit. When you tweak the knob, it affects itself as well as other parameters. For a linear digital system, the parameter is independent. The white-box algorithm offers real-time feedback, increment-by-increment. Nu-X TS/AC-HD replicates the same playability most guitarists crave in a real tube amplifier.
​MG-400 offers 512 samples of IR, you can also load 3rd party IR files through the editor software. The included 25 guitar cab IRs combine 4 classic microphones with 3 mic positions to allow beginners an easy way to jump into the multi-effects experience. Also included are 8 bass cab IRs and 3 acoustic guitar IRs, giving you the ability to play bass on MG-400 or use an electric guitar to simulate acoustic guitar sound.
NUX MG-400 highlights include:
​2.8" 320*240 color LCD with intuitive UI.
NG, CMP, EFX, AMP, IR, EQ, MOD, DLY, RVB, P.L | 10 independent moveable signal blocks.
White-box Amp Modeling & Pre-efx algorithm.
512 samples IR resolution and USER slot with each patch. (additional 12 IR COLLECTION slots).
Input trim under SYSTEM MENU.
Scene and Jam functionality.
5 output modes with global 3-band EQ for quick tone tweaking.
USB recording interface, firmware update, QuickTone™ edit software.
NUX MG 400: how it compares vs the MG 300 and the MG 30
Nu-X MG-400 carries a street price of $219.
For more information, please visit nuxefx.com.
Music Nomad introduces a patent pending Grip One, alongside the Humitar One, an all-in-one humidifier and hygrometer.
No feature is overlooked, starting with the precision bearing design they invented in 2016 that makes turning the handle effortless, silent & super fast. The innovative rubber-lined head smoothly & silently slips over your tuning pegs for a scratch-free & clank-free operation compared to traditional plastic peg winders. The contoured head design fits virtually all tuning pegs both big & small, & its narrow profile keeps you from hitting close-fitted pegs on electric guitars. The ergonomic & non-slip rubber grip handle gives you total control & comfort. Cutting strings is a cinch! Whether big or small, use the high-quality carbon steel String Cutter to effortlessly cut through all string types. Ready to pull pins? The Bridge PinPuller's innovative universal design allows you to pull acoustic guitar bridge pins easily. Simply slide under the pin & pull straight up. Grip One is perfect for electric & acoustic guitar, bass, banjo, mandolin, ukulele & orchestral strings. Don't lose it or loan it, you'll look forward to the next time you change your strings.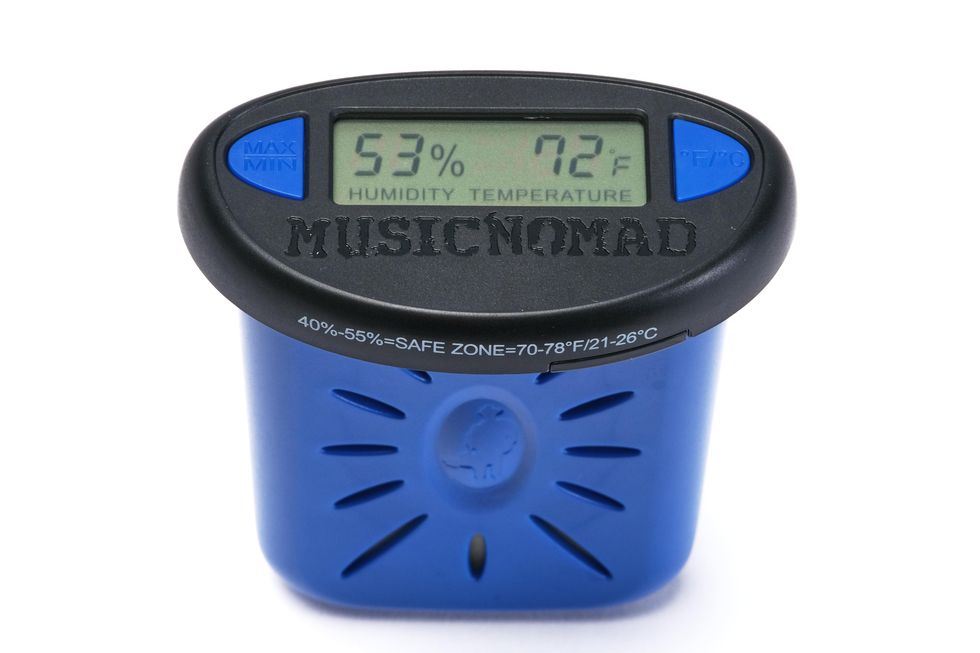 MusicNomad has developed an easy-to-use, no mess, low maintenance guitar humidifier and a humidity and temperature monitor that is simple, accurate, and reliable. The Humitar One safely releases moisture evenly to eliminate potential problems such as warping, shrinking and, worse yet, cracking. The Humid-i-Bar reusable sponge holds a lot more water than the competition. This means less monitoring on your end while, resting assured, your fine guitar is cared for.
To ensure your guitar is in the safe zone, the Humitar One accurate sensor monitors your string instrument's environment every 20 seconds and gives you the humidity and temperature readings on its LCD display. It also gives you the maximum and minimum range over the period you are measuring and can be reset at any time. The Humitar One comes with many cool features such as a reminder of the humidity and temperature safe zone at which you want to keep your string instrument, a long-lasting AG 13 battery, and Fahrenheit or Celsius readings.
Grip One: Available October 24, 2022 - Suggested Retail $16.99 - $19.99 USD
Humitar One: Available October 24, 2022 - Suggested Retail $29.99 - $34.99 USD
For more information, please visit musicnomadcare.com.
Using high-speed signal processing with a dedicated DSP and analog & digital audio circuits we perfected over time, this compact unit attains high sound quality.
A compact, but epoch-making digital delay with multiple filter functions. Using high-speed signal processing with a dedicated DSP and analog & digital audio circuits we perfected over time, this compact unit attains high sound quality. This unit's tone filter can process the delay sound to have a rich tone or conversely adjust it to be far from the original sound. The proprietary COSMIC filter creates an effect sound reminiscent of outer space, adding a new color to your delay sounds. Utilizing a new method, the newly developed reverse delay succeeds in producing a smoother, more musical reverse sound. In addition, we added a new function to adjust the number of output bits of the delay sound in 1-bit units, from smooth and high-quality 24-bit to rough 8-bit sound that contains distorted noise when the volume is lowered. You can reproduce the nuances of the delay sound used in the 1980s and 90s, and even the delay sound with the bit crusher effect applied.
Features
​*Built-in multiple filter effects including equalizer function. It is possible to apply multiple filters at the same time (Cosmic Filter, Bandpass Filter, 3-Band EQ, Tone).
Equipped with a newly developed reverse delay and output bit number adjustment function(8–24 bits).
Combination of high-speed arithmetic processing with 32-bit fixed-point arithmetic and high-precision arithmetic processing with 32-bit floating-point arithmetic achieves both high-quality sound and high processing speed and provides the best performance.
COSMIC WAVE carries a suggested retail price of $318.18, and is available now through their North American dealers. For more information, please visit freethetone.com.