Acoustic Image Introduces Clarus SL and SL-R Models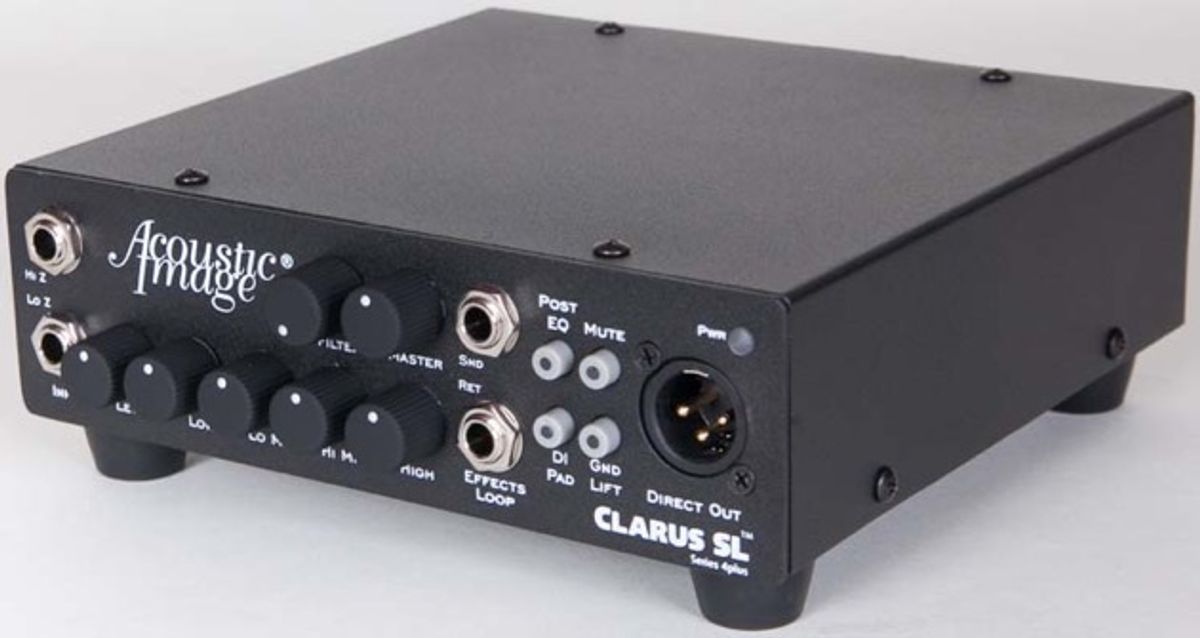 These single-channel amp heads feature 600 watts of power into just 4 ohms.
Research Triangle Park, NC (July 13, 2015) -- Acoustic Image today announced that, in response to customer demand, it is reintroducing new and improved Series 4plus versions of its ultra-portable Clarus SL and Clarus SL-R model single-channel amp heads incorporating AI's industry-leading Flex pre-amp technology as well as more features and a full 600 watts of power into 4 ohms.
Designed, like all Acoustic Image products, to amplify any instrument, the full-range Clarus SL-R (with high quality reverb) and Clarus SL (no reverb) share the same tiny format as their predecessors (approximately 2X7X7 inches). At just over 2 1/2 lbs., each sets a new standard for portability, power and transparency.
"Players have been telling us for years that there is a need for a small, powerful, one-channel, high fidelity head for gigging anywhere, but particularly on the road," said Dr. Rick Jones, Acoustic Image Founder and Chief Designer. "The Clarus SL-R and Clarus SL—incorporating our widely-praised, proprietary Flex preamp technology—are a direct response to that need."
Street prices are $549 for the Clarus SL and $649 for the Clarus SL-R.

Clarus SL-R
Features and specifications for the two models:
System
Frequency Response
30 Hz - 20 kHz, ±3 dB
Signal to Noise Ratio
>110 dB at direct out
AC Power
100V to 240V, 50/60 Hz, automatically switched
Size
2.1" H x 7.2" W x 7.4" D
Weight
2 lbs, 10 oz
Preamp
Instrument Input
1 Mohm or 10 Mohm, 1/4 inch jack
Direct Out
+4 dB, balanced, XLR connector, ground lift,
pre/post EQ selector, 10 dB pad
Effects Loop
Parallel type
Low Control
Shelving type, ±12 dB at 30 Hz
Low Mid Control
±12 dB at 250 Hz
High Mid Control
±12 dB at 1200 Hz
High Control
Shelving type, ±15 dB at 10 kHz
Low Cut Filter
-12 dB/oct sweepable from 30 to 180 Hz
Effects (SL-R only)
Type
24 bit digital with 3 programs
Programs
Reverb with variable decay time,
Delay/Reverb with variable delay time
Delay with variable delay time
All have variable wet/dry mix
Power Amp
Topology
Class D (PWM)
Switching Frequency
500 kHz
Output Power 8ohm
300W rms continuous
350W rms music (40% duty cycle)
500W peak transient
Output Power 4ohm
500W rms continuous
650W rms music (40% duty cycle)
1000W peak transient
External Speaker Out
Speakon type (pole 1), 2ohm min load
Supplied Accessories: Gig bag, Speakon to 1/4 inch adapter
For more information:
Acoustic Image