Photo by Brian Higbee
With her new record Proof of Life, the alt-folk guitarist and singer-songwriter wrestles with mortality and change, and emerges triumphant and hopeful.
"It's nice here," Joy Oladokun says through the phone. "The mountains are beautiful." The 31-year-old Nashville-based guitarist and singer-songwriter is taking a moment to breathe and clear her head in Asheville, North Carolina, while on tour with her friend Noah Kahan. Touring is fun, especially with pals, but it's also tiring and stressful. Oladokun is doing her best to stay balanced since the release of her fourth LP, the lush, hopeful Proof of Life. The record indulges the best bits of pop, R&B, indie rock, and folk, all sewn together with Oladokun's defiant optimism and vulnerable, late-night-diary-entry songwriting.
Proof of Life, too, is a balancing act, swaying expertly between subdued acoustic ballads, plush, swooning electronics, and heady electric guitar churns. It's clear about the state of the world: "Newspaper says the world's on fire / People yelling and the water's rising," Oladokun sings in cool harmony over calming acoustics on track two, "Changes," before submitting at the chorus' end, "I'm trying to keep up with the changes." But opener "Keeping The Light On" is a breezy, textured mission statement to always make one's way back out of the darkness. The third track, "Taking Things For Granted," is a humming, light-footed indie-rock jam that recounts Oladokun's lonely 8th birthday, when no one from school came to her party. It's a real-life, heartbreaking memory, relayed over a beachy-road-trip arrangement. These are the huge, existential places Oladokun takes us with her voice and her guitar just in that trio of opening songs.
"This record is as autobiographical as anything I've ever made," says Oladokun. "It's actually me this time, it's not a bunch of songs about ideas. Are people gonna like me?"
Joy Oladokun - "We're All Gonna Die"
Oladokun admits it's frightening to be this vulnerable, especially when, at this stage in her career, she has voices around her telling her how she ought to create her art. But the specificity is paying off. On tour, people are expressing how meaningfully her songs capture and validate even their own experiences. "That's the ultimate goal for me," Oladokun says.
Oladokun's artistic path has taken her across North America, on stages with John Mayer and My Morning Jacket, but the road can be traced back to one turning point when she was growing up in Casa Grande, Arizona. She was only allowed to watch TV on weekends, when her father would go to Blockbuster to rent a video. When Oladokun was 10, he screened a DVD of Nelson Mandela's 70th birthday celebration at Wembley Stadium, and at a point during the festivities, Tracy Chapman walked onstage and performed "Fast Car," with just her and her guitar in front of tens of thousands of people.
"It's actually me this time, it's not a bunch of songs about ideas. Are people gonna like me?"
To this day, the performance is arresting and gut-turning in the best ways, crackling with tension and desperation. It was the first time Oladokun remembers seeing a Black queer woman on television, and not only that, but Chapman was alone, vulnerable, and changing entire worlds with her song. "I had a feeling that I belonged / I had a feeling I could be someone," Chapman belts in the chorus. For many listeners, it was simply a great pop song. For Oladokun, it was liberating.
That clip was "the gateway drug" for Oladokun, who begged her parents for a guitar that Christmas. They bought her an acoustic, and she went from a socially anxious kid who didn't show interest in much to a committed guitar student. In small-town Arizona, guitar was one of the few things that lit Oladokun's candle. "They couldn't get me to do my homework to save their lives," she says. "But I would sit in my room and play guitar for four or five hours every night."
Joy Oladokun's Gear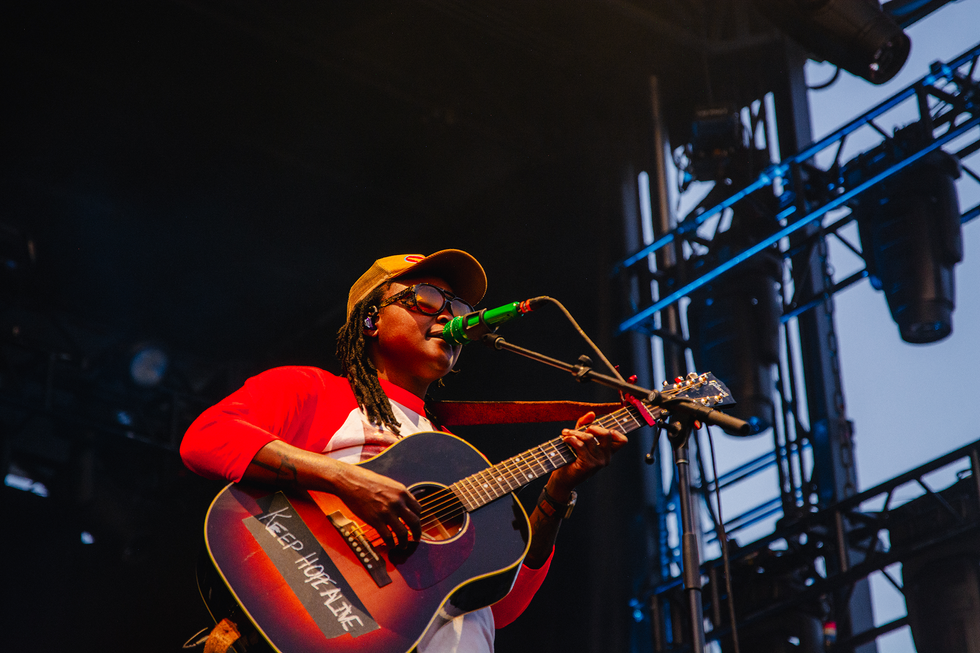 For her new record, Joy Oladokun took a more autobiographical approach to lyricism, crafting songs that share different intimate, personal portraits of her life.
Photo by Lauren Schorr
Guitars
Nash T72TL
Gibson J-45
'60s Gibson B-25
Amps
Kemper Profiler Stage
Swart Stereo Master 20
Effects

Jam Pedals Wahcko
Mesa/Boogie Grid Slammer
JAM Pedals RetroVibe
Chase Bliss Audio Automatone CXM 1978
Gamechanger Audio Third Man Records Plasma Coil
Strings

D'Addario NYXL (.009–.046)
First up, she learned the riff to Bob Marley's "Redemption Song," and stretched her fingers so she could play power chords more clearly. Her parents' great music tastes nudged her toward Nigerian guitarists like King Sunny Adé, whose music imparted deep appreciations for rhythm and syncopation alongside technical skill. Simon and Garfunkel, Willie Nelson, Johnny Cash, Nina Simone, and even Genesis were played around the house, but perhaps the most significant influence came from the church, and the gospel music Oladokun heard and sang there.
"I grew up listening to a lot of music that was purpose-driven," she says. "Everything that I listened to and my parents listened to, they were talking about the world and revolutions and stuff."
"They couldn't get me to do my homework to save their lives. But I would sit in my room and play guitar for four or five hours every night."
Oladokun self-released her first EP in 2015, followed the next year by a full-length. Her 2020 followup, in defense of my own happiness (the beginnings), yielded syncs on This Is Us, Grey's Anatomy, and The L Word: Generation Q, all of which laid the groundwork for her to sign with Amigo Records and Verve Forecast Records for her 2021 breakout in defense of my own happiness. The record, which featured a co-write and appearance by pop country titan Maren Morris, expressed itself in broad, universal terms, dissecting anti-Black violence, religion, and being queer in America. She's said that she wrote the album's closer, "jordan," the day she decided to come out herself. In December 2022, she performed the song on the lawn of the White House as part of a celebration of the signing of the Respect for Marriage Act, which requires that all states recognize same-sex marriages.
Before the performance, she had a moment where she booted everyone from her dressing room, and just looked at herself in the mirror—a practice her therapist encouraged. "When I was a young Black queer kid in Arizona, I don't know that I could've imagined a world where I would be invited to perform on the White House lawn to celebrate same-sex marriage. It was really emotional and powerful. I tried to embrace as much of the significance of the day as I could because I also know that things like that are a lifeline for queer people around the world."
Joy Oladokun's music weaves between alt-folk, indie-rock, and pop, and on her fourth full-length, she invited friends like Chris Stapleton and Manchester Orchestra's Andy Hull to fill out the sound.
Oladokun came up with the title for Proof of Life one day when she was sitting in her studio, looking at all the instruments and knickknacks lining the room. "I started morbidly thinking about what would happen to them after I die," she chuckles lightly.
"For me, 'proof of life' was like a way of saying, 'What is singular about my existence right now, and what connects me to the rest of this planet?'" Oladokun continues. The songs on Proof of Life became vehicles to explore those threads, "and doing it in a way that 100 years from now, if someone found my album, they would have a pretty good understanding of who I was, what I had been through, and what I believed about life."
Oladokun says she conceptualized the bulk of the record's 13 songs in her attic studio at home, then enlisted Mike Elizondo and Ian Fitchuk to produce some of them. But Oladokun produced a good chunk herself, renting Electric Lady Studios and inviting her friends to contribute. Across the record, guest spots from Chris Stapleton, Manchester Orchestra's Andy Hull, and Mt. Joy add extra color and dimensions. Oladokun says it was an exercise in learning to contribute and how musicians can lift one another up.
"When I was a young Black queer kid in Arizona, I don't know that I could've imagined a world where I would be invited to perform on the White House lawn to celebrate same-sex marriage."
Right through to its close, Proof of Life ripples with big-picture tension and energy, but they're perhaps the most pronounced and direct on "We're All Gonna Die," which opens with howling violins before switching gears to a macabre, anthemic indie pop rock banger. "We're over our heads so I'll say it out loud / We're all gonna die trying to figure it out," Oladokun calls on the chorus. Her pal Kahan takes the mic on the second verse: "I'm pissin' in the dark and hopin' I hit the bowl / I'm afraid of what I can't control," he groans.
Making the record and performing the tracks live has pulled Oladokun into a more open dynamic conversation with her guitars. Sure, she can do the tender, Chapman-style singer-songwriter routine as well as any of them. But on tour recently, she and her band have been ripping "Smells Like Teen Spirit" right after the heavy racial reckoning of "I See America." By the time the solo in "Teen Spirit" comes, it feels like an explosion of emotion. "It's like this expression of all the sadness and frustration that those songs represent to me," says Oladokun. "I'm gonna get on the acoustic guitar and give you a clean version of 'Keeping The Light On,' but I'm also gonna take the solos at the end of 'We're All Gonna Die.' To me, [performing both styles] gets the message across in a different way than if I delegated [those parts] to someone else."
On
Proof of Life
, Oladokun isn't a pessimist, but she
is
a realist. The record tells us that we can and must find joy and peace and community, but the trouble is that we have to do so knowing that not a single one of us is here forever. It's hard work to keep your footing knowing that everything changes, and everything goes away. But if you can find something to help steady yourself, hold onto it. "One thing that I feel really proud of that hasn't changed," says Oladokun, "is that I love playing guitar more than any single thing in the entire world."
YouTube It
Joy Oladokun and her band groove through a perfectly restrained, airtight rendition of "Somebody Like Me" on The Late Show with Stephen Colbert.
Four new Universal Audio effects distill greatest hits from larger UAFX devices, emulating the 1176 compressor, EMT 140 plate reverb, Lexicon 224 digital reverb, and Maestro Echoplex EP-3 at more accessible prices.
Authentic smooth-to-nasty drive tones. Adds beautiful body and sustain in clean settings. Intuitive controls.
Highest gain tones exhibit some sizzle.
4.5
4.5
4.5
4.5
It's been just a few years since Universal Audio unleashed the first UAFX effects. These ARM-processor-driven stompboxes borrowed algorithms from powerful plugins designed for Universal Audio's Apollo interfaces. The authenticity and functionality of the UAFX pedals is impressive. But as potent and brimming with tone-shaping options as they are, they are also a significant investment—clocking in at just under $400 for a single pedal.
Enter the 1176, Evermore, Heavenly, and Orion. These more compact and specialized UAFX stomps are based on the same algorithms that drive effects in their bigger cousins. But by using roughly half the processing power and focusing on emulation of a single effect, UA achieved more digestible prices ranging from $199 to $219. The 1776, Evermore, Heavenly, and Orion model the Universal Audio 1176 compressor, Lexicon 224 digital delay, EMT-140 plate reverb, and Maestro Echoplex EP-3, respectively. Practicality dictates that most of those effects will rarely see use outside of studio environments. So, it can be thrilling to experiment with these emulations in a guitar effects chain. They are captivating pedals capable of deep, rich, authentic sounds, and, in many cases, delightfully unexpected results.
1176 Compressor
The simple, elegant, and timeless 1176 FET compressor is a pillar of Universal Audio's success, past and present. In the studio, many engineers tend to use a few go-to 1176 settings that they tweak slightly depending on the context. But the 1176 is also an awesome blank slate for more creative use and abuse. That capacity is showcased especially well in the 1176 pedal.
Though the 1176 pedal includes a few bonus concessions to modern guitarists, like the useful parallel wet/dry mix switch, the control set effectively replicates the features on the hardware version. There are knobs for input and output level, attack and release controls, and a fifth knob that replicates the original's push-button ratio presets, including the much-loved all-buttons-in setting. The last of these can be used to generate overdriven textures that often sound and feel different from amplifier or stompbox distortion, and the 1176's knack for this kind of sweet-to-confrontational overdrive is among the reasons it works so well as a guitar effect. This design strength is highlighted by way of the pedal's 3-way toggle switch. It moves between emulation of a single 1176, or two settings that emulate two 1176s in series. The dual mode models the 1176-in-series technique used by Jimmy Page and engineer Andy Johns—most famously on Led Zeppelin IV. The sustain mode, meanwhile, emulates the double-1176 method practiced by Little Feat's Lowell George.

"The 1176's knack for sweet-to-confrontational overdrive is among the reasons it works so well as a guitar effect."
Of the two, the dual mode is the most aggressive, effectively turning the input level control into a gain factory that spans thick overdrive and fuzzy direct-to-desk tones. It's an awesome alternative to fuzz pedals because it sounds so nasty at civilized output gain levels, lending flexibility in stage and studio settings. But it's also a beautiful thickening agent at lower input gain levels, adding grit and body while retaining dynamic response. The sustain mode is even lovelier in these low-gain signal-thickening applications. It doesn't have nearly as much fuzzy gain to give, but the overdrive is complex and lends a fluid cohesiveness to lead lines.
The 1176 also excels in the more conventional single mode, adding body, sparkle, and volume without obscuring a guitar's essence. It works wonders with thin single-coils. In fact, I would venture that the 1176 does the job of a clean boost better than any clean boost ever could. That said, the single mode still delivers yummy overdrive tones when you switch to all-buttons-in mode and lean on the input gain.
If you suffer from lifeless amp tones at low stage volumes, the 1176 could be indispensable. Some players will balk at using a digital gain source in front of an amplifier. But open-minded players will be surprised at just how organic this pedal sounds. Just like the hardware version, the 1176 pedal is capable of minor acts of magic.
Evermore Reverb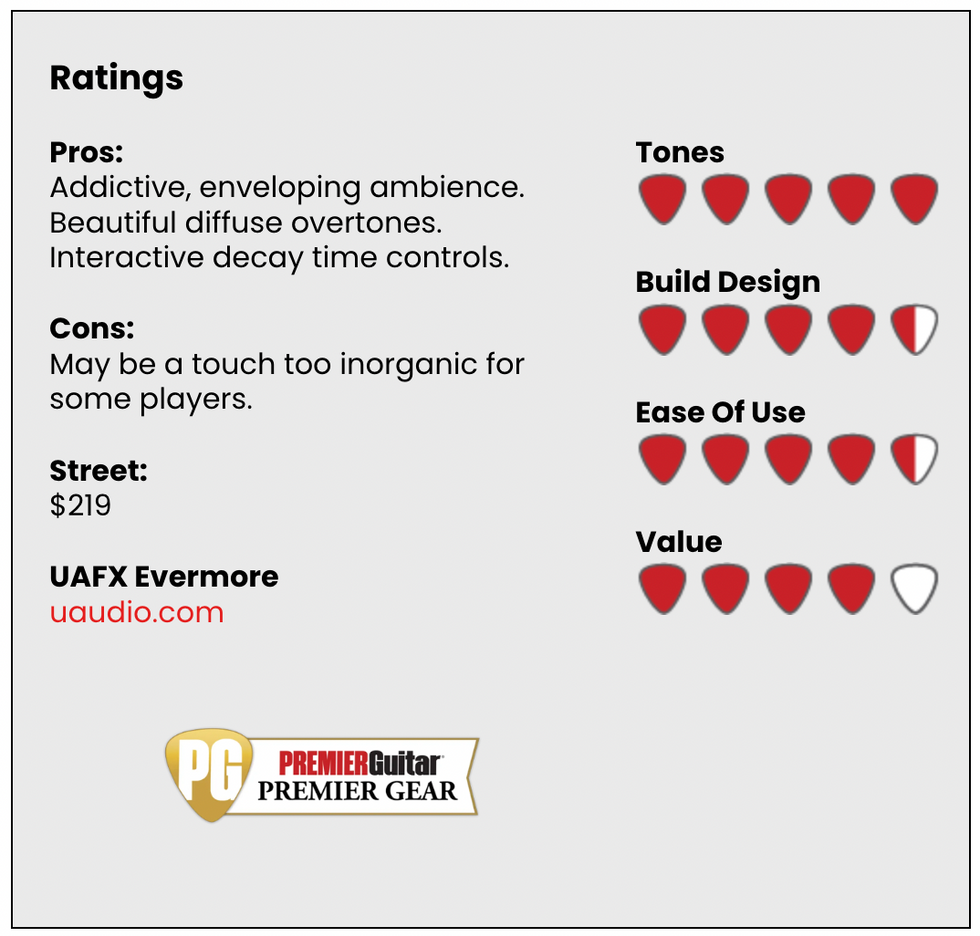 The Lexicon 224 had a profound effect on music in the 1980s. For many of us, its tones are burrowed in our subconscious. As much a mood as a tonality, the 224's odd combination of icy, diffuse overtones and enveloping space was instrumental in shaping the atmospheres around Vangelis' soundtrack for Blade Runner. And in the hands of production visionaries Brian Eno and Daniel Lanois, who helmed U2's The Unforgettable Fire, it could sound both unsettling and deeply peaceful. The Lexicon's ability to span so much emotional range and sound so alive is a feat, and the Evermore captures these elusive qualities masterfully.
Chances are good that if you're curious about the Evermore, it's because of the 224's reputation as a primo ambiance machine. But the Evermore sounds great in down-to-Earth applications. Trebly room settings, for example, convincingly approximate spring reverb and bathroom-tile slapback. The small hall setting, too, is capable of modest-but-rich reverbs that sit nicely with distortion effects and add thickness and lively overtones to clean sounds.

"The Evermore sounds great in down-to-Earth applications."
The Evermore's most compelling effects, however, come via the pedal's large hall setting. And it's here that you grasp the vast potential of the pedal's frequency-specific decay time controls. At a glance, you could mistake the bass, mid, and treble knobs on the Evermore for a simple EQ section. In reality, each of these controls governs the decay time for a given frequency range. This capability is a powerful and brilliant facet of the 224s design, and it shines in the Evermore, enabling painterly approaches to soundscaping that shake up preconceptions and stretch your imagination. One could spend days exploring the intricate ways the decay time controls interact with each other and with different instruments. But the way long bass and midrange decay times at high mix levels can generate haunting resonances, feedback, and airy, grainy harmonics within massive spaces is super-compelling, and hearty food for the ear and mind's eye.
Heavenly Reverb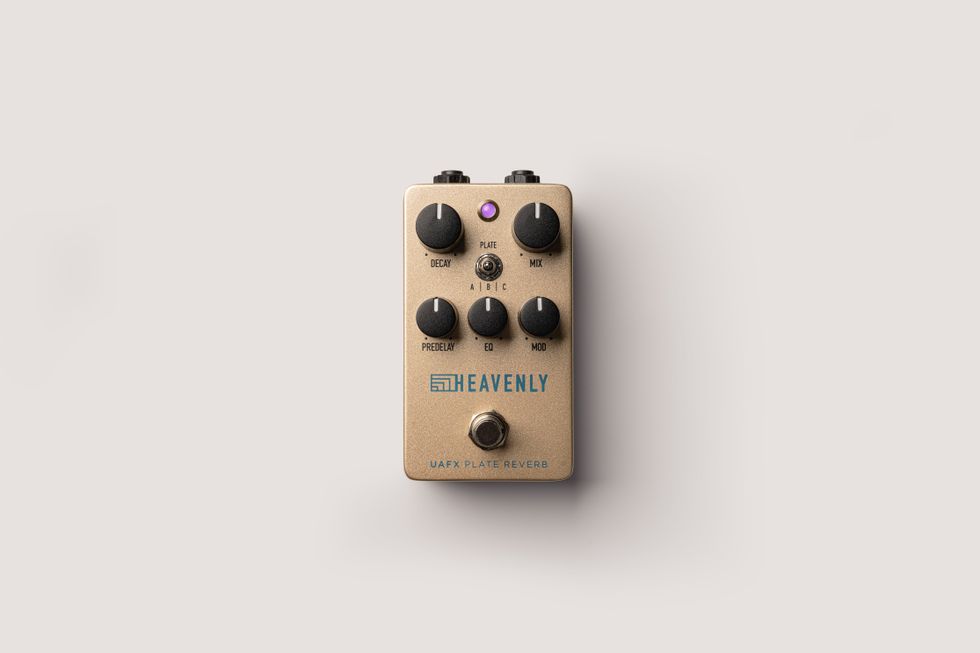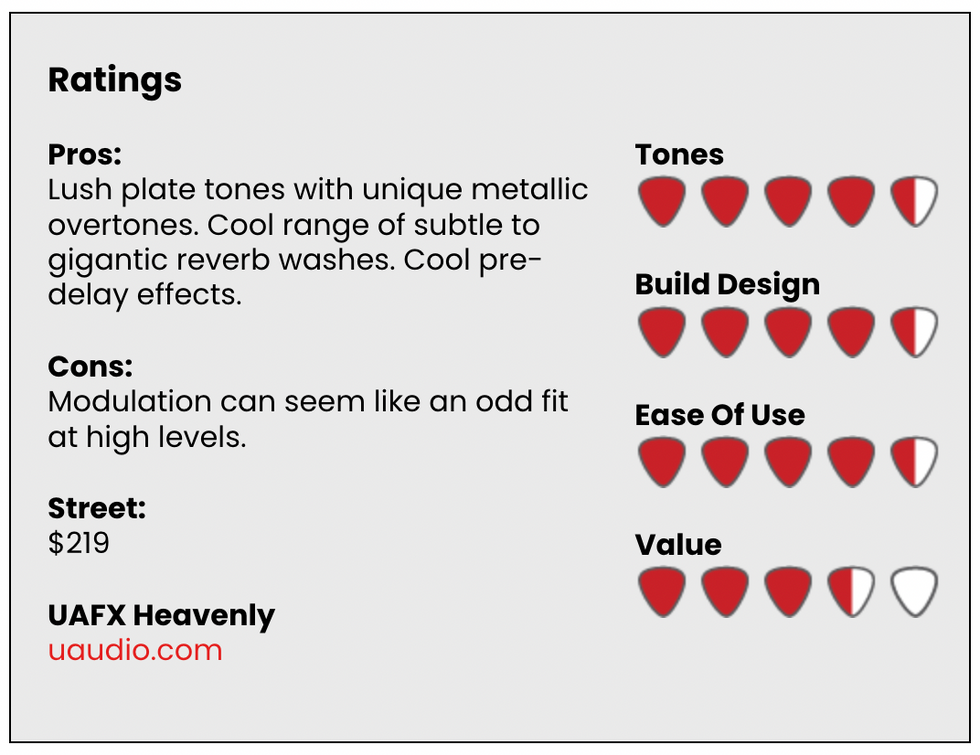 One of the great privileges of my musical life is having had the chance to record with an EMT 140 plate reverb and bathe in its transformative ambience. Capable of ranging from metallic and clanging to soft and ethereal, the wall-sized EMT 140 plate is unlike any other reverb. And though my favorite applications for the EMT 140 are recording vocals, piano, and acoustic guitar, there is no denying the wonders it works with electric guitar. The Heavenly, which has the good fortune to be derived from one of the finest Apollo plugins, makes it easy to experiment with marriages of electric guitar and EMT textures.
Of the four pedals reviewed here, the Heavenly is arguably the most straightforward, and just about anyone that has worked with a stompbox reverb before will be at ease after a quick peek at the instruction card. Ease of operation does not mean, however, that the Heavenly is less capable of complex reverb colors or interesting interrelationships between the controls. Heavenly features three basic reverb voices, selectable from the 3-position toggle. Position A is a vintage bright mode, B is a vintage dark voice, and C is the modern full position. The three voices can be further shaped by the simple EQ control. The pre-delay control, which governs the time that lapses before the onset of the reverb effect, opens up some of the most intriguing possibilities. Setting the reverb for a long decay, the mix just on the dry side of noon, and the pre-delay for a long lag creates a mysterious blend of strong fundamental note and a hazy reverb tail that hits with the percussive impact of a short delay. It sounds fantastic on spare, fingerpicked parts, arpeggios, and sharp staccato chords. While less conventional uses of EMT-style textures are intriguing, most players will probably be content to wade in the wash of traditional plate tones. Heavenly sounds beautiful in these environs. And even modest mix levels reveal a pretty, blooming decay that can sound both subdued and outside the familiar realm of less authentic plate-inspired reverbs.
"The pre-delay control opens up some of the most intriguing possibilities."
The Heavenly's EMT 140 simulation sometimes seems like an odd match for a guitar pedal, and not just because you've never seen anyone stick an 8-foot-long EMT 140 on a pedalboard. Perhaps because they sound as accurate as they do, there is a sort of post-production quality to the tones that can sound a bit out of place coming from an amplifier. And the chorus-y modulation, though lovely in some settings, can sound grafted on at times. For players unconditioned to hearing the sound of an EMT 140 blasting through studio monitors in the thick of a mix, however, the potential in these big, luxurious textures will feel considerable.
Orion Tape Echo
If I could only take one effect with me to space, or on some forced exile, it would almost certainly be my Maestro Echoplex EP-3. Like most of the great tape echoes, it is, by virtue of its quirky controls, an instrument all by itself. But above all things, the EP-3 is just plain fun. From the tape head slider to the smartly arranged echo level and sustain controls that facilitate oscillation effects, it is a box of pure musical joy. And just like any analog effect with such bountiful quirks and electro-mechanical idiosyncrasies, it can be a bear to reproduce in the digital stompbox realm. The Orion, however, does a more than admirable job of emulating the beautiful bits and the oddities that make up the EP-3's weird and wonderful personality.
Four of Orion's knobs—delay, mix, feedback, and control level—replicate those on an EP-3. Three additional controls help further shape the Orion's performance envelope in subtle and more overt ways. The wonk knob controls virtual wow and flutter, and its intensity is regulated in large part by the tape age toggle, which selects from emulations of a very old, weathered tape, a less worn but well-used tape, and a fresh tape cartridge that Universal Audio designer James Santiago used for the first time to create the new tape setting. Additionally, a preamp switch on the pedal's crown enables you to select whether the onboard preamp emulation remains on when the pedal is on in bypass mode or removed from the dry signal entirely. When it is on, it adds a mildly colorful boost that fattens the pedal's output and blurs the space between repeats ever so slightly.
"The Orion's mellowing haze between repeats sounds very authentic."
The Orion comes pretty close to sounding like a real EP-3. It's quieter, less dirty at high record levels, and the wow and flutter are less irregular. But the Orion's mellowing haze between repeats sounds very authentic. It is also very discernibly not a bucket brigade or digital delay. The pedal sounds exceedingly pretty at high mix and feedback levels, especially when you use a light, feathered touch on chords or volume swells (which sound wonderfully spooky). Working the mix, feedback, and delay time controls at the threshold of oscillation is also a delight, made even more satisfying for the just-right resistance in the knobs. These out-there effects also yield some of the Orion's more buried treats, like the simulated tape splice and a slight lag that you hear as you work the delay time control. At $219, the Orion has few peers, and most, save for Catalinbread's Belle Epoch, are significantly more expensive. All told, it's a relatively affordable path to approximating one of the most beloved and distinctive effects of all time.
You could win pedals from AmpRX, Amplified Parts, Atomic Amps, Pigtronix, or Revv Amplification!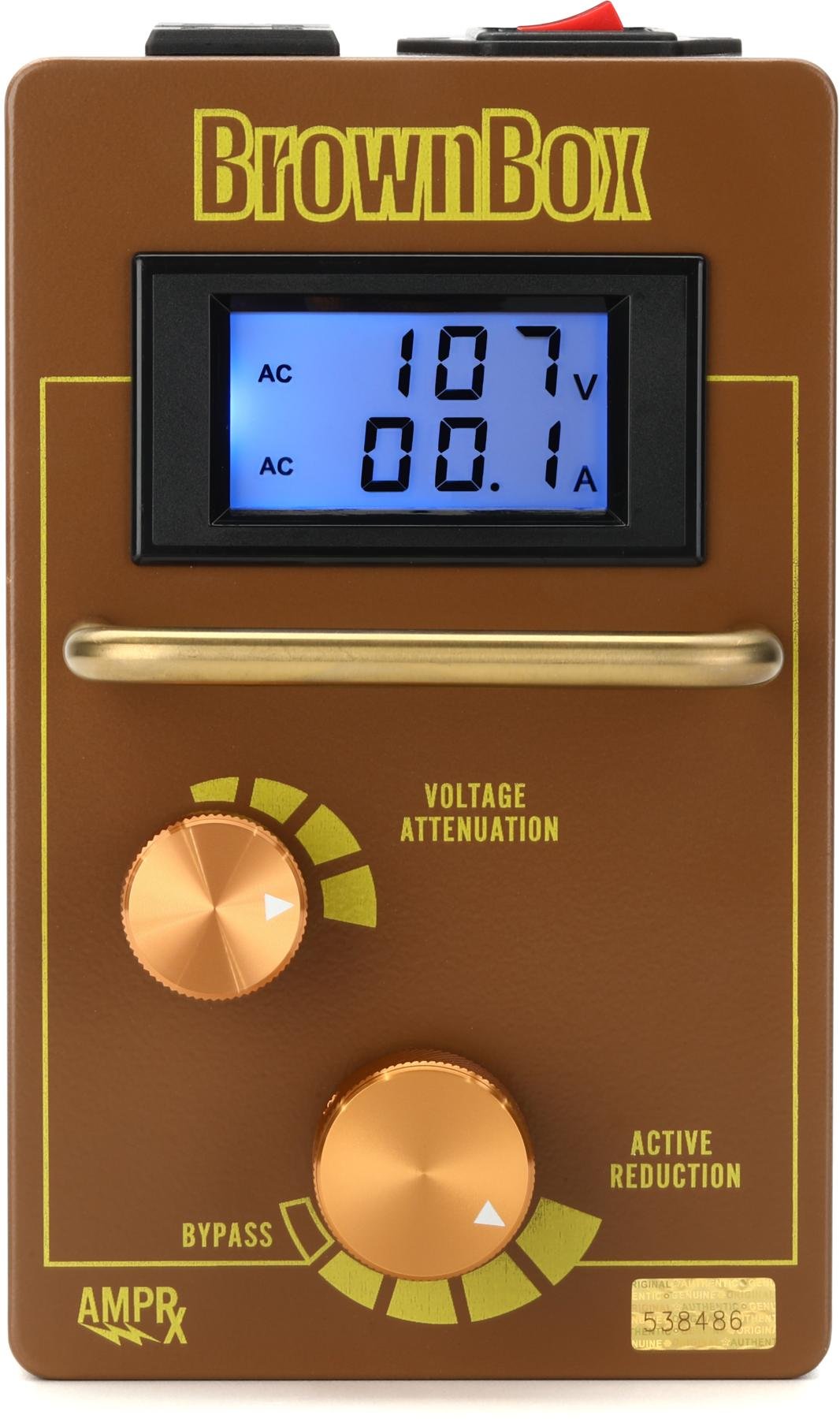 The BrownBox by AmpRx is an input voltage attenuator for tube amplifiers.
All tube amps, both vintage and modern, are designed to run at an optimal voltage - vintage being the lowest at around 110V and modern amps coming in at about 117-118V. The problem is that at any point, at any place, you can get anywhere from 120-130VAC out of the wall. It's not good for your tone, and it's not good for the health of your amplifier-whether it's vintage or not. Furthermore, we know that voltage supply can change drastically from club to club, from your home to rehearsal space and even between studios. With its proprietary 5-amp transformer and flexible attenuation options, the AmpRx BrownBox lets you bring that voltage down to an optimal level for YOUR gear, resulting in significantly improved amp performance - keeping your components and tubes healthy, and your tone tasty.

120 Volt AC, 60 Hz, 5 Amp Voltage Attenuator supplies up to 540 Watts, designed for small or mid to larger sized amplifiers (i.e. Fender Deluxe/Bassman/Twin, Marshall 50w/100w, Vox AC30). Can also be used for parallel or dual amp rigs.
AmpRX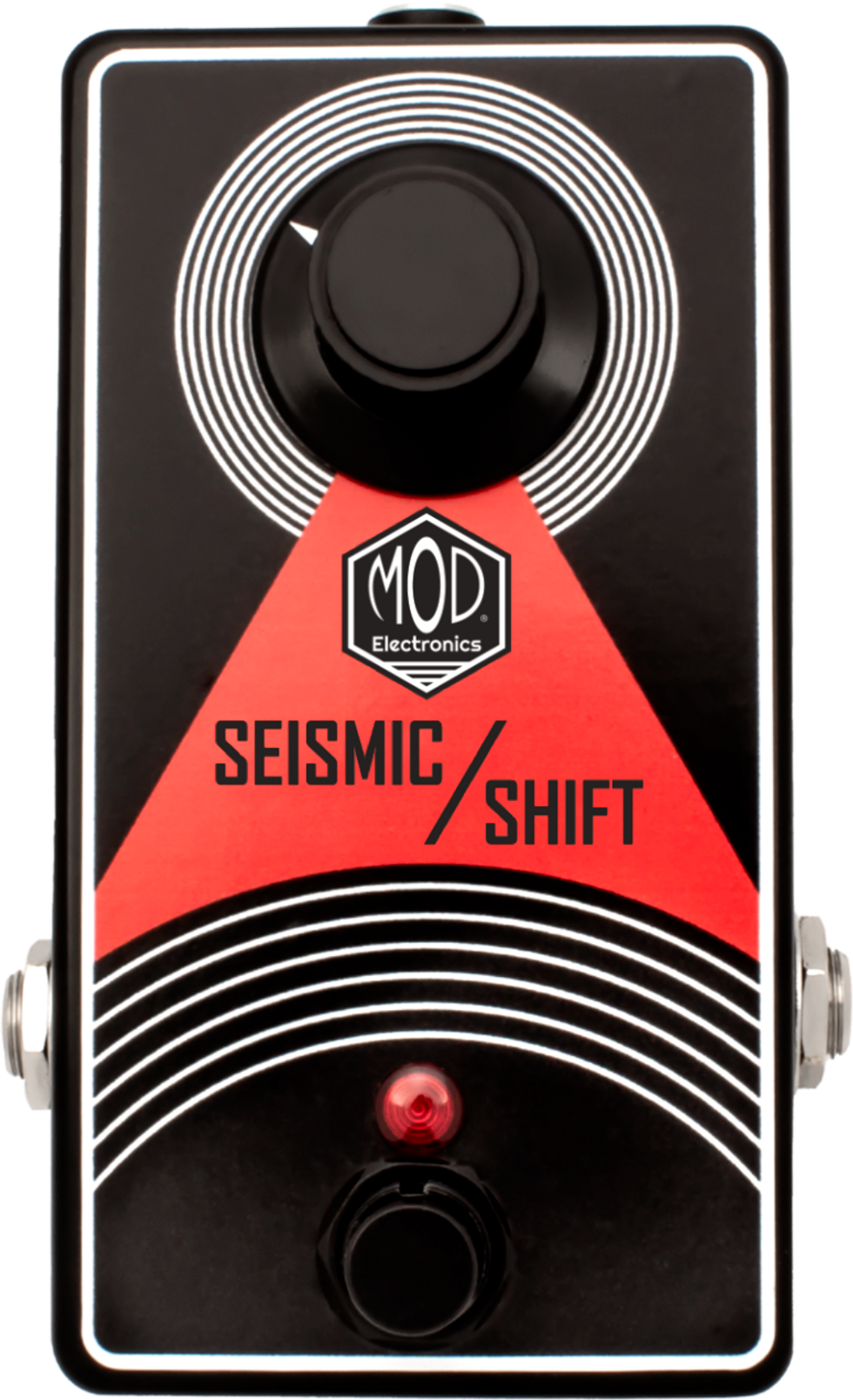 The Seismic / Shift is a JFET boost is a DIY pedal kit, based on one of the earliest effects to ever be used on stage. This pedal adds subtle color to a guitar's sound while maintaining the natural tone of the guitar. It packs a serious punch that can cut through any mix when soloing or whenever some extra "umph" is required. The Seismic Shift pairs nicely with amps and other pedals. Place it ahead of tubes, preamps, overdrives, distortions, and fuzz pedals to shift your gear onto a new level.
Amplified Parts
Ampli-Firebox MKII is the updated and enhanced version of Atomic's world's first stompbox-sized, pro level, digital amp and cabinet modeler. In addition to offering over 20 stunningly accurate amp models that span from vintage pristine clean to modern metal and beyond, it includes a carefully curated collection of cabinet models as well as delay, reverb, compression and gate effects. Ampli-Firebox MKII is equally in the studio, on stage or at home.
Atomic Amplifiers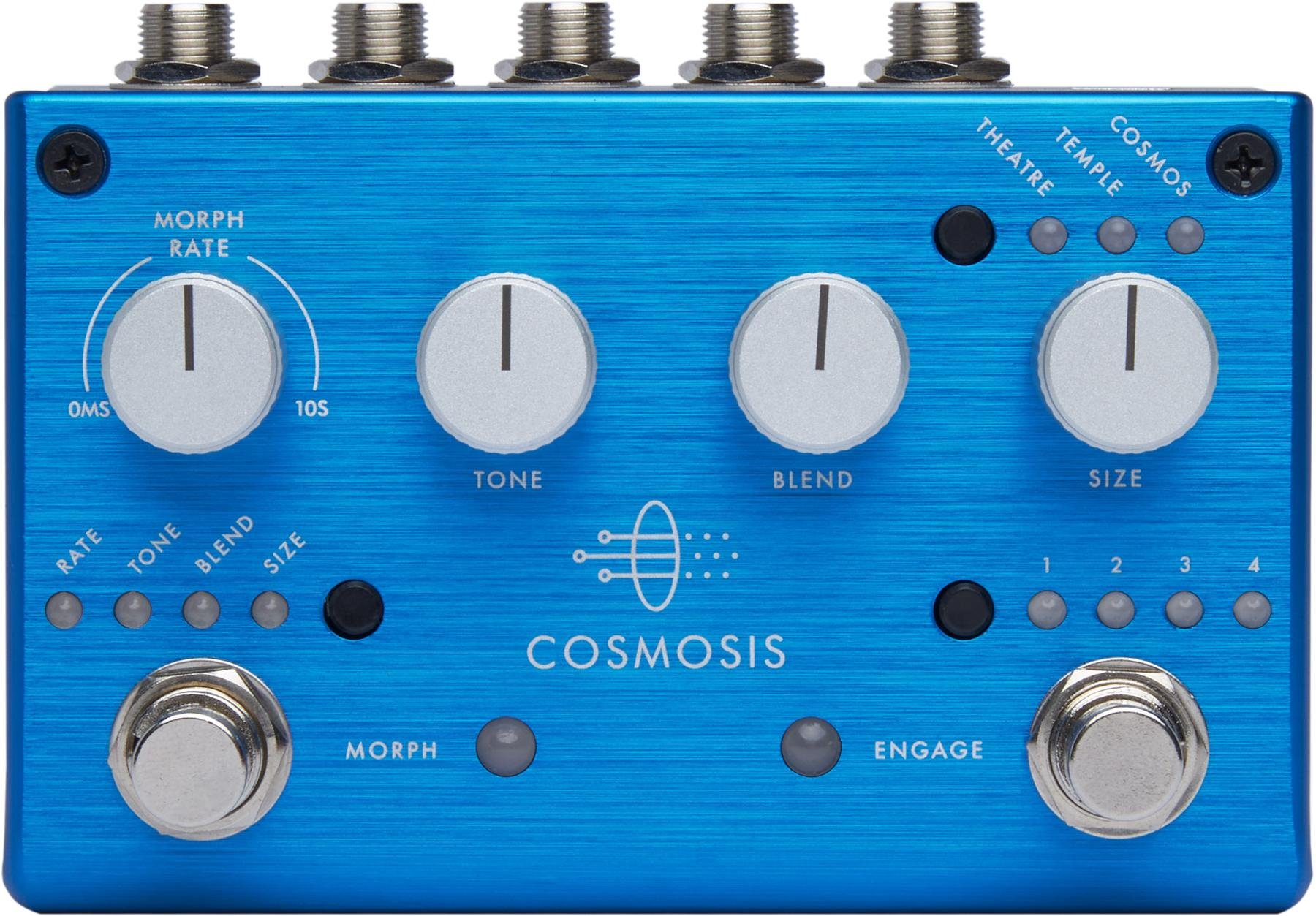 Years in the making and the first of its kind, Cosmosis is a stereo, high-fidelity ambient reverb that allows musicians to tailor three original spaces—Theatre, Temple, and Cosmos—as well as manipulate them in real time. In addition to controls for the size of the reverb, wet/dry blend, and filtering, Cosmosis features a unique Morph function that allows musicians to alter their reverb settings in real-time by pressing the left footswitch. The three space algorithms found inside of Cosmosis are all-original and truly unique. Theatre puts the player in a variable room that ranges from cozy to highly reflective using multiple parallel short reverberators. Temple occupies a dramatic, large indoor space by implementing numerous long reflections in both parallel and series. And Cosmos creates an enormous spectrum of heavenly reverb derived from the harmonic content it's fed. The Morph feature found in Cosmosis provides a simple way for players to trigger a gradual change to various reverb parameters over a specified amount of time set by the accompanying Morph Rate knob. Players can set both "red" and "green" values on their Tone, Blend, and Size knobs, then engage the Morph footswitch to oscillate between the two reverbs at their desired rate. Any combination of knobs can be assigned to morph. Create elegant morphs for subtle movement or sweeping, cinematic morphs for dramatic sound design effects. Save up to four custom reverb presets, including morphing. Cosmosis runs on standard 9VDC power.
Pigtronix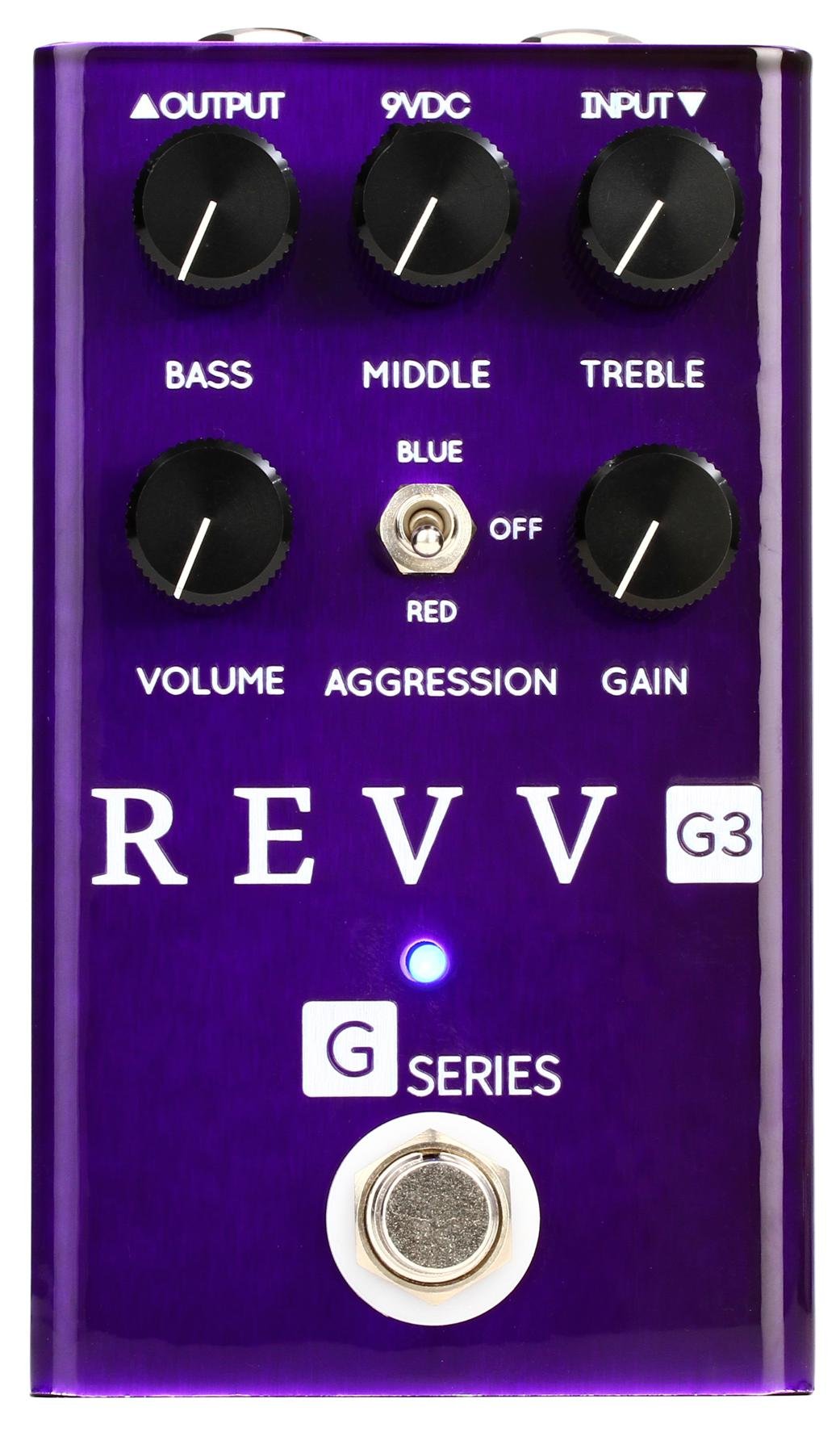 G3 Purple Ch Preamp/Hi-Gain Pedal
Revv