Watch the video for "Victorious" now featuring vocalist Dorothy. New album The Call of the Void out July 7.
Los Angeles-born guitar ace Nita Strauss recently announced her brand new album The Call of the The Void, out July 7 via Sumerian Records.

"'Victorious' is the anthem I always wanted, a song about inspiring change, marching forward relentlessly, being willing to save yourself instead of waiting for someone to do it for you, and never backing down from a fight," Strauss shares. "Dorothy was the perfect powerhouse voice and personality to stand and deliver, and knock this one out of the park."

NITA STRAUSS - Victorious ft. Dorothy (Official Music Video)
Dorothy shares Strauss' enthusiasm for the track, stating, "I'm honored to be a part of 'Victorious' with my friend Nita Strauss. She is the embodiment of a bold, beautiful, strong woman. The song and video scream #GIRLPOWER and we know you'll love it!"

The video features two cameos. 13-year-old rising guitar star Charlotte Milstein plays the role of a young Nita, while U.S. Olympian, former WBO and IBF champion Mikalea Mayer, a childhood friend of Strauss and former bandmate, also appears. Learn more about their relationship here!
The Call of the Void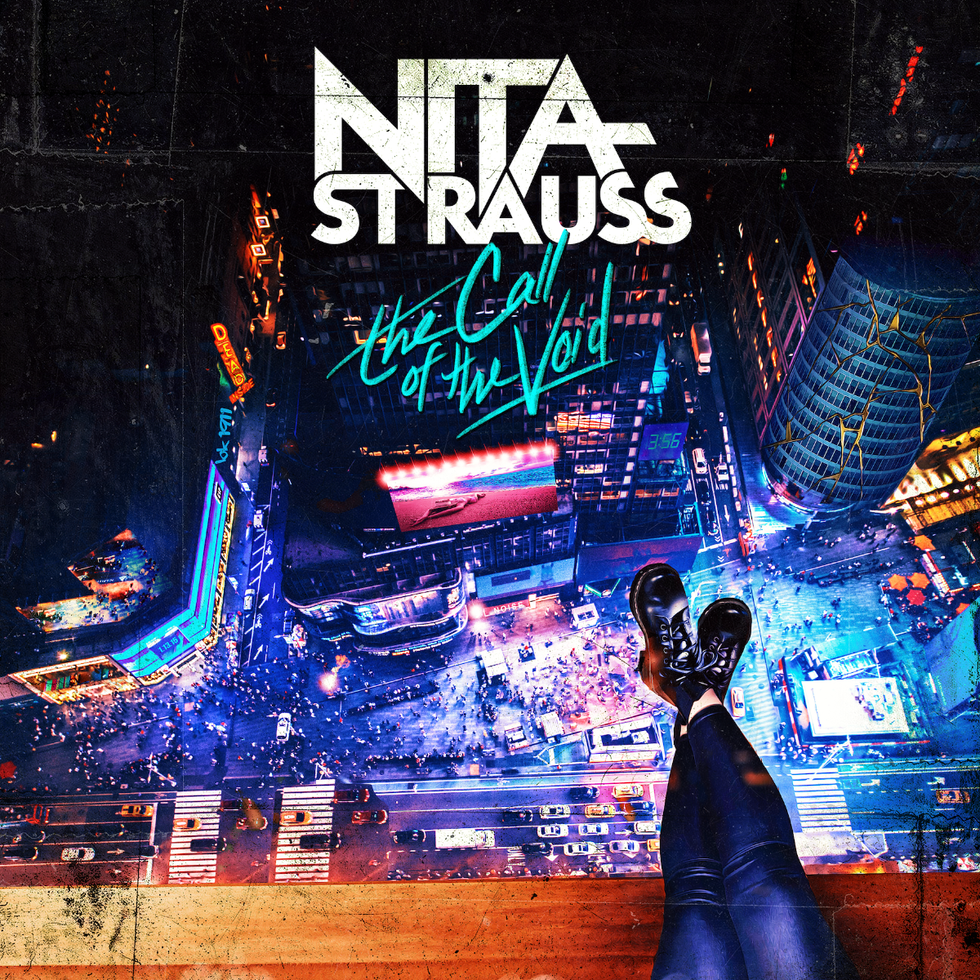 THE CALL OF THE VOID TRACK LISTING:
PHYSICAL:
"Summer Storm"
"The Wolf You Feed" (Feat. Alissa White-Gluz)
"Digital Bullets" (Feat. Chris Motionless)
"Through the Noise" (Feat. Lzzy Hale)
"Consume The Fire"
"Dead Inside" (Feat. David Draiman)
"Victorious" (Feat. Dorothy)
"Scorched"
"Momentum"
"The Golden Trail" (Feat. Anders Fridén)
"Winner Takes All" (Feat. Alice Cooper)
"Monster" (Feat. Lilith Czar)
"Kintsugi"
"Surfacing" (Feat. Marty Friedman)
DIGITAL:
"Summer Storm"
"The Wolf You Feed" (Feat. Alissa White-Gluz)
"Digital Bullets" (Feat. Chris Motionless)
"Through the Noise" (Feat. Lzzy Hale)
"Consume The Fire"
"Dead Inside" (Feat. David Draiman)
"Victorious" (Feat. Dorothy)
"Scorched"
"Momentum"
"The Golden Trail" (Feat. Anders Fridén)
"Winner Takes All" (Feat. Alice Cooper)
"Monster" (Feat. Lilith Czar)
"Kintsugi"
"Surfacing" (Feat. Marty Friedman)
"The Wolf You Feed" (Instrumental)
"Digital Bullets" (Instrumental)
"Through the Noise" (Instrumental)
"Dead Inside" (Instrumental)
"Victorious" (Instrumental)
"The Golden Trail" (Instrumental)
"Winner Takes All" (Instrumental)
"Monster" (Instrumental)
Nita Strauss Tour Dates
NITA STRAUSS + ALICE COOPER ON TOUR:
5/13 — Knoxville, TN — The Tennessee Theatre
5/14 — Spartanburg, SC — Spartanburg Memorial Auditorium
5/15 — North Charleston, SC — North Charleston Performing Arts Center
5/17 — Shreveport, LA — Shreveport Municipal Auditorium
5/18 — Biloxi, MS — Beau Rivage Theatre
5/20 — Daytona Beach, FL — Welcome to Rockville*
SUMMER HEADLINE TOUR: WITH LIONS AT THE GATES:
6/13 — Nashville, TN — Exit / In
6/14 — Atlanta, GA — The Loft
6/15 — Greensboro, NC — The Hangar 1819
6/17 — New York, NY — The Meadows
6/18 — Toronto, ON — Horseshoe Tavern
6/19 — Mechanicsburg, PA — Lovedraft's
6/21 — Harrison, OH — The Blue Note
6/22 — Flint, MI — The Machine Shop
6/23 — Angola, IN — The Eclectic Room
6/24 — Bloomington, IL — The Castle Theatre
6/25 — Madison, WI — Majestic Theatre
6/26 — Omaha, NE — The Waiting Room
6/28 — Denver — The Bluebird Theater
6/29 — Salt Lake City — Urban Lounge
6/30 — Boise, ID — Neurolux
7/1 — Portland, OR — Hawthorne Theatre
7/2 — Vancouver, BC — The Rickshaw Theatre
7/3 — Seattle, WA — El Corazón
7/5 — Sacramento, CA — Goldfield Trading Post
7/6 — Los Angeles, CA — Whisky a Go Go
7/8 — Las Vegas, NV — The Space
7/9 — Phoenix, AZ — Crescent Ballroom
7/11 — San Antonio, TX — The Rock Box
7/12 — Dallas, TX — Trees
7/13 — Houston, TX — Scout Bar
7/14 — New Orleans, LA — The Parish @ House Of Blues

WITH DEF LEPPARD + MOTLEY CRUE:
8/5 — Syracuse, NY — JMA Wireless Dome
8/8 — Columbus, OH — The Ohio State University Ohio Stadium
8/11 — Fargo, ND — Fargodome
8/13 — Omaha, NE — Charles Schwab Field Omaha
8/16 — Tulsa, OK — Skelly Field at H.A. Chapman Stadium
8/18 — El Paso, TX — Sun Bowl Stadium
CO-HEADLINE "FREAKS ON PARADE" TOUR WITH ROB ZOMBIE:
8/24 — Dallas, TX — Dos Equis Pavilion
8/26 — Tampa, FL — Mid-Florida Credit Union Amphitheatre
8/27 — West Palm Beach, FL — iTHINK Financial Amphitheatre
8/29 — Raleigh, NC — Coastal Credit Union Music Park @ Walnut Creek
8/30 — Virginia Beach, VA — Veterans United Home Loans Amphitheatre
9/1 — Tinley Park, IL — Hollywood Casino Amphitheatre
9/2 — Des Moines, IA — Wells Fargo Arena
9/5 — Clarkston, MI — Pinke Knob Amphitheatre
9/6 — Toronto, ON — Budweiser Stage
9/8 — Scranton, PA — The Pavilion @ Montage Mountain
9/9 — Wantagh, NY — Northwell Health Theatre @ Jones Beach
9/10 — Hartford, CT — XFINITY Theatre
9/12 — Nashville, TN — Bridgestone Arena
9/15 — Bonner Springs, KS — Azura Amphitheatre
9/16 — Englewood, CO — Fiddler's Green
9/19 — Ridgefield, WA — RV Inn Style Resorts Amphitheatre
9/20 — Auburn, WA — White River Amphitheatre
9/22 — Concord, CA — Pavilion
9/23 — Anaheim, CA — Honda Center
9/24 — Phoenix, AZ — Ak-Chin Pavilion
Sloped shoulders and a beautiful burst hint at a dreadnought classic, but inside lurks a thoroughly modern approach to flattop design.
Super-slinky and inviting playability. Balanced output across the frequency spectrum. Top-shelf build quality.
Fans of traditional slope-shouldered dreads might miss the huskier, dustier voices associated with the type.
4.5
4.5
5
4
The great guitars that Taylor produced in nearly 50 years of existence would probably justify cruising on the back of past successes. But Taylor still seems to genuinely enjoy pushing back against flattop design dogma. They're very much at ease with the notion that their guitars are alternatives to more traditional fare and perceived in some quarters as "modern" sounding—which in Taylor's case is generally shorthand for meticulous balance between high, middle, and low registers, immaculate intonation, and easy-on-the-engineer recordability.
Taylor's 417e doesn't look particularly modern at a glance. It looks fancy, certainly. But at most angles, the slope-shoulder Grand Pacific profile and tobacco sunburst finish make the Taylor look like a loving, upmarket homage to the Gibson J-45. Prominent as the J-45 influence is, it's mostly skin deep. Taylor's V-bracing instead ensures that the 417e tones shine with the modernity that sets many Taylors apart. And the combination of mid-century aesthetic, silky playability, and bright, lively personality make the 417e an inviting instrument that can be hard to put down.
Wave Relations
I once heard Taylor master designer Andy Powers liken his thoughts about sound waves to the experience of watching waves from high on a bluff. When you look inside, or at a picture of a cross section of the 417e's bracing, it's easy to see manifestations of that sound-and-sea point of view. The back braces are angled forward toward the bass side of the instrument like breaks coming off a point. The V-bracing on the top, meanwhile, tapers back toward the endpin like the prow of a ship. It's hard to quantify the effects of different bracing arrangements. But Powers insists that V-bracing improves volume and sustain, and generates more even harmonic response, which is already a Taylor trademark. It only takes a few strums to hear that none of those claims are a stretch.
While the combination of Indian rosewood back and sides and a Sitka spruce top guarantee snappy response in just about any well-made guitar, the 417e is pretty bright for a dreadnought. There's a lot of high midrange, too. But none of that top-end frequency emphasis results in harshness or stridency. And for all the push in those toppier ends of the frequency spectrum, each of the highest strings exhibits contoured attack and a soft decay. In fact, there were times I felt the attack and decay were almost too civilized on the third and fourth strings. That's a very personal observation—I'm sure most players would dig the 417e's even response. (I frequently gravitate toward an aggressive flatpicking touch and certain "ugly" sounds on an acoustic.) Whatever your approach, the combination of soft attack, extra sustain, and gentle decay results in great balance—almost as if you put studio compression on a recording of the instrument.
The 417e's capacity for sustain, meanwhile, pairs nicely with its capacity for volume. While individual notes don't always bloom the way they do on some dreadnoughts, the 417e's sustain means there is room to let notes linger in space. That's the kind of dynamic that can reshape a songwriter's compositional perspective. It also makes the 417e a great fingerstyle dread—an animal not often seen nor heard in the wild.
Immaculate Execution
It almost gets boring talking about the construction quality of high-end Taylor instruments, because I never see one that's anything less than immaculately put together. The 417e is more of the same. Go ahead, look it over with a microscope. You're not likely to find an obvious flaw inside or out. You should expect as much for nearly $3k, and the 417e delivers. Some small details, like the inlay and rosette, may be just non-traditional enough to put off purists, but the deviations from old-school ways are subtle and distinctive. Some standard Taylor features, like the plastic truss-rod cover, seem a little cheap given the top-shelf price. I also wouldn't mind seeing the controls for the excellent Expression System 2 electronics moved to a less obtrusive location like the soundhole, but there's no questioning how easy they are to see and use in a performance situation.
The Verdict
Players that gravitate to the 417e in part for its handsome, J-45-like slope-shoulder profile and pretty tobacco burst finish should expect a guitar that sounds very different than the old Gibson workhorse. It's louder, brighter, and less dusty. And for a lot of players, the marriage of traditional slope-shoulder style and a balanced-but-high-mid-forward voice will be a winning one. It's a very forgiving guitar in recording situations. The playability is as nice as you will find on a flattop, and its dynamic and touch-sensitive qualities combine with its volume and headroom to make it well-suited to nuanced fingerstyle every bit as much as hard and heavy strumming. Such range makes the 417e a great performance instrument and helps justify the premium price. And if the 417e's convergence of "now" tones and mid-century American style suits your own, it will not be hard to extract every penny of that investment from this beautiful and beautifully made guitar.
Taylor 417e-R Demo | First Look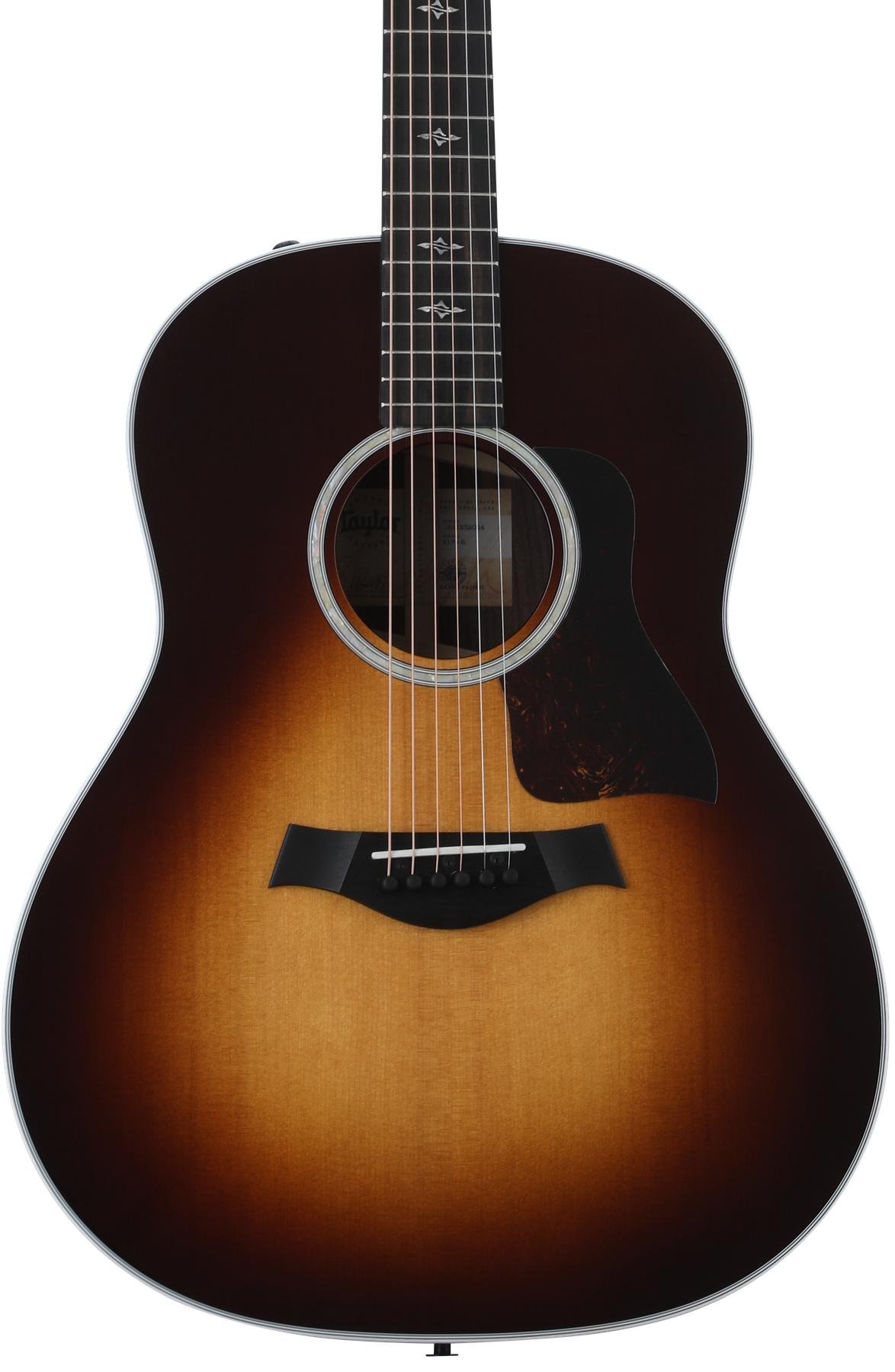 Taylor
Updated USA NS basses combine the most popular elements of Spector's Brooklyn, Kramer, and modern Woodstock eras while expanding the line with new, player-focused options.
Spector announces the release of its updated USA NS series of basses crafted in the new Spector USA Custom Shop facility outside of Woodstock, New York. These iconic basses remain faithful to the intent of the original instruments while combining the most popular design elements of their nearly 50-year history, an expanding menu of player-focused options, and the increased consistency of modern manufacturing techniques.
These basses boast classic, player-favorite options, such as body contours, our proprietary bridge, and the custom appointments like matching headstocks, all drawn from Spector's famed Brooklyn, Kramer, and modern Woodstock eras. They are also available with newer options or upgrades, including modern or vintage pickup spacing, improved fingerboard tapers, standard and thin neck profiles, and premium electronics and preamps.
In addition to the new basses, Spector has made significant investments in the brand's future with their new USA Custom Shop near Woodstock, New York. While maintaining tried and true hand-building methods, the facility harnesses modern manufacturing technology, such as 3D modeling, and overhauled CNC programming to foster growth and create more consistent and accurate versions of its flagship instruments.
SWX USA NS-2, Hyper Vlt Mtt
Spector
Spector Marketing Manager Jeff Shreiner explains, "This new NS Revision project aims to incorporate the "best of" Spector's storied history, all while remaining true to Ned Steinberger and Stuart Spector's original 1977 design. It represents the first major project implemented by the new team at Spector and sets forth a standard for the future of the NS design."
For more information, please visit spectorbass.com.